{"id":4744640266343,"title":"Fomito 7x Output Port D-tap Splitter Cable Universal Multiple Socket for V-mount BMPCC 4K 6K","handle":"fomito-1-for-7-universal-multiple-10a-socket-2-directions-d-tap-usb-dc-port-with-1-4-screw-holes","description":"\u003cdiv data-mce-fragment=\"1\" style=\"text-align: center;\" data-mce-style=\"text-align: center;\"\u003eThe D-tap Splitter Cable is used to expand the dtap interface of your photographic power and the Anton Bauer\/V-mount battery.\u003cbr\u003eWith this Power Tap Receptacle, you can expand any Power Tap to accommodate up to four separate,Perfect for powering multiple wireless receivers, on-board monitors as well as an Ultralight from a single camera battery.\u003cbr\u003ePlug A: D-tap Male Connector, Plug B: 4 Port D-tap Female Connector, Plug C: USB 5V\/2.1A, Plug D: DC 8V, PlugE: DC 12V. Designed with 3x4 Port, the dtap can be quickly plugged into the socket even eyes closed, which can prevent the power cord from blocking the device.\u003cbr\u003e4.33\" to 39.3\" COILED CABLE, max current: 10A. USB for your smartphone, and other usb devices. DC 8V\/12V for your camera monitors, led lights, and other DC devices.\u003cbr\u003eOn the back are 2x 1\/4\" screw holes, convenient to use with other accessories.\u003c\/div\u003e\n\u003cdiv data-mce-fragment=\"1\" style=\"text-align: center;\" data-mce-style=\"text-align: center;\"\u003e\u003cimg data-mce-fragment=\"1\" style=\"margin: 0pxpx 0pxpx 0pxpx 0pxpx; float: none;\" alt=\"\" src=\"https:\/\/cdn.shopifycdn.net\/s\/files\/1\/2707\/3516\/files\/02_65826dd7-8992-4903-b3ac-7622594b5c67_2048x2048.jpg?v=1604564558\" data-mce-src=\"https:\/\/cdn.shopifycdn.net\/s\/files\/1\/2707\/3516\/files\/02_65826dd7-8992-4903-b3ac-7622594b5c67_2048x2048.jpg?v=1604564558\" data-mce-style=\"margin: 0pxpx 0pxpx 0pxpx 0pxpx; float: none;\"\u003e\u003c\/div\u003e\n\u003cdiv data-mce-fragment=\"1\" style=\"text-align: center;\" data-mce-style=\"text-align: center;\"\u003e\u003cimg style=\"margin: 0pxpx 0pxpx 0pxpx 0pxpx; float: none;\" src=\"https:\/\/cdn.shopifycdn.net\/s\/files\/1\/2707\/3516\/files\/03_8ec76961-4f33-47df-8ba9-b5eaf1394fe4_2048x2048.jpg?v=1604564586\" width=\"2048x2048\" height=\"2048x2048\"\u003e\u003c\/div\u003e\n\u003cdiv data-mce-fragment=\"1\" style=\"text-align: center;\" data-mce-style=\"text-align: center;\"\u003e\u003cimg style=\"margin: 0pxpx 0pxpx 0pxpx 0pxpx; float: none;\" src=\"https:\/\/cdn.shopifycdn.net\/s\/files\/1\/2707\/3516\/files\/04-USB_2048x2048.jpg?v=1604564613\" width=\"2048x2048\" height=\"2048x2048\"\u003e\u003c\/div\u003e\n\u003cdiv data-mce-fragment=\"1\" style=\"text-align: center;\" data-mce-style=\"text-align: center;\"\u003e\u003cimg style=\"margin: 0pxpx 0pxpx 0pxpx 0pxpx; float: none;\" src=\"https:\/\/cdn.shopifycdn.net\/s\/files\/1\/2707\/3516\/files\/05_42ec3e83-e6f0-4b91-b1a2-85c0a428da9d_2048x2048.jpg?v=1604565078\" width=\"2048x2048\" height=\"2048x2048\"\u003e\u003c\/div\u003e\n\u003cdiv data-mce-fragment=\"1\" style=\"text-align: center;\" data-mce-style=\"text-align: center;\"\u003e\u003cimg style=\"margin: 0pxpx 0pxpx 0pxpx 0pxpx; float: none;\" src=\"https:\/\/cdn.shopifycdn.net\/s\/files\/1\/2707\/3516\/files\/06_31f37bd3-1dd8-4d4a-b6d3-43c151b9e0d5_2048x2048.jpg?v=1604565205\" width=\"2048x2048\" height=\"2048x2048\"\u003e\u003c\/div\u003e\n\u003cdiv data-mce-fragment=\"1\" style=\"text-align: center;\" data-mce-style=\"text-align: center;\"\u003e\u003cimg style=\"margin: 0pxpx 0pxpx 0pxpx 0pxpx; float: none;\" src=\"https:\/\/cdn.shopifycdn.net\/s\/files\/1\/2707\/3516\/files\/07_53ba43b5-fc04-49f7-8d1a-d079e01d682f_2048x2048.jpg?v=1604565234\" width=\"2048x2048\" height=\"2048x2048\"\u003e\u003c\/div\u003e\n\u003cdiv data-mce-fragment=\"1\" style=\"text-align: center;\" data-mce-style=\"text-align: center;\"\u003e\n\u003cb data-mce-fragment=\"1\"\u003eDescription:\u003c\/b\u003e \u003cbr data-mce-fragment=\"1\"\u003eFomito Dtap Splitter Cable with Power Switch D-tap for V-mount V Lock, Gold Mount battery to 3P x 4 Female Port \u0026amp; USB works for camera monitors, led lights, BMPCC 4K 6K, ARRI RED Cameras and smartphone. This dtap Splitter Cable is used to expand the dtap interface of your photographic power and the Anton Bauer\/V-mount battery. Perfectly supports all devices with d-tap port. \u003cbr data-mce-fragment=\"1\"\u003eYou can use a DC to DC cable\u003cb data-mce-fragment=\"1\"\u003e (Optional in my shop) \u003c\/b\u003efor led lights and camera monitors below 8V or 12V. \u003cbr data-mce-fragment=\"1\"\u003eYou can use a D-tap to dummy battery adapter (Optional in my shop) for cameras. \u003cbr data-mce-fragment=\"1\"\u003eYou can use a Dtap to NP-F dummy battery \u003cb data-mce-fragment=\"1\"\u003e(Optional in my shop) \u003c\/b\u003e for camcorders. \u003cbr data-mce-fragment=\"1\"\u003eThere is a 5V\/2.1A USB interface for your smartphone, and other usb devices. \u003cimg style=\"margin: 0pxpx 0pxpx 0pxpx 0pxpx; float: none;\" src=\"https:\/\/cdn.shopifycdn.net\/s\/files\/1\/2707\/3516\/files\/08_df2e23d8-51aa-4c0f-949c-0198dd93ddf3_2048x2048.jpg?v=1604565259\" width=\"2048x2048\" height=\"2048x2048\"\u003e\n\u003c\/div\u003e\n\u003cdiv data-mce-fragment=\"1\" style=\"text-align: center;\" data-mce-style=\"text-align: center;\"\u003e\u003c\/div\u003e\n\u003cdiv data-mce-fragment=\"1\" style=\"text-align: center;\" data-mce-style=\"text-align: center;\"\u003e\u003cimg style=\"margin: 0pxpx 0pxpx 0pxpx 0pxpx; float: none;\" src=\"https:\/\/cdn.shopifycdn.net\/s\/files\/1\/2707\/3516\/files\/09_6413cbbf-e62e-43bf-b0f8-13ff9e002220_2048x2048.jpg?v=1604565323\" width=\"2048x2048\" height=\"2048x2048\"\u003e\u003c\/div\u003e\n\u003ch3 data-mce-fragment=\"1\" style=\"text-align: center;\" data-mce-style=\"text-align: center;\"\u003e\u003cspan style=\"color: #ff2a00;\"\u003eOptional 1for5\u003c\/span\u003e\u003c\/h3\u003e\n\u003cp\u003e\u003ca href=\"https:\/\/www.fomito.com\/products\/fomito-1-for-5-universal-multiple-10a-socket-2-directions-d-tap-usb-dc-port-with-1-4-screw-holes?variant=32974691762279\"\u003e\u003cspan style=\"color: #ff2a00;\"\u003e\u003cimg src=\"https:\/\/cdn.shopifycdn.net\/s\/files\/1\/2707\/3516\/files\/01_322e3474-3d99-4fc9-8140-a97b2f1e2dce_480x480.jpg?v=1604565491\" alt=\"\"\u003e\u003c\/span\u003e\u003c\/a\u003e\u003c\/p\u003e","published_at":"2020-11-05T01:47:54-07:00","created_at":"2020-11-05T01:47:50-07:00","vendor":"FOMITO","type":"Batteries","tags":["battery grip","camera batteries"],"price":3599,"price_min":3599,"price_max":3599,"available":true,"price_varies":false,"compare_at_price":null,"compare_at_price_min":0,"compare_at_price_max":0,"compare_at_price_varies":false,"variants":[{"id":32974661714023,"title":"Default Title","option1":"Default Title","option2":null,"option3":null,"sku":"FMT-000885_1","requires_shipping":true,"taxable":true,"featured_image":null,"available":true,"name":"Fomito 7x Output Port D-tap Splitter Cable Universal Multiple Socket for V-mount BMPCC 4K 6K","public_title":null,"options":["Default Title"],"price":3599,"weight":0,"compare_at_price":null,"inventory_management":null,"barcode":"","requires_selling_plan":false,"selling_plan_allocations":[]}],"images":["\/\/www.fomito.com\/cdn\/shop\/products\/01_b65a1ed6-e197-4ca7-ab32-0e2bfd85e990.jpg?v=1604566073","\/\/www.fomito.com\/cdn\/shop\/products\/03_75955762-2c4d-498f-a32e-c8eed324ea0d.jpg?v=1604566073","\/\/www.fomito.com\/cdn\/shop\/products\/02_c0f98ebd-9afe-4b0c-a9f5-6e76a599f566.jpg?v=1604566073","\/\/www.fomito.com\/cdn\/shop\/products\/04-USB.jpg?v=1604566073","\/\/www.fomito.com\/cdn\/shop\/products\/05_aa02e59c-23a1-4c3b-b18f-55af7864a8bf.jpg?v=1604566073","\/\/www.fomito.com\/cdn\/shop\/products\/06_dbe6d49d-c30d-454b-ba6a-d5b006a19b99.jpg?v=1604566073","\/\/www.fomito.com\/cdn\/shop\/products\/07_2a4f49df-0c37-42f2-aed0-1678f231f731.jpg?v=1604566073","\/\/www.fomito.com\/cdn\/shop\/products\/08_d5ba7dcf-576b-4eaa-91fb-54b787113b0e.jpg?v=1604566073","\/\/www.fomito.com\/cdn\/shop\/products\/09_c2230f4c-3ff5-4f4c-a4eb-0b27014deda7.jpg?v=1604566073"],"featured_image":"\/\/www.fomito.com\/cdn\/shop\/products\/01_b65a1ed6-e197-4ca7-ab32-0e2bfd85e990.jpg?v=1604566073","options":["Title"],"media":[{"alt":null,"id":8240028516455,"position":1,"preview_image":{"aspect_ratio":1.0,"height":1200,"width":1200,"src":"\/\/www.fomito.com\/cdn\/shop\/products\/01_b65a1ed6-e197-4ca7-ab32-0e2bfd85e990.jpg?v=1604566073"},"aspect_ratio":1.0,"height":1200,"media_type":"image","src":"\/\/www.fomito.com\/cdn\/shop\/products\/01_b65a1ed6-e197-4ca7-ab32-0e2bfd85e990.jpg?v=1604566073","width":1200},{"alt":null,"id":8240028549223,"position":2,"preview_image":{"aspect_ratio":1.0,"height":1200,"width":1200,"src":"\/\/www.fomito.com\/cdn\/shop\/products\/03_75955762-2c4d-498f-a32e-c8eed324ea0d.jpg?v=1604566073"},"aspect_ratio":1.0,"height":1200,"media_type":"image","src":"\/\/www.fomito.com\/cdn\/shop\/products\/03_75955762-2c4d-498f-a32e-c8eed324ea0d.jpg?v=1604566073","width":1200},{"alt":null,"id":8240028581991,"position":3,"preview_image":{"aspect_ratio":1.0,"height":1200,"width":1200,"src":"\/\/www.fomito.com\/cdn\/shop\/products\/02_c0f98ebd-9afe-4b0c-a9f5-6e76a599f566.jpg?v=1604566073"},"aspect_ratio":1.0,"height":1200,"media_type":"image","src":"\/\/www.fomito.com\/cdn\/shop\/products\/02_c0f98ebd-9afe-4b0c-a9f5-6e76a599f566.jpg?v=1604566073","width":1200},{"alt":null,"id":8240028614759,"position":4,"preview_image":{"aspect_ratio":1.0,"height":1200,"width":1200,"src":"\/\/www.fomito.com\/cdn\/shop\/products\/04-USB.jpg?v=1604566073"},"aspect_ratio":1.0,"height":1200,"media_type":"image","src":"\/\/www.fomito.com\/cdn\/shop\/products\/04-USB.jpg?v=1604566073","width":1200},{"alt":null,"id":8240028647527,"position":5,"preview_image":{"aspect_ratio":1.0,"height":1200,"width":1200,"src":"\/\/www.fomito.com\/cdn\/shop\/products\/05_aa02e59c-23a1-4c3b-b18f-55af7864a8bf.jpg?v=1604566073"},"aspect_ratio":1.0,"height":1200,"media_type":"image","src":"\/\/www.fomito.com\/cdn\/shop\/products\/05_aa02e59c-23a1-4c3b-b18f-55af7864a8bf.jpg?v=1604566073","width":1200},{"alt":null,"id":8240028680295,"position":6,"preview_image":{"aspect_ratio":1.0,"height":1200,"width":1200,"src":"\/\/www.fomito.com\/cdn\/shop\/products\/06_dbe6d49d-c30d-454b-ba6a-d5b006a19b99.jpg?v=1604566073"},"aspect_ratio":1.0,"height":1200,"media_type":"image","src":"\/\/www.fomito.com\/cdn\/shop\/products\/06_dbe6d49d-c30d-454b-ba6a-d5b006a19b99.jpg?v=1604566073","width":1200},{"alt":null,"id":8240028713063,"position":7,"preview_image":{"aspect_ratio":1.0,"height":1200,"width":1200,"src":"\/\/www.fomito.com\/cdn\/shop\/products\/07_2a4f49df-0c37-42f2-aed0-1678f231f731.jpg?v=1604566073"},"aspect_ratio":1.0,"height":1200,"media_type":"image","src":"\/\/www.fomito.com\/cdn\/shop\/products\/07_2a4f49df-0c37-42f2-aed0-1678f231f731.jpg?v=1604566073","width":1200},{"alt":null,"id":8240028745831,"position":8,"preview_image":{"aspect_ratio":1.0,"height":1200,"width":1200,"src":"\/\/www.fomito.com\/cdn\/shop\/products\/08_d5ba7dcf-576b-4eaa-91fb-54b787113b0e.jpg?v=1604566073"},"aspect_ratio":1.0,"height":1200,"media_type":"image","src":"\/\/www.fomito.com\/cdn\/shop\/products\/08_d5ba7dcf-576b-4eaa-91fb-54b787113b0e.jpg?v=1604566073","width":1200},{"alt":null,"id":8240028778599,"position":9,"preview_image":{"aspect_ratio":1.0,"height":1200,"width":1200,"src":"\/\/www.fomito.com\/cdn\/shop\/products\/09_c2230f4c-3ff5-4f4c-a4eb-0b27014deda7.jpg?v=1604566073"},"aspect_ratio":1.0,"height":1200,"media_type":"image","src":"\/\/www.fomito.com\/cdn\/shop\/products\/09_c2230f4c-3ff5-4f4c-a4eb-0b27014deda7.jpg?v=1604566073","width":1200}],"requires_selling_plan":false,"selling_plan_groups":[],"content":"\u003cdiv data-mce-fragment=\"1\" style=\"text-align: center;\" data-mce-style=\"text-align: center;\"\u003eThe D-tap Splitter Cable is used to expand the dtap interface of your photographic power and the Anton Bauer\/V-mount battery.\u003cbr\u003eWith this Power Tap Receptacle, you can expand any Power Tap to accommodate up to four separate,Perfect for powering multiple wireless receivers, on-board monitors as well as an Ultralight from a single camera battery.\u003cbr\u003ePlug A: D-tap Male Connector, Plug B: 4 Port D-tap Female Connector, Plug C: USB 5V\/2.1A, Plug D: DC 8V, PlugE: DC 12V. Designed with 3x4 Port, the dtap can be quickly plugged into the socket even eyes closed, which can prevent the power cord from blocking the device.\u003cbr\u003e4.33\" to 39.3\" COILED CABLE, max current: 10A. USB for your smartphone, and other usb devices. DC 8V\/12V for your camera monitors, led lights, and other DC devices.\u003cbr\u003eOn the back are 2x 1\/4\" screw holes, convenient to use with other accessories.\u003c\/div\u003e\n\u003cdiv data-mce-fragment=\"1\" style=\"text-align: center;\" data-mce-style=\"text-align: center;\"\u003e\u003cimg data-mce-fragment=\"1\" style=\"margin: 0pxpx 0pxpx 0pxpx 0pxpx; float: none;\" alt=\"\" src=\"https:\/\/cdn.shopifycdn.net\/s\/files\/1\/2707\/3516\/files\/02_65826dd7-8992-4903-b3ac-7622594b5c67_2048x2048.jpg?v=1604564558\" data-mce-src=\"https:\/\/cdn.shopifycdn.net\/s\/files\/1\/2707\/3516\/files\/02_65826dd7-8992-4903-b3ac-7622594b5c67_2048x2048.jpg?v=1604564558\" data-mce-style=\"margin: 0pxpx 0pxpx 0pxpx 0pxpx; float: none;\"\u003e\u003c\/div\u003e\n\u003cdiv data-mce-fragment=\"1\" style=\"text-align: center;\" data-mce-style=\"text-align: center;\"\u003e\u003cimg style=\"margin: 0pxpx 0pxpx 0pxpx 0pxpx; float: none;\" src=\"https:\/\/cdn.shopifycdn.net\/s\/files\/1\/2707\/3516\/files\/03_8ec76961-4f33-47df-8ba9-b5eaf1394fe4_2048x2048.jpg?v=1604564586\" width=\"2048x2048\" height=\"2048x2048\"\u003e\u003c\/div\u003e\n\u003cdiv data-mce-fragment=\"1\" style=\"text-align: center;\" data-mce-style=\"text-align: center;\"\u003e\u003cimg style=\"margin: 0pxpx 0pxpx 0pxpx 0pxpx; float: none;\" src=\"https:\/\/cdn.shopifycdn.net\/s\/files\/1\/2707\/3516\/files\/04-USB_2048x2048.jpg?v=1604564613\" width=\"2048x2048\" height=\"2048x2048\"\u003e\u003c\/div\u003e\n\u003cdiv data-mce-fragment=\"1\" style=\"text-align: center;\" data-mce-style=\"text-align: center;\"\u003e\u003cimg style=\"margin: 0pxpx 0pxpx 0pxpx 0pxpx; float: none;\" src=\"https:\/\/cdn.shopifycdn.net\/s\/files\/1\/2707\/3516\/files\/05_42ec3e83-e6f0-4b91-b1a2-85c0a428da9d_2048x2048.jpg?v=1604565078\" width=\"2048x2048\" height=\"2048x2048\"\u003e\u003c\/div\u003e\n\u003cdiv data-mce-fragment=\"1\" style=\"text-align: center;\" data-mce-style=\"text-align: center;\"\u003e\u003cimg style=\"margin: 0pxpx 0pxpx 0pxpx 0pxpx; float: none;\" src=\"https:\/\/cdn.shopifycdn.net\/s\/files\/1\/2707\/3516\/files\/06_31f37bd3-1dd8-4d4a-b6d3-43c151b9e0d5_2048x2048.jpg?v=1604565205\" width=\"2048x2048\" height=\"2048x2048\"\u003e\u003c\/div\u003e\n\u003cdiv data-mce-fragment=\"1\" style=\"text-align: center;\" data-mce-style=\"text-align: center;\"\u003e\u003cimg style=\"margin: 0pxpx 0pxpx 0pxpx 0pxpx; float: none;\" src=\"https:\/\/cdn.shopifycdn.net\/s\/files\/1\/2707\/3516\/files\/07_53ba43b5-fc04-49f7-8d1a-d079e01d682f_2048x2048.jpg?v=1604565234\" width=\"2048x2048\" height=\"2048x2048\"\u003e\u003c\/div\u003e\n\u003cdiv data-mce-fragment=\"1\" style=\"text-align: center;\" data-mce-style=\"text-align: center;\"\u003e\n\u003cb data-mce-fragment=\"1\"\u003eDescription:\u003c\/b\u003e \u003cbr data-mce-fragment=\"1\"\u003eFomito Dtap Splitter Cable with Power Switch D-tap for V-mount V Lock, Gold Mount battery to 3P x 4 Female Port \u0026amp; USB works for camera monitors, led lights, BMPCC 4K 6K, ARRI RED Cameras and smartphone. This dtap Splitter Cable is used to expand the dtap interface of your photographic power and the Anton Bauer\/V-mount battery. Perfectly supports all devices with d-tap port. \u003cbr data-mce-fragment=\"1\"\u003eYou can use a DC to DC cable\u003cb data-mce-fragment=\"1\"\u003e (Optional in my shop) \u003c\/b\u003efor led lights and camera monitors below 8V or 12V. \u003cbr data-mce-fragment=\"1\"\u003eYou can use a D-tap to dummy battery adapter (Optional in my shop) for cameras. \u003cbr data-mce-fragment=\"1\"\u003eYou can use a Dtap to NP-F dummy battery \u003cb data-mce-fragment=\"1\"\u003e(Optional in my shop) \u003c\/b\u003e for camcorders. \u003cbr data-mce-fragment=\"1\"\u003eThere is a 5V\/2.1A USB interface for your smartphone, and other usb devices. \u003cimg style=\"margin: 0pxpx 0pxpx 0pxpx 0pxpx; float: none;\" src=\"https:\/\/cdn.shopifycdn.net\/s\/files\/1\/2707\/3516\/files\/08_df2e23d8-51aa-4c0f-949c-0198dd93ddf3_2048x2048.jpg?v=1604565259\" width=\"2048x2048\" height=\"2048x2048\"\u003e\n\u003c\/div\u003e\n\u003cdiv data-mce-fragment=\"1\" style=\"text-align: center;\" data-mce-style=\"text-align: center;\"\u003e\u003c\/div\u003e\n\u003cdiv data-mce-fragment=\"1\" style=\"text-align: center;\" data-mce-style=\"text-align: center;\"\u003e\u003cimg style=\"margin: 0pxpx 0pxpx 0pxpx 0pxpx; float: none;\" src=\"https:\/\/cdn.shopifycdn.net\/s\/files\/1\/2707\/3516\/files\/09_6413cbbf-e62e-43bf-b0f8-13ff9e002220_2048x2048.jpg?v=1604565323\" width=\"2048x2048\" height=\"2048x2048\"\u003e\u003c\/div\u003e\n\u003ch3 data-mce-fragment=\"1\" style=\"text-align: center;\" data-mce-style=\"text-align: center;\"\u003e\u003cspan style=\"color: #ff2a00;\"\u003eOptional 1for5\u003c\/span\u003e\u003c\/h3\u003e\n\u003cp\u003e\u003ca href=\"https:\/\/www.fomito.com\/products\/fomito-1-for-5-universal-multiple-10a-socket-2-directions-d-tap-usb-dc-port-with-1-4-screw-holes?variant=32974691762279\"\u003e\u003cspan style=\"color: #ff2a00;\"\u003e\u003cimg src=\"https:\/\/cdn.shopifycdn.net\/s\/files\/1\/2707\/3516\/files\/01_322e3474-3d99-4fc9-8140-a97b2f1e2dce_480x480.jpg?v=1604565491\" alt=\"\"\u003e\u003c\/span\u003e\u003c\/a\u003e\u003c\/p\u003e"}
Fomito 7x Output Port D-tap Splitter Cable Universal Multiple Socket for V-mount BMPCC 4K 6K
The D-tap Splitter Cable is used to expand the dtap interface of your photographic power and the Anton Bauer/V-mount battery.
With this Power Tap Receptacle, you can expand any Power Tap to accommodate up to four separate,Perfect for powering multiple wireless receivers, on-board monitors as well as an Ultralight from a single camera battery.
Plug A: D-tap Male Connector, Plug B: 4 Port D-tap Female Connector, Plug C: USB 5V/2.1A, Plug D: DC 8V, PlugE: DC 12V. Designed with 3x4 Port, the dtap can be quickly plugged into the socket even eyes closed, which can prevent the power cord from blocking the device.
4.33" to 39.3" COILED CABLE, max current: 10A. USB for your smartphone, and other usb devices. DC 8V/12V for your camera monitors, led lights, and other DC devices.
On the back are 2x 1/4" screw holes, convenient to use with other accessories.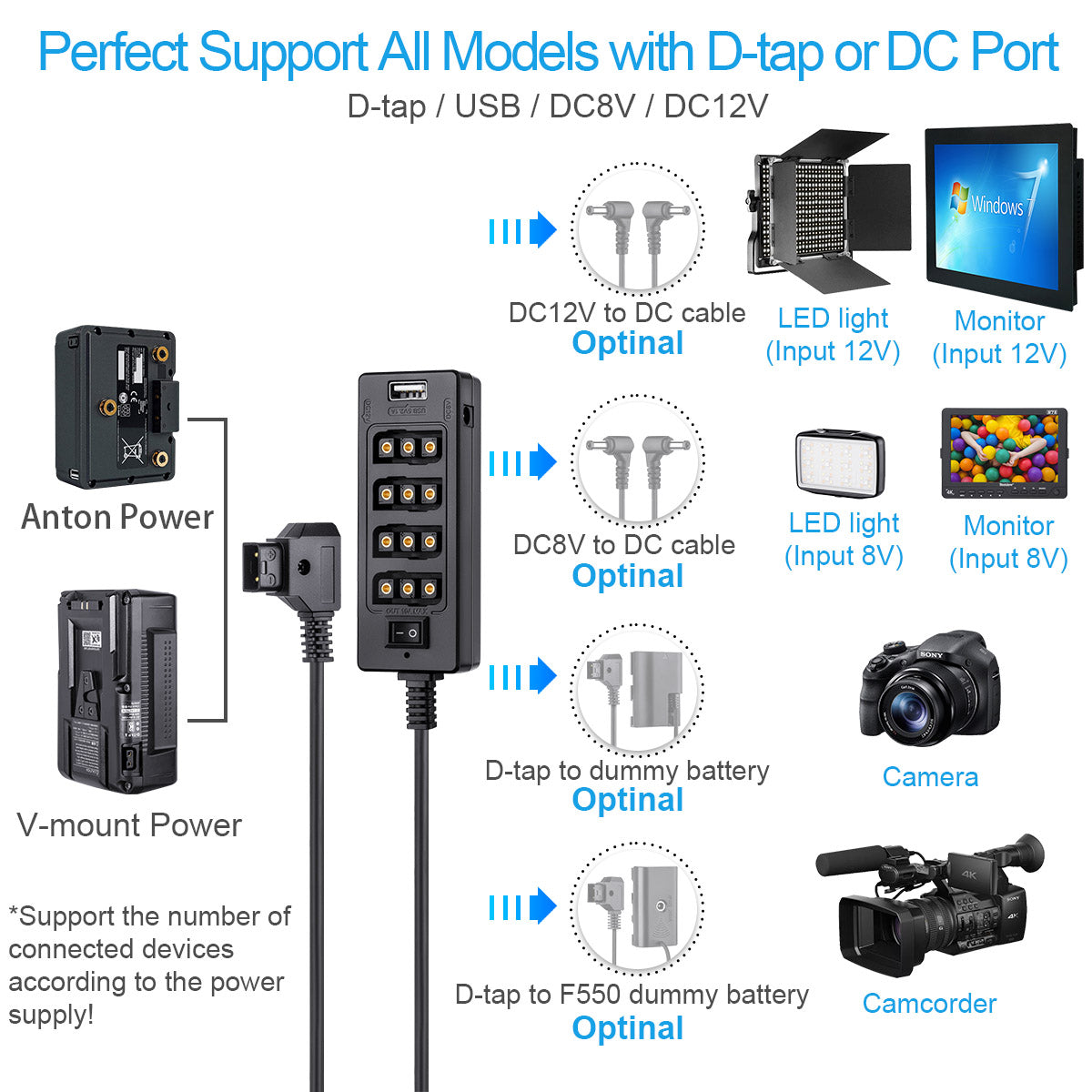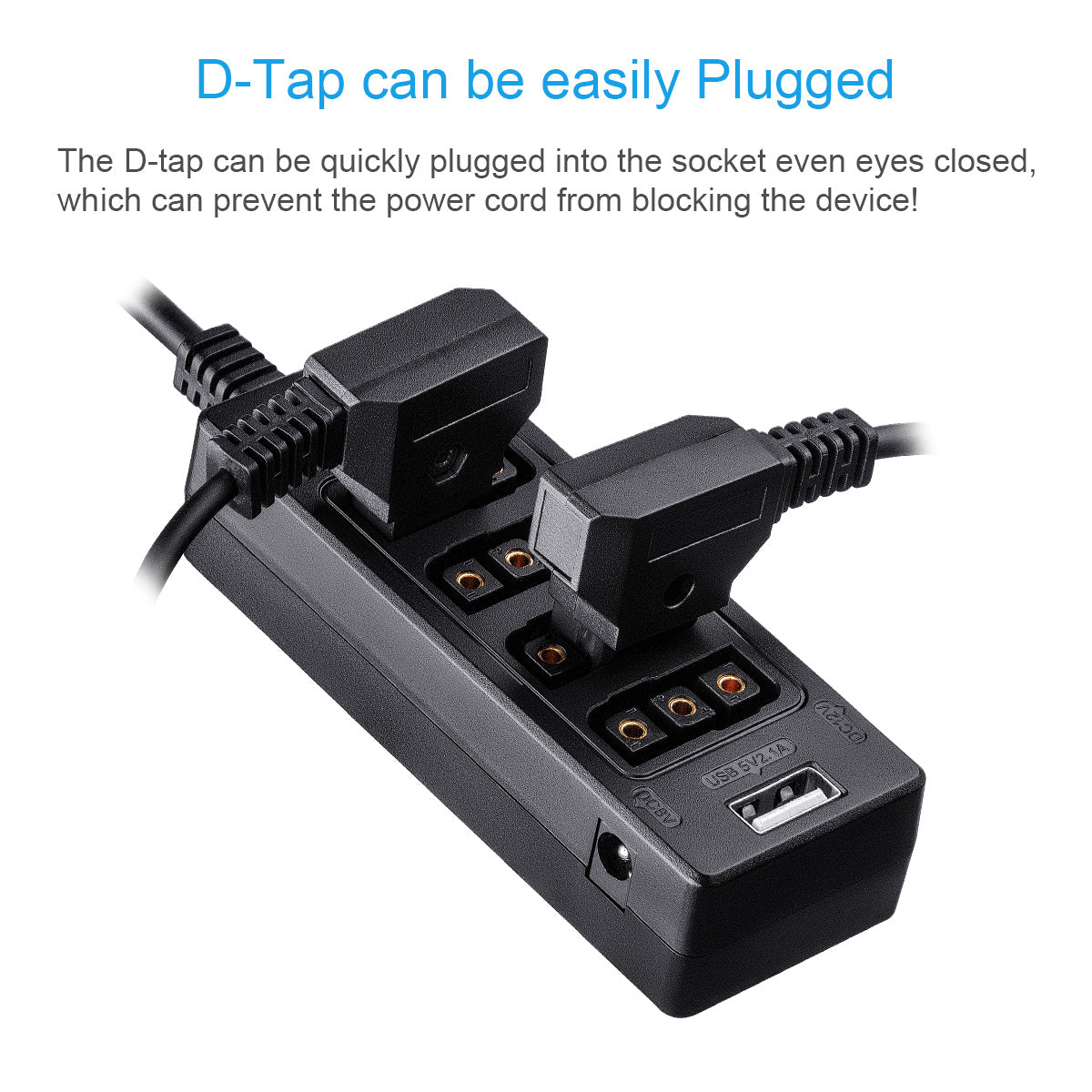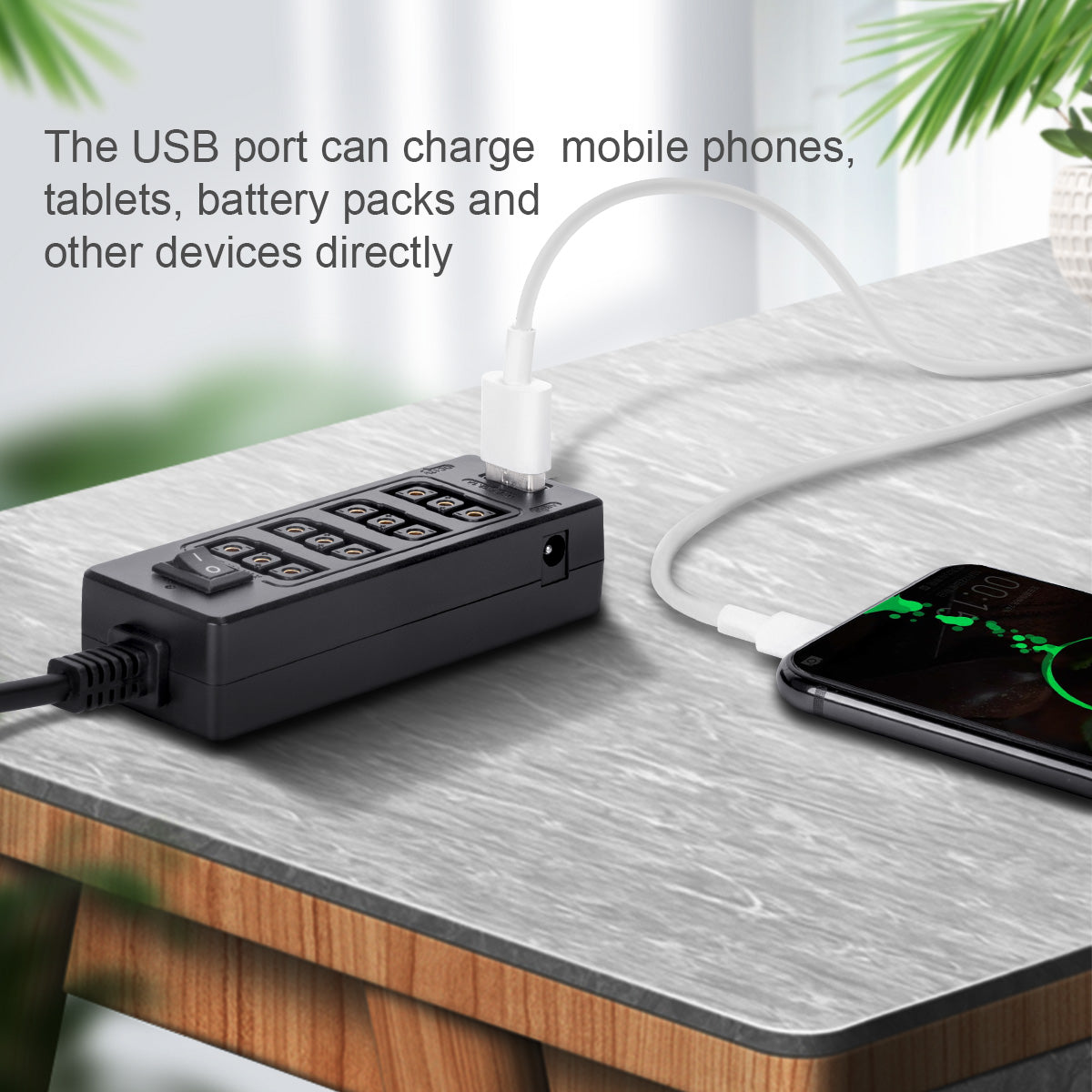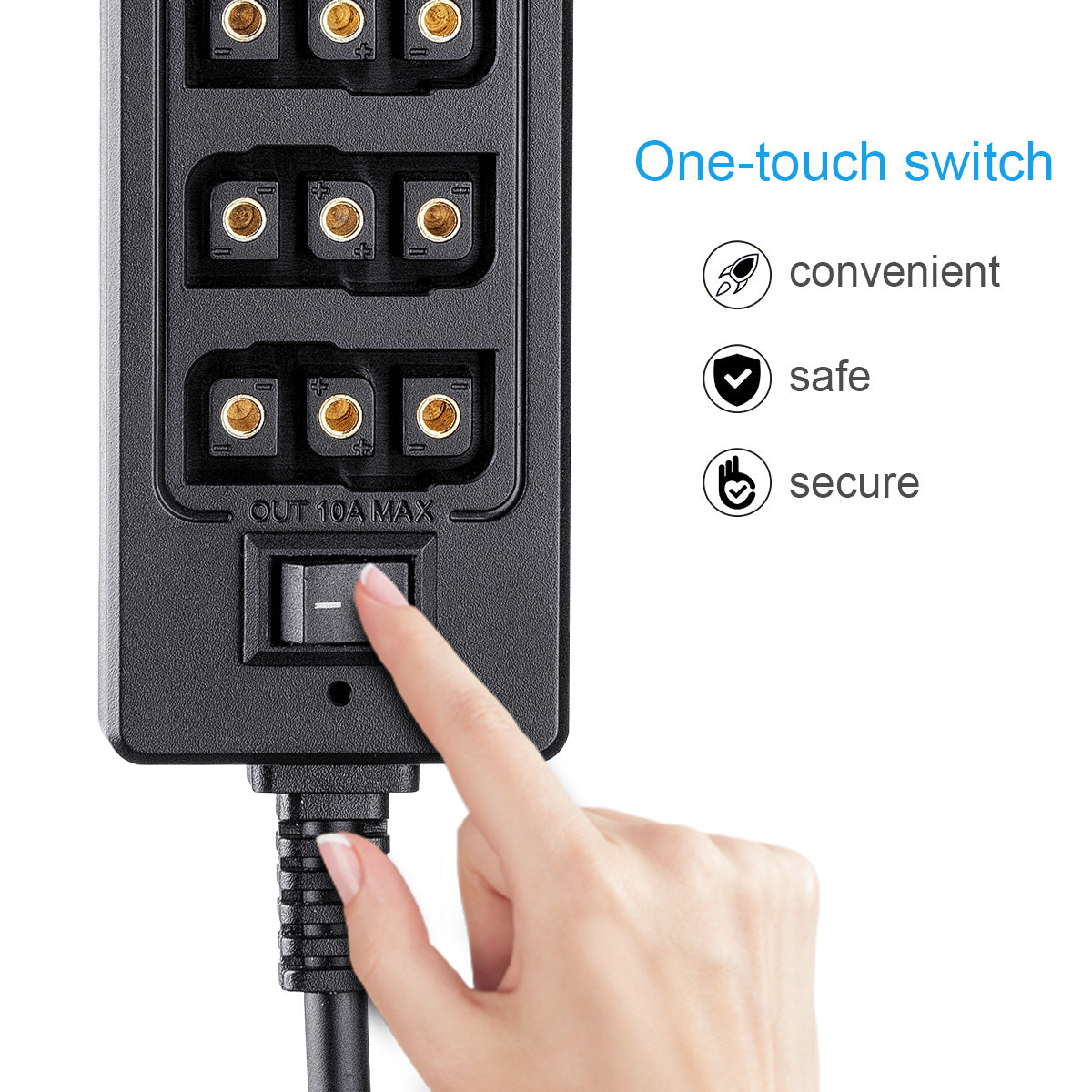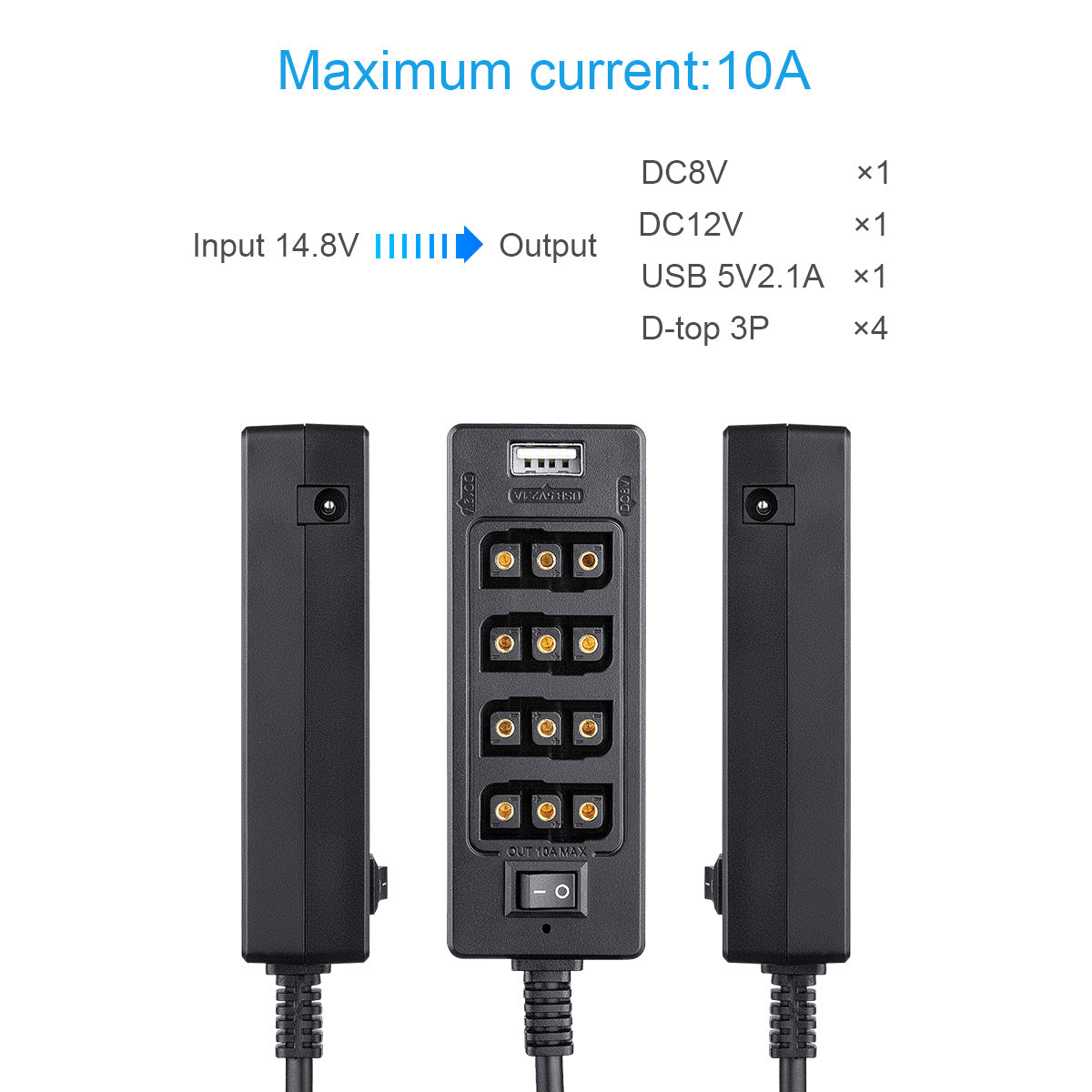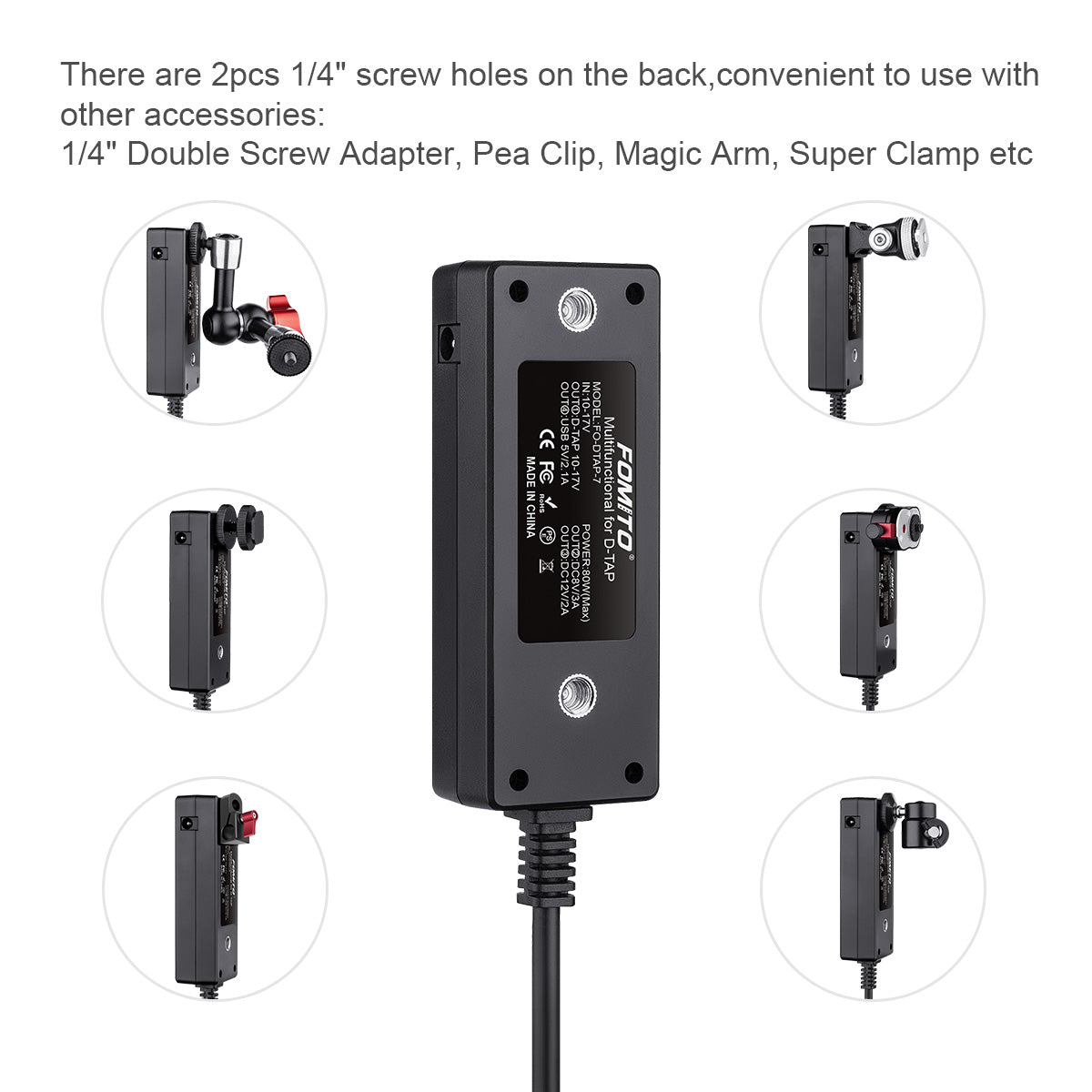 Description:
Fomito Dtap Splitter Cable with Power Switch D-tap for V-mount V Lock, Gold Mount battery to 3P x 4 Female Port & USB works for camera monitors, led lights, BMPCC 4K 6K, ARRI RED Cameras and smartphone. This dtap Splitter Cable is used to expand the dtap interface of your photographic power and the Anton Bauer/V-mount battery. Perfectly supports all devices with d-tap port.
You can use a DC to DC cable
(Optional in my shop)
for led lights and camera monitors below 8V or 12V.
You can use a D-tap to dummy battery adapter (Optional in my shop) for cameras.
You can use a Dtap to NP-F dummy battery
(Optional in my shop)
for camcorders.
There is a 5V/2.1A USB interface for your smartphone, and other usb devices.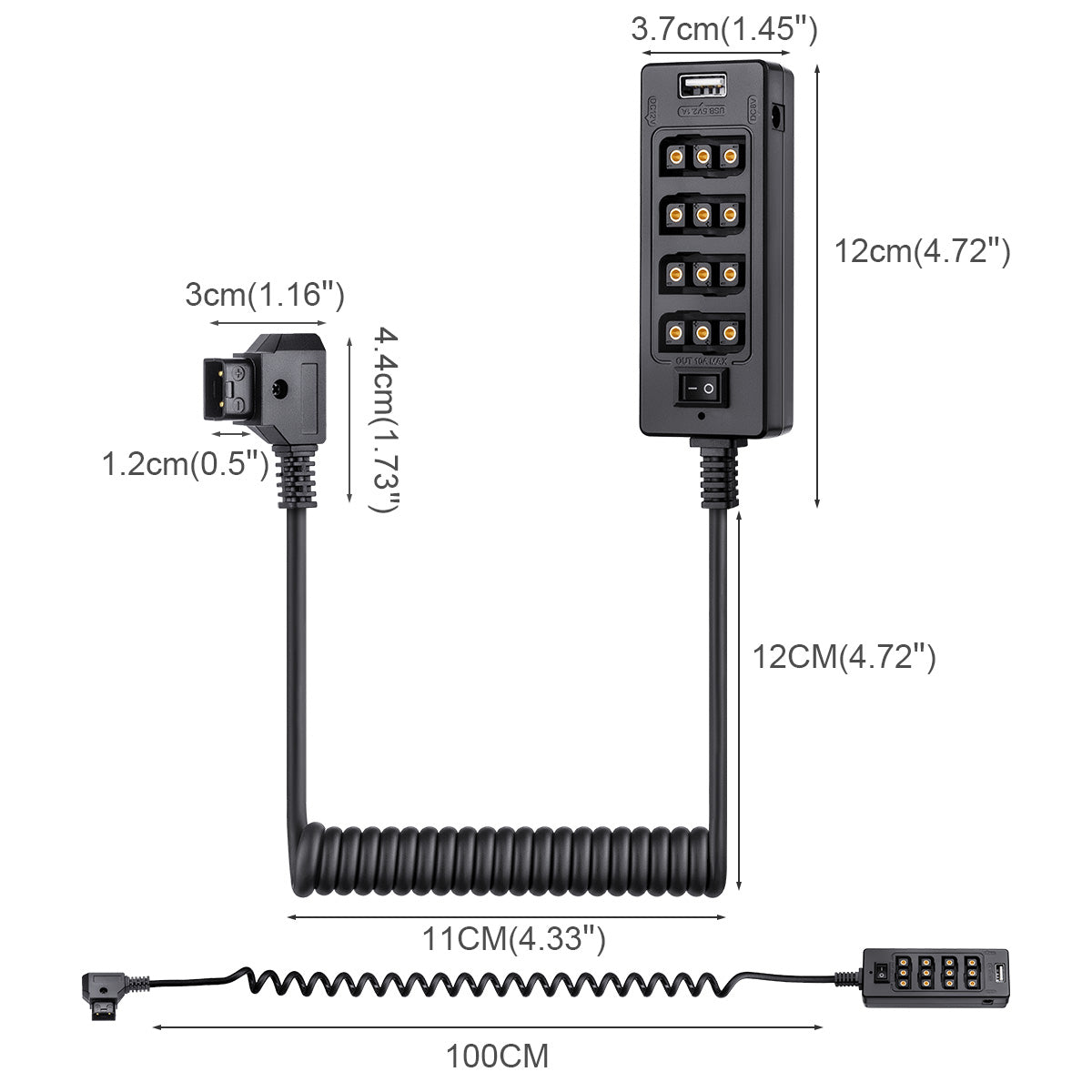 Optional 1for5
Payment

1. PayPal
If you have a PayPal account, you can pay directly by logging into your PayPal account. If you do not have a PayPal account, please pay with PayPal accepted credit cards. PayPal accepts credit cards are: Visa, Mastercard, American Express, Discover and Maestro,ect.

2. Credit cards : Visa, Mastercard, American Express, Discover and Maestro,ect.
How to use credit card payment ?
Paying at PayPal without a PayPal account
Payments for Buykud are made at PayPal, but you do not need to own a PayPal account to pay: you may enter your credit card's data directly at PayPal and complete your payment. You don't need to register a PayPal account neither.
Once you get redirected to PayPal, just do as follows:
1. Make sure the "Don't have a PayPal account?" option is selected
If your PayPal page looks as follows, just click on "Don't have a PayPal account?".
2. Enter your credit card's data
Address, email & phone number may also be requested depending on your country.
When you are done, click on "Review and Continue".
3. Click on "Pay Now"
4. Click on "No, Thanks"
5. Finally, click on "Pay now" you will complete your payment
Privacy Policy
At Fomito Shop, we do NOT share any customer information with any third party for any reason unless it is require by a legal authority or a government with an official request.
Fomito Shop takes your personal information and privacy very seriously and we will never share your information with any marketing firm for any marketing purposes except directly from Fomito Shop.
Fomito Shop will never contact you through any form to request you to update your password or personal information unless requested. Such action may be a phishing attempt and we suggest you ignore it or report to your local authority and inform us 
immediately.
| Shipping Company | Shipping Cost | Estimated Delivery Time | Tracking Information |
| --- | --- | --- | --- |
| Standard Shipping | | 10-25 days | Available |
| Expedited express(DHL/EMS) | | 5-7 days | Available |
1. Orders processed within 1~2 working days after the payment confirmed. We will inform you if we need more time to prepare the items.

2.As usual, if you choose the Standard Shipping,it takes almost 10-20 days to reach your designated address. If you choose Expedited express, it takes almost 5-7 days to reach your designated address.

PS: Please let us know if you still don't receive the items within 35 working days after you paid, then we could check it for you.


2. We only ship to confirmed PAYPAL addresses. Your PAYPAL address MUST MATCH your Shipping address.

3. SERVICE TRANSIT TIME is provided by the carrier and excludes weekends and holidays. Transit times may vary, particularly during the holiday season.

4. If you have not received your shipment within 30 days from payment, please contact us. We will track the shipment and get back to you as soon as possible with a reply. Our goal is customer satisfaction!

5. Due to stock status and time differences, we will choose to ship your item from our first available warehouse for fast delivery.
6.We support DDP(Delivery Duty Paid)shipment for almost all of european countries.all the packages will be delivered in Netherlands at first(about 5-10 days),after completing customs clearance by our express agent,all the packages will be sent to buyers via mainstream european courier companies or postal service.So the customs and VAT fee Included.
Please be noted: that the delivery time mentioned on our page is for reference only. Although the actual shipping time is punctual in most occasions, in some cases delivery time may vary due to traffic congestion, adverse weather, acts of custom inspection, etc. We will try our best to avoid such situations, however, please understand that some of these situations are beyond our control, and we are not reponsible for them.

One year Warranty. Buy with confidence! 30 days money back guaranteed.

We provide 30 day return policy for products sold. If, for any reason, you are not satisfied with your purchases, full refund of the purchase (excluding the shipping expenses) can be applicable under the following circumstances:

 
ALL accessories must be unused; ALL accessory packages must be unopened.


ALL items must be intact and undamaged (except for defects in manufacturing).


Items must be in good conditions with all original accessories, manuals, and packing materials. Any missing parts or damaged items will result in rejection on the return.


In case of any defectives found, only defects in manufacturing are accepted as the reason of return.

 
No refund is given if defects are caused by misuse of buyers. Our customer service officers will gladly contact you for further arrangement upon your request.


All shipping cost thus generated is paid by the buyer.


Item returned must be received within 7 days after the receipt of the items. No refund and replacement is issued after this period.


Payment will be refunded as original currency only. We will not take responsibility for any loss due to exchange rate difference in the refund process.


Refunds will NOT include ANY shipping and handling fees. Any additional expenses will also be deducted from the refund.


In the case of return, please be sure to include ALL the original contents (including gift, packages and manuals). Any missing contents may result in rejection of the refund. Please also make sure that the return package is securely packed, and apply waterproof packing instruments wherever necessary.