{"id":129836154924,"title":"Godox 3X QT600W Studio Flash Light w\/ Stand Softbox Trigger Carrying Case Kit","handle":"godox-3x-qt600w-studio-flash-light-w-stand-softbox-trigger-carrying-case-kit","description":"\u003cdiv class=\"dbbox desc_details desc_box\" style=\"width: 786px;\"\u003e\n\u003cdiv class=\"ableft\"\u003e\n\u003cdiv class=\"descdiv desc_details\"\u003e\n\u003cp\u003e\u003cspan style=\"font-size: 14px;\"\u003e\u003cspan style=\"font-family: arial,helvetica,sans-serif;\"\u003e\u003ciframe src=\"https:\/\/www.youtube.com\/embed\/7MP56HJsWiY?rel=0\" allowfullscreen=\"\" width=\"560\" height=\"315\" frameborder=\"0\"\u003e\u003c\/iframe\u003e\u003c\/span\u003e\u003c\/span\u003e\u003c\/p\u003e\n\u003cp\u003e \u003c\/p\u003e\n\u003cp\u003e\u003cspan style=\"font-size: 14px;\"\u003e\u003cspan style=\"font-family: arial,helvetica,sans-serif;\"\u003eQT 600W flash, an outstanding strobe for studio and workshop shooting. Photographers can easily capture a chain of fast-changing facial expressions and amazing moves, as well as clearly freeze each fleetingly perfect instant into eternal beauty. Excellent for wedding, portrait, fashion, and advertisement photography, especially, high-speed photography.\u003c\/span\u003e\u003c\/span\u003e\u003c\/p\u003e\n\u003cp\u003e\u003cspan style=\"font-size: 14px;\"\u003e\u003cspan style=\"font-family: arial,helvetica,sans-serif;\"\u003e* Extremely fast recycling time\u003cbr\u003e   0.05-1.2 second, up to 10 continuous flashes per second\u003cbr\u003e* Ultra short flash duration\u003cbr\u003e   1\/5000-1\/800 second, vividly snaps moving objects and details actions\u003cbr\u003e* High color stability\u003cbr\u003e   5600±100k between flashes over the entire power range\u003cbr\u003e* Wide-range and precise power regulation\u003cbr\u003e   Output from full power (1\/1) to 1\/128 in 50 steps (5.0-10.0)\u003cbr\u003e* Wireless power control and flash triggering system (optional)\u003cbr\u003e   Special trigger wirelessly controls flash power level, modeling light, buzzer, etc\u003c\/span\u003e\u003c\/span\u003e\u003c\/p\u003e\n\u003cp\u003e \u003c\/p\u003e\n\u003cp\u003e\u003cspan style=\"color: #ff0000;\"\u003e\u003cspan style=\"font-size: 14px;\"\u003e\u003cspan style=\"font-family: arial,helvetica,sans-serif;\"\u003e\u003cstrong\u003eSpecifications:\u003c\/strong\u003e\u003c\/span\u003e\u003c\/span\u003e\u003c\/span\u003e\u003c\/p\u003e\n\u003cp\u003e\u003cspan style=\"color: #ff0000;\"\u003e\u003cspan style=\"font-size: 14px;\"\u003e\u003cspan style=\"font-family: arial,helvetica,sans-serif;\"\u003e\u003cstrong\u003e3x QT 600w Flash:\u003c\/strong\u003e\u003c\/span\u003e\u003c\/span\u003e\u003c\/span\u003e\u003c\/p\u003e\n\u003cimg src=\"https:\/\/cdn.shopify.cn\/s\/files\/1\/2707\/3516\/files\/600_480x480.jpg?v=1585382890\" alt=\"\"\u003e\n\u003c\/div\u003e\n\u003cdiv class=\"descdiv desc_details\"\u003e \u003cbr\u003e\n\u003cp\u003e\u003cspan style=\"color: #ff0000;\"\u003e\u003cspan style=\"font-size: 14px;\"\u003e\u003cspan style=\"font-family: arial,helvetica,sans-serif;\"\u003e\u003cstrong\u003e1x 80*120cm Softbox\u003c\/strong\u003e\u003c\/span\u003e\u003c\/span\u003e\u003c\/span\u003e\u003c\/p\u003e\n\u003cp\u003e\u003cspan style=\"font-size: 14px;\"\u003e\u003cspan style=\"font-family: arial,helvetica,sans-serif;\"\u003e- Size : 80x120cm \/ 32\" x 48\"\u003c\/span\u003e\u003c\/span\u003e\u003c\/p\u003e\n\u003cp\u003e\u003cspan style=\"font-size: 14px;\"\u003e\u003cspan style=\"font-family: arial,helvetica,sans-serif;\"\u003e- Mount Type: Bowens Mount\u003c\/span\u003e\u003c\/span\u003e\u003c\/p\u003e\n\u003cp\u003e\u003cspan style=\"font-size: 14px;\"\u003e\u003cspan style=\"font-family: arial,helvetica,sans-serif;\"\u003e- Shape: Rectangle \u003c\/span\u003e\u003c\/span\u003e\u003c\/p\u003e\n\u003cp\u003e\u003cspan style=\"font-size: 14px;\"\u003e\u003cspan style=\"font-family: arial,helvetica,sans-serif;\"\u003e- Aluminum Ring Adaptor\u003c\/span\u003e\u003c\/span\u003e\u003c\/p\u003e\n\u003cp\u003e\u003cspan style=\"font-size: 14px;\"\u003e\u003cspan style=\"font-family: arial,helvetica,sans-serif;\"\u003eEvery softbox comes with:\u003c\/span\u003e\u003c\/span\u003e\u003c\/p\u003e\n\u003cp\u003e\u003cspan style=\"font-size: 14px;\"\u003e\u003cspan style=\"font-family: arial,helvetica,sans-serif;\"\u003e-  1 x 80x120cm Softbox\u003c\/span\u003e\u003c\/span\u003e\u003c\/p\u003e\n\u003cp\u003e\u003cspan style=\"font-size: 14px;\"\u003e\u003cspan style=\"font-family: arial,helvetica,sans-serif;\"\u003e-  4 x Steel Rod Set\u003c\/span\u003e\u003c\/span\u003e\u003c\/p\u003e\n\u003cp\u003e\u003cspan style=\"font-size: 14px;\"\u003e\u003cspan style=\"font-family: arial,helvetica,sans-serif;\"\u003e-  1 x Bowens Mount Speedring\u003c\/span\u003e\u003c\/span\u003e\u003c\/p\u003e\n\u003cp\u003e\u003cspan style=\"font-size: 14px;\"\u003e\u003cspan style=\"font-family: arial,helvetica,sans-serif;\"\u003e-  1 x Carrying bag\u003c\/span\u003e\u003c\/span\u003e\u003c\/p\u003e\n\u003cp\u003e\u003cspan style=\"color: #ff0000;\"\u003e\u003cspan style=\"font-size: 14px;\"\u003e\u003cspan style=\"font-family: arial,helvetica,sans-serif;\"\u003e\u003cstrong\u003e2x 35*160cm Softboxes\u003c\/strong\u003e\u003c\/span\u003e\u003c\/span\u003e\u003c\/span\u003e\u003c\/p\u003e\n\u003cp\u003e\u003cspan style=\"font-family: arial,helvetica,sans-serif; font-size: 14px;\"\u003e- Size : 35x160cm\u003c\/span\u003e\u003c\/p\u003e\n\u003cp\u003e\u003cspan style=\"font-size: 14px;\"\u003e\u003cspan style=\"font-family: arial,helvetica,sans-serif;\"\u003e- Mount Type: Bowens Mount\u003c\/span\u003e\u003c\/span\u003e\u003c\/p\u003e\n\u003cp\u003e\u003cspan style=\"font-size: 14px;\"\u003e\u003cspan style=\"font-family: arial,helvetica,sans-serif;\"\u003e- Shape: Rectangle \u003c\/span\u003e\u003c\/span\u003e\u003c\/p\u003e\n\u003cp\u003e\u003cspan style=\"font-size: 14px;\"\u003e\u003cspan style=\"font-family: arial,helvetica,sans-serif;\"\u003e- Aluminum Ring Adaptor\u003c\/span\u003e\u003c\/span\u003e\u003c\/p\u003e\n\u003cp\u003e\u003cspan style=\"font-size: 14px;\"\u003e\u003cspan style=\"font-family: arial,helvetica,sans-serif;\"\u003eEvery softbox comes with:\u003c\/span\u003e\u003c\/span\u003e\u003c\/p\u003e\n\u003cp\u003e\u003cspan style=\"font-size: 14px;\"\u003e\u003cspan style=\"font-family: arial,helvetica,sans-serif;\"\u003e-  1 x 35x160cm Softbox\u003c\/span\u003e\u003c\/span\u003e\u003c\/p\u003e\n\u003cp\u003e\u003cspan style=\"font-size: 14px;\"\u003e\u003cspan style=\"font-family: arial,helvetica,sans-serif;\"\u003e-  4 x Steel Rod Set\u003c\/span\u003e\u003c\/span\u003e\u003c\/p\u003e\n\u003cp\u003e\u003cspan style=\"font-size: 14px;\"\u003e\u003cspan style=\"font-family: arial,helvetica,sans-serif;\"\u003e-  1 x Bowens Mount Speedring\u003c\/span\u003e\u003c\/span\u003e\u003c\/p\u003e\n\u003cp\u003e\u003cspan style=\"font-size: 14px;\"\u003e\u003cspan style=\"font-family: arial,helvetica,sans-serif;\"\u003e-  1 x Carrying bag\u003c\/span\u003e\u003c\/span\u003e\u003c\/p\u003e\n\u003cp\u003e\u003cspan style=\"color: #ff0000;\"\u003e\u003cspan style=\"font-size: 14px;\"\u003e\u003cspan style=\"font-family: arial,helvetica,sans-serif;\"\u003e\u003cstrong\u003e1x \u003c\/strong\u003e\u003cstrong\u003e140cm \u003c\/strong\u003e\u003cstrong\u003eOctagon Softbox\u003c\/strong\u003e\u003c\/span\u003e\u003c\/span\u003e\u003c\/span\u003e\u003c\/p\u003e\n\u003cp\u003e\u003cspan style=\"font-size: 14px;\"\u003e\u003cspan style=\"font-family: arial,helvetica,sans-serif;\"\u003e-  Size : 140cm \u003c\/span\u003e\u003c\/span\u003e\u003c\/p\u003e\n\u003cp\u003e\u003cspan style=\"font-size: 14px;\"\u003e\u003cspan style=\"font-family: arial,helvetica,sans-serif;\"\u003e-  Speedring: Bowens Mount\u003c\/span\u003e\u003c\/span\u003e\u003c\/p\u003e\n\u003cp\u003e\u003cspan style=\"font-size: 14px;\"\u003e\u003cspan style=\"font-family: arial,helvetica,sans-serif;\"\u003e-  Weight : 1800g\u003c\/span\u003e\u003c\/span\u003e\u003c\/p\u003e\n\u003cp\u003e\u003cspan style=\"font-size: 14px;\"\u003e\u003cspan style=\"font-family: arial,helvetica,sans-serif;\"\u003eEvery softbox comes with:\u003c\/span\u003e\u003c\/span\u003e\u003c\/p\u003e\n\u003cp\u003e\u003cspan style=\"font-size: 14px;\"\u003e\u003cspan style=\"font-family: arial,helvetica,sans-serif;\"\u003e-  1 x 140cm Octagon Softbox\u003c\/span\u003e\u003c\/span\u003e\u003c\/p\u003e\n\u003cp\u003e\u003cspan style=\"font-size: 14px;\"\u003e\u003cspan style=\"font-family: arial,helvetica,sans-serif;\"\u003e-  1 x Bowens Mount Speedring\u003c\/span\u003e\u003c\/span\u003e\u003c\/p\u003e\n\u003cp\u003e\u003cspan style=\"font-size: 14px;\"\u003e\u003cspan style=\"font-family: arial,helvetica,sans-serif;\"\u003e-  1 x Carrying bag\u003c\/span\u003e\u003c\/span\u003e\u003c\/p\u003e\n\u003cp\u003e\u003cspan style=\"color: #ff0000;\"\u003e\u003cspan style=\"font-size: 14px;\"\u003e\u003cspan style=\"font-family: arial,helvetica,sans-serif;\"\u003e\u003cstrong\u003e1x FT-16 Trigger with 3 Receivers:\u003c\/strong\u003e\u003c\/span\u003e\u003c\/span\u003e\u003c\/span\u003e\u003c\/p\u003e\n\u003cp\u003e\u003cspan style=\"font-family: arial,helvetica,sans-serif;\"\u003e\u003cspan style=\"font-size: 14px;\"\u003eGodox specific flash trigger kit model FT-16 supports flash grouping and remote flash power control. With sensitive reactions and stable signal transmission, it applies to flashes with the wireless control port, such as, \u003cstrong\u003eGodox Wistro AD-180 \u0026amp; AD-360, Godox QT series and Gemini GT \u0026amp; GS, DP Series, DE Series, SK Series(New Released), E Series(New Released)\u003c\/strong\u003e series studio flashes, as well as specific camera flashes. It is also compatible with \u003cstrong\u003eGodox Cells series\u003c\/strong\u003e Transceiver.\u003c\/span\u003e\u003c\/span\u003e\u003c\/p\u003e\n\u003cp\u003e \u003c\/p\u003e\n\u003cp\u003e\u003cspan style=\"font-size: 14px;\"\u003e\u003cspan style=\"font-family: arial,helvetica,sans-serif;\"\u003e- Transmitter Power Supply: 3V 2*AA battery\u003cbr\u003e- Transmitter Frequency: 433MHZ wireless remote system\u003cbr\u003e- Receiver Power Supply: 5V (powered by flash)\u003cbr\u003e- Channel: 16\u003cbr\u003e- Workable distance: 50m\/164ft (open space)\u003cbr\u003e- Max. sync speed: 1 \/ 250 sec.\u003cbr\u003e- Control on flashes: Flash output power; Modeling light on\/off; Buzzer on\/off; Flash triggering\u003c\/span\u003e\u003c\/span\u003e\u003c\/p\u003e\n\u003cp\u003e \u003c\/p\u003e\n\u003cp\u003e\u003cspan style=\"color: #ff0000;\"\u003e\u003cspan style=\"font-size: 14px;\"\u003e\u003cspan style=\"font-family: arial,helvetica,sans-serif;\"\u003e\u003cstrong\u003e3x 2.6m 303 Light Stands:\u003c\/strong\u003e\u003c\/span\u003e\u003c\/span\u003e\u003c\/span\u003e\u003c\/p\u003e\n\u003cp\u003e\u003cspan style=\"font-size: 14px;\"\u003e\u003cspan style=\"font-family: arial,helvetica,sans-serif;\"\u003e- Color: Black\u003c\/span\u003e\u003c\/span\u003e\u003c\/p\u003e\n\u003cp\u003e\u003cspan style=\"font-size: 14px;\"\u003e\u003cspan style=\"font-family: arial,helvetica,sans-serif;\"\u003e- Maximum height is 8.5 feet\/2.6m, fold down to 38 inches\/ 97cm for easy portability.\u003c\/span\u003e\u003c\/span\u003e\u003c\/p\u003e\n\u003cp\u003e\u003cspan style=\"font-size: 14px;\"\u003e\u003cspan style=\"font-family: arial,helvetica,sans-serif;\"\u003e- Hole diameters: 31.5mm-25.7mm\u003c\/span\u003e\u003c\/span\u003e\u003c\/p\u003e\n\u003cp\u003e\u003cspan style=\"font-size: 14px;\"\u003e\u003cspan style=\"font-family: arial,helvetica,sans-serif;\"\u003e- Professional quality aluminum frame with black satin finish.\u003c\/span\u003e\u003c\/span\u003e\u003c\/p\u003e\n\u003cp\u003e\u003cspan style=\"font-size: 14px;\"\u003e\u003cspan style=\"font-family: arial,helvetica,sans-serif;\"\u003e- Simple quick-release levers provide fast precise height adjustment.\u003c\/span\u003e\u003c\/span\u003e\u003c\/p\u003e\n\u003cp\u003e\u003cspan style=\"font-size: 14px;\"\u003e\u003cspan style=\"font-family: arial,helvetica,sans-serif;\"\u003e- Extra wide angle footprints with rubber tips for more stability.\u003c\/span\u003e\u003c\/span\u003e\u003c\/p\u003e\n\u003cp\u003e\u003cspan style=\"font-size: 14px;\"\u003e\u003cspan style=\"font-family: arial,helvetica,sans-serif;\"\u003e- Folding frame design for free will lighting position setting and easier storage.\u003c\/span\u003e\u003c\/span\u003e\u003c\/p\u003e\n\u003cp\u003e \u003c\/p\u003e\n\u003cp\u003e \u003c\/p\u003e\n\u003cp\u003e\u003cspan style=\"color: #ff0000;\"\u003e\u003cspan style=\"font-size: 14px;\"\u003e\u003cspan style=\"font-family: arial,helvetica,sans-serif;\"\u003e\u003cstrong\u003e1x Light Stand with sandbag and Boom Arm LB-02:\u003c\/strong\u003e\u003c\/span\u003e\u003c\/span\u003e\u003c\/span\u003e\u003c\/p\u003e\n\u003cp\u003e\u003cspan style=\"font-size: 14px;\"\u003e\u003cspan style=\"font-family: arial,helvetica,sans-serif;\"\u003eMaximum height is 180cm, fold down to 70cm for easy portability\u003c\/span\u003e\u003c\/span\u003e\u003c\/p\u003e\n\u003cp\u003e\u003cspan style=\"font-size: 14px;\"\u003e\u003cspan style=\"font-family: arial,helvetica,sans-serif;\"\u003eHole diameters: 25mm,22mm,19mm\u003c\/span\u003e\u003c\/span\u003e\u003c\/p\u003e\n\u003cp\u003e\u003cspan style=\"font-size: 14px;\"\u003e\u003cspan style=\"font-family: arial,helvetica,sans-serif;\"\u003eTelescopic boom arm maximum length:200cm\u003c\/span\u003e\u003c\/span\u003e\u003c\/p\u003e\n\u003cp\u003e\u003cspan style=\"font-size: 14px;\"\u003e\u003cspan style=\"font-family: arial,helvetica,sans-serif;\"\u003eHole diameters: 25mm\u003cbr\u003e1 Sandbag \u0026amp; hook provide counter-balance against the weight of the lights\u003c\/span\u003e\u003c\/span\u003e\u003c\/p\u003e\n\u003cp\u003e\u003cspan style=\"font-size: 14px;\"\u003e\u003cspan style=\"font-family: arial,helvetica,sans-serif;\"\u003eSandbag Weight:4kg\u003c\/span\u003e\u003c\/span\u003e\u003c\/p\u003e\n\u003cp\u003e \u003c\/p\u003e\n\u003cp\u003e\u003cspan style=\"color: #ff0000;\"\u003e\u003cstrong\u003e\u003cspan style=\"font-family: arial,helvetica,sans-serif; font-size: 14px;\"\u003e1x Reflector Boom Holder FH02\u003c\/span\u003e\u003c\/strong\u003e\u003c\/span\u003e\u003c\/p\u003e\n\u003cp\u003e\u003cspan style=\"font-size: 14px;\"\u003e\u003cspan style=\"font-family: arial,helvetica,sans-serif;\"\u003e\u003cspan style=\"background-color: rgba(255, 255, 255, 0.8);\"\u003eThis light boom holder is used to firmly grip the\u003c\/span\u003e\u003cspan style=\"background-color: rgba(255, 255, 255, 0.8);\"\u003e reflectors, it can be installed on the light stand, which make it really convenient and easy to use the reflector freely without other's help. With a 360 degree swivel design, it can rotate 360 degree for all directions lighting by adjusting the handle.\u003c\/span\u003e\u003c\/span\u003e\u003c\/span\u003e\u003c\/p\u003e\n\u003cp\u003e\u003cspan style=\"font-size: 14px;\"\u003e\u003cspan style=\"font-family: arial,helvetica,sans-serif;\"\u003e-Material: Aluminum alloy\u003c\/span\u003e\u003c\/span\u003e\u003c\/p\u003e\n\u003cp\u003e\u003cspan style=\"font-size: 14px;\"\u003e\u003cspan style=\"font-family: arial,helvetica,sans-serif;\"\u003e-Extendable Length: 65cm-176cm\u003c\/span\u003e\u003c\/span\u003e\u003c\/p\u003e\n\u003cp\u003e\u003cspan style=\"font-size: 14px;\"\u003e\u003cspan style=\"font-family: arial,helvetica,sans-serif;\"\u003e-Suitable for: 60cm, 80cm, 110cm and most other size reflectors.\u003c\/span\u003e\u003c\/span\u003e\u003c\/p\u003e\n\u003cp\u003e\u003cspan style=\"color: #ff0000;\"\u003e\u003cstrong\u003e\u003cspan style=\"font-size: 14px;\"\u003e\u003cspan style=\"font-family: arial,helvetica,sans-serif;\"\u003e1x BS-04 Retractable Background Stand\u003c\/span\u003e\u003c\/span\u003e\u003c\/strong\u003e\u003c\/span\u003e\u003c\/p\u003e\n\u003cp\u003e\u003cspan style=\"font-family: arial,helvetica,sans-serif;\"\u003e\u003cspan style=\"font-size: 14px;\"\u003eThis Godox BS-04 Retractable Background Stand (boasts a massive 2.6m x 3m size) is made of lightweight aluminum and solid heavy support stands.It consists of two sturdy adjustable lighting stands and a retractable cross bar.The height can be adjusted from 0.97m to 2.6m.\u003c\/span\u003e\u003c\/span\u003e\u003c\/p\u003e\n\u003cp\u003e\u003cspan style=\"font-family: arial,helvetica,sans-serif;\"\u003e\u003cspan style=\"font-size: 14px;\"\u003eThis stand aims at providing photographers requiring a portable solution to take on site or establish studios. Sturdy fitting helps setting up with minimal fuss. Only simple assembly is required and no tools are needed.\u003c\/span\u003e\u003c\/span\u003e\u003c\/p\u003e\n\u003cp\u003e\u003cspan style=\"font-size: 14px;\"\u003e\u003cspan style=\"font-family: arial,helvetica,sans-serif;\"\u003e\u003cstrong\u003eFeatures:\u003c\/strong\u003e\u003c\/span\u003e\u003c\/span\u003e\u003c\/p\u003e\n\u003cp\u003e\u003cspan style=\"font-size: 14px;\"\u003e\u003cspan style=\"font-family: arial,helvetica,sans-serif;\"\u003e-High quality aluminum frame\u003c\/span\u003e\u003c\/span\u003e\u003c\/p\u003e\n\u003cp\u003e\u003cspan style=\"font-size: 14px;\"\u003e\u003cspan style=\"font-family: arial,helvetica,sans-serif;\"\u003e-Height adjustable stands (0.97m - 2.6m)\u003c\/span\u003e\u003c\/span\u003e\u003c\/p\u003e\n\u003cp\u003e\u003cspan style=\"font-size: 14px;\"\u003e\u003cspan style=\"font-family: arial,helvetica,sans-serif;\"\u003e-Telescopic crossbars, adjustable width from 1.0m to 3m\u003cbr\u003e-Solid mounting and locking,easy to set up\u003c\/span\u003e\u003c\/span\u003e\u003c\/p\u003e\n\u003cp\u003e\u003cspan style=\"font-size: 14px;\"\u003e\u003cspan style=\"font-family: arial,helvetica,sans-serif;\"\u003e-Collapsible for easy storage\u003c\/span\u003e\u003c\/span\u003e\u003c\/p\u003e\n\u003cp\u003e \u003c\/p\u003e\n\u003cp\u003e\u003cspan style=\"color: #ff0000;\"\u003e\u003cspan style=\"font-size: 14px;\"\u003e\u003cspan style=\"font-family: arial,helvetica,sans-serif;\"\u003e\u003cstrong\u003e1X CB-01 wheeled\u003c\/strong\u003e \u003cstrong\u003eCarrying Case\u003c\/strong\u003e\u003c\/span\u003e\u003c\/span\u003e\u003c\/span\u003e\u003c\/p\u003e\n\u003cp\u003e\u003cspan style=\"font-size: 14px;\"\u003e\u003cspan style=\"font-family: arial,helvetica,sans-serif;\"\u003eSize:114x33.5x24cm\u003c\/span\u003e\u003c\/span\u003e\u003c\/p\u003e\n\u003cp\u003e\u003cspan style=\"color: #ff0000;\"\u003e\u003cspan style=\"font-size: 14px;\"\u003e\u003cspan style=\"font-family: arial,helvetica,sans-serif;\"\u003e\u003cstrong\u003ePackage Includes:\u003c\/strong\u003e\u003c\/span\u003e\u003c\/span\u003e\u003c\/span\u003e\u003c\/p\u003e\n\u003cp\u003e\u003cspan style=\"font-size: 14px;\"\u003e\u003cspan style=\"font-family: arial,helvetica,sans-serif;\"\u003e3x Godox QT 600W Studio Flash\u003c\/span\u003e\u003c\/span\u003e\u003c\/p\u003e\n\u003cp\u003e\u003cspan style=\"font-size: 14px;\"\u003e\u003cspan style=\"font-family: arial,helvetica,sans-serif;\"\u003e3x 303 Light Stand Tripods\u003c\/span\u003e\u003c\/span\u003e\u003c\/p\u003e\n\u003cp\u003e\u003cspan style=\"font-family: arial,helvetica,sans-serif; font-size: 14px;\"\u003e1x Light Boom LB-02\u003c\/span\u003e\u003c\/p\u003e\n\u003cp\u003e\u003cspan style=\"font-family: arial,helvetica,sans-serif; font-size: 14px;\"\u003e1x Reflector Boom Holder FH02\u003c\/span\u003e\u003c\/p\u003e\n\u003cp\u003e\u003cspan style=\"font-size: 14px;\"\u003e\u003cspan style=\"font-family: arial,helvetica,sans-serif;\"\u003e1x BS-04 Retractable Background Stand\u003c\/span\u003e\u003c\/span\u003e\u003c\/p\u003e\n\u003cp\u003e\u003cspan style=\"font-size: 14px;\"\u003e\u003cspan style=\"font-family: arial,helvetica,sans-serif;\"\u003e1x Softbox SB-BW 80*120cm\u003c\/span\u003e\u003c\/span\u003e\u003c\/p\u003e\n\u003cp\u003e\u003cspan style=\"font-family: arial,helvetica,sans-serif; font-size: 14px;\"\u003e2x Softboxes SB-BW 35*160cm\u003c\/span\u003e\u003cbr\u003e\u003cspan style=\"font-size: 14px;\"\u003e\u003cspan style=\"font-family: arial,helvetica,sans-serif;\"\u003e1x Octagon Softbox \u003c\/span\u003e\u003c\/span\u003e\u003cspan style=\"font-family: arial,helvetica,sans-serif; font-size: 14px;\"\u003e140cm \u003c\/span\u003e\u003c\/p\u003e\n\u003cp\u003e\u003cspan style=\"font-size: 14px;\"\u003e\u003cspan style=\"font-family: arial,helvetica,sans-serif;\"\u003e1x Transmitter FT-16\u003c\/span\u003e\u003c\/span\u003e\u003c\/p\u003e\n\u003cp\u003e\u003cspan style=\"font-size: 14px;\"\u003e\u003cspan style=\"font-family: arial,helvetica,sans-serif;\"\u003e3x Receivers FTR-16\u003c\/span\u003e\u003c\/span\u003e\u003c\/p\u003e\n\u003cp\u003e\u003cspan style=\"font-size: 14px;\"\u003e\u003cspan style=\"font-family: arial,helvetica,sans-serif;\"\u003e1x Carrying Case CB-01\u003c\/span\u003e\u003c\/span\u003e\u003c\/p\u003e\n\u003c\/div\u003e\n\u003c\/div\u003e\n\u003c\/div\u003e","published_at":"2019-12-05T18:54:15-07:00","created_at":"2018-01-08T03:40:46-07:00","vendor":"Godox","type":"Camera Flashes","tags":["Flashes Kits"],"price":199900,"price_min":199900,"price_max":199900,"available":true,"price_varies":false,"compare_at_price":null,"compare_at_price_min":0,"compare_at_price_max":0,"compare_at_price_varies":false,"variants":[{"id":892891758636,"title":"Default Title","option1":"Default Title","option2":null,"option3":null,"sku":"EN-KIT-ONE","requires_shipping":true,"taxable":false,"featured_image":null,"available":true,"name":"Godox 3X QT600W Studio Flash Light w\/ Stand Softbox Trigger Carrying Case Kit","public_title":null,"options":["Default Title"],"price":199900,"weight":0,"compare_at_price":null,"inventory_management":null,"barcode":"","requires_selling_plan":false,"selling_plan_allocations":[]}],"images":["\/\/www.fomito.com\/cdn\/shop\/products\/1_d3e0f562-d5ad-4c56-94a2-3f7562823f09.jpg?v=1571711335","\/\/www.fomito.com\/cdn\/shop\/products\/2_9a990f5f-e458-475f-b3f2-ad7cd1decba4.jpg?v=1571711335","\/\/www.fomito.com\/cdn\/shop\/products\/3_c243224e-b50d-4813-a778-6bec642226fc.jpg?v=1571711335","\/\/www.fomito.com\/cdn\/shop\/products\/4_6534fc5f-9c62-4ef9-ab3c-e0e9bb6ac094.jpg?v=1571711335","\/\/www.fomito.com\/cdn\/shop\/products\/5_497587f7-2b73-475d-bc43-dc3ca026aba1.jpg?v=1571711335","\/\/www.fomito.com\/cdn\/shop\/products\/4124bKBjyWL.jpg?v=1571711335","\/\/www.fomito.com\/cdn\/shop\/products\/7_60e64497-146d-4f0f-93b2-76b4e4c54788.jpg?v=1571711335","\/\/www.fomito.com\/cdn\/shop\/products\/s-l1600-2_bf895479-6c13-48d6-89f0-c1049c83fa30.jpg?v=1571711335","\/\/www.fomito.com\/cdn\/shop\/products\/10_c5ee0ae8-a215-44ca-ab1b-63f8a78b61b4.jpg?v=1571711335","\/\/www.fomito.com\/cdn\/shop\/products\/9_8e905886-d518-4c9e-8950-bafb6b369483.jpg?v=1571711335","\/\/www.fomito.com\/cdn\/shop\/products\/8_00f0e953-b61a-4ac1-8841-0733082288bc.jpg?v=1571711335"],"featured_image":"\/\/www.fomito.com\/cdn\/shop\/products\/1_d3e0f562-d5ad-4c56-94a2-3f7562823f09.jpg?v=1571711335","options":["Title"],"media":[{"alt":"Godox 3X QT600W Studio Flash Light w\/ Stand Softbox Trigger Carrying Case Kit - FOMITO.SHOP","id":587284250668,"position":1,"preview_image":{"aspect_ratio":1.0,"height":1000,"width":1000,"src":"\/\/www.fomito.com\/cdn\/shop\/products\/1_d3e0f562-d5ad-4c56-94a2-3f7562823f09.jpg?v=1571711335"},"aspect_ratio":1.0,"height":1000,"media_type":"image","src":"\/\/www.fomito.com\/cdn\/shop\/products\/1_d3e0f562-d5ad-4c56-94a2-3f7562823f09.jpg?v=1571711335","width":1000},{"alt":"Godox 3X QT600W Studio Flash Light w\/ Stand Softbox Trigger Carrying Case Kit - FOMITO.SHOP","id":587284283436,"position":2,"preview_image":{"aspect_ratio":1.0,"height":1000,"width":1000,"src":"\/\/www.fomito.com\/cdn\/shop\/products\/2_9a990f5f-e458-475f-b3f2-ad7cd1decba4.jpg?v=1571711335"},"aspect_ratio":1.0,"height":1000,"media_type":"image","src":"\/\/www.fomito.com\/cdn\/shop\/products\/2_9a990f5f-e458-475f-b3f2-ad7cd1decba4.jpg?v=1571711335","width":1000},{"alt":"Godox 3X QT600W Studio Flash Light w\/ Stand Softbox Trigger Carrying Case Kit - FOMITO.SHOP","id":587284316204,"position":3,"preview_image":{"aspect_ratio":1.0,"height":1000,"width":1000,"src":"\/\/www.fomito.com\/cdn\/shop\/products\/3_c243224e-b50d-4813-a778-6bec642226fc.jpg?v=1571711335"},"aspect_ratio":1.0,"height":1000,"media_type":"image","src":"\/\/www.fomito.com\/cdn\/shop\/products\/3_c243224e-b50d-4813-a778-6bec642226fc.jpg?v=1571711335","width":1000},{"alt":"Godox 3X QT600W Studio Flash Light w\/ Stand Softbox Trigger Carrying Case Kit - FOMITO.SHOP","id":587284348972,"position":4,"preview_image":{"aspect_ratio":1.0,"height":1000,"width":1000,"src":"\/\/www.fomito.com\/cdn\/shop\/products\/4_6534fc5f-9c62-4ef9-ab3c-e0e9bb6ac094.jpg?v=1571711335"},"aspect_ratio":1.0,"height":1000,"media_type":"image","src":"\/\/www.fomito.com\/cdn\/shop\/products\/4_6534fc5f-9c62-4ef9-ab3c-e0e9bb6ac094.jpg?v=1571711335","width":1000},{"alt":"Godox 3X QT600W Studio Flash Light w\/ Stand Softbox Trigger Carrying Case Kit - FOMITO.SHOP","id":587284381740,"position":5,"preview_image":{"aspect_ratio":1.0,"height":500,"width":500,"src":"\/\/www.fomito.com\/cdn\/shop\/products\/5_497587f7-2b73-475d-bc43-dc3ca026aba1.jpg?v=1571711335"},"aspect_ratio":1.0,"height":500,"media_type":"image","src":"\/\/www.fomito.com\/cdn\/shop\/products\/5_497587f7-2b73-475d-bc43-dc3ca026aba1.jpg?v=1571711335","width":500},{"alt":"Godox 3X QT600W Studio Flash Light w\/ Stand Softbox Trigger Carrying Case Kit - FOMITO.SHOP","id":587284414508,"position":6,"preview_image":{"aspect_ratio":1.0,"height":500,"width":500,"src":"\/\/www.fomito.com\/cdn\/shop\/products\/4124bKBjyWL.jpg?v=1571711335"},"aspect_ratio":1.0,"height":500,"media_type":"image","src":"\/\/www.fomito.com\/cdn\/shop\/products\/4124bKBjyWL.jpg?v=1571711335","width":500},{"alt":"Godox 3X QT600W Studio Flash Light w\/ Stand Softbox Trigger Carrying Case Kit - FOMITO.SHOP","id":587284447276,"position":7,"preview_image":{"aspect_ratio":1.0,"height":1000,"width":1000,"src":"\/\/www.fomito.com\/cdn\/shop\/products\/7_60e64497-146d-4f0f-93b2-76b4e4c54788.jpg?v=1571711335"},"aspect_ratio":1.0,"height":1000,"media_type":"image","src":"\/\/www.fomito.com\/cdn\/shop\/products\/7_60e64497-146d-4f0f-93b2-76b4e4c54788.jpg?v=1571711335","width":1000},{"alt":"Godox 3X QT600W Studio Flash Light w\/ Stand Softbox Trigger Carrying Case Kit - FOMITO.SHOP","id":587284480044,"position":8,"preview_image":{"aspect_ratio":1.0,"height":1000,"width":1000,"src":"\/\/www.fomito.com\/cdn\/shop\/products\/s-l1600-2_bf895479-6c13-48d6-89f0-c1049c83fa30.jpg?v=1571711335"},"aspect_ratio":1.0,"height":1000,"media_type":"image","src":"\/\/www.fomito.com\/cdn\/shop\/products\/s-l1600-2_bf895479-6c13-48d6-89f0-c1049c83fa30.jpg?v=1571711335","width":1000},{"alt":"Godox 3X QT600W Studio Flash Light w\/ Stand Softbox Trigger Carrying Case Kit - FOMITO.SHOP","id":587284512812,"position":9,"preview_image":{"aspect_ratio":1.0,"height":1000,"width":1000,"src":"\/\/www.fomito.com\/cdn\/shop\/products\/10_c5ee0ae8-a215-44ca-ab1b-63f8a78b61b4.jpg?v=1571711335"},"aspect_ratio":1.0,"height":1000,"media_type":"image","src":"\/\/www.fomito.com\/cdn\/shop\/products\/10_c5ee0ae8-a215-44ca-ab1b-63f8a78b61b4.jpg?v=1571711335","width":1000},{"alt":"Godox 3X QT600W Studio Flash Light w\/ Stand Softbox Trigger Carrying Case Kit - FOMITO.SHOP","id":587284545580,"position":10,"preview_image":{"aspect_ratio":1.0,"height":1000,"width":1000,"src":"\/\/www.fomito.com\/cdn\/shop\/products\/9_8e905886-d518-4c9e-8950-bafb6b369483.jpg?v=1571711335"},"aspect_ratio":1.0,"height":1000,"media_type":"image","src":"\/\/www.fomito.com\/cdn\/shop\/products\/9_8e905886-d518-4c9e-8950-bafb6b369483.jpg?v=1571711335","width":1000},{"alt":"Godox 3X QT600W Studio Flash Light w\/ Stand Softbox Trigger Carrying Case Kit - FOMITO.SHOP","id":587284578348,"position":11,"preview_image":{"aspect_ratio":1.0,"height":500,"width":500,"src":"\/\/www.fomito.com\/cdn\/shop\/products\/8_00f0e953-b61a-4ac1-8841-0733082288bc.jpg?v=1571711335"},"aspect_ratio":1.0,"height":500,"media_type":"image","src":"\/\/www.fomito.com\/cdn\/shop\/products\/8_00f0e953-b61a-4ac1-8841-0733082288bc.jpg?v=1571711335","width":500}],"requires_selling_plan":false,"selling_plan_groups":[],"content":"\u003cdiv class=\"dbbox desc_details desc_box\" style=\"width: 786px;\"\u003e\n\u003cdiv class=\"ableft\"\u003e\n\u003cdiv class=\"descdiv desc_details\"\u003e\n\u003cp\u003e\u003cspan style=\"font-size: 14px;\"\u003e\u003cspan style=\"font-family: arial,helvetica,sans-serif;\"\u003e\u003ciframe src=\"https:\/\/www.youtube.com\/embed\/7MP56HJsWiY?rel=0\" allowfullscreen=\"\" width=\"560\" height=\"315\" frameborder=\"0\"\u003e\u003c\/iframe\u003e\u003c\/span\u003e\u003c\/span\u003e\u003c\/p\u003e\n\u003cp\u003e \u003c\/p\u003e\n\u003cp\u003e\u003cspan style=\"font-size: 14px;\"\u003e\u003cspan style=\"font-family: arial,helvetica,sans-serif;\"\u003eQT 600W flash, an outstanding strobe for studio and workshop shooting. Photographers can easily capture a chain of fast-changing facial expressions and amazing moves, as well as clearly freeze each fleetingly perfect instant into eternal beauty. Excellent for wedding, portrait, fashion, and advertisement photography, especially, high-speed photography.\u003c\/span\u003e\u003c\/span\u003e\u003c\/p\u003e\n\u003cp\u003e\u003cspan style=\"font-size: 14px;\"\u003e\u003cspan style=\"font-family: arial,helvetica,sans-serif;\"\u003e* Extremely fast recycling time\u003cbr\u003e   0.05-1.2 second, up to 10 continuous flashes per second\u003cbr\u003e* Ultra short flash duration\u003cbr\u003e   1\/5000-1\/800 second, vividly snaps moving objects and details actions\u003cbr\u003e* High color stability\u003cbr\u003e   5600±100k between flashes over the entire power range\u003cbr\u003e* Wide-range and precise power regulation\u003cbr\u003e   Output from full power (1\/1) to 1\/128 in 50 steps (5.0-10.0)\u003cbr\u003e* Wireless power control and flash triggering system (optional)\u003cbr\u003e   Special trigger wirelessly controls flash power level, modeling light, buzzer, etc\u003c\/span\u003e\u003c\/span\u003e\u003c\/p\u003e\n\u003cp\u003e \u003c\/p\u003e\n\u003cp\u003e\u003cspan style=\"color: #ff0000;\"\u003e\u003cspan style=\"font-size: 14px;\"\u003e\u003cspan style=\"font-family: arial,helvetica,sans-serif;\"\u003e\u003cstrong\u003eSpecifications:\u003c\/strong\u003e\u003c\/span\u003e\u003c\/span\u003e\u003c\/span\u003e\u003c\/p\u003e\n\u003cp\u003e\u003cspan style=\"color: #ff0000;\"\u003e\u003cspan style=\"font-size: 14px;\"\u003e\u003cspan style=\"font-family: arial,helvetica,sans-serif;\"\u003e\u003cstrong\u003e3x QT 600w Flash:\u003c\/strong\u003e\u003c\/span\u003e\u003c\/span\u003e\u003c\/span\u003e\u003c\/p\u003e\n\u003cimg src=\"https:\/\/cdn.shopify.cn\/s\/files\/1\/2707\/3516\/files\/600_480x480.jpg?v=1585382890\" alt=\"\"\u003e\n\u003c\/div\u003e\n\u003cdiv class=\"descdiv desc_details\"\u003e \u003cbr\u003e\n\u003cp\u003e\u003cspan style=\"color: #ff0000;\"\u003e\u003cspan style=\"font-size: 14px;\"\u003e\u003cspan style=\"font-family: arial,helvetica,sans-serif;\"\u003e\u003cstrong\u003e1x 80*120cm Softbox\u003c\/strong\u003e\u003c\/span\u003e\u003c\/span\u003e\u003c\/span\u003e\u003c\/p\u003e\n\u003cp\u003e\u003cspan style=\"font-size: 14px;\"\u003e\u003cspan style=\"font-family: arial,helvetica,sans-serif;\"\u003e- Size : 80x120cm \/ 32\" x 48\"\u003c\/span\u003e\u003c\/span\u003e\u003c\/p\u003e\n\u003cp\u003e\u003cspan style=\"font-size: 14px;\"\u003e\u003cspan style=\"font-family: arial,helvetica,sans-serif;\"\u003e- Mount Type: Bowens Mount\u003c\/span\u003e\u003c\/span\u003e\u003c\/p\u003e\n\u003cp\u003e\u003cspan style=\"font-size: 14px;\"\u003e\u003cspan style=\"font-family: arial,helvetica,sans-serif;\"\u003e- Shape: Rectangle \u003c\/span\u003e\u003c\/span\u003e\u003c\/p\u003e\n\u003cp\u003e\u003cspan style=\"font-size: 14px;\"\u003e\u003cspan style=\"font-family: arial,helvetica,sans-serif;\"\u003e- Aluminum Ring Adaptor\u003c\/span\u003e\u003c\/span\u003e\u003c\/p\u003e\n\u003cp\u003e\u003cspan style=\"font-size: 14px;\"\u003e\u003cspan style=\"font-family: arial,helvetica,sans-serif;\"\u003eEvery softbox comes with:\u003c\/span\u003e\u003c\/span\u003e\u003c\/p\u003e\n\u003cp\u003e\u003cspan style=\"font-size: 14px;\"\u003e\u003cspan style=\"font-family: arial,helvetica,sans-serif;\"\u003e-  1 x 80x120cm Softbox\u003c\/span\u003e\u003c\/span\u003e\u003c\/p\u003e\n\u003cp\u003e\u003cspan style=\"font-size: 14px;\"\u003e\u003cspan style=\"font-family: arial,helvetica,sans-serif;\"\u003e-  4 x Steel Rod Set\u003c\/span\u003e\u003c\/span\u003e\u003c\/p\u003e\n\u003cp\u003e\u003cspan style=\"font-size: 14px;\"\u003e\u003cspan style=\"font-family: arial,helvetica,sans-serif;\"\u003e-  1 x Bowens Mount Speedring\u003c\/span\u003e\u003c\/span\u003e\u003c\/p\u003e\n\u003cp\u003e\u003cspan style=\"font-size: 14px;\"\u003e\u003cspan style=\"font-family: arial,helvetica,sans-serif;\"\u003e-  1 x Carrying bag\u003c\/span\u003e\u003c\/span\u003e\u003c\/p\u003e\n\u003cp\u003e\u003cspan style=\"color: #ff0000;\"\u003e\u003cspan style=\"font-size: 14px;\"\u003e\u003cspan style=\"font-family: arial,helvetica,sans-serif;\"\u003e\u003cstrong\u003e2x 35*160cm Softboxes\u003c\/strong\u003e\u003c\/span\u003e\u003c\/span\u003e\u003c\/span\u003e\u003c\/p\u003e\n\u003cp\u003e\u003cspan style=\"font-family: arial,helvetica,sans-serif; font-size: 14px;\"\u003e- Size : 35x160cm\u003c\/span\u003e\u003c\/p\u003e\n\u003cp\u003e\u003cspan style=\"font-size: 14px;\"\u003e\u003cspan style=\"font-family: arial,helvetica,sans-serif;\"\u003e- Mount Type: Bowens Mount\u003c\/span\u003e\u003c\/span\u003e\u003c\/p\u003e\n\u003cp\u003e\u003cspan style=\"font-size: 14px;\"\u003e\u003cspan style=\"font-family: arial,helvetica,sans-serif;\"\u003e- Shape: Rectangle \u003c\/span\u003e\u003c\/span\u003e\u003c\/p\u003e\n\u003cp\u003e\u003cspan style=\"font-size: 14px;\"\u003e\u003cspan style=\"font-family: arial,helvetica,sans-serif;\"\u003e- Aluminum Ring Adaptor\u003c\/span\u003e\u003c\/span\u003e\u003c\/p\u003e\n\u003cp\u003e\u003cspan style=\"font-size: 14px;\"\u003e\u003cspan style=\"font-family: arial,helvetica,sans-serif;\"\u003eEvery softbox comes with:\u003c\/span\u003e\u003c\/span\u003e\u003c\/p\u003e\n\u003cp\u003e\u003cspan style=\"font-size: 14px;\"\u003e\u003cspan style=\"font-family: arial,helvetica,sans-serif;\"\u003e-  1 x 35x160cm Softbox\u003c\/span\u003e\u003c\/span\u003e\u003c\/p\u003e\n\u003cp\u003e\u003cspan style=\"font-size: 14px;\"\u003e\u003cspan style=\"font-family: arial,helvetica,sans-serif;\"\u003e-  4 x Steel Rod Set\u003c\/span\u003e\u003c\/span\u003e\u003c\/p\u003e\n\u003cp\u003e\u003cspan style=\"font-size: 14px;\"\u003e\u003cspan style=\"font-family: arial,helvetica,sans-serif;\"\u003e-  1 x Bowens Mount Speedring\u003c\/span\u003e\u003c\/span\u003e\u003c\/p\u003e\n\u003cp\u003e\u003cspan style=\"font-size: 14px;\"\u003e\u003cspan style=\"font-family: arial,helvetica,sans-serif;\"\u003e-  1 x Carrying bag\u003c\/span\u003e\u003c\/span\u003e\u003c\/p\u003e\n\u003cp\u003e\u003cspan style=\"color: #ff0000;\"\u003e\u003cspan style=\"font-size: 14px;\"\u003e\u003cspan style=\"font-family: arial,helvetica,sans-serif;\"\u003e\u003cstrong\u003e1x \u003c\/strong\u003e\u003cstrong\u003e140cm \u003c\/strong\u003e\u003cstrong\u003eOctagon Softbox\u003c\/strong\u003e\u003c\/span\u003e\u003c\/span\u003e\u003c\/span\u003e\u003c\/p\u003e\n\u003cp\u003e\u003cspan style=\"font-size: 14px;\"\u003e\u003cspan style=\"font-family: arial,helvetica,sans-serif;\"\u003e-  Size : 140cm \u003c\/span\u003e\u003c\/span\u003e\u003c\/p\u003e\n\u003cp\u003e\u003cspan style=\"font-size: 14px;\"\u003e\u003cspan style=\"font-family: arial,helvetica,sans-serif;\"\u003e-  Speedring: Bowens Mount\u003c\/span\u003e\u003c\/span\u003e\u003c\/p\u003e\n\u003cp\u003e\u003cspan style=\"font-size: 14px;\"\u003e\u003cspan style=\"font-family: arial,helvetica,sans-serif;\"\u003e-  Weight : 1800g\u003c\/span\u003e\u003c\/span\u003e\u003c\/p\u003e\n\u003cp\u003e\u003cspan style=\"font-size: 14px;\"\u003e\u003cspan style=\"font-family: arial,helvetica,sans-serif;\"\u003eEvery softbox comes with:\u003c\/span\u003e\u003c\/span\u003e\u003c\/p\u003e\n\u003cp\u003e\u003cspan style=\"font-size: 14px;\"\u003e\u003cspan style=\"font-family: arial,helvetica,sans-serif;\"\u003e-  1 x 140cm Octagon Softbox\u003c\/span\u003e\u003c\/span\u003e\u003c\/p\u003e\n\u003cp\u003e\u003cspan style=\"font-size: 14px;\"\u003e\u003cspan style=\"font-family: arial,helvetica,sans-serif;\"\u003e-  1 x Bowens Mount Speedring\u003c\/span\u003e\u003c\/span\u003e\u003c\/p\u003e\n\u003cp\u003e\u003cspan style=\"font-size: 14px;\"\u003e\u003cspan style=\"font-family: arial,helvetica,sans-serif;\"\u003e-  1 x Carrying bag\u003c\/span\u003e\u003c\/span\u003e\u003c\/p\u003e\n\u003cp\u003e\u003cspan style=\"color: #ff0000;\"\u003e\u003cspan style=\"font-size: 14px;\"\u003e\u003cspan style=\"font-family: arial,helvetica,sans-serif;\"\u003e\u003cstrong\u003e1x FT-16 Trigger with 3 Receivers:\u003c\/strong\u003e\u003c\/span\u003e\u003c\/span\u003e\u003c\/span\u003e\u003c\/p\u003e\n\u003cp\u003e\u003cspan style=\"font-family: arial,helvetica,sans-serif;\"\u003e\u003cspan style=\"font-size: 14px;\"\u003eGodox specific flash trigger kit model FT-16 supports flash grouping and remote flash power control. With sensitive reactions and stable signal transmission, it applies to flashes with the wireless control port, such as, \u003cstrong\u003eGodox Wistro AD-180 \u0026amp; AD-360, Godox QT series and Gemini GT \u0026amp; GS, DP Series, DE Series, SK Series(New Released), E Series(New Released)\u003c\/strong\u003e series studio flashes, as well as specific camera flashes. It is also compatible with \u003cstrong\u003eGodox Cells series\u003c\/strong\u003e Transceiver.\u003c\/span\u003e\u003c\/span\u003e\u003c\/p\u003e\n\u003cp\u003e \u003c\/p\u003e\n\u003cp\u003e\u003cspan style=\"font-size: 14px;\"\u003e\u003cspan style=\"font-family: arial,helvetica,sans-serif;\"\u003e- Transmitter Power Supply: 3V 2*AA battery\u003cbr\u003e- Transmitter Frequency: 433MHZ wireless remote system\u003cbr\u003e- Receiver Power Supply: 5V (powered by flash)\u003cbr\u003e- Channel: 16\u003cbr\u003e- Workable distance: 50m\/164ft (open space)\u003cbr\u003e- Max. sync speed: 1 \/ 250 sec.\u003cbr\u003e- Control on flashes: Flash output power; Modeling light on\/off; Buzzer on\/off; Flash triggering\u003c\/span\u003e\u003c\/span\u003e\u003c\/p\u003e\n\u003cp\u003e \u003c\/p\u003e\n\u003cp\u003e\u003cspan style=\"color: #ff0000;\"\u003e\u003cspan style=\"font-size: 14px;\"\u003e\u003cspan style=\"font-family: arial,helvetica,sans-serif;\"\u003e\u003cstrong\u003e3x 2.6m 303 Light Stands:\u003c\/strong\u003e\u003c\/span\u003e\u003c\/span\u003e\u003c\/span\u003e\u003c\/p\u003e\n\u003cp\u003e\u003cspan style=\"font-size: 14px;\"\u003e\u003cspan style=\"font-family: arial,helvetica,sans-serif;\"\u003e- Color: Black\u003c\/span\u003e\u003c\/span\u003e\u003c\/p\u003e\n\u003cp\u003e\u003cspan style=\"font-size: 14px;\"\u003e\u003cspan style=\"font-family: arial,helvetica,sans-serif;\"\u003e- Maximum height is 8.5 feet\/2.6m, fold down to 38 inches\/ 97cm for easy portability.\u003c\/span\u003e\u003c\/span\u003e\u003c\/p\u003e\n\u003cp\u003e\u003cspan style=\"font-size: 14px;\"\u003e\u003cspan style=\"font-family: arial,helvetica,sans-serif;\"\u003e- Hole diameters: 31.5mm-25.7mm\u003c\/span\u003e\u003c\/span\u003e\u003c\/p\u003e\n\u003cp\u003e\u003cspan style=\"font-size: 14px;\"\u003e\u003cspan style=\"font-family: arial,helvetica,sans-serif;\"\u003e- Professional quality aluminum frame with black satin finish.\u003c\/span\u003e\u003c\/span\u003e\u003c\/p\u003e\n\u003cp\u003e\u003cspan style=\"font-size: 14px;\"\u003e\u003cspan style=\"font-family: arial,helvetica,sans-serif;\"\u003e- Simple quick-release levers provide fast precise height adjustment.\u003c\/span\u003e\u003c\/span\u003e\u003c\/p\u003e\n\u003cp\u003e\u003cspan style=\"font-size: 14px;\"\u003e\u003cspan style=\"font-family: arial,helvetica,sans-serif;\"\u003e- Extra wide angle footprints with rubber tips for more stability.\u003c\/span\u003e\u003c\/span\u003e\u003c\/p\u003e\n\u003cp\u003e\u003cspan style=\"font-size: 14px;\"\u003e\u003cspan style=\"font-family: arial,helvetica,sans-serif;\"\u003e- Folding frame design for free will lighting position setting and easier storage.\u003c\/span\u003e\u003c\/span\u003e\u003c\/p\u003e\n\u003cp\u003e \u003c\/p\u003e\n\u003cp\u003e \u003c\/p\u003e\n\u003cp\u003e\u003cspan style=\"color: #ff0000;\"\u003e\u003cspan style=\"font-size: 14px;\"\u003e\u003cspan style=\"font-family: arial,helvetica,sans-serif;\"\u003e\u003cstrong\u003e1x Light Stand with sandbag and Boom Arm LB-02:\u003c\/strong\u003e\u003c\/span\u003e\u003c\/span\u003e\u003c\/span\u003e\u003c\/p\u003e\n\u003cp\u003e\u003cspan style=\"font-size: 14px;\"\u003e\u003cspan style=\"font-family: arial,helvetica,sans-serif;\"\u003eMaximum height is 180cm, fold down to 70cm for easy portability\u003c\/span\u003e\u003c\/span\u003e\u003c\/p\u003e\n\u003cp\u003e\u003cspan style=\"font-size: 14px;\"\u003e\u003cspan style=\"font-family: arial,helvetica,sans-serif;\"\u003eHole diameters: 25mm,22mm,19mm\u003c\/span\u003e\u003c\/span\u003e\u003c\/p\u003e\n\u003cp\u003e\u003cspan style=\"font-size: 14px;\"\u003e\u003cspan style=\"font-family: arial,helvetica,sans-serif;\"\u003eTelescopic boom arm maximum length:200cm\u003c\/span\u003e\u003c\/span\u003e\u003c\/p\u003e\n\u003cp\u003e\u003cspan style=\"font-size: 14px;\"\u003e\u003cspan style=\"font-family: arial,helvetica,sans-serif;\"\u003eHole diameters: 25mm\u003cbr\u003e1 Sandbag \u0026amp; hook provide counter-balance against the weight of the lights\u003c\/span\u003e\u003c\/span\u003e\u003c\/p\u003e\n\u003cp\u003e\u003cspan style=\"font-size: 14px;\"\u003e\u003cspan style=\"font-family: arial,helvetica,sans-serif;\"\u003eSandbag Weight:4kg\u003c\/span\u003e\u003c\/span\u003e\u003c\/p\u003e\n\u003cp\u003e \u003c\/p\u003e\n\u003cp\u003e\u003cspan style=\"color: #ff0000;\"\u003e\u003cstrong\u003e\u003cspan style=\"font-family: arial,helvetica,sans-serif; font-size: 14px;\"\u003e1x Reflector Boom Holder FH02\u003c\/span\u003e\u003c\/strong\u003e\u003c\/span\u003e\u003c\/p\u003e\n\u003cp\u003e\u003cspan style=\"font-size: 14px;\"\u003e\u003cspan style=\"font-family: arial,helvetica,sans-serif;\"\u003e\u003cspan style=\"background-color: rgba(255, 255, 255, 0.8);\"\u003eThis light boom holder is used to firmly grip the\u003c\/span\u003e\u003cspan style=\"background-color: rgba(255, 255, 255, 0.8);\"\u003e reflectors, it can be installed on the light stand, which make it really convenient and easy to use the reflector freely without other's help. With a 360 degree swivel design, it can rotate 360 degree for all directions lighting by adjusting the handle.\u003c\/span\u003e\u003c\/span\u003e\u003c\/span\u003e\u003c\/p\u003e\n\u003cp\u003e\u003cspan style=\"font-size: 14px;\"\u003e\u003cspan style=\"font-family: arial,helvetica,sans-serif;\"\u003e-Material: Aluminum alloy\u003c\/span\u003e\u003c\/span\u003e\u003c\/p\u003e\n\u003cp\u003e\u003cspan style=\"font-size: 14px;\"\u003e\u003cspan style=\"font-family: arial,helvetica,sans-serif;\"\u003e-Extendable Length: 65cm-176cm\u003c\/span\u003e\u003c\/span\u003e\u003c\/p\u003e\n\u003cp\u003e\u003cspan style=\"font-size: 14px;\"\u003e\u003cspan style=\"font-family: arial,helvetica,sans-serif;\"\u003e-Suitable for: 60cm, 80cm, 110cm and most other size reflectors.\u003c\/span\u003e\u003c\/span\u003e\u003c\/p\u003e\n\u003cp\u003e\u003cspan style=\"color: #ff0000;\"\u003e\u003cstrong\u003e\u003cspan style=\"font-size: 14px;\"\u003e\u003cspan style=\"font-family: arial,helvetica,sans-serif;\"\u003e1x BS-04 Retractable Background Stand\u003c\/span\u003e\u003c\/span\u003e\u003c\/strong\u003e\u003c\/span\u003e\u003c\/p\u003e\n\u003cp\u003e\u003cspan style=\"font-family: arial,helvetica,sans-serif;\"\u003e\u003cspan style=\"font-size: 14px;\"\u003eThis Godox BS-04 Retractable Background Stand (boasts a massive 2.6m x 3m size) is made of lightweight aluminum and solid heavy support stands.It consists of two sturdy adjustable lighting stands and a retractable cross bar.The height can be adjusted from 0.97m to 2.6m.\u003c\/span\u003e\u003c\/span\u003e\u003c\/p\u003e\n\u003cp\u003e\u003cspan style=\"font-family: arial,helvetica,sans-serif;\"\u003e\u003cspan style=\"font-size: 14px;\"\u003eThis stand aims at providing photographers requiring a portable solution to take on site or establish studios. Sturdy fitting helps setting up with minimal fuss. Only simple assembly is required and no tools are needed.\u003c\/span\u003e\u003c\/span\u003e\u003c\/p\u003e\n\u003cp\u003e\u003cspan style=\"font-size: 14px;\"\u003e\u003cspan style=\"font-family: arial,helvetica,sans-serif;\"\u003e\u003cstrong\u003eFeatures:\u003c\/strong\u003e\u003c\/span\u003e\u003c\/span\u003e\u003c\/p\u003e\n\u003cp\u003e\u003cspan style=\"font-size: 14px;\"\u003e\u003cspan style=\"font-family: arial,helvetica,sans-serif;\"\u003e-High quality aluminum frame\u003c\/span\u003e\u003c\/span\u003e\u003c\/p\u003e\n\u003cp\u003e\u003cspan style=\"font-size: 14px;\"\u003e\u003cspan style=\"font-family: arial,helvetica,sans-serif;\"\u003e-Height adjustable stands (0.97m - 2.6m)\u003c\/span\u003e\u003c\/span\u003e\u003c\/p\u003e\n\u003cp\u003e\u003cspan style=\"font-size: 14px;\"\u003e\u003cspan style=\"font-family: arial,helvetica,sans-serif;\"\u003e-Telescopic crossbars, adjustable width from 1.0m to 3m\u003cbr\u003e-Solid mounting and locking,easy to set up\u003c\/span\u003e\u003c\/span\u003e\u003c\/p\u003e\n\u003cp\u003e\u003cspan style=\"font-size: 14px;\"\u003e\u003cspan style=\"font-family: arial,helvetica,sans-serif;\"\u003e-Collapsible for easy storage\u003c\/span\u003e\u003c\/span\u003e\u003c\/p\u003e\n\u003cp\u003e \u003c\/p\u003e\n\u003cp\u003e\u003cspan style=\"color: #ff0000;\"\u003e\u003cspan style=\"font-size: 14px;\"\u003e\u003cspan style=\"font-family: arial,helvetica,sans-serif;\"\u003e\u003cstrong\u003e1X CB-01 wheeled\u003c\/strong\u003e \u003cstrong\u003eCarrying Case\u003c\/strong\u003e\u003c\/span\u003e\u003c\/span\u003e\u003c\/span\u003e\u003c\/p\u003e\n\u003cp\u003e\u003cspan style=\"font-size: 14px;\"\u003e\u003cspan style=\"font-family: arial,helvetica,sans-serif;\"\u003eSize:114x33.5x24cm\u003c\/span\u003e\u003c\/span\u003e\u003c\/p\u003e\n\u003cp\u003e\u003cspan style=\"color: #ff0000;\"\u003e\u003cspan style=\"font-size: 14px;\"\u003e\u003cspan style=\"font-family: arial,helvetica,sans-serif;\"\u003e\u003cstrong\u003ePackage Includes:\u003c\/strong\u003e\u003c\/span\u003e\u003c\/span\u003e\u003c\/span\u003e\u003c\/p\u003e\n\u003cp\u003e\u003cspan style=\"font-size: 14px;\"\u003e\u003cspan style=\"font-family: arial,helvetica,sans-serif;\"\u003e3x Godox QT 600W Studio Flash\u003c\/span\u003e\u003c\/span\u003e\u003c\/p\u003e\n\u003cp\u003e\u003cspan style=\"font-size: 14px;\"\u003e\u003cspan style=\"font-family: arial,helvetica,sans-serif;\"\u003e3x 303 Light Stand Tripods\u003c\/span\u003e\u003c\/span\u003e\u003c\/p\u003e\n\u003cp\u003e\u003cspan style=\"font-family: arial,helvetica,sans-serif; font-size: 14px;\"\u003e1x Light Boom LB-02\u003c\/span\u003e\u003c\/p\u003e\n\u003cp\u003e\u003cspan style=\"font-family: arial,helvetica,sans-serif; font-size: 14px;\"\u003e1x Reflector Boom Holder FH02\u003c\/span\u003e\u003c\/p\u003e\n\u003cp\u003e\u003cspan style=\"font-size: 14px;\"\u003e\u003cspan style=\"font-family: arial,helvetica,sans-serif;\"\u003e1x BS-04 Retractable Background Stand\u003c\/span\u003e\u003c\/span\u003e\u003c\/p\u003e\n\u003cp\u003e\u003cspan style=\"font-size: 14px;\"\u003e\u003cspan style=\"font-family: arial,helvetica,sans-serif;\"\u003e1x Softbox SB-BW 80*120cm\u003c\/span\u003e\u003c\/span\u003e\u003c\/p\u003e\n\u003cp\u003e\u003cspan style=\"font-family: arial,helvetica,sans-serif; font-size: 14px;\"\u003e2x Softboxes SB-BW 35*160cm\u003c\/span\u003e\u003cbr\u003e\u003cspan style=\"font-size: 14px;\"\u003e\u003cspan style=\"font-family: arial,helvetica,sans-serif;\"\u003e1x Octagon Softbox \u003c\/span\u003e\u003c\/span\u003e\u003cspan style=\"font-family: arial,helvetica,sans-serif; font-size: 14px;\"\u003e140cm \u003c\/span\u003e\u003c\/p\u003e\n\u003cp\u003e\u003cspan style=\"font-size: 14px;\"\u003e\u003cspan style=\"font-family: arial,helvetica,sans-serif;\"\u003e1x Transmitter FT-16\u003c\/span\u003e\u003c\/span\u003e\u003c\/p\u003e\n\u003cp\u003e\u003cspan style=\"font-size: 14px;\"\u003e\u003cspan style=\"font-family: arial,helvetica,sans-serif;\"\u003e3x Receivers FTR-16\u003c\/span\u003e\u003c\/span\u003e\u003c\/p\u003e\n\u003cp\u003e\u003cspan style=\"font-size: 14px;\"\u003e\u003cspan style=\"font-family: arial,helvetica,sans-serif;\"\u003e1x Carrying Case CB-01\u003c\/span\u003e\u003c\/span\u003e\u003c\/p\u003e\n\u003c\/div\u003e\n\u003c\/div\u003e\n\u003c\/div\u003e"}
Godox 3X QT600W Studio Flash Light w/ Stand Softbox Trigger Carrying Case Kit
QT 600W flash, an outstanding strobe for studio and workshop shooting. Photographers can easily capture a chain of fast-changing facial expressions and amazing moves, as well as clearly freeze each fleetingly perfect instant into eternal beauty. Excellent for wedding, portrait, fashion, and advertisement photography, especially, high-speed photography.
* Extremely fast recycling time
   0.05-1.2 second, up to 10 continuous flashes per second
* Ultra short flash duration
   1/5000-1/800 second, vividly snaps moving objects and details actions
* High color stability
   5600±100k between flashes over the entire power range
* Wide-range and precise power regulation
   Output from full power (1/1) to 1/128 in 50 steps (5.0-10.0)
* Wireless power control and flash triggering system (optional)
   Special trigger wirelessly controls flash power level, modeling light, buzzer, etc
Specifications:
3x QT 600w Flash: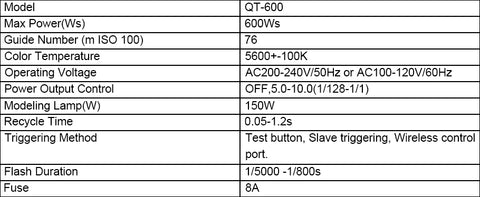 1x 80*120cm Softbox
- Size : 80x120cm / 32" x 48"
- Mount Type: Bowens Mount
- Shape: Rectangle 
- Aluminum Ring Adaptor
Every softbox comes with:
-  1 x 80x120cm Softbox
-  4 x Steel Rod Set
-  1 x Bowens Mount Speedring
-  1 x Carrying bag
2x 35*160cm Softboxes
- Size : 35x160cm
- Mount Type: Bowens Mount
- Shape: Rectangle 
- Aluminum Ring Adaptor
Every softbox comes with:
-  1 x 35x160cm Softbox
-  4 x Steel Rod Set
-  1 x Bowens Mount Speedring
-  1 x Carrying bag
1x 140cm Octagon Softbox
-  Size : 140cm 
-  Speedring: Bowens Mount
-  Weight : 1800g
Every softbox comes with:
-  1 x 140cm Octagon Softbox
-  1 x Bowens Mount Speedring
-  1 x Carrying bag
1x FT-16 Trigger with 3 Receivers:
Godox specific flash trigger kit model FT-16 supports flash grouping and remote flash power control. With sensitive reactions and stable signal transmission, it applies to flashes with the wireless control port, such as, Godox Wistro AD-180 & AD-360, Godox QT series and Gemini GT & GS, DP Series, DE Series, SK Series(New Released), E Series(New Released) series studio flashes, as well as specific camera flashes. It is also compatible with Godox Cells series Transceiver.
- Transmitter Power Supply: 3V 2*AA battery
- Transmitter Frequency: 433MHZ wireless remote system
- Receiver Power Supply: 5V (powered by flash)
- Channel: 16
- Workable distance: 50m/164ft (open space)
- Max. sync speed: 1 / 250 sec.
- Control on flashes: Flash output power; Modeling light on/off; Buzzer on/off; Flash triggering
3x 2.6m 303 Light Stands:
- Color: Black
- Maximum height is 8.5 feet/2.6m, fold down to 38 inches/ 97cm for easy portability.
- Hole diameters: 31.5mm-25.7mm
- Professional quality aluminum frame with black satin finish.
- Simple quick-release levers provide fast precise height adjustment.
- Extra wide angle footprints with rubber tips for more stability.
- Folding frame design for free will lighting position setting and easier storage.
1x Light Stand with sandbag and Boom Arm LB-02:
Maximum height is 180cm, fold down to 70cm for easy portability
Hole diameters: 25mm,22mm,19mm
Telescopic boom arm maximum length:200cm
Hole diameters: 25mm
1 Sandbag & hook provide counter-balance against the weight of the lights
Sandbag Weight:4kg
1x Reflector Boom Holder FH02
This light boom holder is used to firmly grip the reflectors, it can be installed on the light stand, which make it really convenient and easy to use the reflector freely without other's help. With a 360 degree swivel design, it can rotate 360 degree for all directions lighting by adjusting the handle.
-Material: Aluminum alloy
-Extendable Length: 65cm-176cm
-Suitable for: 60cm, 80cm, 110cm and most other size reflectors.
1x BS-04 Retractable Background Stand
This Godox BS-04 Retractable Background Stand (boasts a massive 2.6m x 3m size) is made of lightweight aluminum and solid heavy support stands.It consists of two sturdy adjustable lighting stands and a retractable cross bar.The height can be adjusted from 0.97m to 2.6m.
This stand aims at providing photographers requiring a portable solution to take on site or establish studios. Sturdy fitting helps setting up with minimal fuss. Only simple assembly is required and no tools are needed.
Features:
-High quality aluminum frame
-Height adjustable stands (0.97m - 2.6m)
-Telescopic crossbars, adjustable width from 1.0m to 3m
-Solid mounting and locking,easy to set up
-Collapsible for easy storage
1X CB-01 wheeled Carrying Case
Size:114x33.5x24cm
Package Includes:
3x Godox QT 600W Studio Flash
3x 303 Light Stand Tripods
1x Light Boom LB-02
1x Reflector Boom Holder FH02
1x BS-04 Retractable Background Stand
1x Softbox SB-BW 80*120cm
2x Softboxes SB-BW 35*160cm
1x Octagon Softbox 140cm 
1x Transmitter FT-16
3x Receivers FTR-16
1x Carrying Case CB-01
Payment

1. PayPal
If you have a PayPal account, you can pay directly by logging into your PayPal account. If you do not have a PayPal account, please pay with PayPal accepted credit cards. PayPal accepts credit cards are: Visa, Mastercard, American Express, Discover and Maestro,ect.

2. Credit cards : Visa, Mastercard, American Express, Discover and Maestro,ect.
How to use credit card payment ?
Paying at PayPal without a PayPal account
Payments for Buykud are made at PayPal, but you do not need to own a PayPal account to pay: you may enter your credit card's data directly at PayPal and complete your payment. You don't need to register a PayPal account neither.
Once you get redirected to PayPal, just do as follows:
1. Make sure the "Don't have a PayPal account?" option is selected
If your PayPal page looks as follows, just click on "Don't have a PayPal account?".
2. Enter your credit card's data
Address, email & phone number may also be requested depending on your country.
When you are done, click on "Review and Continue".
3. Click on "Pay Now"
4. Click on "No, Thanks"
5. Finally, click on "Pay now" you will complete your payment
Privacy Policy
At Fomito Shop, we do NOT share any customer information with any third party for any reason unless it is require by a legal authority or a government with an official request.
Fomito Shop takes your personal information and privacy very seriously and we will never share your information with any marketing firm for any marketing purposes except directly from Fomito Shop.
Fomito Shop will never contact you through any form to request you to update your password or personal information unless requested. Such action may be a phishing attempt and we suggest you ignore it or report to your local authority and inform us 
immediately.
| Shipping Company | Shipping Cost | Estimated Delivery Time | Tracking Information |
| --- | --- | --- | --- |
| Standard Shipping | | 10-25 days | Available |
| Expedited express(DHL/EMS) | | 5-7 days | Available |
1. Orders processed within 1~2 working days after the payment confirmed. We will inform you if we need more time to prepare the items.

2.As usual, if you choose the Standard Shipping,it takes almost 10-20 days to reach your designated address. If you choose Expedited express, it takes almost 5-7 days to reach your designated address.

PS: Please let us know if you still don't receive the items within 35 working days after you paid, then we could check it for you.


2. We only ship to confirmed PAYPAL addresses. Your PAYPAL address MUST MATCH your Shipping address.

3. SERVICE TRANSIT TIME is provided by the carrier and excludes weekends and holidays. Transit times may vary, particularly during the holiday season.

4. If you have not received your shipment within 30 days from payment, please contact us. We will track the shipment and get back to you as soon as possible with a reply. Our goal is customer satisfaction!

5. Due to stock status and time differences, we will choose to ship your item from our first available warehouse for fast delivery.
6.We support DDP(Delivery Duty Paid)shipment for almost all of european countries.all the packages will be delivered in Netherlands at first(about 5-10 days),after completing customs clearance by our express agent,all the packages will be sent to buyers via mainstream european courier companies or postal service.So the customs and VAT fee Included.
Please be noted: that the delivery time mentioned on our page is for reference only. Although the actual shipping time is punctual in most occasions, in some cases delivery time may vary due to traffic congestion, adverse weather, acts of custom inspection, etc. We will try our best to avoid such situations, however, please understand that some of these situations are beyond our control, and we are not reponsible for them.

One year Warranty. Buy with confidence! 30 days money back guaranteed.

We provide 30 day return policy for products sold. If, for any reason, you are not satisfied with your purchases, full refund of the purchase (excluding the shipping expenses) can be applicable under the following circumstances:

 
ALL accessories must be unused; ALL accessory packages must be unopened.


ALL items must be intact and undamaged (except for defects in manufacturing).


Items must be in good conditions with all original accessories, manuals, and packing materials. Any missing parts or damaged items will result in rejection on the return.


In case of any defectives found, only defects in manufacturing are accepted as the reason of return.

 
No refund is given if defects are caused by misuse of buyers. Our customer service officers will gladly contact you for further arrangement upon your request.


All shipping cost thus generated is paid by the buyer.


Item returned must be received within 7 days after the receipt of the items. No refund and replacement is issued after this period.


Payment will be refunded as original currency only. We will not take responsibility for any loss due to exchange rate difference in the refund process.


Refunds will NOT include ANY shipping and handling fees. Any additional expenses will also be deducted from the refund.


In the case of return, please be sure to include ALL the original contents (including gift, packages and manuals). Any missing contents may result in rejection of the refund. Please also make sure that the return package is securely packed, and apply waterproof packing instruments wherever necessary.