{"id":4776471036007,"title":"FEELWORLD LIVEPRO L1 Multi-format Video Mixer Switcher 4 x HDMI inputs multi camera USB3.0 live","handle":"feelworld-livepro-l1-multi-format-video-mixer-switcher-4-x-hdmi-inputs-multi-camera-usb3-0-live","description":"\u003cp\u003e \u003c\/p\u003e\n\u003cp style=\"text-align: center;\"\u003e \u003c\/p\u003e\n\u003cdiv style=\"text-align: center;\"\u003e\u003cimg src=\"https:\/\/cdn.shopifycdn.net\/s\/files\/1\/2707\/3516\/files\/hdcp-video-swithcer1_1024x1024.jpg?v=1611891531\" alt=\"\" style=\"margin: 0pxpx 0pxpx 0pxpx 0pxpx; float: none;\"\u003e\u003c\/div\u003e\n\u003cp style=\"text-align: center;\"\u003e \u003c\/p\u003e\n\u003cdiv style=\"text-align: center;\"\u003e\u003cimg src=\"https:\/\/cdn.shopifycdn.net\/s\/files\/1\/2707\/3516\/files\/switcher-icon_1024x1024.jpg?v=1611891589\" alt=\"\" style=\"margin: 0pxpx 0pxpx 0pxpx 0pxpx; float: none;\"\u003e\u003c\/div\u003e\n\u003cdiv style=\"text-align: right;\"\u003e\n\u003cimg src=\"https:\/\/cdn.shopifycdn.net\/s\/files\/1\/2707\/3516\/files\/easy-operation-mixer1_480x480.jpg?v=1611891665\" alt=\"\" style=\"margin: 0pxpx 0pxpx 0pxpx 0pxpx; float: none;\"\u003e \u003cimg style=\"margin: 0pxpx 0pxpx 0pxpx 0pxpx; float: none;\" src=\"https:\/\/cdn.shopifycdn.net\/s\/files\/1\/2707\/3516\/files\/lighter-video-switcher1_480x480.jpg?v=1611891695\" data-mce-fragment=\"1\" data-mce-src=\"https:\/\/cdn.shopifycdn.net\/s\/files\/1\/2707\/3516\/files\/lighter-video-switcher1_480x480.jpg?v=1611891695\" width=\"480x480\" height=\"480x480\"\u003e\u003cbr\u003e\n\u003c\/div\u003e\n\u003cdiv class=\"main_1200 textleft\"\u003e\n\u003cdiv style=\"text-align: center;\"\u003e\n\u003cspan style=\"color: #808080;\"\u003e\u003cspan style=\"font-family: microsoft yahei,sans-serif;\"\u003e\u003cspan style=\"font-size: 28px; line-height: 50px;\"\u003eLow Cost, Multi Camera Live Production with Advanced Broadcast Features \u003c\/span\u003e\u003c\/span\u003e\u003c\/span\u003e\u003cbr\u003e \u003cspan style=\"color: #333333;\"\u003e\u003cspan style=\"font-family: microsoft yahei,sans-serif;\"\u003e\u003cspan style=\"font-size: 16px;\"\u003eLIVEPRO L1 with 4 CH HDMI inputs and 1 HDMI output, all of them support 1080p. For live streaming, there is a USB3.0 interface And plus, the LAN port for controlling and upgrading; for audio, it has 2 interfaces, one for input, and the other one for output. All of these make it easy to create professional multi camera productions. It is able stream any one from the 4 HDMI inputs to any live broadcasting platform via third party live streaming software such as OBS. Simply connect LIVEPRO L1 and you can switch live between 4 high quality video camera inputs for dramatically better quality images. Or connect a computer for PowerPoint slides or gaming consoles. \u003c\/span\u003e\u003c\/span\u003e\u003c\/span\u003e\n\u003c\/div\u003e\n\u003c\/div\u003e\n\u003cp style=\"text-align: center;\"\u003e \u003c\/p\u003e\n\u003cdiv style=\"text-align: center;\"\u003e\u003cimg src=\"https:\/\/cdn.shopifycdn.net\/s\/files\/1\/2707\/3516\/files\/video-mixer2_1024x1024.jpg?v=1611891742\" alt=\"\" style=\"margin: 0pxpx 0pxpx 0pxpx 0pxpx; float: none;\"\u003e\u003c\/div\u003e\n\u003cdiv class=\"main_1200 textleft\"\u003e\n\u003cdiv style=\"text-align: center;\"\u003e\n\u003cspan style=\"color: #808080;\"\u003e\u003cspan style=\"font-family: microsoft yahei,sans-serif;\"\u003e\u003cspan style=\"font-size: 28px; line-height: 50px;\"\u003eExquisite and Flexible Control Panel \u003c\/span\u003e\u003c\/span\u003e\u003c\/span\u003e\u003cbr\u003e \u003cspan style=\"color: #333333;\"\u003e\u003cspan style=\"font-family: microsoft yahei,sans-serif;\"\u003e\u003cspan style=\"font-size: 16px;\"\u003eThe LIVEPRO L1 has an exquisite and compact control panel. The 4 buttons are for selecting input signals, green flashing means the signal has been selected, then switch the T-Bar, the selected signal will be displayed on the screen seamlessly, the green button changed to red after switched. The MENU button is for menu setting, the SW button is for selecting different functions such as mixing, PIP, transition time setting and the other functions. The left knob is for voice volume controlling, the right knob is for menu setting as well. From the TFT screen, we can preview 4 HDMI signals and easily do menu setting.\u003c\/span\u003e\u003c\/span\u003e\u003c\/span\u003e\u003cbr\u003e \u003cspan style=\"color: #333333;\"\u003e\u003cspan style=\"font-family: microsoft yahei,sans-serif;\"\u003e\u003cspan style=\"font-size: 16px;\"\u003e• When you choose T-Bar to switch signal sources or transition effects, T-Bar must be pushed to left end or right end. When using the menu operation, T-BAR should also be in left end or right end, otherwise it cannot be operated. \u003c\/span\u003e\u003c\/span\u003e\u003c\/span\u003e\u003cbr\u003e \u003cspan style=\"color: #333333;\"\u003e\u003cspan style=\"font-family: microsoft yahei,sans-serif;\"\u003e\u003cspan style=\"font-size: 16px;\"\u003e• When you would like to connect or embed audio, you must select the external or embedded audio source in the \"AUDIO\" menu firstly.\u003c\/span\u003e\u003c\/span\u003e\u003c\/span\u003e\n\u003c\/div\u003e\n\u003c\/div\u003e\n\u003cp style=\"text-align: center;\"\u003e \u003c\/p\u003e\n\u003cdiv style=\"text-align: center;\"\u003e\u003cimg src=\"https:\/\/cdn.shopifycdn.net\/s\/files\/1\/2707\/3516\/files\/compact-panel-mixer1_1024x1024.jpg?v=1611891787\" alt=\"\" style=\"margin: 0pxpx 0pxpx 0pxpx 0pxpx; float: none;\"\u003e\u003c\/div\u003e\n\u003cp style=\"text-align: center;\"\u003e \u003c\/p\u003e\n\u003cdiv style=\"text-align: center;\"\u003e\u003cimg src=\"https:\/\/cdn.shopifycdn.net\/s\/files\/1\/2707\/3516\/files\/fexible-panel-switcher1_1024x1024.jpg?v=1611891835\" alt=\"\" style=\"margin: 0pxpx 0pxpx 0pxpx 0pxpx; float: none;\"\u003e\u003c\/div\u003e\n\u003cp style=\"text-align: center;\"\u003e \u003c\/p\u003e\n\u003cdiv class=\"main_1200 textleft\"\u003e\n\u003cdiv style=\"text-align: center;\"\u003e\n\u003cspan style=\"color: #808080;\"\u003e\u003cspan style=\"font-family: microsoft yahei,sans-serif;\"\u003e\u003cspan style=\"font-size: 28px; line-height: 40px;\"\u003eCompact and Light Weight Design\u003c\/span\u003e\u003c\/span\u003e\u003c\/span\u003e\u003cbr\u003e \u003cspan style=\"color: #333333;\"\u003e\u003cspan style=\"font-family: microsoft yahei,sans-serif;\"\u003e\u003cspan style=\"font-size: 16px;\"\u003eThe LIVEPRO L1 is a mini switcher, that is small enough to fit into equipment cases and camera bags. Designed to integrate with typical video production workflows, the LIVEPRO L1 has a screw tap for standard video mounts and conveniently attached onto a tripod to stay out of the way. It is light weight design makes it ideal for mobile video applications too. \u003c\/span\u003e\u003c\/span\u003e\u003c\/span\u003e\n\u003c\/div\u003e\n\u003c\/div\u003e\n\u003cp style=\"text-align: center;\"\u003e \u003c\/p\u003e\n\u003cdiv style=\"text-align: center;\"\u003e\u003cimg src=\"https:\/\/cdn.shopifycdn.net\/s\/files\/1\/2707\/3516\/files\/portable-switcher2_1024x1024.jpg?v=1611891933\" alt=\"\" style=\"margin: 0pxpx 0pxpx 0pxpx 0pxpx; float: none;\"\u003e\u003c\/div\u003e\n\u003cp style=\"text-align: center;\"\u003e \u003c\/p\u003e\n\u003cdiv class=\"main_1200 textleft\"\u003e\n\u003cdiv style=\"text-align: center;\"\u003e\n\u003cspan style=\"color: #808080;\"\u003e\u003cspan style=\"font-family: microsoft yahei,sans-serif;\"\u003e\u003cspan style=\"font-size: 28px; line-height: 40px;\"\u003eMulti- Application, One Solution \u003c\/span\u003e\u003c\/span\u003e\u003c\/span\u003e\u003cbr\u003e \u003cspan style=\"color: #333333;\"\u003e\u003cspan style=\"font-family: microsoft yahei,sans-serif;\"\u003e\u003cspan style=\"font-size: 16px;\"\u003eFor normal people, they need smaller and simpler product to deal with the live applications. The LIVEPRO L1 can be done this, which is with simple and compact design, rich special effects switching function, the screw hole can be fixed the switcher on the tripod. With these, live streaming and multi signal control will be simpler and easier done by single person. \u003c\/span\u003e\u003c\/span\u003e\u003c\/span\u003e\n\u003c\/div\u003e\n\u003c\/div\u003e\n\u003cdiv style=\"text-align: center;\"\u003e\u003cimg src=\"https:\/\/cdn.shopifycdn.net\/s\/files\/1\/2707\/3516\/files\/live-stream-mixer4_1024x1024.jpg?v=1611891975\" alt=\"\" style=\"margin: 0pxpx 0pxpx 0pxpx 0pxpx; float: none;\"\u003e\u003c\/div\u003e\n\u003cdiv class=\"main_1200 textleft\"\u003e\n\u003cdiv style=\"text-align: center;\"\u003e\n\u003cspan style=\"color: #808080;\"\u003e\u003cspan style=\"font-family: microsoft yahei,sans-serif;\"\u003e\u003cspan style=\"font-size: 28px; line-height: 40px;\"\u003eFaster Video Production, Plus Live Streaming\u003c\/span\u003e\u003c\/span\u003e\u003c\/span\u003e\u003cbr\u003e \u003cspan style=\"color: #333333;\"\u003e\u003cspan style=\"font-family: microsoft yahei,sans-serif;\"\u003e\u003cspan style=\"font-size: 16px;\"\u003eLive production is the fastest way to complete a finished program, plus you can stream it to a live global audience via Youtube at the same time. The USB 3.0 output of LIVEPRO L1 connects to any computer and looks like a built in webcam, so all streaming software for social media platforms work! With up to 4 HDMI inputs you can set up multiple camera angles such as wide shots along with independent close ups of each person in the performance. Or you can connect to a computer with a PowerPoint slide show, video clip playback, websites or gaming consoles. All switching is in real time so you can live stream to any social media platform such as Youtube, Facebook, Tik Tok, Douyu TV and many more! \u003c\/span\u003e\u003c\/span\u003e\u003c\/span\u003e\n\u003c\/div\u003e\n\u003c\/div\u003e\n\u003cdiv style=\"text-align: center;\"\u003e\u003cimg src=\"https:\/\/cdn.shopifycdn.net\/s\/files\/1\/2707\/3516\/files\/video-live-switcher1_1024x1024.jpg?v=1611892009\" alt=\"\" style=\"margin: 0pxpx 0pxpx 0pxpx 0pxpx; float: none;\"\u003e\u003c\/div\u003e\n\u003cdiv class=\"main_1200 textleft\"\u003e\n\u003cdiv style=\"text-align: center;\"\u003e\n\u003cspan style=\"color: #808080;\"\u003e\u003cspan style=\"font-family: microsoft yahei,sans-serif;\"\u003e\u003cspan style=\"font-size: 28px; line-height: 50px;\"\u003eFlexible T-Bar Switching\u003c\/span\u003e\u003c\/span\u003e\u003c\/span\u003e\u003cbr\u003e \u003cspan style=\"color: #333333;\"\u003e\u003cspan style=\"font-family: microsoft yahei,sans-serif;\"\u003e\u003cspan style=\"font-size: 16px;\"\u003eThe T-Bar of LIVEPRO L1 support 14 transition effects and signal switching. Under T-Bar mode, pushing green button, it will flash and push T-Bar to the end (left or right), the source will be switched with selected transition effect. After switching, green turns to red. It is very suitable for video special effects switching of small outdoor scenes to meet the needs of video switching such as radio and television, outdoor sports events, school courseware production, etc.\u003c\/span\u003e\u003c\/span\u003e\u003c\/span\u003e\u003cbr\u003e \u003cspan style=\"color: #333333;\"\u003e\u003cspan style=\"font-family: microsoft yahei,sans-serif;\"\u003e\u003cspan style=\"font-size: 16px;\"\u003eNote: When T-Bar is not in the end position, no source can be selected.\u003c\/span\u003e\u003c\/span\u003e\u003c\/span\u003e\n\u003c\/div\u003e\n\u003c\/div\u003e\n\u003cp style=\"text-align: center;\"\u003e \u003c\/p\u003e\n\u003cdiv style=\"text-align: center;\"\u003e\u003cimg src=\"https:\/\/cdn.shopifycdn.net\/s\/files\/1\/2707\/3516\/files\/tbar-swithcer1_1024x1024.jpg?v=1611892039\" alt=\"\" style=\"margin: 0pxpx 0pxpx 0pxpx 0pxpx; float: none;\"\u003e\u003c\/div\u003e\n\u003cdiv style=\"text-align: center;\"\u003e\n\u003cspan style=\"color: #808080;\"\u003e\u003cspan style=\"font-family: microsoft yahei,sans-serif;\"\u003e\u003cspan style=\"font-size: 28px; line-height: 50px;\"\u003eAUDIO IN and AUDIO OUT\u003c\/span\u003e\u003c\/span\u003e\u003c\/span\u003e\u003cbr\u003e \u003cspan style=\"color: #333333;\"\u003e\u003cspan style=\"font-family: microsoft yahei,sans-serif;\"\u003e\u003cspan style=\"font-size: 16px;\"\u003eLIVEPRO L1 with AUDIO IN and OUT. The output interface can be connected to speakers, headsets, etc.; The AUDIO IN interface is a linear input interface, which is connected to digital signal. The microphone collects analog signals, so when the microphone is connected to the LIVEPRO L1 audio input interface directly, there is no way to receive audio. \u003c\/span\u003e\u003c\/span\u003e\u003c\/span\u003e\n\u003c\/div\u003e\n\u003cp style=\"text-align: center;\"\u003e\u003cspan style=\"font-size: 22px;\"\u003e\u003cspan style=\"color: #333333;\"\u003e\u003cspan style=\"font-family: microsoft yahei,sans-serif;\"\u003e\u003cspan style=\"line-height: 50px;\"\u003eSolutions for live broadcasting audio problems:\u003c\/span\u003e\u003c\/span\u003e\u003c\/span\u003e\u003c\/span\u003e\u003c\/p\u003e\n\u003cdiv style=\"text-align: center;\"\u003e\u003cspan style=\"font-size: 16px; font-family: 'microsoft yahei', sans-serif; color: #333333;\"\u003e• If there is microphone and audio interface, please connect microphone to the audio interface and connect the output interface of the audio interface to the AUDIO IN interface of LIVEPRO L1.\u003c\/span\u003e\u003c\/div\u003e\n\u003cp style=\"text-align: center;\"\u003e \u003c\/p\u003e\n\u003cdiv style=\"text-align: center;\"\u003e\u003cimg src=\"https:\/\/cdn.shopifycdn.net\/s\/files\/1\/2707\/3516\/files\/audio-interface-mixer1_1024x1024.jpg?v=1611892100\" alt=\"\" style=\"margin: 0pxpx 0pxpx 0pxpx 0pxpx; float: none;\"\u003e\u003c\/div\u003e\n\u003cp style=\"text-align: center;\"\u003e \u003cspan style=\"font-size: 16px; font-family: 'microsoft yahei', sans-serif; color: #333333;\" data-mce-fragment=\"1\" data-mce-style=\"font-size: 16px; font-family: 'microsoft yahei', sans-serif; color: #333333;\"\u003e• If there is microphone but without audio interface, please connect the microphone to the MIC interface of computer. \u003c\/span\u003e\u003c\/p\u003e\n\u003cdiv style=\"text-align: center;\"\u003e\u003cimg src=\"https:\/\/cdn.shopifycdn.net\/s\/files\/1\/2707\/3516\/files\/LIVEPRO-L1-audio-2_1024x1024.jpg?v=1611892130\" alt=\"\" style=\"margin: 0pxpx 0pxpx 0pxpx 0pxpx; float: none;\"\u003e\u003c\/div\u003e\n\u003cdiv style=\"text-align: center;\"\u003e\u003cspan style=\"font-size: 16px; font-family: 'microsoft yahei', sans-serif; color: #333333;\"\u003e• If there is wireless microphone and it with earphone interface, please connect this interface to AUDIO IN of LIVEPRO L1. \u003c\/span\u003e\u003c\/div\u003e\n\u003cdiv style=\"text-align: center;\"\u003e\u003cspan style=\"font-size: 16px; font-family: 'microsoft yahei', sans-serif; color: #333333;\"\u003e\u003cimg style=\"margin: 0pxpx 0pxpx 0pxpx 0pxpx; float: none;\" src=\"https:\/\/cdn.shopifycdn.net\/s\/files\/1\/2707\/3516\/files\/audio-embed-mixer2_1024x1024.jpg?v=1611892174\" width=\"1024x1024\" height=\"1024x1024\"\u003e\u003c\/span\u003e\u003c\/div\u003e\n\u003cp style=\"text-align: center;\"\u003e\u003cspan style=\"font-size: 16px; font-family: 'microsoft yahei', sans-serif; color: #333333;\"\u003e• If there is device of MIC to Line output, please connect to AUDIO IN of LIVEPRO L1.\u003c\/span\u003e\u003c\/p\u003e\n\u003cdiv style=\"text-align: center;\"\u003e\u003cimg src=\"https:\/\/cdn.shopifycdn.net\/s\/files\/1\/2707\/3516\/files\/live-broadcast-mixer2_1024x1024.jpg?v=1611892219\" alt=\"\" style=\"margin: 0pxpx 0pxpx 0pxpx 0pxpx; float: none;\"\u003e\u003c\/div\u003e\n\u003cdiv style=\"text-align: center;\"\u003e\n\u003cspan style=\"color: #808080;\"\u003e\u003cspan style=\"font-family: microsoft yahei,sans-serif;\"\u003e\u003cspan style=\"font-size: 28px; line-height: 40px;\"\u003eUSB interface and HDMI output can set PVW and PGM independently\u003c\/span\u003e\u003c\/span\u003e\u003c\/span\u003e\u003cbr\u003e \u003cspan style=\"font-size: 22px;\"\u003e\u003cspan style=\"color: #333333;\"\u003e\u003cspan style=\"font-family: microsoft yahei,sans-serif;\"\u003e\u003cspan style=\"line-height: 50px;\"\u003eAllowing you to choose freely \u003c\/span\u003e\u003c\/span\u003e\u003c\/span\u003e\u003c\/span\u003e\u003cbr\u003e \u003cspan style=\"color: #333333;\"\u003e\u003cspan style=\"font-family: microsoft yahei,sans-serif;\"\u003e\u003cspan style=\"font-size: 16px;\"\u003eThe USB interface of LIVEPRO L1 also can be used as signal output except HDMI output. They can connect computer or monitor to set PGM and PVW independently. You can choose to set any of them as preview or PGM as you like. \u003c\/span\u003e\u003c\/span\u003e\u003c\/span\u003e\n\u003c\/div\u003e\n\u003cdiv style=\"text-align: center;\"\u003e\u003cimg src=\"https:\/\/cdn.shopifycdn.net\/s\/files\/1\/2707\/3516\/files\/hdmi-switcher1_1024x1024.jpg?v=1611892254\" alt=\"\" style=\"margin: 0pxpx 0pxpx 0pxpx 0pxpx; float: none;\"\u003e\u003c\/div\u003e\n\u003cdiv class=\"main_1200 textleft\"\u003e\n\u003cdiv style=\"text-align: center;\"\u003e\n\u003cspan style=\"color: #808080;\"\u003e\u003cspan style=\"font-family: microsoft yahei,sans-serif;\"\u003e\u003cspan style=\"font-size: 28px; line-height: 50px;\"\u003e6 Picture PVW, PIP \u003c\/span\u003e\u003c\/span\u003e\u003c\/span\u003e\u003cbr\u003e \u003cspan style=\"color: #333333;\"\u003e\u003cspan style=\"font-family: microsoft yahei,sans-serif;\"\u003e\u003cspan style=\"font-size: 16px;\"\u003eWhen the switcher is connected with an external expansion screen, it can preview real-time monitoring on 6 pictures, including PGM, PST and 4-channel HDMI input signals, and the audio column is displayed. Plus, you can set 9 layouts for PIP (Picture in Picture) mode. This is very useful for large-scale multi stand field production. \u003c\/span\u003e\u003c\/span\u003e\u003c\/span\u003e\n\u003c\/div\u003e\n\u003c\/div\u003e\n\u003cdiv style=\"text-align: center;\"\u003e\u003cimg src=\"https:\/\/cdn.shopifycdn.net\/s\/files\/1\/2707\/3516\/files\/6-picture-switcher_1024x1024.jpg?v=1611892360\" alt=\"\" style=\"margin: 0pxpx 0pxpx 0pxpx 0pxpx; float: none;\"\u003e\u003c\/div\u003e\n\u003cdiv class=\"main_1200 textleft\"\u003e\n\u003cdiv class=\"main_1200 textleft\"\u003e\n\u003cdiv style=\"text-align: center;\"\u003e\u003cspan style=\"color: #808080;\"\u003e\u003cspan style=\"font-family: microsoft yahei,sans-serif;\"\u003e\u003cspan style=\"font-size: 28px; line-height: 50px;\"\u003eUSB 3.0 Live Streaming\u003c\/span\u003e\u003c\/span\u003e\u003c\/span\u003e\u003c\/div\u003e\n\u003c\/div\u003e\n\u003cdiv style=\"text-align: start;\" class=\"main_1200 textleft\"\u003e\n\u003cdiv style=\"text-align: center;\"\u003e\u003cspan style=\"color: #333333;\"\u003e\u003cspan style=\"font-size: 20px;\"\u003e\u003cspan style=\"font-family: microsoft yahei,sans-serif;\"\u003e\u003cspan style=\"line-height: 50px;\"\u003eMake Live Brocasting More Convenient and Fast \u003c\/span\u003e\u003c\/span\u003e\u003c\/span\u003e\u003cbr\u003e \u003cspan style=\"font-family: microsoft yahei,sans-serif;\"\u003e\u003cspan style=\"font-size: 16px;\"\u003eTo ensure maximum compatibility, LIVEPRO L1 features a USB connection that operates as a simple webcam source. That means you can plug in and instantly get working with any video software. The software is tricked into thinking the LIVEPRO L1 is a common webcam, but it is really a live production switcher! That guarantees full compatibility with any video software and in full resolution 1080HD quality. Choose any software you like, such as OBS software for live streaming, or conference software (Tencent conference and Yealink ) for business presentations. LIVEPRO L1 works with software and platforms such as OBS, acquisition software(AMCap, ECap, Potplayer), conference software (Tencent conference and Yealink) , Youtube, Facebook, Zoom, Tik Tok and more!\u003c\/span\u003e\u003c\/span\u003e\u003c\/span\u003e\u003c\/div\u003e\n\u003cp style=\"text-align: center;\"\u003e\u003cspan style=\"font-size: 16px;\"\u003eNote: OBS Streaming is available to download on  \u003ca href=\"https:\/\/obsproject.com\/download\"\u003ehttps:\/obsproject.com\/download\u003c\/a\u003e\u003c\/span\u003e\u003c\/p\u003e\n\u003cp style=\"text-align: center;\"\u003e\u003cimg alt=\"live brocasting switcher\" src=\"http:\/\/www.feelworld.cn\/UpLoadFiles\/Shop\/2020\/8\/live-brocasting-switcher.jpg\" style=\"width: 1201px; height: 646px; display: inline;\"\u003e\u003c\/p\u003e\n\u003cp style=\"text-align: center;\"\u003e\u003cspan style=\"font-size: 16px;\"\u003e\u003cimg style=\"margin: 0pxpx 0pxpx 0pxpx 0pxpx; float: none;\" src=\"https:\/\/cdn.shopifycdn.net\/s\/files\/1\/2707\/3516\/files\/USB-live-mixer1_1024x1024.jpg?v=1611892403\" width=\"1024x1024\" height=\"1024x1024\"\u003e\u003c\/span\u003e\u003c\/p\u003e\n\u003c\/div\u003e\n\u003c\/div\u003e\n\u003cdiv class=\"main_1200 textleft\"\u003e\n\u003cdiv style=\"text-align: center;\" data-mce-style=\"text-align: center;\"\u003e\n\u003cspan style=\"color: #808080;\" data-mce-style=\"color: #808080;\"\u003e\u003cspan style=\"font-family: microsoft yahei,sans-serif;\" data-mce-style=\"font-family: microsoft yahei,sans-serif;\"\u003e\u003cspan style=\"font-size: 28px; line-height: 50px;\" data-mce-style=\"font-size: 28px; line-height: 50px;\"\u003eMultiple Application Scenarios Suitable \u003c\/span\u003e\u003c\/span\u003e\u003c\/span\u003e\u003cbr\u003e \u003cspan style=\"font-family: microsoft yahei,sans-serif;\" data-mce-style=\"font-family: microsoft yahei,sans-serif;\"\u003e\u003cspan style=\"font-size: 16px;\" data-mce-style=\"font-size: 16px;\"\u003eLIVEPRO L1 is widely used in sports events, e-sports competition, business presentation, wedding , character interview, education and training, etc.\u003c\/span\u003e\u003c\/span\u003e\n\u003c\/div\u003e\n\u003cdiv style=\"text-align: center;\" data-mce-style=\"text-align: center;\"\u003e\u003cspan style=\"font-family: microsoft yahei,sans-serif;\" data-mce-style=\"font-family: microsoft yahei,sans-serif;\"\u003e\u003c\/span\u003e\u003c\/div\u003e\n\u003cdiv style=\"text-align: center;\" data-mce-style=\"text-align: center;\"\u003e\u003cspan style=\"font-family: microsoft yahei,sans-serif;\" data-mce-style=\"font-family: microsoft yahei,sans-serif;\"\u003e\u003c\/span\u003e\u003c\/div\u003e\n\u003cdiv style=\"text-align: center;\" data-mce-style=\"text-align: center;\"\u003e\u003cspan style=\"font-family: microsoft yahei,sans-serif;\" data-mce-style=\"font-family: microsoft yahei,sans-serif;\"\u003e\u003c\/span\u003e\u003c\/div\u003e\n\u003cdiv style=\"text-align: center;\" data-mce-style=\"text-align: center;\"\u003e\u003cspan style=\"font-family: microsoft yahei,sans-serif;\" data-mce-style=\"font-family: microsoft yahei,sans-serif;\"\u003e\u003c\/span\u003e\u003c\/div\u003e\n\u003cdiv style=\"text-align: center;\" data-mce-style=\"text-align: center;\"\u003e\u003cspan style=\"font-family: microsoft yahei,sans-serif;\" data-mce-style=\"font-family: microsoft yahei,sans-serif;\"\u003e\u003c\/span\u003e\u003c\/div\u003e\n\u003cdiv style=\"text-align: center;\" data-mce-style=\"text-align: center;\"\u003e\u003cspan style=\"font-family: microsoft yahei,sans-serif;\" data-mce-style=\"font-family: microsoft yahei,sans-serif;\"\u003e\u003c\/span\u003e\u003c\/div\u003e\n\u003cdiv style=\"text-align: center;\" data-mce-style=\"text-align: center;\"\u003e\u003cspan style=\"font-family: microsoft yahei,sans-serif;\" data-mce-style=\"font-family: microsoft yahei,sans-serif;\"\u003e\u003c\/span\u003e\u003c\/div\u003e\n\u003c\/div\u003e\n\u003cp style=\"text-align: center;\" data-mce-style=\"text-align: center;\"\u003e \u003c\/p\u003e\n\u003cdiv style=\"text-align: center;\" data-mce-style=\"text-align: center;\"\u003e\u003cimg src=\"https:\/\/cdn.shopifycdn.net\/s\/files\/1\/2707\/3516\/files\/live-brocasting-switcher_1024x1024.jpg?v=1612164764\" style=\"margin: 0pxpx 0pxpx 0pxpx 0pxpx;float: none;\" data-mce-style=\"margin: 0pxpx 0pxpx 0pxpx 0pxpx;float: none;\" data-mce-src=\"https:\/\/cdn.shopifycdn.net\/s\/files\/1\/2707\/3516\/files\/live-brocasting-switcher_1024x1024.jpg?v=1612164764\" width=\"1024x1024\" height=\"1024x1024\"\u003e\u003c\/div\u003e\n\u003cdiv class=\"main_1200 textleft\"\u003e\n\u003cdiv style=\"text-align: center;\" data-mce-style=\"text-align: center;\"\u003e\n\u003cspan style=\"color: #808080;\" data-mce-style=\"color: #808080;\"\u003e\u003cspan style=\"font-family: microsoft yahei,sans-serif;\" data-mce-style=\"font-family: microsoft yahei,sans-serif;\"\u003e\u003cspan style=\"font-size: 28px; line-height: 50px;\" data-mce-style=\"font-size: 28px; line-height: 50px;\"\u003eAdd Exciting Video Effects\u003c\/span\u003e\u003c\/span\u003e\u003c\/span\u003e\u003cbr\u003e \u003cspan style=\"color: #333333;\" data-mce-style=\"color: #333333;\"\u003e\u003cspan style=\"font-family: microsoft yahei,sans-serif;\" data-mce-style=\"font-family: microsoft yahei,sans-serif;\"\u003e\u003cspan style=\"font-size: 16px;\" data-mce-style=\"font-size: 16px;\"\u003eOne of the benefits of LIVEPRO L1 is the professional production values that are possible using the range of built in video effects. Push button SW to open up the transition effect menu, use knob to select the desired transition effect icon and push the knob to confirm. The \"cut\" in \u003cmix\u003emenu ensures an instant cut when switching source. You can also \nselect the type of effect you want including mix, which does a smooth \ntransition between sources, and dip which fades via a color during the \ntransition. The \u003cfast\u003e in MODE menu allowing 0 .5S~ 5.0S settings. Plus, you can select PIP mode. \u003c\/fast\u003e\u003c\/mix\u003e\u003c\/span\u003e\u003c\/span\u003e\u003c\/span\u003e\n\u003c\/div\u003e\n\u003c\/div\u003e\n\u003cdiv style=\"text-align: center;\" data-mce-style=\"text-align: center;\"\u003e\u003cimg src=\"https:\/\/cdn.shopifycdn.net\/s\/files\/1\/2707\/3516\/files\/multi-effects-switcher_1024x1024.jpg?v=1612165011\" alt=\"\" style=\"margin: 0pxpx 0pxpx 0pxpx 0pxpx; float: none;\" data-mce-style=\"margin: 0pxpx 0pxpx 0pxpx 0pxpx; float: none;\" data-mce-src=\"https:\/\/cdn.shopifycdn.net\/s\/files\/1\/2707\/3516\/files\/multi-effects-switcher_1024x1024.jpg?v=1612165011\"\u003e\u003c\/div\u003e\n\u003cdiv class=\"main_1200 textleft\"\u003e\n\u003cdiv style=\"text-align: center;\" data-mce-style=\"text-align: center;\"\u003e\n\u003cdiv class=\"main_1200 textleft\"\u003e\n\u003cdiv style=\"text-align: center;\" data-mce-style=\"text-align: center;\"\u003e\n\u003cspan style=\"color: #808080;\" data-mce-style=\"color: #808080;\"\u003e\u003cspan style=\"font-family: microsoft yahei,sans-serif;\" data-mce-style=\"font-family: microsoft yahei,sans-serif;\"\u003e\u003cspan style=\"font-size: 28px; line-height: 50px;\" data-mce-style=\"font-size: 28px; line-height: 50px;\"\u003ePC Controlling, Remote Operation \u003c\/span\u003e\u003c\/span\u003e\u003c\/span\u003e\u003cbr\u003e \u003cspan style=\"color: #333333;\" data-mce-style=\"color: #333333;\"\u003e\u003cspan style=\"font-family: microsoft yahei,sans-serif;\" data-mce-style=\"font-family: microsoft yahei,sans-serif;\"\u003e\u003cspan style=\"font-size: 16px;\" data-mce-style=\"font-size: 16px;\"\u003eAfter connecting the LAN port to the computer, not extra software need to be installed, the software XPOSE holds on the computer, the operation is same as the switcher. So as to realize remote controlling, imagine using the switcher from a control room and building a professional broadcasting studio where the control room can be separated away from the performance or interviews. In addition, it allows you to add as many panels as you like all at the same time.\u003c\/span\u003e\u003c\/span\u003e\u003c\/span\u003e\u003cbr\u003e \u003cspan style=\"color: #333333;\" data-mce-style=\"color: #333333;\"\u003e\u003cspan style=\"font-family: microsoft yahei,sans-serif;\" data-mce-style=\"font-family: microsoft yahei,sans-serif;\"\u003e\u003cspan style=\"font-size: 16px;\" data-mce-style=\"font-size: 16px;\"\u003ePS: Please download the XPOSE software from the \"DOWNLOAD\" module of this page, please don not put it in the system disk (C disk) after download.\u003c\/span\u003e\u003c\/span\u003e\u003c\/span\u003e\n\u003c\/div\u003e\n\u003cdiv style=\"text-align: center;\" data-mce-style=\"text-align: center;\"\u003e\u003cspan style=\"color: #333333;\" data-mce-style=\"color: #333333;\"\u003e\u003cimg style=\"margin: 0pxpx 0pxpx 0pxpx 0pxpx;float: none;\" src=\"https:\/\/cdn.shopifycdn.net\/s\/files\/1\/2707\/3516\/files\/xpose-control-mixer2_1024x1024.jpg?v=1612165126\" data-mce-style=\"margin: 0pxpx 0pxpx 0pxpx 0pxpx;float: none;\" data-mce-src=\"https:\/\/cdn.shopifycdn.net\/s\/files\/1\/2707\/3516\/files\/xpose-control-mixer2_1024x1024.jpg?v=1612165126\" width=\"1024x1024\" height=\"1024x1024\"\u003e\u003c\/span\u003e\u003c\/div\u003e\n\u003cdiv style=\"text-align: center;\" data-mce-style=\"text-align: center;\"\u003e\n\u003cdiv class=\"main_1200 textleft\"\u003e\n\u003cdiv style=\"text-align: center;\" data-mce-style=\"text-align: center;\"\u003e\n\u003cspan style=\"color: #808080;\" data-mce-style=\"color: #808080;\"\u003e\u003cspan style=\"font-family: microsoft yahei,sans-serif;\" data-mce-style=\"font-family: microsoft yahei,sans-serif;\"\u003e\u003cspan style=\"font-size: 28px; line-height: 50px;\" data-mce-style=\"font-size: 28px; line-height: 50px;\"\u003eFirmware Update \u003c\/span\u003e\u003c\/span\u003e\u003c\/span\u003e\u003cbr\u003e \u003cspan style=\"color: #333333;\" data-mce-style=\"color: #333333;\"\u003e\u003cspan style=\"font-family: microsoft yahei,sans-serif;\" data-mce-style=\"font-family: microsoft yahei,sans-serif;\"\u003e\u003cspan style=\"font-size: 16px;\" data-mce-style=\"font-size: 16px;\"\u003eIn order to improve the user experience of LIVEPRO L1, we will update the firmware from time to time. You can download the upgrade package from the "DOWNLOAD" module of this page, it contains upgrade file, upgrade tool, content update and upgrade instruction.\u003c\/span\u003e\u003c\/span\u003e\u003c\/span\u003e\n\u003c\/div\u003e\n\u003c\/div\u003e\n\u003cp\u003e \u003c\/p\u003e\n\u003c\/div\u003e\n\u003cdiv style=\"text-align: center;\" data-mce-style=\"text-align: center;\"\u003e\n\u003cspan style=\"color: #333333;\" data-mce-style=\"color: #333333;\"\u003e\u003c\/span\u003e\u003cbr\u003e\n\u003c\/div\u003e\n\u003c\/div\u003e\n\u003c\/div\u003e\n\u003c\/div\u003e\n\u003ch3 style=\"text-align: left;\"\u003e\u003cstrong\u003eDownload:\u003c\/strong\u003e\u003c\/h3\u003e\n\u003cp\u003e \u003c\/p\u003e\n\u003cul\u003e\n\u003cli\u003e\u003ca href=\"http:\/\/www.feelworld.cn\/Common\/ShowDownloadUrl.aspx?urlid=0\u0026amp;id=667\"\u003eLivePro Xpose Soft (MAC)_V1.0.0.7_20201026\u003c\/a\u003e\u003c\/li\u003e\n\u003cli\u003e\u003ca href=\"http:\/\/www.feelworld.cn\/Common\/ShowDownloadUrl.aspx?urlid=1\u0026amp;id=667\"\u003eLivePro Xpose Soft (Windows)_V1.0.0.5_Setup 20200928AM\u003c\/a\u003e\u003c\/li\u003e\n\u003cli\u003e\u003ca href=\"http:\/\/www.feelworld.cn\/Common\/ShowDownloadUrl.aspx?urlid=2\u0026amp;id=667\"\u003eLivepro Xpose Software (Android)_V1.0.0.6\u003c\/a\u003e\u003c\/li\u003e\n\u003cli\u003e\u003ca href=\"http:\/\/www.feelworld.cn\/Common\/ShowDownloadUrl.aspx?urlid=3\u0026amp;id=667\"\u003eLivepro Firmware V0.46_MacOS_20210113\u003c\/a\u003e\u003c\/li\u003e\n\u003cli\u003e\u003ca href=\"http:\/\/www.feelworld.cn\/Common\/ShowDownloadUrl.aspx?urlid=4\u0026amp;id=667\"\u003eLivepro Firmware V0.46_Windows_20210113\u003c\/a\u003e\u003c\/li\u003e\n\u003c\/ul\u003e\n\u003cp\u003e \u003c\/p\u003e","published_at":"2021-02-01T00:40:02-07:00","created_at":"2021-01-28T19:56:30-07:00","vendor":"FOMITO.SHOP","type":"","tags":["Other Accessories"],"price":29900,"price_min":29900,"price_max":42200,"available":true,"price_varies":true,"compare_at_price":null,"compare_at_price_min":0,"compare_at_price_max":0,"compare_at_price_varies":false,"variants":[{"id":33163638472807,"title":"L1","option1":"L1","option2":null,"option3":null,"sku":"FMT-L1","requires_shipping":true,"taxable":true,"featured_image":null,"available":true,"name":"FEELWORLD LIVEPRO L1 Multi-format Video Mixer Switcher 4 x HDMI inputs multi camera USB3.0 live - L1","public_title":"L1","options":["L1"],"price":29900,"weight":0,"compare_at_price":null,"inventory_management":null,"barcode":"","requires_selling_plan":false,"selling_plan_allocations":[]},{"id":33163638505575,"title":"L1 for EU","option1":"L1 for EU","option2":null,"option3":null,"sku":"FMT-L1","requires_shipping":true,"taxable":true,"featured_image":null,"available":true,"name":"FEELWORLD LIVEPRO L1 Multi-format Video Mixer Switcher 4 x HDMI inputs multi camera USB3.0 live - L1 for EU","public_title":"L1 for EU","options":["L1 for EU"],"price":42200,"weight":0,"compare_at_price":null,"inventory_management":null,"barcode":"","requires_selling_plan":false,"selling_plan_allocations":[]}],"images":["\/\/www.fomito.com\/cdn\/shop\/products\/live-stream-switcher1.jpg?v=1611888992","\/\/www.fomito.com\/cdn\/shop\/products\/portable-size-switcher.jpg?v=1611888993","\/\/www.fomito.com\/cdn\/shop\/products\/hdmi-switcher2.jpg?v=1611888993","\/\/www.fomito.com\/cdn\/shop\/products\/multi-camera-swithcer.jpg?v=1611888993"],"featured_image":"\/\/www.fomito.com\/cdn\/shop\/products\/live-stream-switcher1.jpg?v=1611888992","options":["Size"],"media":[{"alt":null,"id":8472710283367,"position":1,"preview_image":{"aspect_ratio":1.25,"height":600,"width":750,"src":"\/\/www.fomito.com\/cdn\/shop\/products\/live-stream-switcher1.jpg?v=1611888992"},"aspect_ratio":1.25,"height":600,"media_type":"image","src":"\/\/www.fomito.com\/cdn\/shop\/products\/live-stream-switcher1.jpg?v=1611888992","width":750},{"alt":null,"id":8472710316135,"position":2,"preview_image":{"aspect_ratio":1.25,"height":600,"width":750,"src":"\/\/www.fomito.com\/cdn\/shop\/products\/portable-size-switcher.jpg?v=1611888993"},"aspect_ratio":1.25,"height":600,"media_type":"image","src":"\/\/www.fomito.com\/cdn\/shop\/products\/portable-size-switcher.jpg?v=1611888993","width":750},{"alt":null,"id":8472710348903,"position":3,"preview_image":{"aspect_ratio":1.25,"height":600,"width":750,"src":"\/\/www.fomito.com\/cdn\/shop\/products\/hdmi-switcher2.jpg?v=1611888993"},"aspect_ratio":1.25,"height":600,"media_type":"image","src":"\/\/www.fomito.com\/cdn\/shop\/products\/hdmi-switcher2.jpg?v=1611888993","width":750},{"alt":null,"id":8472710381671,"position":4,"preview_image":{"aspect_ratio":1.25,"height":600,"width":750,"src":"\/\/www.fomito.com\/cdn\/shop\/products\/multi-camera-swithcer.jpg?v=1611888993"},"aspect_ratio":1.25,"height":600,"media_type":"image","src":"\/\/www.fomito.com\/cdn\/shop\/products\/multi-camera-swithcer.jpg?v=1611888993","width":750}],"requires_selling_plan":false,"selling_plan_groups":[],"content":"\u003cp\u003e \u003c\/p\u003e\n\u003cp style=\"text-align: center;\"\u003e \u003c\/p\u003e\n\u003cdiv style=\"text-align: center;\"\u003e\u003cimg src=\"https:\/\/cdn.shopifycdn.net\/s\/files\/1\/2707\/3516\/files\/hdcp-video-swithcer1_1024x1024.jpg?v=1611891531\" alt=\"\" style=\"margin: 0pxpx 0pxpx 0pxpx 0pxpx; float: none;\"\u003e\u003c\/div\u003e\n\u003cp style=\"text-align: center;\"\u003e \u003c\/p\u003e\n\u003cdiv style=\"text-align: center;\"\u003e\u003cimg src=\"https:\/\/cdn.shopifycdn.net\/s\/files\/1\/2707\/3516\/files\/switcher-icon_1024x1024.jpg?v=1611891589\" alt=\"\" style=\"margin: 0pxpx 0pxpx 0pxpx 0pxpx; float: none;\"\u003e\u003c\/div\u003e\n\u003cdiv style=\"text-align: right;\"\u003e\n\u003cimg src=\"https:\/\/cdn.shopifycdn.net\/s\/files\/1\/2707\/3516\/files\/easy-operation-mixer1_480x480.jpg?v=1611891665\" alt=\"\" style=\"margin: 0pxpx 0pxpx 0pxpx 0pxpx; float: none;\"\u003e \u003cimg style=\"margin: 0pxpx 0pxpx 0pxpx 0pxpx; float: none;\" src=\"https:\/\/cdn.shopifycdn.net\/s\/files\/1\/2707\/3516\/files\/lighter-video-switcher1_480x480.jpg?v=1611891695\" data-mce-fragment=\"1\" data-mce-src=\"https:\/\/cdn.shopifycdn.net\/s\/files\/1\/2707\/3516\/files\/lighter-video-switcher1_480x480.jpg?v=1611891695\" width=\"480x480\" height=\"480x480\"\u003e\u003cbr\u003e\n\u003c\/div\u003e\n\u003cdiv class=\"main_1200 textleft\"\u003e\n\u003cdiv style=\"text-align: center;\"\u003e\n\u003cspan style=\"color: #808080;\"\u003e\u003cspan style=\"font-family: microsoft yahei,sans-serif;\"\u003e\u003cspan style=\"font-size: 28px; line-height: 50px;\"\u003eLow Cost, Multi Camera Live Production with Advanced Broadcast Features \u003c\/span\u003e\u003c\/span\u003e\u003c\/span\u003e\u003cbr\u003e \u003cspan style=\"color: #333333;\"\u003e\u003cspan style=\"font-family: microsoft yahei,sans-serif;\"\u003e\u003cspan style=\"font-size: 16px;\"\u003eLIVEPRO L1 with 4 CH HDMI inputs and 1 HDMI output, all of them support 1080p. For live streaming, there is a USB3.0 interface And plus, the LAN port for controlling and upgrading; for audio, it has 2 interfaces, one for input, and the other one for output. All of these make it easy to create professional multi camera productions. It is able stream any one from the 4 HDMI inputs to any live broadcasting platform via third party live streaming software such as OBS. Simply connect LIVEPRO L1 and you can switch live between 4 high quality video camera inputs for dramatically better quality images. Or connect a computer for PowerPoint slides or gaming consoles. \u003c\/span\u003e\u003c\/span\u003e\u003c\/span\u003e\n\u003c\/div\u003e\n\u003c\/div\u003e\n\u003cp style=\"text-align: center;\"\u003e \u003c\/p\u003e\n\u003cdiv style=\"text-align: center;\"\u003e\u003cimg src=\"https:\/\/cdn.shopifycdn.net\/s\/files\/1\/2707\/3516\/files\/video-mixer2_1024x1024.jpg?v=1611891742\" alt=\"\" style=\"margin: 0pxpx 0pxpx 0pxpx 0pxpx; float: none;\"\u003e\u003c\/div\u003e\n\u003cdiv class=\"main_1200 textleft\"\u003e\n\u003cdiv style=\"text-align: center;\"\u003e\n\u003cspan style=\"color: #808080;\"\u003e\u003cspan style=\"font-family: microsoft yahei,sans-serif;\"\u003e\u003cspan style=\"font-size: 28px; line-height: 50px;\"\u003eExquisite and Flexible Control Panel \u003c\/span\u003e\u003c\/span\u003e\u003c\/span\u003e\u003cbr\u003e \u003cspan style=\"color: #333333;\"\u003e\u003cspan style=\"font-family: microsoft yahei,sans-serif;\"\u003e\u003cspan style=\"font-size: 16px;\"\u003eThe LIVEPRO L1 has an exquisite and compact control panel. The 4 buttons are for selecting input signals, green flashing means the signal has been selected, then switch the T-Bar, the selected signal will be displayed on the screen seamlessly, the green button changed to red after switched. The MENU button is for menu setting, the SW button is for selecting different functions such as mixing, PIP, transition time setting and the other functions. The left knob is for voice volume controlling, the right knob is for menu setting as well. From the TFT screen, we can preview 4 HDMI signals and easily do menu setting.\u003c\/span\u003e\u003c\/span\u003e\u003c\/span\u003e\u003cbr\u003e \u003cspan style=\"color: #333333;\"\u003e\u003cspan style=\"font-family: microsoft yahei,sans-serif;\"\u003e\u003cspan style=\"font-size: 16px;\"\u003e• When you choose T-Bar to switch signal sources or transition effects, T-Bar must be pushed to left end or right end. When using the menu operation, T-BAR should also be in left end or right end, otherwise it cannot be operated. \u003c\/span\u003e\u003c\/span\u003e\u003c\/span\u003e\u003cbr\u003e \u003cspan style=\"color: #333333;\"\u003e\u003cspan style=\"font-family: microsoft yahei,sans-serif;\"\u003e\u003cspan style=\"font-size: 16px;\"\u003e• When you would like to connect or embed audio, you must select the external or embedded audio source in the \"AUDIO\" menu firstly.\u003c\/span\u003e\u003c\/span\u003e\u003c\/span\u003e\n\u003c\/div\u003e\n\u003c\/div\u003e\n\u003cp style=\"text-align: center;\"\u003e \u003c\/p\u003e\n\u003cdiv style=\"text-align: center;\"\u003e\u003cimg src=\"https:\/\/cdn.shopifycdn.net\/s\/files\/1\/2707\/3516\/files\/compact-panel-mixer1_1024x1024.jpg?v=1611891787\" alt=\"\" style=\"margin: 0pxpx 0pxpx 0pxpx 0pxpx; float: none;\"\u003e\u003c\/div\u003e\n\u003cp style=\"text-align: center;\"\u003e \u003c\/p\u003e\n\u003cdiv style=\"text-align: center;\"\u003e\u003cimg src=\"https:\/\/cdn.shopifycdn.net\/s\/files\/1\/2707\/3516\/files\/fexible-panel-switcher1_1024x1024.jpg?v=1611891835\" alt=\"\" style=\"margin: 0pxpx 0pxpx 0pxpx 0pxpx; float: none;\"\u003e\u003c\/div\u003e\n\u003cp style=\"text-align: center;\"\u003e \u003c\/p\u003e\n\u003cdiv class=\"main_1200 textleft\"\u003e\n\u003cdiv style=\"text-align: center;\"\u003e\n\u003cspan style=\"color: #808080;\"\u003e\u003cspan style=\"font-family: microsoft yahei,sans-serif;\"\u003e\u003cspan style=\"font-size: 28px; line-height: 40px;\"\u003eCompact and Light Weight Design\u003c\/span\u003e\u003c\/span\u003e\u003c\/span\u003e\u003cbr\u003e \u003cspan style=\"color: #333333;\"\u003e\u003cspan style=\"font-family: microsoft yahei,sans-serif;\"\u003e\u003cspan style=\"font-size: 16px;\"\u003eThe LIVEPRO L1 is a mini switcher, that is small enough to fit into equipment cases and camera bags. Designed to integrate with typical video production workflows, the LIVEPRO L1 has a screw tap for standard video mounts and conveniently attached onto a tripod to stay out of the way. It is light weight design makes it ideal for mobile video applications too. \u003c\/span\u003e\u003c\/span\u003e\u003c\/span\u003e\n\u003c\/div\u003e\n\u003c\/div\u003e\n\u003cp style=\"text-align: center;\"\u003e \u003c\/p\u003e\n\u003cdiv style=\"text-align: center;\"\u003e\u003cimg src=\"https:\/\/cdn.shopifycdn.net\/s\/files\/1\/2707\/3516\/files\/portable-switcher2_1024x1024.jpg?v=1611891933\" alt=\"\" style=\"margin: 0pxpx 0pxpx 0pxpx 0pxpx; float: none;\"\u003e\u003c\/div\u003e\n\u003cp style=\"text-align: center;\"\u003e \u003c\/p\u003e\n\u003cdiv class=\"main_1200 textleft\"\u003e\n\u003cdiv style=\"text-align: center;\"\u003e\n\u003cspan style=\"color: #808080;\"\u003e\u003cspan style=\"font-family: microsoft yahei,sans-serif;\"\u003e\u003cspan style=\"font-size: 28px; line-height: 40px;\"\u003eMulti- Application, One Solution \u003c\/span\u003e\u003c\/span\u003e\u003c\/span\u003e\u003cbr\u003e \u003cspan style=\"color: #333333;\"\u003e\u003cspan style=\"font-family: microsoft yahei,sans-serif;\"\u003e\u003cspan style=\"font-size: 16px;\"\u003eFor normal people, they need smaller and simpler product to deal with the live applications. The LIVEPRO L1 can be done this, which is with simple and compact design, rich special effects switching function, the screw hole can be fixed the switcher on the tripod. With these, live streaming and multi signal control will be simpler and easier done by single person. \u003c\/span\u003e\u003c\/span\u003e\u003c\/span\u003e\n\u003c\/div\u003e\n\u003c\/div\u003e\n\u003cdiv style=\"text-align: center;\"\u003e\u003cimg src=\"https:\/\/cdn.shopifycdn.net\/s\/files\/1\/2707\/3516\/files\/live-stream-mixer4_1024x1024.jpg?v=1611891975\" alt=\"\" style=\"margin: 0pxpx 0pxpx 0pxpx 0pxpx; float: none;\"\u003e\u003c\/div\u003e\n\u003cdiv class=\"main_1200 textleft\"\u003e\n\u003cdiv style=\"text-align: center;\"\u003e\n\u003cspan style=\"color: #808080;\"\u003e\u003cspan style=\"font-family: microsoft yahei,sans-serif;\"\u003e\u003cspan style=\"font-size: 28px; line-height: 40px;\"\u003eFaster Video Production, Plus Live Streaming\u003c\/span\u003e\u003c\/span\u003e\u003c\/span\u003e\u003cbr\u003e \u003cspan style=\"color: #333333;\"\u003e\u003cspan style=\"font-family: microsoft yahei,sans-serif;\"\u003e\u003cspan style=\"font-size: 16px;\"\u003eLive production is the fastest way to complete a finished program, plus you can stream it to a live global audience via Youtube at the same time. The USB 3.0 output of LIVEPRO L1 connects to any computer and looks like a built in webcam, so all streaming software for social media platforms work! With up to 4 HDMI inputs you can set up multiple camera angles such as wide shots along with independent close ups of each person in the performance. Or you can connect to a computer with a PowerPoint slide show, video clip playback, websites or gaming consoles. All switching is in real time so you can live stream to any social media platform such as Youtube, Facebook, Tik Tok, Douyu TV and many more! \u003c\/span\u003e\u003c\/span\u003e\u003c\/span\u003e\n\u003c\/div\u003e\n\u003c\/div\u003e\n\u003cdiv style=\"text-align: center;\"\u003e\u003cimg src=\"https:\/\/cdn.shopifycdn.net\/s\/files\/1\/2707\/3516\/files\/video-live-switcher1_1024x1024.jpg?v=1611892009\" alt=\"\" style=\"margin: 0pxpx 0pxpx 0pxpx 0pxpx; float: none;\"\u003e\u003c\/div\u003e\n\u003cdiv class=\"main_1200 textleft\"\u003e\n\u003cdiv style=\"text-align: center;\"\u003e\n\u003cspan style=\"color: #808080;\"\u003e\u003cspan style=\"font-family: microsoft yahei,sans-serif;\"\u003e\u003cspan style=\"font-size: 28px; line-height: 50px;\"\u003eFlexible T-Bar Switching\u003c\/span\u003e\u003c\/span\u003e\u003c\/span\u003e\u003cbr\u003e \u003cspan style=\"color: #333333;\"\u003e\u003cspan style=\"font-family: microsoft yahei,sans-serif;\"\u003e\u003cspan style=\"font-size: 16px;\"\u003eThe T-Bar of LIVEPRO L1 support 14 transition effects and signal switching. Under T-Bar mode, pushing green button, it will flash and push T-Bar to the end (left or right), the source will be switched with selected transition effect. After switching, green turns to red. It is very suitable for video special effects switching of small outdoor scenes to meet the needs of video switching such as radio and television, outdoor sports events, school courseware production, etc.\u003c\/span\u003e\u003c\/span\u003e\u003c\/span\u003e\u003cbr\u003e \u003cspan style=\"color: #333333;\"\u003e\u003cspan style=\"font-family: microsoft yahei,sans-serif;\"\u003e\u003cspan style=\"font-size: 16px;\"\u003eNote: When T-Bar is not in the end position, no source can be selected.\u003c\/span\u003e\u003c\/span\u003e\u003c\/span\u003e\n\u003c\/div\u003e\n\u003c\/div\u003e\n\u003cp style=\"text-align: center;\"\u003e \u003c\/p\u003e\n\u003cdiv style=\"text-align: center;\"\u003e\u003cimg src=\"https:\/\/cdn.shopifycdn.net\/s\/files\/1\/2707\/3516\/files\/tbar-swithcer1_1024x1024.jpg?v=1611892039\" alt=\"\" style=\"margin: 0pxpx 0pxpx 0pxpx 0pxpx; float: none;\"\u003e\u003c\/div\u003e\n\u003cdiv style=\"text-align: center;\"\u003e\n\u003cspan style=\"color: #808080;\"\u003e\u003cspan style=\"font-family: microsoft yahei,sans-serif;\"\u003e\u003cspan style=\"font-size: 28px; line-height: 50px;\"\u003eAUDIO IN and AUDIO OUT\u003c\/span\u003e\u003c\/span\u003e\u003c\/span\u003e\u003cbr\u003e \u003cspan style=\"color: #333333;\"\u003e\u003cspan style=\"font-family: microsoft yahei,sans-serif;\"\u003e\u003cspan style=\"font-size: 16px;\"\u003eLIVEPRO L1 with AUDIO IN and OUT. The output interface can be connected to speakers, headsets, etc.; The AUDIO IN interface is a linear input interface, which is connected to digital signal. The microphone collects analog signals, so when the microphone is connected to the LIVEPRO L1 audio input interface directly, there is no way to receive audio. \u003c\/span\u003e\u003c\/span\u003e\u003c\/span\u003e\n\u003c\/div\u003e\n\u003cp style=\"text-align: center;\"\u003e\u003cspan style=\"font-size: 22px;\"\u003e\u003cspan style=\"color: #333333;\"\u003e\u003cspan style=\"font-family: microsoft yahei,sans-serif;\"\u003e\u003cspan style=\"line-height: 50px;\"\u003eSolutions for live broadcasting audio problems:\u003c\/span\u003e\u003c\/span\u003e\u003c\/span\u003e\u003c\/span\u003e\u003c\/p\u003e\n\u003cdiv style=\"text-align: center;\"\u003e\u003cspan style=\"font-size: 16px; font-family: 'microsoft yahei', sans-serif; color: #333333;\"\u003e• If there is microphone and audio interface, please connect microphone to the audio interface and connect the output interface of the audio interface to the AUDIO IN interface of LIVEPRO L1.\u003c\/span\u003e\u003c\/div\u003e\n\u003cp style=\"text-align: center;\"\u003e \u003c\/p\u003e\n\u003cdiv style=\"text-align: center;\"\u003e\u003cimg src=\"https:\/\/cdn.shopifycdn.net\/s\/files\/1\/2707\/3516\/files\/audio-interface-mixer1_1024x1024.jpg?v=1611892100\" alt=\"\" style=\"margin: 0pxpx 0pxpx 0pxpx 0pxpx; float: none;\"\u003e\u003c\/div\u003e\n\u003cp style=\"text-align: center;\"\u003e \u003cspan style=\"font-size: 16px; font-family: 'microsoft yahei', sans-serif; color: #333333;\" data-mce-fragment=\"1\" data-mce-style=\"font-size: 16px; font-family: 'microsoft yahei', sans-serif; color: #333333;\"\u003e• If there is microphone but without audio interface, please connect the microphone to the MIC interface of computer. \u003c\/span\u003e\u003c\/p\u003e\n\u003cdiv style=\"text-align: center;\"\u003e\u003cimg src=\"https:\/\/cdn.shopifycdn.net\/s\/files\/1\/2707\/3516\/files\/LIVEPRO-L1-audio-2_1024x1024.jpg?v=1611892130\" alt=\"\" style=\"margin: 0pxpx 0pxpx 0pxpx 0pxpx; float: none;\"\u003e\u003c\/div\u003e\n\u003cdiv style=\"text-align: center;\"\u003e\u003cspan style=\"font-size: 16px; font-family: 'microsoft yahei', sans-serif; color: #333333;\"\u003e• If there is wireless microphone and it with earphone interface, please connect this interface to AUDIO IN of LIVEPRO L1. \u003c\/span\u003e\u003c\/div\u003e\n\u003cdiv style=\"text-align: center;\"\u003e\u003cspan style=\"font-size: 16px; font-family: 'microsoft yahei', sans-serif; color: #333333;\"\u003e\u003cimg style=\"margin: 0pxpx 0pxpx 0pxpx 0pxpx; float: none;\" src=\"https:\/\/cdn.shopifycdn.net\/s\/files\/1\/2707\/3516\/files\/audio-embed-mixer2_1024x1024.jpg?v=1611892174\" width=\"1024x1024\" height=\"1024x1024\"\u003e\u003c\/span\u003e\u003c\/div\u003e\n\u003cp style=\"text-align: center;\"\u003e\u003cspan style=\"font-size: 16px; font-family: 'microsoft yahei', sans-serif; color: #333333;\"\u003e• If there is device of MIC to Line output, please connect to AUDIO IN of LIVEPRO L1.\u003c\/span\u003e\u003c\/p\u003e\n\u003cdiv style=\"text-align: center;\"\u003e\u003cimg src=\"https:\/\/cdn.shopifycdn.net\/s\/files\/1\/2707\/3516\/files\/live-broadcast-mixer2_1024x1024.jpg?v=1611892219\" alt=\"\" style=\"margin: 0pxpx 0pxpx 0pxpx 0pxpx; float: none;\"\u003e\u003c\/div\u003e\n\u003cdiv style=\"text-align: center;\"\u003e\n\u003cspan style=\"color: #808080;\"\u003e\u003cspan style=\"font-family: microsoft yahei,sans-serif;\"\u003e\u003cspan style=\"font-size: 28px; line-height: 40px;\"\u003eUSB interface and HDMI output can set PVW and PGM independently\u003c\/span\u003e\u003c\/span\u003e\u003c\/span\u003e\u003cbr\u003e \u003cspan style=\"font-size: 22px;\"\u003e\u003cspan style=\"color: #333333;\"\u003e\u003cspan style=\"font-family: microsoft yahei,sans-serif;\"\u003e\u003cspan style=\"line-height: 50px;\"\u003eAllowing you to choose freely \u003c\/span\u003e\u003c\/span\u003e\u003c\/span\u003e\u003c\/span\u003e\u003cbr\u003e \u003cspan style=\"color: #333333;\"\u003e\u003cspan style=\"font-family: microsoft yahei,sans-serif;\"\u003e\u003cspan style=\"font-size: 16px;\"\u003eThe USB interface of LIVEPRO L1 also can be used as signal output except HDMI output. They can connect computer or monitor to set PGM and PVW independently. You can choose to set any of them as preview or PGM as you like. \u003c\/span\u003e\u003c\/span\u003e\u003c\/span\u003e\n\u003c\/div\u003e\n\u003cdiv style=\"text-align: center;\"\u003e\u003cimg src=\"https:\/\/cdn.shopifycdn.net\/s\/files\/1\/2707\/3516\/files\/hdmi-switcher1_1024x1024.jpg?v=1611892254\" alt=\"\" style=\"margin: 0pxpx 0pxpx 0pxpx 0pxpx; float: none;\"\u003e\u003c\/div\u003e\n\u003cdiv class=\"main_1200 textleft\"\u003e\n\u003cdiv style=\"text-align: center;\"\u003e\n\u003cspan style=\"color: #808080;\"\u003e\u003cspan style=\"font-family: microsoft yahei,sans-serif;\"\u003e\u003cspan style=\"font-size: 28px; line-height: 50px;\"\u003e6 Picture PVW, PIP \u003c\/span\u003e\u003c\/span\u003e\u003c\/span\u003e\u003cbr\u003e \u003cspan style=\"color: #333333;\"\u003e\u003cspan style=\"font-family: microsoft yahei,sans-serif;\"\u003e\u003cspan style=\"font-size: 16px;\"\u003eWhen the switcher is connected with an external expansion screen, it can preview real-time monitoring on 6 pictures, including PGM, PST and 4-channel HDMI input signals, and the audio column is displayed. Plus, you can set 9 layouts for PIP (Picture in Picture) mode. This is very useful for large-scale multi stand field production. \u003c\/span\u003e\u003c\/span\u003e\u003c\/span\u003e\n\u003c\/div\u003e\n\u003c\/div\u003e\n\u003cdiv style=\"text-align: center;\"\u003e\u003cimg src=\"https:\/\/cdn.shopifycdn.net\/s\/files\/1\/2707\/3516\/files\/6-picture-switcher_1024x1024.jpg?v=1611892360\" alt=\"\" style=\"margin: 0pxpx 0pxpx 0pxpx 0pxpx; float: none;\"\u003e\u003c\/div\u003e\n\u003cdiv class=\"main_1200 textleft\"\u003e\n\u003cdiv class=\"main_1200 textleft\"\u003e\n\u003cdiv style=\"text-align: center;\"\u003e\u003cspan style=\"color: #808080;\"\u003e\u003cspan style=\"font-family: microsoft yahei,sans-serif;\"\u003e\u003cspan style=\"font-size: 28px; line-height: 50px;\"\u003eUSB 3.0 Live Streaming\u003c\/span\u003e\u003c\/span\u003e\u003c\/span\u003e\u003c\/div\u003e\n\u003c\/div\u003e\n\u003cdiv style=\"text-align: start;\" class=\"main_1200 textleft\"\u003e\n\u003cdiv style=\"text-align: center;\"\u003e\u003cspan style=\"color: #333333;\"\u003e\u003cspan style=\"font-size: 20px;\"\u003e\u003cspan style=\"font-family: microsoft yahei,sans-serif;\"\u003e\u003cspan style=\"line-height: 50px;\"\u003eMake Live Brocasting More Convenient and Fast \u003c\/span\u003e\u003c\/span\u003e\u003c\/span\u003e\u003cbr\u003e \u003cspan style=\"font-family: microsoft yahei,sans-serif;\"\u003e\u003cspan style=\"font-size: 16px;\"\u003eTo ensure maximum compatibility, LIVEPRO L1 features a USB connection that operates as a simple webcam source. That means you can plug in and instantly get working with any video software. The software is tricked into thinking the LIVEPRO L1 is a common webcam, but it is really a live production switcher! That guarantees full compatibility with any video software and in full resolution 1080HD quality. Choose any software you like, such as OBS software for live streaming, or conference software (Tencent conference and Yealink ) for business presentations. LIVEPRO L1 works with software and platforms such as OBS, acquisition software(AMCap, ECap, Potplayer), conference software (Tencent conference and Yealink) , Youtube, Facebook, Zoom, Tik Tok and more!\u003c\/span\u003e\u003c\/span\u003e\u003c\/span\u003e\u003c\/div\u003e\n\u003cp style=\"text-align: center;\"\u003e\u003cspan style=\"font-size: 16px;\"\u003eNote: OBS Streaming is available to download on  \u003ca href=\"https:\/\/obsproject.com\/download\"\u003ehttps:\/obsproject.com\/download\u003c\/a\u003e\u003c\/span\u003e\u003c\/p\u003e\n\u003cp style=\"text-align: center;\"\u003e\u003cimg alt=\"live brocasting switcher\" src=\"http:\/\/www.feelworld.cn\/UpLoadFiles\/Shop\/2020\/8\/live-brocasting-switcher.jpg\" style=\"width: 1201px; height: 646px; display: inline;\"\u003e\u003c\/p\u003e\n\u003cp style=\"text-align: center;\"\u003e\u003cspan style=\"font-size: 16px;\"\u003e\u003cimg style=\"margin: 0pxpx 0pxpx 0pxpx 0pxpx; float: none;\" src=\"https:\/\/cdn.shopifycdn.net\/s\/files\/1\/2707\/3516\/files\/USB-live-mixer1_1024x1024.jpg?v=1611892403\" width=\"1024x1024\" height=\"1024x1024\"\u003e\u003c\/span\u003e\u003c\/p\u003e\n\u003c\/div\u003e\n\u003c\/div\u003e\n\u003cdiv class=\"main_1200 textleft\"\u003e\n\u003cdiv style=\"text-align: center;\" data-mce-style=\"text-align: center;\"\u003e\n\u003cspan style=\"color: #808080;\" data-mce-style=\"color: #808080;\"\u003e\u003cspan style=\"font-family: microsoft yahei,sans-serif;\" data-mce-style=\"font-family: microsoft yahei,sans-serif;\"\u003e\u003cspan style=\"font-size: 28px; line-height: 50px;\" data-mce-style=\"font-size: 28px; line-height: 50px;\"\u003eMultiple Application Scenarios Suitable \u003c\/span\u003e\u003c\/span\u003e\u003c\/span\u003e\u003cbr\u003e \u003cspan style=\"font-family: microsoft yahei,sans-serif;\" data-mce-style=\"font-family: microsoft yahei,sans-serif;\"\u003e\u003cspan style=\"font-size: 16px;\" data-mce-style=\"font-size: 16px;\"\u003eLIVEPRO L1 is widely used in sports events, e-sports competition, business presentation, wedding , character interview, education and training, etc.\u003c\/span\u003e\u003c\/span\u003e\n\u003c\/div\u003e\n\u003cdiv style=\"text-align: center;\" data-mce-style=\"text-align: center;\"\u003e\u003cspan style=\"font-family: microsoft yahei,sans-serif;\" data-mce-style=\"font-family: microsoft yahei,sans-serif;\"\u003e\u003c\/span\u003e\u003c\/div\u003e\n\u003cdiv style=\"text-align: center;\" data-mce-style=\"text-align: center;\"\u003e\u003cspan style=\"font-family: microsoft yahei,sans-serif;\" data-mce-style=\"font-family: microsoft yahei,sans-serif;\"\u003e\u003c\/span\u003e\u003c\/div\u003e\n\u003cdiv style=\"text-align: center;\" data-mce-style=\"text-align: center;\"\u003e\u003cspan style=\"font-family: microsoft yahei,sans-serif;\" data-mce-style=\"font-family: microsoft yahei,sans-serif;\"\u003e\u003c\/span\u003e\u003c\/div\u003e\n\u003cdiv style=\"text-align: center;\" data-mce-style=\"text-align: center;\"\u003e\u003cspan style=\"font-family: microsoft yahei,sans-serif;\" data-mce-style=\"font-family: microsoft yahei,sans-serif;\"\u003e\u003c\/span\u003e\u003c\/div\u003e\n\u003cdiv style=\"text-align: center;\" data-mce-style=\"text-align: center;\"\u003e\u003cspan style=\"font-family: microsoft yahei,sans-serif;\" data-mce-style=\"font-family: microsoft yahei,sans-serif;\"\u003e\u003c\/span\u003e\u003c\/div\u003e\n\u003cdiv style=\"text-align: center;\" data-mce-style=\"text-align: center;\"\u003e\u003cspan style=\"font-family: microsoft yahei,sans-serif;\" data-mce-style=\"font-family: microsoft yahei,sans-serif;\"\u003e\u003c\/span\u003e\u003c\/div\u003e\n\u003cdiv style=\"text-align: center;\" data-mce-style=\"text-align: center;\"\u003e\u003cspan style=\"font-family: microsoft yahei,sans-serif;\" data-mce-style=\"font-family: microsoft yahei,sans-serif;\"\u003e\u003c\/span\u003e\u003c\/div\u003e\n\u003c\/div\u003e\n\u003cp style=\"text-align: center;\" data-mce-style=\"text-align: center;\"\u003e \u003c\/p\u003e\n\u003cdiv style=\"text-align: center;\" data-mce-style=\"text-align: center;\"\u003e\u003cimg src=\"https:\/\/cdn.shopifycdn.net\/s\/files\/1\/2707\/3516\/files\/live-brocasting-switcher_1024x1024.jpg?v=1612164764\" style=\"margin: 0pxpx 0pxpx 0pxpx 0pxpx;float: none;\" data-mce-style=\"margin: 0pxpx 0pxpx 0pxpx 0pxpx;float: none;\" data-mce-src=\"https:\/\/cdn.shopifycdn.net\/s\/files\/1\/2707\/3516\/files\/live-brocasting-switcher_1024x1024.jpg?v=1612164764\" width=\"1024x1024\" height=\"1024x1024\"\u003e\u003c\/div\u003e\n\u003cdiv class=\"main_1200 textleft\"\u003e\n\u003cdiv style=\"text-align: center;\" data-mce-style=\"text-align: center;\"\u003e\n\u003cspan style=\"color: #808080;\" data-mce-style=\"color: #808080;\"\u003e\u003cspan style=\"font-family: microsoft yahei,sans-serif;\" data-mce-style=\"font-family: microsoft yahei,sans-serif;\"\u003e\u003cspan style=\"font-size: 28px; line-height: 50px;\" data-mce-style=\"font-size: 28px; line-height: 50px;\"\u003eAdd Exciting Video Effects\u003c\/span\u003e\u003c\/span\u003e\u003c\/span\u003e\u003cbr\u003e \u003cspan style=\"color: #333333;\" data-mce-style=\"color: #333333;\"\u003e\u003cspan style=\"font-family: microsoft yahei,sans-serif;\" data-mce-style=\"font-family: microsoft yahei,sans-serif;\"\u003e\u003cspan style=\"font-size: 16px;\" data-mce-style=\"font-size: 16px;\"\u003eOne of the benefits of LIVEPRO L1 is the professional production values that are possible using the range of built in video effects. Push button SW to open up the transition effect menu, use knob to select the desired transition effect icon and push the knob to confirm. The \"cut\" in \u003cmix\u003emenu ensures an instant cut when switching source. You can also \nselect the type of effect you want including mix, which does a smooth \ntransition between sources, and dip which fades via a color during the \ntransition. The \u003cfast\u003e in MODE menu allowing 0 .5S~ 5.0S settings. Plus, you can select PIP mode. \u003c\/fast\u003e\u003c\/mix\u003e\u003c\/span\u003e\u003c\/span\u003e\u003c\/span\u003e\n\u003c\/div\u003e\n\u003c\/div\u003e\n\u003cdiv style=\"text-align: center;\" data-mce-style=\"text-align: center;\"\u003e\u003cimg src=\"https:\/\/cdn.shopifycdn.net\/s\/files\/1\/2707\/3516\/files\/multi-effects-switcher_1024x1024.jpg?v=1612165011\" alt=\"\" style=\"margin: 0pxpx 0pxpx 0pxpx 0pxpx; float: none;\" data-mce-style=\"margin: 0pxpx 0pxpx 0pxpx 0pxpx; float: none;\" data-mce-src=\"https:\/\/cdn.shopifycdn.net\/s\/files\/1\/2707\/3516\/files\/multi-effects-switcher_1024x1024.jpg?v=1612165011\"\u003e\u003c\/div\u003e\n\u003cdiv class=\"main_1200 textleft\"\u003e\n\u003cdiv style=\"text-align: center;\" data-mce-style=\"text-align: center;\"\u003e\n\u003cdiv class=\"main_1200 textleft\"\u003e\n\u003cdiv style=\"text-align: center;\" data-mce-style=\"text-align: center;\"\u003e\n\u003cspan style=\"color: #808080;\" data-mce-style=\"color: #808080;\"\u003e\u003cspan style=\"font-family: microsoft yahei,sans-serif;\" data-mce-style=\"font-family: microsoft yahei,sans-serif;\"\u003e\u003cspan style=\"font-size: 28px; line-height: 50px;\" data-mce-style=\"font-size: 28px; line-height: 50px;\"\u003ePC Controlling, Remote Operation \u003c\/span\u003e\u003c\/span\u003e\u003c\/span\u003e\u003cbr\u003e \u003cspan style=\"color: #333333;\" data-mce-style=\"color: #333333;\"\u003e\u003cspan style=\"font-family: microsoft yahei,sans-serif;\" data-mce-style=\"font-family: microsoft yahei,sans-serif;\"\u003e\u003cspan style=\"font-size: 16px;\" data-mce-style=\"font-size: 16px;\"\u003eAfter connecting the LAN port to the computer, not extra software need to be installed, the software XPOSE holds on the computer, the operation is same as the switcher. So as to realize remote controlling, imagine using the switcher from a control room and building a professional broadcasting studio where the control room can be separated away from the performance or interviews. In addition, it allows you to add as many panels as you like all at the same time.\u003c\/span\u003e\u003c\/span\u003e\u003c\/span\u003e\u003cbr\u003e \u003cspan style=\"color: #333333;\" data-mce-style=\"color: #333333;\"\u003e\u003cspan style=\"font-family: microsoft yahei,sans-serif;\" data-mce-style=\"font-family: microsoft yahei,sans-serif;\"\u003e\u003cspan style=\"font-size: 16px;\" data-mce-style=\"font-size: 16px;\"\u003ePS: Please download the XPOSE software from the \"DOWNLOAD\" module of this page, please don not put it in the system disk (C disk) after download.\u003c\/span\u003e\u003c\/span\u003e\u003c\/span\u003e\n\u003c\/div\u003e\n\u003cdiv style=\"text-align: center;\" data-mce-style=\"text-align: center;\"\u003e\u003cspan style=\"color: #333333;\" data-mce-style=\"color: #333333;\"\u003e\u003cimg style=\"margin: 0pxpx 0pxpx 0pxpx 0pxpx;float: none;\" src=\"https:\/\/cdn.shopifycdn.net\/s\/files\/1\/2707\/3516\/files\/xpose-control-mixer2_1024x1024.jpg?v=1612165126\" data-mce-style=\"margin: 0pxpx 0pxpx 0pxpx 0pxpx;float: none;\" data-mce-src=\"https:\/\/cdn.shopifycdn.net\/s\/files\/1\/2707\/3516\/files\/xpose-control-mixer2_1024x1024.jpg?v=1612165126\" width=\"1024x1024\" height=\"1024x1024\"\u003e\u003c\/span\u003e\u003c\/div\u003e\n\u003cdiv style=\"text-align: center;\" data-mce-style=\"text-align: center;\"\u003e\n\u003cdiv class=\"main_1200 textleft\"\u003e\n\u003cdiv style=\"text-align: center;\" data-mce-style=\"text-align: center;\"\u003e\n\u003cspan style=\"color: #808080;\" data-mce-style=\"color: #808080;\"\u003e\u003cspan style=\"font-family: microsoft yahei,sans-serif;\" data-mce-style=\"font-family: microsoft yahei,sans-serif;\"\u003e\u003cspan style=\"font-size: 28px; line-height: 50px;\" data-mce-style=\"font-size: 28px; line-height: 50px;\"\u003eFirmware Update \u003c\/span\u003e\u003c\/span\u003e\u003c\/span\u003e\u003cbr\u003e \u003cspan style=\"color: #333333;\" data-mce-style=\"color: #333333;\"\u003e\u003cspan style=\"font-family: microsoft yahei,sans-serif;\" data-mce-style=\"font-family: microsoft yahei,sans-serif;\"\u003e\u003cspan style=\"font-size: 16px;\" data-mce-style=\"font-size: 16px;\"\u003eIn order to improve the user experience of LIVEPRO L1, we will update the firmware from time to time. You can download the upgrade package from the "DOWNLOAD" module of this page, it contains upgrade file, upgrade tool, content update and upgrade instruction.\u003c\/span\u003e\u003c\/span\u003e\u003c\/span\u003e\n\u003c\/div\u003e\n\u003c\/div\u003e\n\u003cp\u003e \u003c\/p\u003e\n\u003c\/div\u003e\n\u003cdiv style=\"text-align: center;\" data-mce-style=\"text-align: center;\"\u003e\n\u003cspan style=\"color: #333333;\" data-mce-style=\"color: #333333;\"\u003e\u003c\/span\u003e\u003cbr\u003e\n\u003c\/div\u003e\n\u003c\/div\u003e\n\u003c\/div\u003e\n\u003c\/div\u003e\n\u003ch3 style=\"text-align: left;\"\u003e\u003cstrong\u003eDownload:\u003c\/strong\u003e\u003c\/h3\u003e\n\u003cp\u003e \u003c\/p\u003e\n\u003cul\u003e\n\u003cli\u003e\u003ca href=\"http:\/\/www.feelworld.cn\/Common\/ShowDownloadUrl.aspx?urlid=0\u0026amp;id=667\"\u003eLivePro Xpose Soft (MAC)_V1.0.0.7_20201026\u003c\/a\u003e\u003c\/li\u003e\n\u003cli\u003e\u003ca href=\"http:\/\/www.feelworld.cn\/Common\/ShowDownloadUrl.aspx?urlid=1\u0026amp;id=667\"\u003eLivePro Xpose Soft (Windows)_V1.0.0.5_Setup 20200928AM\u003c\/a\u003e\u003c\/li\u003e\n\u003cli\u003e\u003ca href=\"http:\/\/www.feelworld.cn\/Common\/ShowDownloadUrl.aspx?urlid=2\u0026amp;id=667\"\u003eLivepro Xpose Software (Android)_V1.0.0.6\u003c\/a\u003e\u003c\/li\u003e\n\u003cli\u003e\u003ca href=\"http:\/\/www.feelworld.cn\/Common\/ShowDownloadUrl.aspx?urlid=3\u0026amp;id=667\"\u003eLivepro Firmware V0.46_MacOS_20210113\u003c\/a\u003e\u003c\/li\u003e\n\u003cli\u003e\u003ca href=\"http:\/\/www.feelworld.cn\/Common\/ShowDownloadUrl.aspx?urlid=4\u0026amp;id=667\"\u003eLivepro Firmware V0.46_Windows_20210113\u003c\/a\u003e\u003c\/li\u003e\n\u003c\/ul\u003e\n\u003cp\u003e \u003c\/p\u003e"}
FEELWORLD LIVEPRO L1 Multi-format Video Mixer Switcher 4 x HDMI inputs multi camera USB3.0 live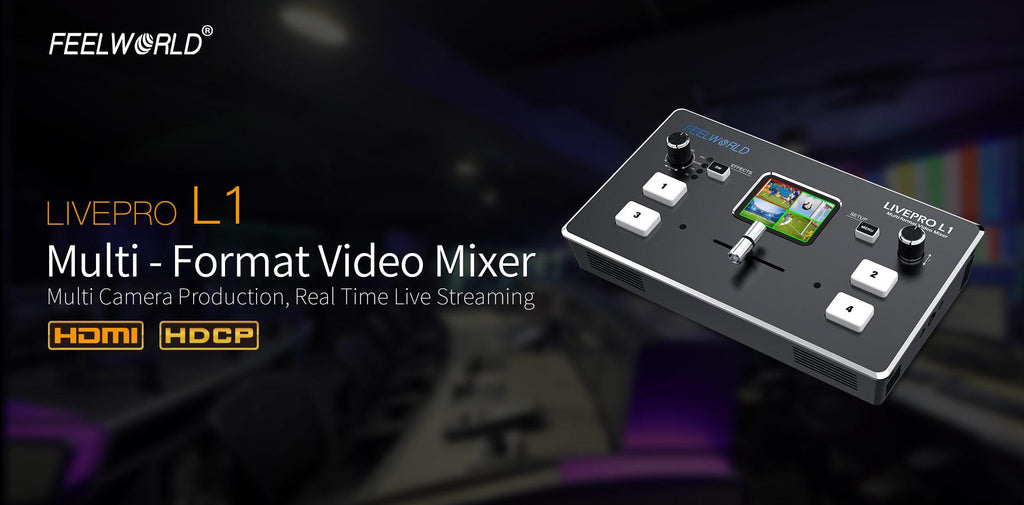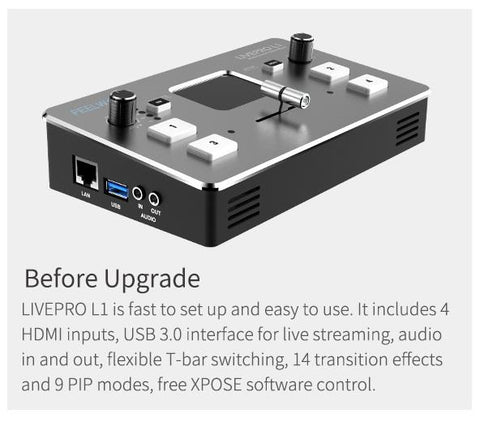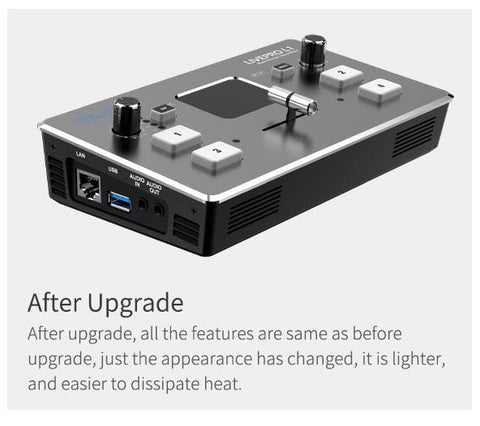 Low Cost, Multi Camera Live Production with Advanced Broadcast Features
LIVEPRO L1 with 4 CH HDMI inputs and 1 HDMI output, all of them support 1080p. For live streaming, there is a USB3.0 interface And plus, the LAN port for controlling and upgrading; for audio, it has 2 interfaces, one for input, and the other one for output. All of these make it easy to create professional multi camera productions. It is able stream any one from the 4 HDMI inputs to any live broadcasting platform via third party live streaming software such as OBS. Simply connect LIVEPRO L1 and you can switch live between 4 high quality video camera inputs for dramatically better quality images. Or connect a computer for PowerPoint slides or gaming consoles.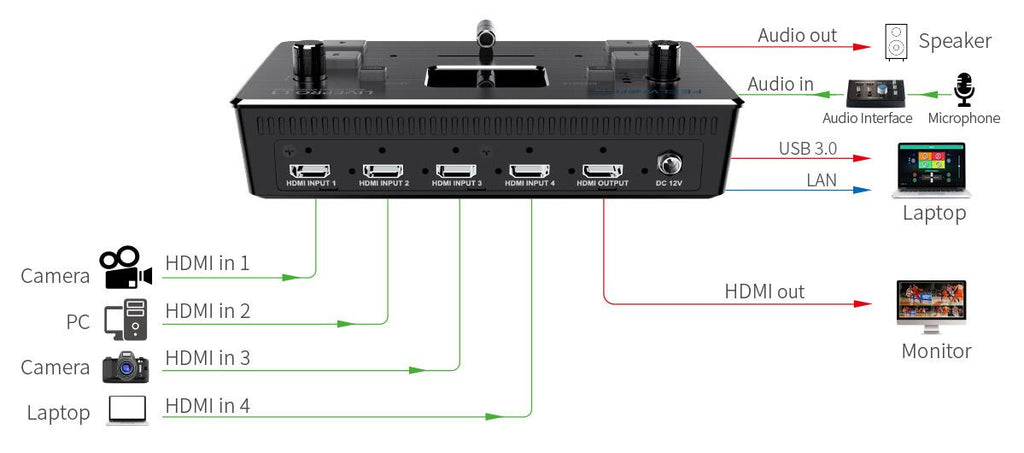 Exquisite and Flexible Control Panel
The LIVEPRO L1 has an exquisite and compact control panel. The 4 buttons are for selecting input signals, green flashing means the signal has been selected, then switch the T-Bar, the selected signal will be displayed on the screen seamlessly, the green button changed to red after switched. The MENU button is for menu setting, the SW button is for selecting different functions such as mixing, PIP, transition time setting and the other functions. The left knob is for voice volume controlling, the right knob is for menu setting as well. From the TFT screen, we can preview 4 HDMI signals and easily do menu setting.
• When you choose T-Bar to switch signal sources or transition effects, T-Bar must be pushed to left end or right end. When using the menu operation, T-BAR should also be in left end or right end, otherwise it cannot be operated.
• When you would like to connect or embed audio, you must select the external or embedded audio source in the "AUDIO" menu firstly.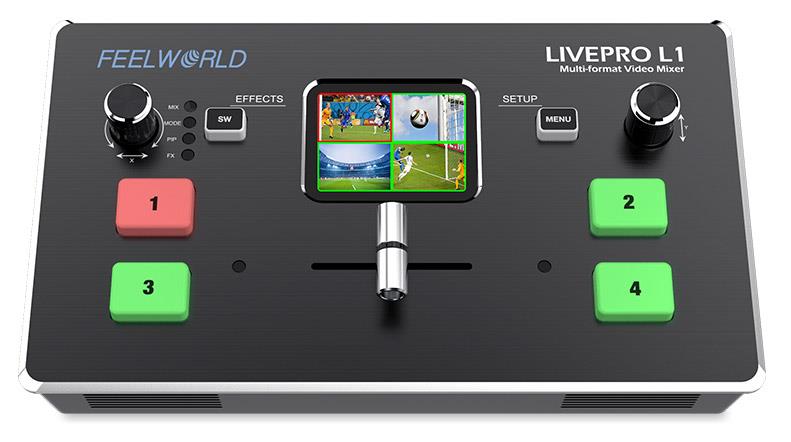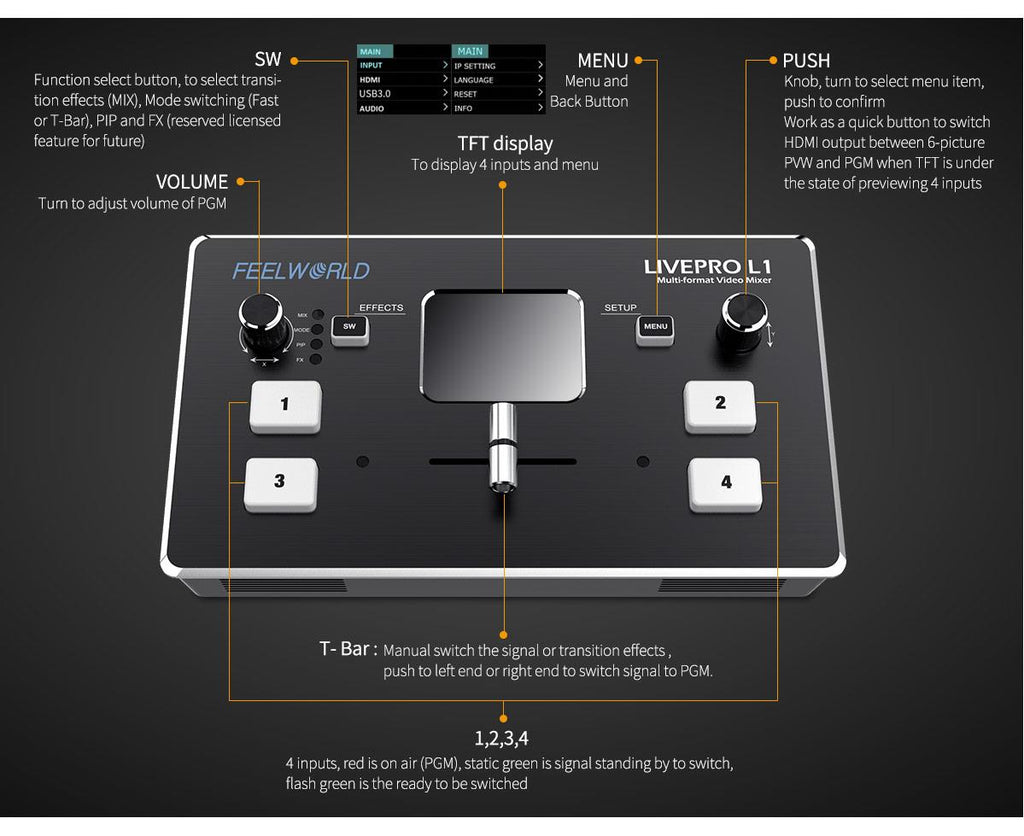 Compact and Light Weight Design
The LIVEPRO L1 is a mini switcher, that is small enough to fit into equipment cases and camera bags. Designed to integrate with typical video production workflows, the LIVEPRO L1 has a screw tap for standard video mounts and conveniently attached onto a tripod to stay out of the way. It is light weight design makes it ideal for mobile video applications too.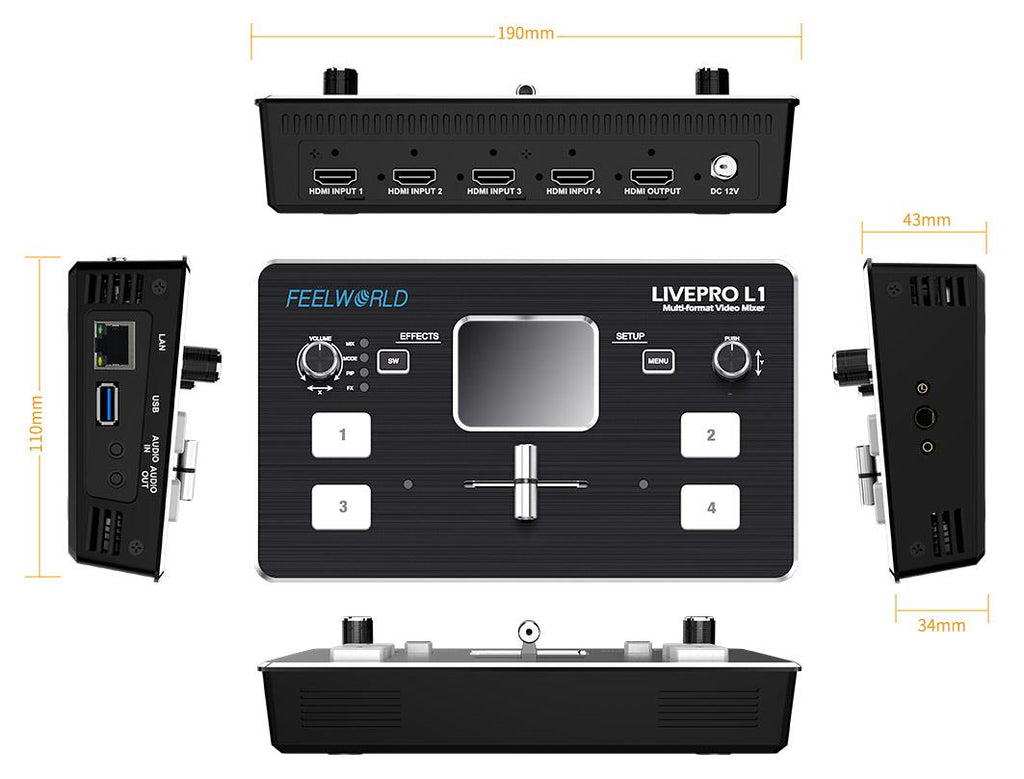 Multi- Application, One Solution
For normal people, they need smaller and simpler product to deal with the live applications. The LIVEPRO L1 can be done this, which is with simple and compact design, rich special effects switching function, the screw hole can be fixed the switcher on the tripod. With these, live streaming and multi signal control will be simpler and easier done by single person.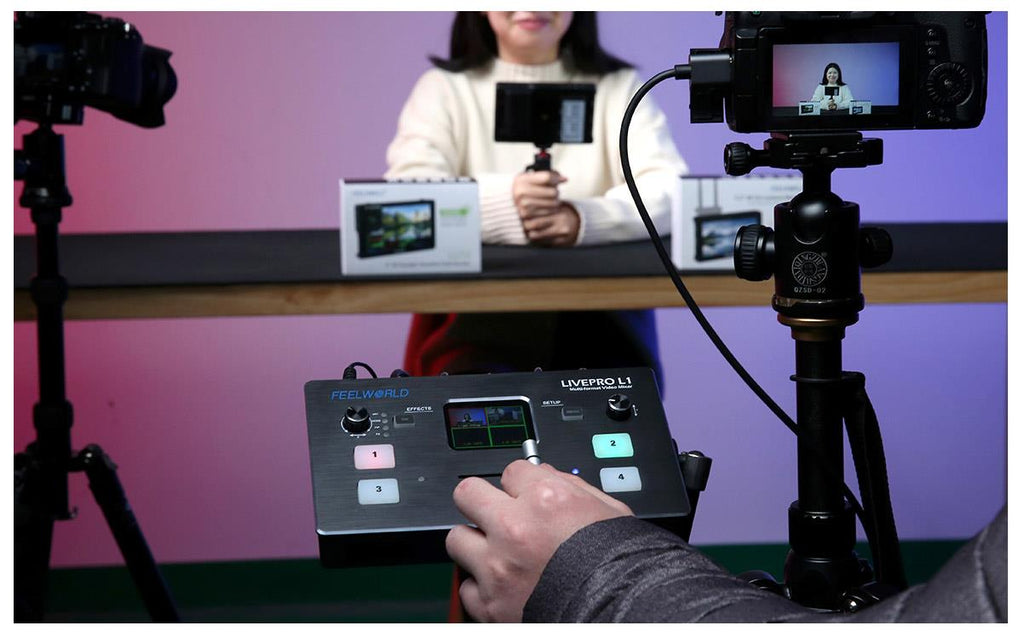 Faster Video Production, Plus Live Streaming
Live production is the fastest way to complete a finished program, plus you can stream it to a live global audience via Youtube at the same time. The USB 3.0 output of LIVEPRO L1 connects to any computer and looks like a built in webcam, so all streaming software for social media platforms work! With up to 4 HDMI inputs you can set up multiple camera angles such as wide shots along with independent close ups of each person in the performance. Or you can connect to a computer with a PowerPoint slide show, video clip playback, websites or gaming consoles. All switching is in real time so you can live stream to any social media platform such as Youtube, Facebook, Tik Tok, Douyu TV and many more!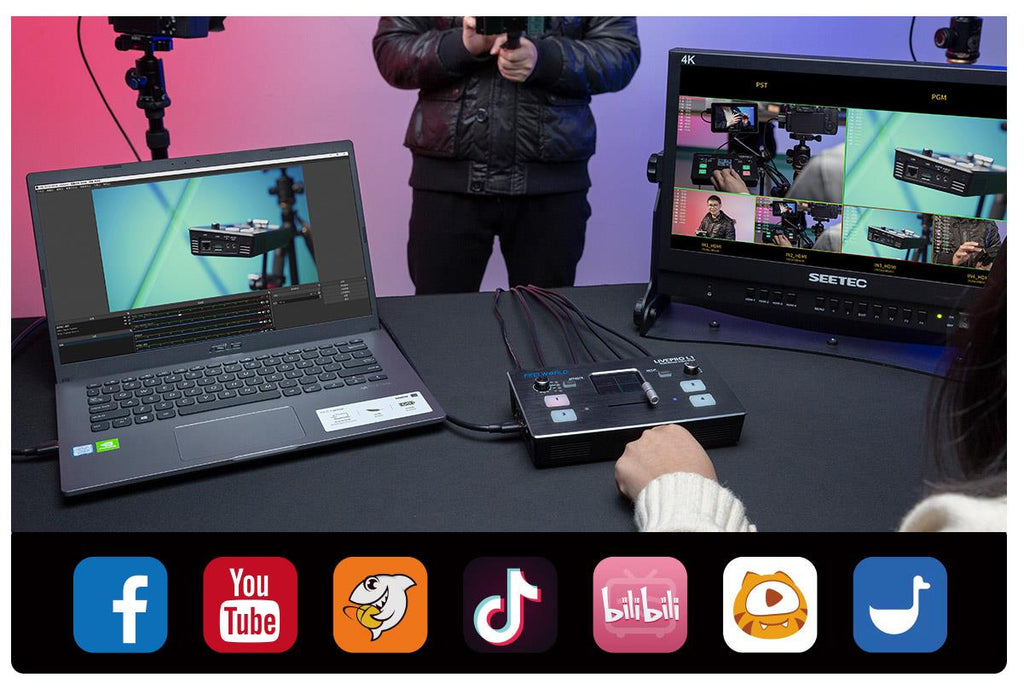 Flexible T-Bar Switching
The T-Bar of LIVEPRO L1 support 14 transition effects and signal switching. Under T-Bar mode, pushing green button, it will flash and push T-Bar to the end (left or right), the source will be switched with selected transition effect. After switching, green turns to red. It is very suitable for video special effects switching of small outdoor scenes to meet the needs of video switching such as radio and television, outdoor sports events, school courseware production, etc.
Note: When T-Bar is not in the end position, no source can be selected.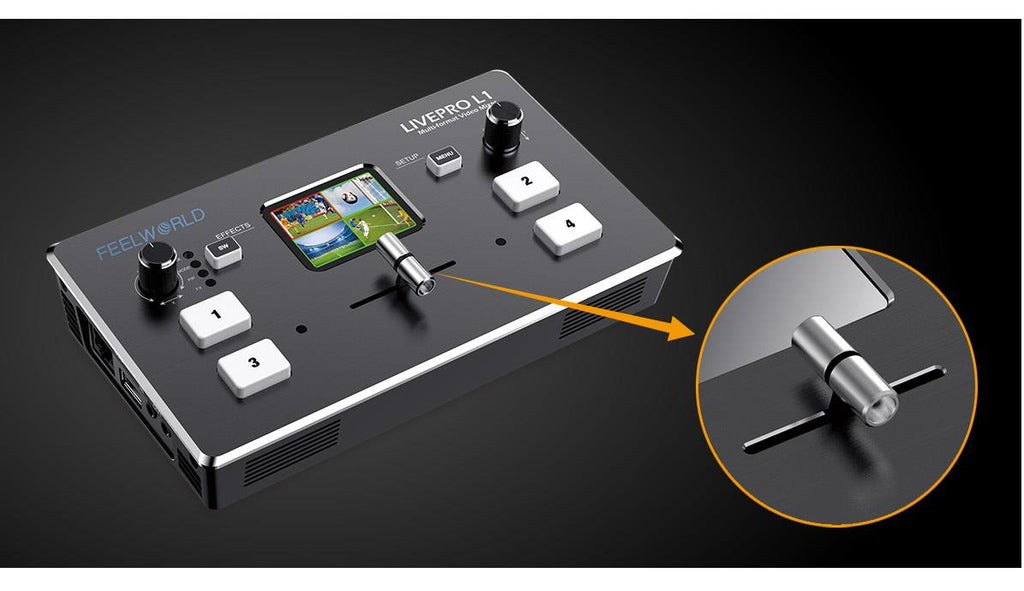 AUDIO IN and AUDIO OUT
LIVEPRO L1 with AUDIO IN and OUT. The output interface can be connected to speakers, headsets, etc.; The AUDIO IN interface is a linear input interface, which is connected to digital signal. The microphone collects analog signals, so when the microphone is connected to the LIVEPRO L1 audio input interface directly, there is no way to receive audio.
Solutions for live broadcasting audio problems:
• If there is microphone and audio interface, please connect microphone to the audio interface and connect the output interface of the audio interface to the AUDIO IN interface of LIVEPRO L1.

 • If there is microphone but without audio interface, please connect the microphone to the MIC interface of computer.

• If there is wireless microphone and it with earphone interface, please connect this interface to AUDIO IN of LIVEPRO L1. 

• If there is device of MIC to Line output, please connect to AUDIO IN of LIVEPRO L1.

USB interface and HDMI output can set PVW and PGM independently
Allowing you to choose freely
The USB interface of LIVEPRO L1 also can be used as signal output except HDMI output. They can connect computer or monitor to set PGM and PVW independently. You can choose to set any of them as preview or PGM as you like.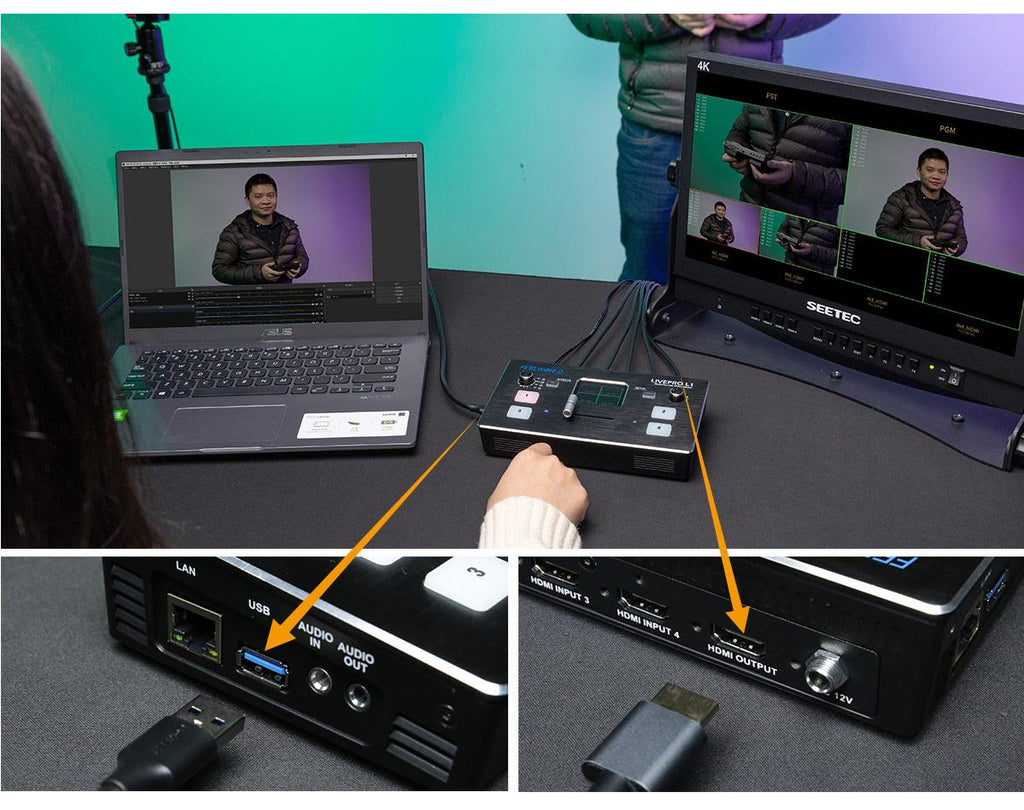 6 Picture PVW, PIP
When the switcher is connected with an external expansion screen, it can preview real-time monitoring on 6 pictures, including PGM, PST and 4-channel HDMI input signals, and the audio column is displayed. Plus, you can set 9 layouts for PIP (Picture in Picture) mode. This is very useful for large-scale multi stand field production.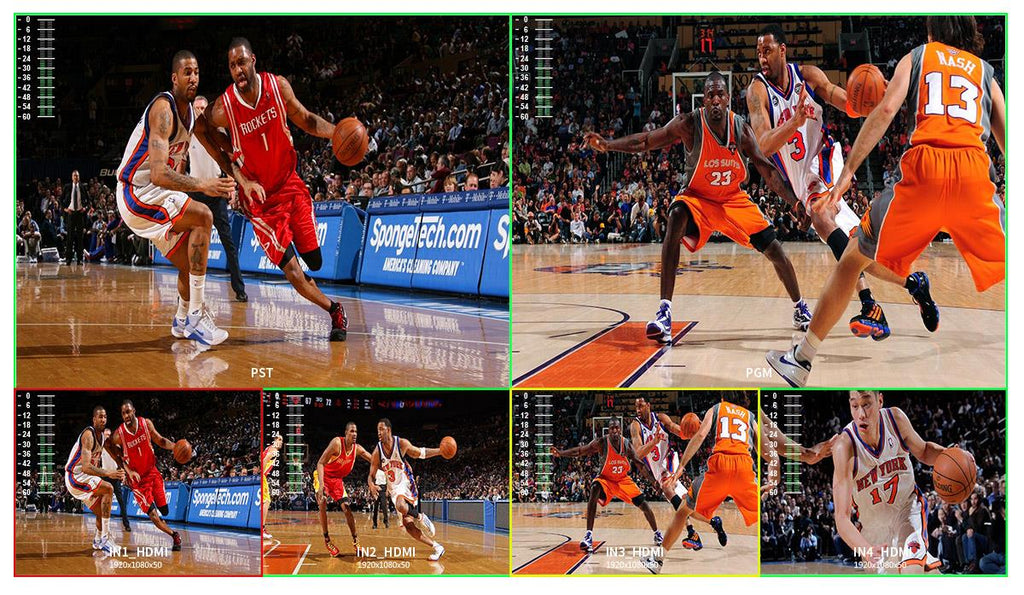 Make Live Brocasting More Convenient and Fast
To ensure maximum compatibility, LIVEPRO L1 features a USB connection that operates as a simple webcam source. That means you can plug in and instantly get working with any video software. The software is tricked into thinking the LIVEPRO L1 is a common webcam, but it is really a live production switcher! That guarantees full compatibility with any video software and in full resolution 1080HD quality. Choose any software you like, such as OBS software for live streaming, or conference software (Tencent conference and Yealink ) for business presentations. LIVEPRO L1 works with software and platforms such as OBS, acquisition software(AMCap, ECap, Potplayer), conference software (Tencent conference and Yealink) , Youtube, Facebook, Zoom, Tik Tok and more!
Note: OBS Streaming is available to download on  https:/obsproject.com/download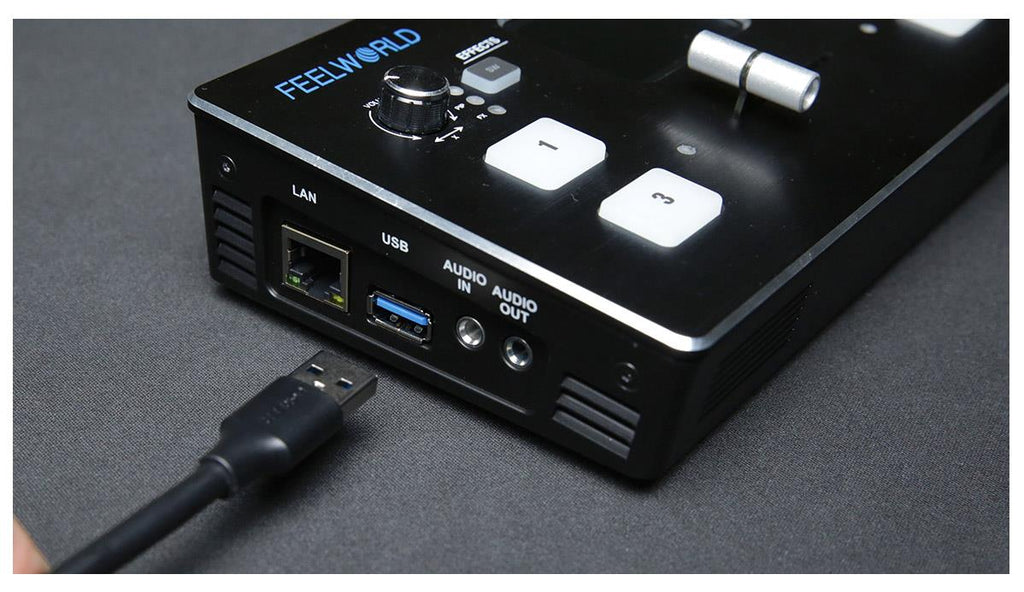 Multiple Application Scenarios Suitable
LIVEPRO L1 is widely used in sports events, e-sports competition, business presentation, wedding , character interview, education and training, etc.
Add Exciting Video Effects
One of the benefits of LIVEPRO L1 is the professional production values that are possible using the range of built in video effects. Push button SW to open up the transition effect menu, use knob to select the desired transition effect icon and push the knob to confirm. The "cut" in menu ensures an instant cut when switching source. You can also select the type of effect you want including mix, which does a smooth transition between sources, and dip which fades via a color during the transition. The in MODE menu allowing 0 .5S~ 5.0S settings. Plus, you can select PIP mode.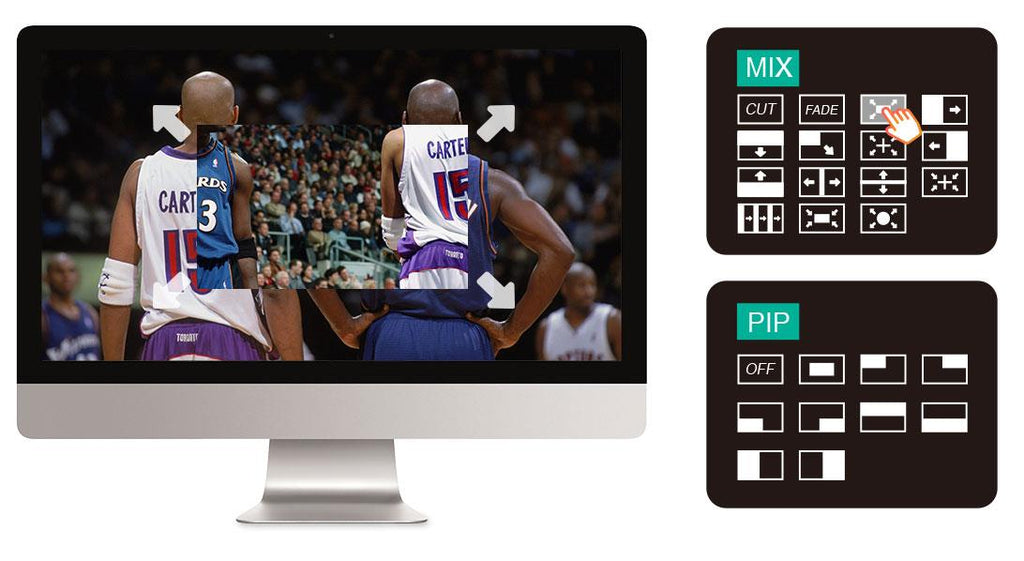 PC Controlling, Remote Operation
After connecting the LAN port to the computer, not extra software need to be installed, the software XPOSE holds on the computer, the operation is same as the switcher. So as to realize remote controlling, imagine using the switcher from a control room and building a professional broadcasting studio where the control room can be separated away from the performance or interviews. In addition, it allows you to add as many panels as you like all at the same time.
PS: Please download the XPOSE software from the "DOWNLOAD" module of this page, please don not put it in the system disk (C disk) after download.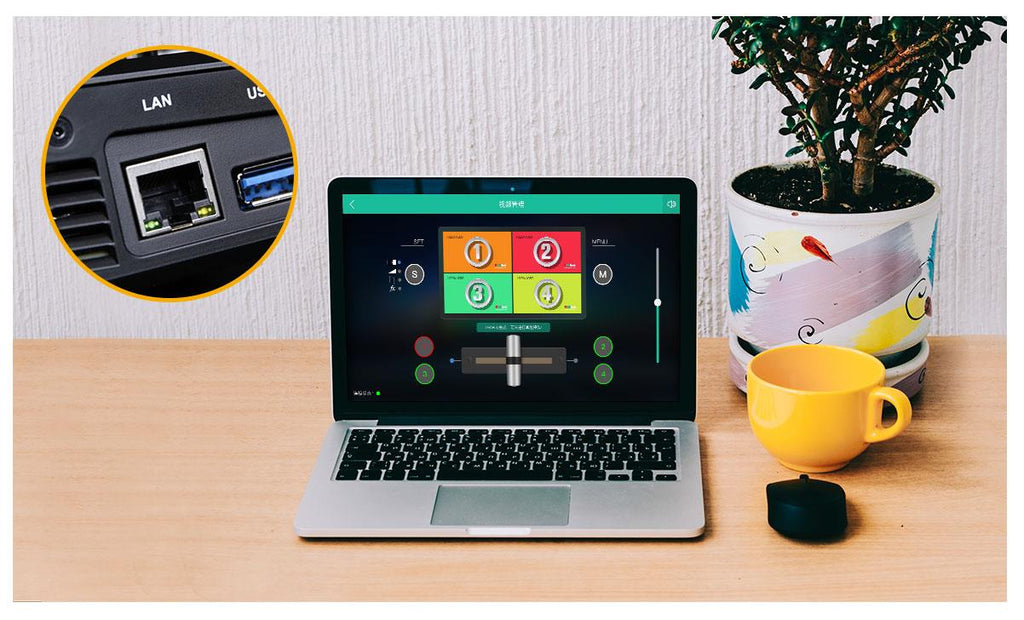 Firmware Update
In order to improve the user experience of LIVEPRO L1, we will update the firmware from time to time. You can download the upgrade package from the "DOWNLOAD" module of this page, it contains upgrade file, upgrade tool, content update and upgrade instruction.
Download:
Payment

1. PayPal
If you have a PayPal account, you can pay directly by logging into your PayPal account. If you do not have a PayPal account, please pay with PayPal accepted credit cards. PayPal accepts credit cards are: Visa, Mastercard, American Express, Discover and Maestro,ect.

2. Credit cards : Visa, Mastercard, American Express, Discover and Maestro,ect.
How to use credit card payment ?
Paying at PayPal without a PayPal account
Payments for Buykud are made at PayPal, but you do not need to own a PayPal account to pay: you may enter your credit card's data directly at PayPal and complete your payment. You don't need to register a PayPal account neither.
Once you get redirected to PayPal, just do as follows:
1. Make sure the "Don't have a PayPal account?" option is selected
If your PayPal page looks as follows, just click on "Don't have a PayPal account?".
2. Enter your credit card's data
Address, email & phone number may also be requested depending on your country.
When you are done, click on "Review and Continue".
3. Click on "Pay Now"
4. Click on "No, Thanks"
5. Finally, click on "Pay now" you will complete your payment
Privacy Policy
At Fomito Shop, we do NOT share any customer information with any third party for any reason unless it is require by a legal authority or a government with an official request.
Fomito Shop takes your personal information and privacy very seriously and we will never share your information with any marketing firm for any marketing purposes except directly from Fomito Shop.
Fomito Shop will never contact you through any form to request you to update your password or personal information unless requested. Such action may be a phishing attempt and we suggest you ignore it or report to your local authority and inform us 
immediately.
| Shipping Company | Shipping Cost | Estimated Delivery Time | Tracking Information |
| --- | --- | --- | --- |
| Standard Shipping | | 10-25 days | Available |
| Expedited express(DHL/EMS) | | 5-7 days | Available |
1. Orders processed within 1~2 working days after the payment confirmed. We will inform you if we need more time to prepare the items.

2.As usual, if you choose the Standard Shipping,it takes almost 10-20 days to reach your designated address. If you choose Expedited express, it takes almost 5-7 days to reach your designated address.

PS: Please let us know if you still don't receive the items within 35 working days after you paid, then we could check it for you.


2. We only ship to confirmed PAYPAL addresses. Your PAYPAL address MUST MATCH your Shipping address.

3. SERVICE TRANSIT TIME is provided by the carrier and excludes weekends and holidays. Transit times may vary, particularly during the holiday season.

4. If you have not received your shipment within 30 days from payment, please contact us. We will track the shipment and get back to you as soon as possible with a reply. Our goal is customer satisfaction!

5. Due to stock status and time differences, we will choose to ship your item from our first available warehouse for fast delivery.
6.We support DDP(Delivery Duty Paid)shipment for almost all of european countries.all the packages will be delivered in Netherlands at first(about 5-10 days),after completing customs clearance by our express agent,all the packages will be sent to buyers via mainstream european courier companies or postal service.So the customs and VAT fee Included.
Please be noted: that the delivery time mentioned on our page is for reference only. Although the actual shipping time is punctual in most occasions, in some cases delivery time may vary due to traffic congestion, adverse weather, acts of custom inspection, etc. We will try our best to avoid such situations, however, please understand that some of these situations are beyond our control, and we are not reponsible for them.

One year Warranty. Buy with confidence! 30 days money back guaranteed.

We provide 30 day return policy for products sold. If, for any reason, you are not satisfied with your purchases, full refund of the purchase (excluding the shipping expenses) can be applicable under the following circumstances:

 
ALL accessories must be unused; ALL accessory packages must be unopened.


ALL items must be intact and undamaged (except for defects in manufacturing).


Items must be in good conditions with all original accessories, manuals, and packing materials. Any missing parts or damaged items will result in rejection on the return.


In case of any defectives found, only defects in manufacturing are accepted as the reason of return.

 
No refund is given if defects are caused by misuse of buyers. Our customer service officers will gladly contact you for further arrangement upon your request.


All shipping cost thus generated is paid by the buyer.


Item returned must be received within 7 days after the receipt of the items. No refund and replacement is issued after this period.


Payment will be refunded as original currency only. We will not take responsibility for any loss due to exchange rate difference in the refund process.


Refunds will NOT include ANY shipping and handling fees. Any additional expenses will also be deducted from the refund.


In the case of return, please be sure to include ALL the original contents (including gift, packages and manuals). Any missing contents may result in rejection of the refund. Please also make sure that the return package is securely packed, and apply waterproof packing instruments wherever necessary.