{"id":4732702457959,"title":"Aputure MC 4-Light Travel Kit Wireless Charging RGBWW On-Hand Film Light HSI Color Control LED Light","handle":"aputure-mc-4-light-travel-kit-wireless-charging-rgbww-on-hand-film-light-hsi-color-control-led-light","description":"\u003cdiv data-mce-fragment=\"1\" class=\"slide-content\"\u003e\n\u003cdiv data-mce-fragment=\"1\" style=\"text-align: center;\" class=\"content-container\"\u003e\n\u003ch3 data-mce-fragment=\"1\"\u003eAny Color. Any Time.\u003c\/h3\u003e\n\u003cp data-mce-fragment=\"1\"\u003eThe Aputure MC 4-Light Travel Kit is designed for guerrilla and travel filmmakers. Bundling convenient wireless chargers into a durable hard shell case, that's slim enough to fit in a camera bag or backpack, ensures that your lights will always be ready to spring into action when you are.\u003c\/p\u003e\n\u003cp data-mce-fragment=\"1\"\u003e\u003cimg style=\"margin: 0pxpx 0pxpx 0pxpx 0pxpx; float: none;\" src=\"https:\/\/cdn.shopifycdn.net\/s\/files\/1\/2707\/3516\/files\/MC-4-light-kit-02-1620x1080_1024x1024.jpg?v=1603074749\" width=\"1024x1024\" height=\"1024x1024\"\u003e\u003c\/p\u003e\n\u003cdiv class=\"slide-content\"\u003e\n\u003cdiv style=\"text-align: center;\" class=\"content-container\"\u003e\n\u003ch3\u003eFlexibility at its Finest\u003c\/h3\u003e\n\u003cp\u003eThe Aputure MC is Aputure's first RGBWW film light. This light features full HSI color control and a CCT range of 3200K-6500K, giving you a full range of color options in a footprint roughly the size of a credit card, allowing it to fit in anywhere. Built-in Sidus Mesh technology also allows you to use the Sidus Link app to unlock all of the light's capabilities. As the first color-mixing M-Series light, the MC offers filmmakers immense flexibility.\u003c\/p\u003e\n\u003cp\u003e\u003cimg style=\"margin: 0pxpx 0pxpx 0pxpx 0pxpx; float: none;\" src=\"https:\/\/cdn.shopifycdn.net\/s\/files\/1\/2707\/3516\/files\/MC-4-light-kit-09-1000x373_1024x1024.jpg?v=1603074778\" width=\"1024x1024\" height=\"1024x1024\"\u003e\u003c\/p\u003e\n\u003cdiv class=\"slide-content\"\u003e\n\u003cdiv style=\"text-align: center;\" class=\"content-container\"\u003e\n\u003ch3\u003eDurable Hard Shell Case\u003c\/h3\u003e\n\u003cp\u003eMade to follow you wherever you go, the MC 4-Light Travel Kit includes a custom-designed robust hard shell carrying case to store up to four RGBWW MC lights. This slim hard case ensures that your MCs will always be protected.\u003c\/p\u003e\n\u003cp\u003e\u003cimg style=\"margin: 0pxpx 0pxpx 0pxpx 0pxpx; float: none;\" src=\"https:\/\/cdn.shopifycdn.net\/s\/files\/1\/2707\/3516\/files\/MC-4-light-kit-06-1000x819_1024x1024.png?v=1603074807\" width=\"1024x1024\" height=\"1024x1024\"\u003e\u003c\/p\u003e\n\u003cp\u003e \u003cbr\u003e\u003c\/p\u003e\n\u003c\/div\u003e\n\u003c\/div\u003e\n\u003cdiv class=\"slide-content\"\u003e\n\u003cdiv style=\"text-align: center;\" class=\"content-container\"\u003e\n\u003ch3\u003eWireless Charging\u003c\/h3\u003e\n\u003cp\u003eThe MC 4-Light Kit's sleek hard shell case, not only adds a layer of secure protection but also conveniently charges MCs using seamlessly built-in wireless pads. Simply power up the charging case, place an MC on each wireless charging pad, and they're ready to go. The charging case even features an additional two USB 5V2\/A ports to charge any other mini lights or even your phone.\u003c\/p\u003e\n\u003cp\u003e\u003cimg style=\"margin: 0pxpx 0pxpx 0pxpx 0pxpx; float: none;\" src=\"https:\/\/cdn.shopifycdn.net\/s\/files\/1\/2707\/3516\/files\/MC-4-light-kit-05-1617x1080_1024x1024.jpg?v=1603074980\" width=\"1024x1024\" height=\"1024x1024\"\u003e\u003c\/p\u003e\n\u003cdiv class=\"slide-content\"\u003e\n\u003cdiv style=\"text-align: center;\" class=\"content-container\"\u003e\n\u003ch3\u003eD-Tap Charging\u003c\/h3\u003e\n\u003cp\u003eSold separately, the MC 4-Light Kit can also be powered using a special D-Tap 2-Pin Power Cable, meaning you can charge your MC with D-Tap cinema batteries on the go.\u003c\/p\u003e\n\u003cp\u003e\u003cimg style=\"margin: 0pxpx 0pxpx 0pxpx 0pxpx; float: none;\" src=\"https:\/\/cdn.shopifycdn.net\/s\/files\/1\/2707\/3516\/files\/MC-4-light-kit-06-1000x819_95a24bc4-99a2-47db-8399-66c3b46586b8_1024x1024.png?v=1603075148\" width=\"1024x1024\" height=\"1024x1024\"\u003e\u003c\/p\u003e\n\u003cdiv class=\"slide-content\"\u003e\n\u003cdiv style=\"text-align: center;\" class=\"content-container\"\u003e\n\u003ch3\u003eAccessories Always On-Hand\u003c\/h3\u003e\n\u003cp\u003eIn addition to its wireless charging hard shell case, the MC-4 Light Travel Kit also includes an accessory bag with a nearly identical footprint. The accessory bag holds the wireless charging case's power supply as well as two silicone diffusers and two cold shoe ball heads, making sure you have everything you need for your filmmaking journey. Together, this two-piece kit can tackle a variety of lighting situations, wherever you go.\u003c\/p\u003e\n\u003cp\u003e\u003cimg style=\"margin: 0pxpx 0pxpx 0pxpx 0pxpx; float: none;\" src=\"https:\/\/cdn.shopifycdn.net\/s\/files\/1\/2707\/3516\/files\/MC-4-light-kit-03-1617x1080_1024x1024.jpg?v=1603075190\" width=\"1024x1024\" height=\"1024x1024\"\u003e\u003c\/p\u003e\n\u003cdiv class=\"slide-content\"\u003e\n\u003cdiv style=\"text-align: center;\" class=\"content-container\"\u003e\n\u003ch3\u003eTravel Anywhere\u003c\/h3\u003e\n\u003cp\u003eBoth the wireless charging case and the accessory bag of the MC 4-Light Kit were specifically designed to be small enough to fit inside a backpack or suitcase, creating the perfect lighting kit that can accompany filmmakers on any adventure.\u003c\/p\u003e\n\u003cp\u003e\u003cimg style=\"margin: 0pxpx 0pxpx 0pxpx 0pxpx; float: none;\" src=\"https:\/\/cdn.shopifycdn.net\/s\/files\/1\/2707\/3516\/files\/MC-4-light-kit-01-946x1080_1024x1024.png?v=1603075225\" width=\"1024x1024\" height=\"1024x1024\"\u003e\u003c\/p\u003e\n\u003cp\u003e \u003cbr\u003e\u003c\/p\u003e\n\u003ch3 style=\"text-align: left;\"\u003e\u003cspan style=\"color: #ff2a00;\"\u003eSpecifications\u003c\/span\u003e\u003c\/h3\u003e\n\u003ch4 style=\"text-align: left;\"\u003eMC\u003c\/h4\u003e\n\u003ctable\u003e\n\u003ctbody\u003e\n\u003ctr\u003e\n\u003ctd\u003eColor Temperature\u003c\/td\u003e\n\u003ctd\u003e3200-6500K\u003c\/td\u003e\n\u003c\/tr\u003e\n\u003ctr\u003e\n\u003ctd\u003eCRI\u003c\/td\u003e\n\u003ctd\u003e96+\u003c\/td\u003e\n\u003c\/tr\u003e\n\u003ctr\u003e\n\u003ctd\u003eTLCI\u003c\/td\u003e\n\u003ctd\u003e97+\u003c\/td\u003e\n\u003c\/tr\u003e\n\u003ctr\u003e\n\u003ctd\u003eBattery Type\u003c\/td\u003e\n\u003ctd\u003eLithium-polymer Battery (3.7V 2600mAh)\u003c\/td\u003e\n\u003c\/tr\u003e\n\u003ctr\u003e\n\u003ctd\u003eRated Output Power\u003c\/td\u003e\n\u003ctd\u003e5W\u003c\/td\u003e\n\u003c\/tr\u003e\n\u003ctr\u003e\n\u003ctd\u003eOperating Temperature\u003c\/td\u003e\n\u003ctd\u003e0° C to 45° C\u003c\/td\u003e\n\u003c\/tr\u003e\n\u003ctr\u003e\n\u003ctd\u003eOperating Battery Life(Max Brightness)\u003c\/td\u003e\n\u003ctd\u003e\u0026gt;2hrs\u003c\/td\u003e\n\u003c\/tr\u003e\n\u003ctr\u003e\n\u003ctd\u003eOperating Battery Life(Min Brightness)\u003c\/td\u003e\n\u003ctd\u003e\u0026gt;15hrs\u003c\/td\u003e\n\u003c\/tr\u003e\n\u003ctr\u003e\n\u003ctd\u003e\u003c\/td\u003e\n\u003ctd\u003e~1.5 hours via USB PD\u003c\/td\u003e\n\u003c\/tr\u003e\n\u003ctr\u003e\n\u003ctd\u003eBattery Recharge Time\u003c\/td\u003e\n\u003ctd\u003e~2 hours via USB DC 5V\/2A\u003c\/td\u003e\n\u003c\/tr\u003e\n\u003ctr\u003e\n\u003ctd\u003e\u003c\/td\u003e\n\u003ctd\u003e~3.5 hours via wireless charging\u003c\/td\u003e\n\u003c\/tr\u003e\n\u003ctr\u003e\n\u003ctd\u003eDimension\u003c\/td\u003e\n\u003ctd\u003e93x61x17mm\/3.66x2.40x0.67in\u003c\/td\u003e\n\u003c\/tr\u003e\n\u003c\/tbody\u003e\n\u003c\/table\u003e\n\u003ch4\u003e\u003c\/h4\u003e\n\u003ch4 style=\"text-align: left;\"\u003eWireless Charging Case\u003c\/h4\u003e\n\u003ctable\u003e\n\u003ctbody\u003e\n\u003ctr\u003e\n\u003ctd\u003ePower Supply\u003c\/td\u003e\n\u003ctd\u003eDC 12V~16.8V\u003c\/td\u003e\n\u003c\/tr\u003e\n\u003ctr\u003e\n\u003ctd\u003eRated Current\u003c\/td\u003e\n\u003ctd\u003e4.8A\u003c\/td\u003e\n\u003c\/tr\u003e\n\u003ctr\u003e\n\u003ctd\u003ePower Input\u003c\/td\u003e\n\u003ctd\u003e72W\u003c\/td\u003e\n\u003c\/tr\u003e\n\u003ctr\u003e\n\u003ctd\u003eMax Power Output\u003c\/td\u003e\n\u003ctd\u003e60W\u003c\/td\u003e\n\u003c\/tr\u003e\n\u003ctr\u003e\n\u003ctd\u003eMax Wireless Charging Power Output\u003c\/td\u003e\n\u003ctd\u003e4x10W\u003c\/td\u003e\n\u003c\/tr\u003e\n\u003ctr\u003e\n\u003ctd\u003eDimension\u003c\/td\u003e\n\u003ctd\u003e283x188x61mm\/11.14x7.4x2.4in\u003c\/td\u003e\n\u003c\/tr\u003e\n\u003c\/tbody\u003e\n\u003c\/table\u003e\n\u003ch3\u003e\u003c\/h3\u003e\n\u003ch3 style=\"text-align: left;\"\u003eIlluminance\u003c\/h3\u003e\n\u003ctable\u003e\n\u003ctbody\u003e\n\u003ctr\u003e\n\u003ctd\u003eDistance\u003c\/td\u003e\n\u003ctd\u003e0.3M\u003c\/td\u003e\n\u003ctd\u003e0.5M\u003c\/td\u003e\n\u003ctd\u003e1M\u003c\/td\u003e\n\u003c\/tr\u003e\n\u003ctr\u003e\n\u003ctd\u003eMaximum Brightness\u003c\/td\u003e\n\u003ctd\u003e1100 lux\u003c\/td\u003e\n\u003ctd\u003e400 lux\u003c\/td\u003e\n\u003ctd\u003e100 lux\u003c\/td\u003e\n\u003c\/tr\u003e\n\u003c\/tbody\u003e\n\u003c\/table\u003e\n\u003c\/div\u003e\n\u003c\/div\u003e\n\u003c\/div\u003e\n\u003c\/div\u003e\n\u003c\/div\u003e\n\u003c\/div\u003e\n\u003c\/div\u003e\n\u003c\/div\u003e\n\u003c\/div\u003e\n\u003c\/div\u003e\n\u003c\/div\u003e\n\u003c\/div\u003e","published_at":"2020-10-18T21:12:27-06:00","created_at":"2020-10-18T21:12:26-06:00","vendor":"Aputure","type":"Continuous Lighting","tags":["Continuous Lighting Accessories","LED Light Kits","Video Accessories","Video LED"],"price":49900,"price_min":49900,"price_max":49900,"available":true,"price_varies":false,"compare_at_price":null,"compare_at_price_min":0,"compare_at_price_max":0,"compare_at_price_varies":false,"variants":[{"id":32934154207335,"title":"Default Title","option1":"Default Title","option2":null,"option3":null,"sku":"FMT-MC4KIT","requires_shipping":true,"taxable":true,"featured_image":null,"available":true,"name":"Aputure MC 4-Light Travel Kit Wireless Charging RGBWW On-Hand Film Light HSI Color Control LED Light","public_title":null,"options":["Default Title"],"price":49900,"weight":0,"compare_at_price":null,"inventory_management":null,"barcode":"","requires_selling_plan":false,"selling_plan_allocations":[]}],"images":["\/\/www.fomito.com\/cdn\/shop\/products\/MC_19.jpg?v=1603077155","\/\/www.fomito.com\/cdn\/shop\/products\/MC_2.jpg?v=1603077155","\/\/www.fomito.com\/cdn\/shop\/products\/MC_17.jpg?v=1603077155","\/\/www.fomito.com\/cdn\/shop\/products\/MC_5.jpg?v=1603077155","\/\/www.fomito.com\/cdn\/shop\/products\/MC_3.jpg?v=1603077155","\/\/www.fomito.com\/cdn\/shop\/products\/MC_6.jpg?v=1603077155","\/\/www.fomito.com\/cdn\/shop\/products\/MC_16.jpg?v=1603077155","\/\/www.fomito.com\/cdn\/shop\/products\/MC_9.jpg?v=1603077155","\/\/www.fomito.com\/cdn\/shop\/products\/MC_10.jpg?v=1603077155","\/\/www.fomito.com\/cdn\/shop\/products\/MC_8.jpg?v=1603077155","\/\/www.fomito.com\/cdn\/shop\/products\/MC_11.jpg?v=1603077155","\/\/www.fomito.com\/cdn\/shop\/products\/MC_12.jpg?v=1603077155","\/\/www.fomito.com\/cdn\/shop\/products\/MC_13.jpg?v=1603077155"],"featured_image":"\/\/www.fomito.com\/cdn\/shop\/products\/MC_19.jpg?v=1603077155","options":["Title"],"media":[{"alt":null,"id":8155813118055,"position":1,"preview_image":{"aspect_ratio":1.0,"height":1000,"width":1000,"src":"\/\/www.fomito.com\/cdn\/shop\/products\/MC_19.jpg?v=1603077155"},"aspect_ratio":1.0,"height":1000,"media_type":"image","src":"\/\/www.fomito.com\/cdn\/shop\/products\/MC_19.jpg?v=1603077155","width":1000},{"alt":null,"id":8155813150823,"position":2,"preview_image":{"aspect_ratio":1.0,"height":1000,"width":1000,"src":"\/\/www.fomito.com\/cdn\/shop\/products\/MC_2.jpg?v=1603077155"},"aspect_ratio":1.0,"height":1000,"media_type":"image","src":"\/\/www.fomito.com\/cdn\/shop\/products\/MC_2.jpg?v=1603077155","width":1000},{"alt":null,"id":8155813183591,"position":3,"preview_image":{"aspect_ratio":1.0,"height":1000,"width":1000,"src":"\/\/www.fomito.com\/cdn\/shop\/products\/MC_17.jpg?v=1603077155"},"aspect_ratio":1.0,"height":1000,"media_type":"image","src":"\/\/www.fomito.com\/cdn\/shop\/products\/MC_17.jpg?v=1603077155","width":1000},{"alt":null,"id":8155813216359,"position":4,"preview_image":{"aspect_ratio":1.0,"height":1000,"width":1000,"src":"\/\/www.fomito.com\/cdn\/shop\/products\/MC_5.jpg?v=1603077155"},"aspect_ratio":1.0,"height":1000,"media_type":"image","src":"\/\/www.fomito.com\/cdn\/shop\/products\/MC_5.jpg?v=1603077155","width":1000},{"alt":null,"id":8155813249127,"position":5,"preview_image":{"aspect_ratio":1.0,"height":1000,"width":1000,"src":"\/\/www.fomito.com\/cdn\/shop\/products\/MC_3.jpg?v=1603077155"},"aspect_ratio":1.0,"height":1000,"media_type":"image","src":"\/\/www.fomito.com\/cdn\/shop\/products\/MC_3.jpg?v=1603077155","width":1000},{"alt":null,"id":8155813281895,"position":6,"preview_image":{"aspect_ratio":1.0,"height":1000,"width":1000,"src":"\/\/www.fomito.com\/cdn\/shop\/products\/MC_6.jpg?v=1603077155"},"aspect_ratio":1.0,"height":1000,"media_type":"image","src":"\/\/www.fomito.com\/cdn\/shop\/products\/MC_6.jpg?v=1603077155","width":1000},{"alt":null,"id":8155813347431,"position":7,"preview_image":{"aspect_ratio":1.0,"height":1000,"width":1000,"src":"\/\/www.fomito.com\/cdn\/shop\/products\/MC_16.jpg?v=1603077155"},"aspect_ratio":1.0,"height":1000,"media_type":"image","src":"\/\/www.fomito.com\/cdn\/shop\/products\/MC_16.jpg?v=1603077155","width":1000},{"alt":null,"id":8155813380199,"position":8,"preview_image":{"aspect_ratio":1.0,"height":1000,"width":1000,"src":"\/\/www.fomito.com\/cdn\/shop\/products\/MC_9.jpg?v=1603077155"},"aspect_ratio":1.0,"height":1000,"media_type":"image","src":"\/\/www.fomito.com\/cdn\/shop\/products\/MC_9.jpg?v=1603077155","width":1000},{"alt":null,"id":8155813412967,"position":9,"preview_image":{"aspect_ratio":1.0,"height":1000,"width":1000,"src":"\/\/www.fomito.com\/cdn\/shop\/products\/MC_10.jpg?v=1603077155"},"aspect_ratio":1.0,"height":1000,"media_type":"image","src":"\/\/www.fomito.com\/cdn\/shop\/products\/MC_10.jpg?v=1603077155","width":1000},{"alt":null,"id":8155813445735,"position":10,"preview_image":{"aspect_ratio":1.0,"height":1000,"width":1000,"src":"\/\/www.fomito.com\/cdn\/shop\/products\/MC_8.jpg?v=1603077155"},"aspect_ratio":1.0,"height":1000,"media_type":"image","src":"\/\/www.fomito.com\/cdn\/shop\/products\/MC_8.jpg?v=1603077155","width":1000},{"alt":null,"id":8155813478503,"position":11,"preview_image":{"aspect_ratio":1.0,"height":1000,"width":1000,"src":"\/\/www.fomito.com\/cdn\/shop\/products\/MC_11.jpg?v=1603077155"},"aspect_ratio":1.0,"height":1000,"media_type":"image","src":"\/\/www.fomito.com\/cdn\/shop\/products\/MC_11.jpg?v=1603077155","width":1000},{"alt":null,"id":8155813511271,"position":12,"preview_image":{"aspect_ratio":1.0,"height":1000,"width":1000,"src":"\/\/www.fomito.com\/cdn\/shop\/products\/MC_12.jpg?v=1603077155"},"aspect_ratio":1.0,"height":1000,"media_type":"image","src":"\/\/www.fomito.com\/cdn\/shop\/products\/MC_12.jpg?v=1603077155","width":1000},{"alt":null,"id":8155813544039,"position":13,"preview_image":{"aspect_ratio":1.0,"height":1000,"width":1000,"src":"\/\/www.fomito.com\/cdn\/shop\/products\/MC_13.jpg?v=1603077155"},"aspect_ratio":1.0,"height":1000,"media_type":"image","src":"\/\/www.fomito.com\/cdn\/shop\/products\/MC_13.jpg?v=1603077155","width":1000}],"requires_selling_plan":false,"selling_plan_groups":[],"content":"\u003cdiv data-mce-fragment=\"1\" class=\"slide-content\"\u003e\n\u003cdiv data-mce-fragment=\"1\" style=\"text-align: center;\" class=\"content-container\"\u003e\n\u003ch3 data-mce-fragment=\"1\"\u003eAny Color. Any Time.\u003c\/h3\u003e\n\u003cp data-mce-fragment=\"1\"\u003eThe Aputure MC 4-Light Travel Kit is designed for guerrilla and travel filmmakers. Bundling convenient wireless chargers into a durable hard shell case, that's slim enough to fit in a camera bag or backpack, ensures that your lights will always be ready to spring into action when you are.\u003c\/p\u003e\n\u003cp data-mce-fragment=\"1\"\u003e\u003cimg style=\"margin: 0pxpx 0pxpx 0pxpx 0pxpx; float: none;\" src=\"https:\/\/cdn.shopifycdn.net\/s\/files\/1\/2707\/3516\/files\/MC-4-light-kit-02-1620x1080_1024x1024.jpg?v=1603074749\" width=\"1024x1024\" height=\"1024x1024\"\u003e\u003c\/p\u003e\n\u003cdiv class=\"slide-content\"\u003e\n\u003cdiv style=\"text-align: center;\" class=\"content-container\"\u003e\n\u003ch3\u003eFlexibility at its Finest\u003c\/h3\u003e\n\u003cp\u003eThe Aputure MC is Aputure's first RGBWW film light. This light features full HSI color control and a CCT range of 3200K-6500K, giving you a full range of color options in a footprint roughly the size of a credit card, allowing it to fit in anywhere. Built-in Sidus Mesh technology also allows you to use the Sidus Link app to unlock all of the light's capabilities. As the first color-mixing M-Series light, the MC offers filmmakers immense flexibility.\u003c\/p\u003e\n\u003cp\u003e\u003cimg style=\"margin: 0pxpx 0pxpx 0pxpx 0pxpx; float: none;\" src=\"https:\/\/cdn.shopifycdn.net\/s\/files\/1\/2707\/3516\/files\/MC-4-light-kit-09-1000x373_1024x1024.jpg?v=1603074778\" width=\"1024x1024\" height=\"1024x1024\"\u003e\u003c\/p\u003e\n\u003cdiv class=\"slide-content\"\u003e\n\u003cdiv style=\"text-align: center;\" class=\"content-container\"\u003e\n\u003ch3\u003eDurable Hard Shell Case\u003c\/h3\u003e\n\u003cp\u003eMade to follow you wherever you go, the MC 4-Light Travel Kit includes a custom-designed robust hard shell carrying case to store up to four RGBWW MC lights. This slim hard case ensures that your MCs will always be protected.\u003c\/p\u003e\n\u003cp\u003e\u003cimg style=\"margin: 0pxpx 0pxpx 0pxpx 0pxpx; float: none;\" src=\"https:\/\/cdn.shopifycdn.net\/s\/files\/1\/2707\/3516\/files\/MC-4-light-kit-06-1000x819_1024x1024.png?v=1603074807\" width=\"1024x1024\" height=\"1024x1024\"\u003e\u003c\/p\u003e\n\u003cp\u003e \u003cbr\u003e\u003c\/p\u003e\n\u003c\/div\u003e\n\u003c\/div\u003e\n\u003cdiv class=\"slide-content\"\u003e\n\u003cdiv style=\"text-align: center;\" class=\"content-container\"\u003e\n\u003ch3\u003eWireless Charging\u003c\/h3\u003e\n\u003cp\u003eThe MC 4-Light Kit's sleek hard shell case, not only adds a layer of secure protection but also conveniently charges MCs using seamlessly built-in wireless pads. Simply power up the charging case, place an MC on each wireless charging pad, and they're ready to go. The charging case even features an additional two USB 5V2\/A ports to charge any other mini lights or even your phone.\u003c\/p\u003e\n\u003cp\u003e\u003cimg style=\"margin: 0pxpx 0pxpx 0pxpx 0pxpx; float: none;\" src=\"https:\/\/cdn.shopifycdn.net\/s\/files\/1\/2707\/3516\/files\/MC-4-light-kit-05-1617x1080_1024x1024.jpg?v=1603074980\" width=\"1024x1024\" height=\"1024x1024\"\u003e\u003c\/p\u003e\n\u003cdiv class=\"slide-content\"\u003e\n\u003cdiv style=\"text-align: center;\" class=\"content-container\"\u003e\n\u003ch3\u003eD-Tap Charging\u003c\/h3\u003e\n\u003cp\u003eSold separately, the MC 4-Light Kit can also be powered using a special D-Tap 2-Pin Power Cable, meaning you can charge your MC with D-Tap cinema batteries on the go.\u003c\/p\u003e\n\u003cp\u003e\u003cimg style=\"margin: 0pxpx 0pxpx 0pxpx 0pxpx; float: none;\" src=\"https:\/\/cdn.shopifycdn.net\/s\/files\/1\/2707\/3516\/files\/MC-4-light-kit-06-1000x819_95a24bc4-99a2-47db-8399-66c3b46586b8_1024x1024.png?v=1603075148\" width=\"1024x1024\" height=\"1024x1024\"\u003e\u003c\/p\u003e\n\u003cdiv class=\"slide-content\"\u003e\n\u003cdiv style=\"text-align: center;\" class=\"content-container\"\u003e\n\u003ch3\u003eAccessories Always On-Hand\u003c\/h3\u003e\n\u003cp\u003eIn addition to its wireless charging hard shell case, the MC-4 Light Travel Kit also includes an accessory bag with a nearly identical footprint. The accessory bag holds the wireless charging case's power supply as well as two silicone diffusers and two cold shoe ball heads, making sure you have everything you need for your filmmaking journey. Together, this two-piece kit can tackle a variety of lighting situations, wherever you go.\u003c\/p\u003e\n\u003cp\u003e\u003cimg style=\"margin: 0pxpx 0pxpx 0pxpx 0pxpx; float: none;\" src=\"https:\/\/cdn.shopifycdn.net\/s\/files\/1\/2707\/3516\/files\/MC-4-light-kit-03-1617x1080_1024x1024.jpg?v=1603075190\" width=\"1024x1024\" height=\"1024x1024\"\u003e\u003c\/p\u003e\n\u003cdiv class=\"slide-content\"\u003e\n\u003cdiv style=\"text-align: center;\" class=\"content-container\"\u003e\n\u003ch3\u003eTravel Anywhere\u003c\/h3\u003e\n\u003cp\u003eBoth the wireless charging case and the accessory bag of the MC 4-Light Kit were specifically designed to be small enough to fit inside a backpack or suitcase, creating the perfect lighting kit that can accompany filmmakers on any adventure.\u003c\/p\u003e\n\u003cp\u003e\u003cimg style=\"margin: 0pxpx 0pxpx 0pxpx 0pxpx; float: none;\" src=\"https:\/\/cdn.shopifycdn.net\/s\/files\/1\/2707\/3516\/files\/MC-4-light-kit-01-946x1080_1024x1024.png?v=1603075225\" width=\"1024x1024\" height=\"1024x1024\"\u003e\u003c\/p\u003e\n\u003cp\u003e \u003cbr\u003e\u003c\/p\u003e\n\u003ch3 style=\"text-align: left;\"\u003e\u003cspan style=\"color: #ff2a00;\"\u003eSpecifications\u003c\/span\u003e\u003c\/h3\u003e\n\u003ch4 style=\"text-align: left;\"\u003eMC\u003c\/h4\u003e\n\u003ctable\u003e\n\u003ctbody\u003e\n\u003ctr\u003e\n\u003ctd\u003eColor Temperature\u003c\/td\u003e\n\u003ctd\u003e3200-6500K\u003c\/td\u003e\n\u003c\/tr\u003e\n\u003ctr\u003e\n\u003ctd\u003eCRI\u003c\/td\u003e\n\u003ctd\u003e96+\u003c\/td\u003e\n\u003c\/tr\u003e\n\u003ctr\u003e\n\u003ctd\u003eTLCI\u003c\/td\u003e\n\u003ctd\u003e97+\u003c\/td\u003e\n\u003c\/tr\u003e\n\u003ctr\u003e\n\u003ctd\u003eBattery Type\u003c\/td\u003e\n\u003ctd\u003eLithium-polymer Battery (3.7V 2600mAh)\u003c\/td\u003e\n\u003c\/tr\u003e\n\u003ctr\u003e\n\u003ctd\u003eRated Output Power\u003c\/td\u003e\n\u003ctd\u003e5W\u003c\/td\u003e\n\u003c\/tr\u003e\n\u003ctr\u003e\n\u003ctd\u003eOperating Temperature\u003c\/td\u003e\n\u003ctd\u003e0° C to 45° C\u003c\/td\u003e\n\u003c\/tr\u003e\n\u003ctr\u003e\n\u003ctd\u003eOperating Battery Life(Max Brightness)\u003c\/td\u003e\n\u003ctd\u003e\u0026gt;2hrs\u003c\/td\u003e\n\u003c\/tr\u003e\n\u003ctr\u003e\n\u003ctd\u003eOperating Battery Life(Min Brightness)\u003c\/td\u003e\n\u003ctd\u003e\u0026gt;15hrs\u003c\/td\u003e\n\u003c\/tr\u003e\n\u003ctr\u003e\n\u003ctd\u003e\u003c\/td\u003e\n\u003ctd\u003e~1.5 hours via USB PD\u003c\/td\u003e\n\u003c\/tr\u003e\n\u003ctr\u003e\n\u003ctd\u003eBattery Recharge Time\u003c\/td\u003e\n\u003ctd\u003e~2 hours via USB DC 5V\/2A\u003c\/td\u003e\n\u003c\/tr\u003e\n\u003ctr\u003e\n\u003ctd\u003e\u003c\/td\u003e\n\u003ctd\u003e~3.5 hours via wireless charging\u003c\/td\u003e\n\u003c\/tr\u003e\n\u003ctr\u003e\n\u003ctd\u003eDimension\u003c\/td\u003e\n\u003ctd\u003e93x61x17mm\/3.66x2.40x0.67in\u003c\/td\u003e\n\u003c\/tr\u003e\n\u003c\/tbody\u003e\n\u003c\/table\u003e\n\u003ch4\u003e\u003c\/h4\u003e\n\u003ch4 style=\"text-align: left;\"\u003eWireless Charging Case\u003c\/h4\u003e\n\u003ctable\u003e\n\u003ctbody\u003e\n\u003ctr\u003e\n\u003ctd\u003ePower Supply\u003c\/td\u003e\n\u003ctd\u003eDC 12V~16.8V\u003c\/td\u003e\n\u003c\/tr\u003e\n\u003ctr\u003e\n\u003ctd\u003eRated Current\u003c\/td\u003e\n\u003ctd\u003e4.8A\u003c\/td\u003e\n\u003c\/tr\u003e\n\u003ctr\u003e\n\u003ctd\u003ePower Input\u003c\/td\u003e\n\u003ctd\u003e72W\u003c\/td\u003e\n\u003c\/tr\u003e\n\u003ctr\u003e\n\u003ctd\u003eMax Power Output\u003c\/td\u003e\n\u003ctd\u003e60W\u003c\/td\u003e\n\u003c\/tr\u003e\n\u003ctr\u003e\n\u003ctd\u003eMax Wireless Charging Power Output\u003c\/td\u003e\n\u003ctd\u003e4x10W\u003c\/td\u003e\n\u003c\/tr\u003e\n\u003ctr\u003e\n\u003ctd\u003eDimension\u003c\/td\u003e\n\u003ctd\u003e283x188x61mm\/11.14x7.4x2.4in\u003c\/td\u003e\n\u003c\/tr\u003e\n\u003c\/tbody\u003e\n\u003c\/table\u003e\n\u003ch3\u003e\u003c\/h3\u003e\n\u003ch3 style=\"text-align: left;\"\u003eIlluminance\u003c\/h3\u003e\n\u003ctable\u003e\n\u003ctbody\u003e\n\u003ctr\u003e\n\u003ctd\u003eDistance\u003c\/td\u003e\n\u003ctd\u003e0.3M\u003c\/td\u003e\n\u003ctd\u003e0.5M\u003c\/td\u003e\n\u003ctd\u003e1M\u003c\/td\u003e\n\u003c\/tr\u003e\n\u003ctr\u003e\n\u003ctd\u003eMaximum Brightness\u003c\/td\u003e\n\u003ctd\u003e1100 lux\u003c\/td\u003e\n\u003ctd\u003e400 lux\u003c\/td\u003e\n\u003ctd\u003e100 lux\u003c\/td\u003e\n\u003c\/tr\u003e\n\u003c\/tbody\u003e\n\u003c\/table\u003e\n\u003c\/div\u003e\n\u003c\/div\u003e\n\u003c\/div\u003e\n\u003c\/div\u003e\n\u003c\/div\u003e\n\u003c\/div\u003e\n\u003c\/div\u003e\n\u003c\/div\u003e\n\u003c\/div\u003e\n\u003c\/div\u003e\n\u003c\/div\u003e\n\u003c\/div\u003e"}
Aputure MC 4-Light Travel Kit Wireless Charging RGBWW On-Hand Film Light HSI Color Control LED Light
Any Color. Any Time.
The Aputure MC 4-Light Travel Kit is designed for guerrilla and travel filmmakers. Bundling convenient wireless chargers into a durable hard shell case, that's slim enough to fit in a camera bag or backpack, ensures that your lights will always be ready to spring into action when you are.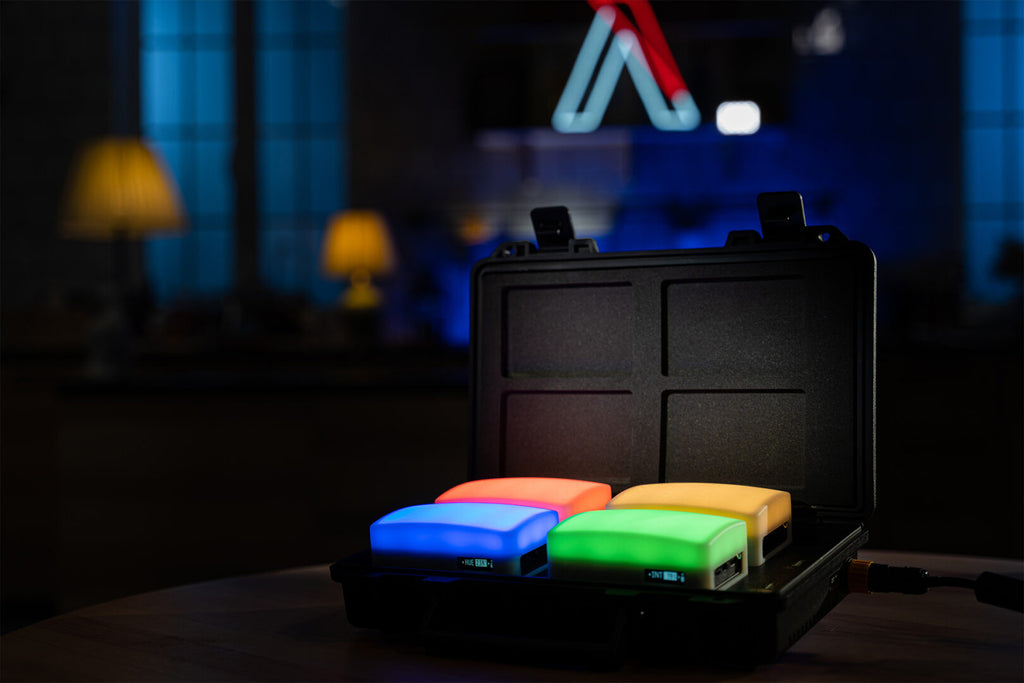 Flexibility at its Finest
The Aputure MC is Aputure's first RGBWW film light. This light features full HSI color control and a CCT range of 3200K-6500K, giving you a full range of color options in a footprint roughly the size of a credit card, allowing it to fit in anywhere. Built-in Sidus Mesh technology also allows you to use the Sidus Link app to unlock all of the light's capabilities. As the first color-mixing M-Series light, the MC offers filmmakers immense flexibility.

Durable Hard Shell Case
Made to follow you wherever you go, the MC 4-Light Travel Kit includes a custom-designed robust hard shell carrying case to store up to four RGBWW MC lights. This slim hard case ensures that your MCs will always be protected.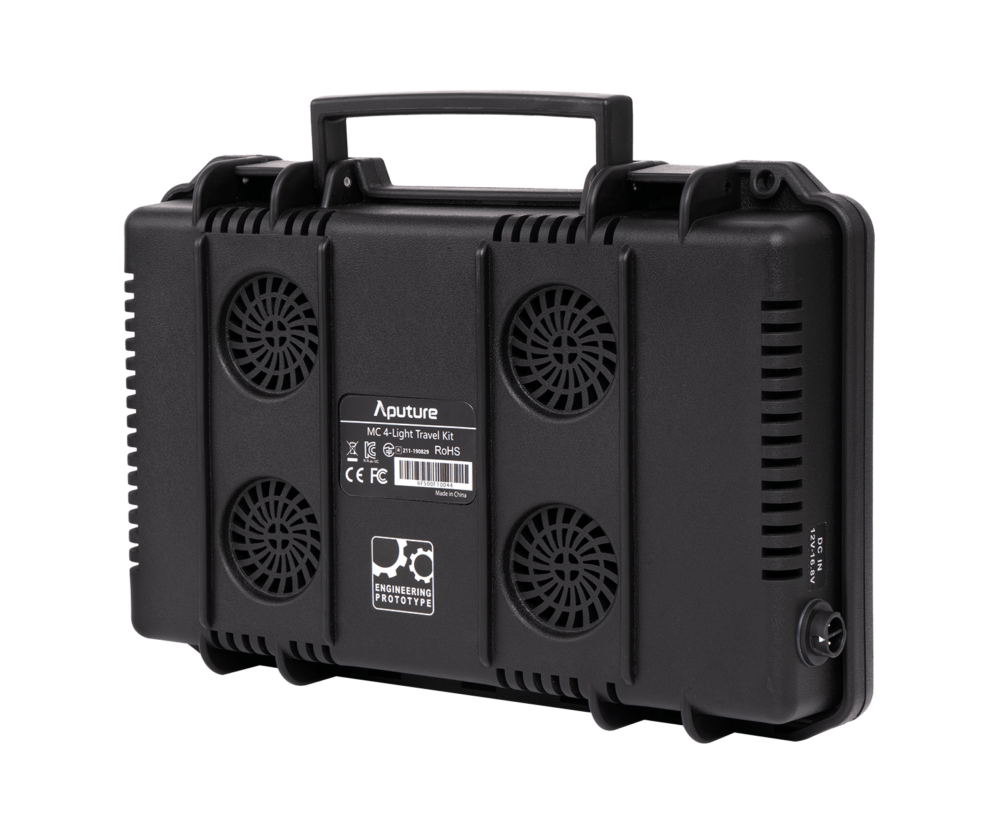 Wireless Charging
The MC 4-Light Kit's sleek hard shell case, not only adds a layer of secure protection but also conveniently charges MCs using seamlessly built-in wireless pads. Simply power up the charging case, place an MC on each wireless charging pad, and they're ready to go. The charging case even features an additional two USB 5V2/A ports to charge any other mini lights or even your phone.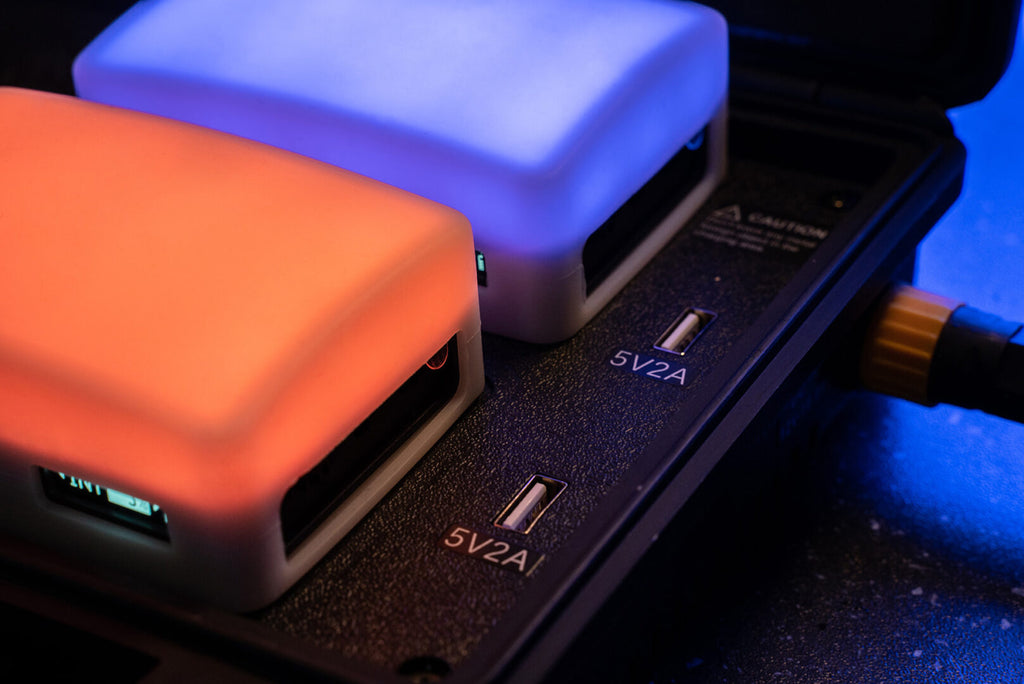 D-Tap Charging
Sold separately, the MC 4-Light Kit can also be powered using a special D-Tap 2-Pin Power Cable, meaning you can charge your MC with D-Tap cinema batteries on the go.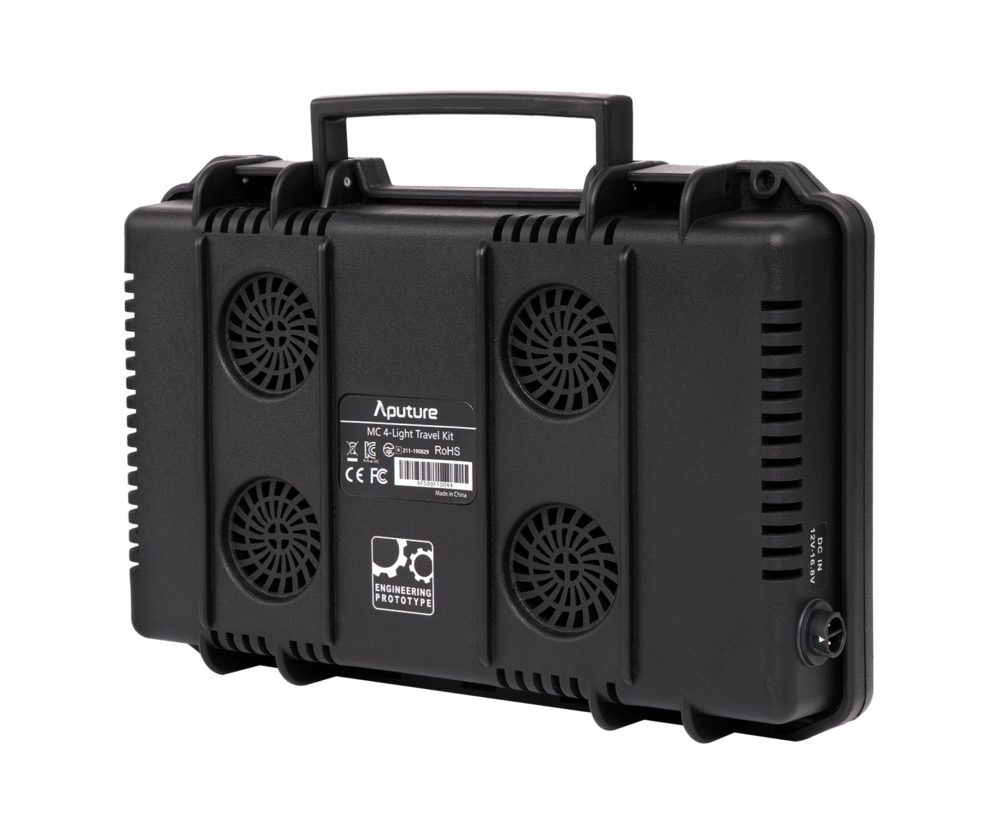 Accessories Always On-Hand
In addition to its wireless charging hard shell case, the MC-4 Light Travel Kit also includes an accessory bag with a nearly identical footprint. The accessory bag holds the wireless charging case's power supply as well as two silicone diffusers and two cold shoe ball heads, making sure you have everything you need for your filmmaking journey. Together, this two-piece kit can tackle a variety of lighting situations, wherever you go.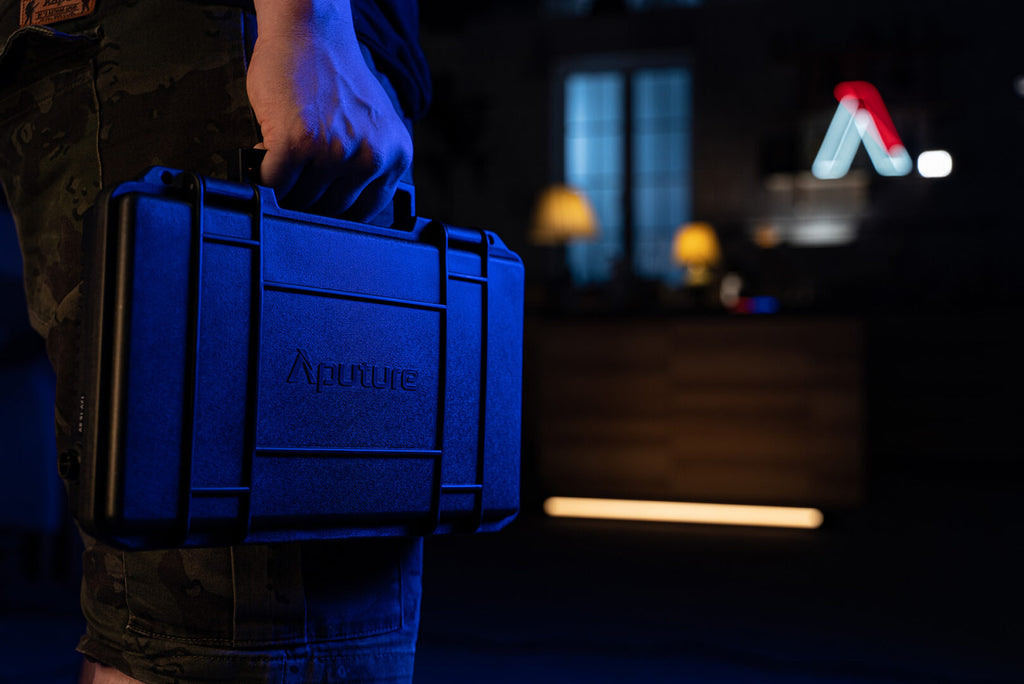 Travel Anywhere
Both the wireless charging case and the accessory bag of the MC 4-Light Kit were specifically designed to be small enough to fit inside a backpack or suitcase, creating the perfect lighting kit that can accompany filmmakers on any adventure.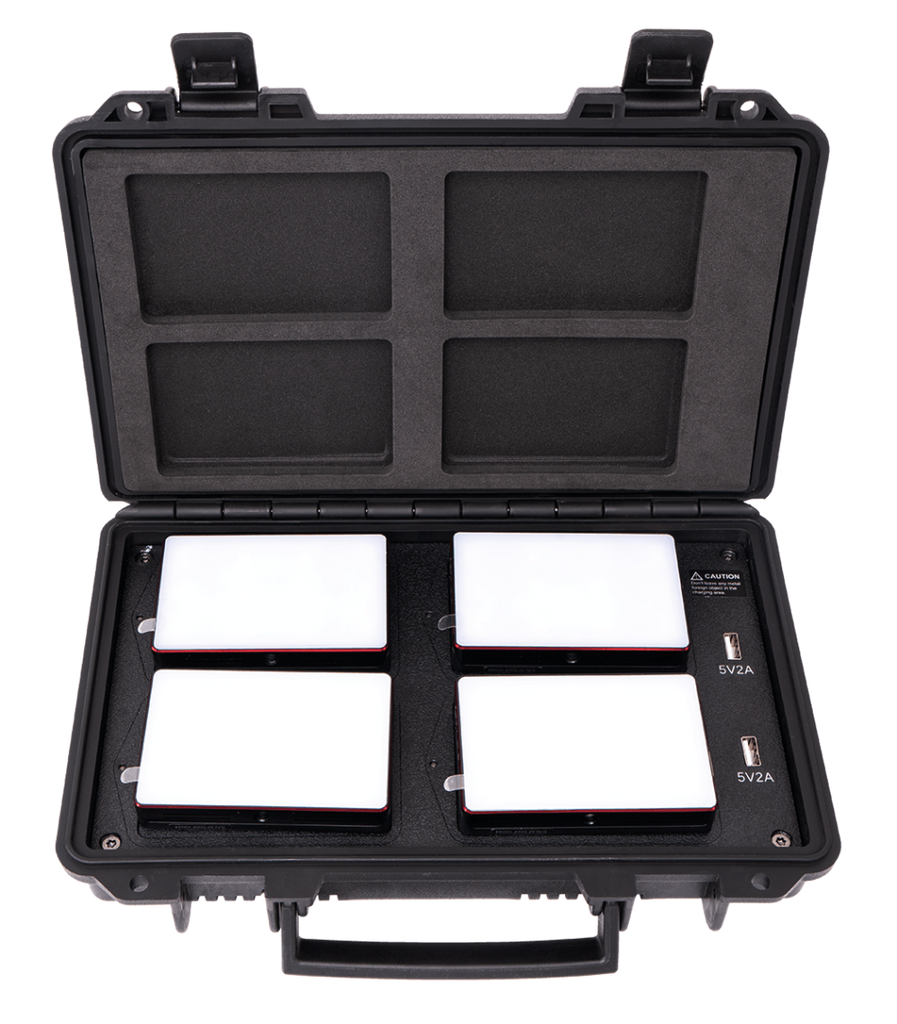 Specifications
MC
| | |
| --- | --- |
| Color Temperature | 3200-6500K |
| CRI | 96+ |
| TLCI | 97+ |
| Battery Type | Lithium-polymer Battery (3.7V 2600mAh) |
| Rated Output Power | 5W |
| Operating Temperature | 0° C to 45° C |
| Operating Battery Life(Max Brightness) | >2hrs |
| Operating Battery Life(Min Brightness) | >15hrs |
| | ~1.5 hours via USB PD |
| Battery Recharge Time | ~2 hours via USB DC 5V/2A |
| | ~3.5 hours via wireless charging |
| Dimension | 93x61x17mm/3.66x2.40x0.67in |
Wireless Charging Case
| | |
| --- | --- |
| Power Supply | DC 12V~16.8V |
| Rated Current | 4.8A |
| Power Input | 72W |
| Max Power Output | 60W |
| Max Wireless Charging Power Output | 4x10W |
| Dimension | 283x188x61mm/11.14x7.4x2.4in |
Illuminance
| | | | |
| --- | --- | --- | --- |
| Distance | 0.3M | 0.5M | 1M |
| Maximum Brightness | 1100 lux | 400 lux | 100 lux |
Payment

1. PayPal
If you have a PayPal account, you can pay directly by logging into your PayPal account. If you do not have a PayPal account, please pay with PayPal accepted credit cards. PayPal accepts credit cards are: Visa, Mastercard, American Express, Discover and Maestro,ect.

2. Credit cards : Visa, Mastercard, American Express, Discover and Maestro,ect.
How to use credit card payment ?
Paying at PayPal without a PayPal account
Payments for Buykud are made at PayPal, but you do not need to own a PayPal account to pay: you may enter your credit card's data directly at PayPal and complete your payment. You don't need to register a PayPal account neither.
Once you get redirected to PayPal, just do as follows:
1. Make sure the "Don't have a PayPal account?" option is selected
If your PayPal page looks as follows, just click on "Don't have a PayPal account?".
2. Enter your credit card's data
Address, email & phone number may also be requested depending on your country.
When you are done, click on "Review and Continue".
3. Click on "Pay Now"
4. Click on "No, Thanks"
5. Finally, click on "Pay now" you will complete your payment
Privacy Policy
At Fomito Shop, we do NOT share any customer information with any third party for any reason unless it is require by a legal authority or a government with an official request.
Fomito Shop takes your personal information and privacy very seriously and we will never share your information with any marketing firm for any marketing purposes except directly from Fomito Shop.
Fomito Shop will never contact you through any form to request you to update your password or personal information unless requested. Such action may be a phishing attempt and we suggest you ignore it or report to your local authority and inform us 
immediately.
| Shipping Company | Shipping Cost | Estimated Delivery Time | Tracking Information |
| --- | --- | --- | --- |
| Standard Shipping | | 10-25 days | Available |
| Expedited express(DHL/EMS) | | 5-7 days | Available |
1. Orders processed within 1~2 working days after the payment confirmed. We will inform you if we need more time to prepare the items.

2.As usual, if you choose the Standard Shipping,it takes almost 10-20 days to reach your designated address. If you choose Expedited express, it takes almost 5-7 days to reach your designated address.

PS: Please let us know if you still don't receive the items within 35 working days after you paid, then we could check it for you.


2. We only ship to confirmed PAYPAL addresses. Your PAYPAL address MUST MATCH your Shipping address.

3. SERVICE TRANSIT TIME is provided by the carrier and excludes weekends and holidays. Transit times may vary, particularly during the holiday season.

4. If you have not received your shipment within 30 days from payment, please contact us. We will track the shipment and get back to you as soon as possible with a reply. Our goal is customer satisfaction!

5. Due to stock status and time differences, we will choose to ship your item from our first available warehouse for fast delivery.
6.We support DDP(Delivery Duty Paid)shipment for almost all of european countries.all the packages will be delivered in Netherlands at first(about 5-10 days),after completing customs clearance by our express agent,all the packages will be sent to buyers via mainstream european courier companies or postal service.So the customs and VAT fee Included.
Please be noted: that the delivery time mentioned on our page is for reference only. Although the actual shipping time is punctual in most occasions, in some cases delivery time may vary due to traffic congestion, adverse weather, acts of custom inspection, etc. We will try our best to avoid such situations, however, please understand that some of these situations are beyond our control, and we are not reponsible for them.

One year Warranty. Buy with confidence! 30 days money back guaranteed.

We provide 30 day return policy for products sold. If, for any reason, you are not satisfied with your purchases, full refund of the purchase (excluding the shipping expenses) can be applicable under the following circumstances:

 
ALL accessories must be unused; ALL accessory packages must be unopened.


ALL items must be intact and undamaged (except for defects in manufacturing).


Items must be in good conditions with all original accessories, manuals, and packing materials. Any missing parts or damaged items will result in rejection on the return.


In case of any defectives found, only defects in manufacturing are accepted as the reason of return.

 
No refund is given if defects are caused by misuse of buyers. Our customer service officers will gladly contact you for further arrangement upon your request.


All shipping cost thus generated is paid by the buyer.


Item returned must be received within 7 days after the receipt of the items. No refund and replacement is issued after this period.


Payment will be refunded as original currency only. We will not take responsibility for any loss due to exchange rate difference in the refund process.


Refunds will NOT include ANY shipping and handling fees. Any additional expenses will also be deducted from the refund.


In the case of return, please be sure to include ALL the original contents (including gift, packages and manuals). Any missing contents may result in rejection of the refund. Please also make sure that the return package is securely packed, and apply waterproof packing instruments wherever necessary.