{"id":4399480045671,"title":"Aputure LS C300d II Light Storm Series COB LED Video Light Sidus Link App Control","handle":"aputure-ls-c300iid-ii-light-storm-series-cob-led-video-light-sidus-link-app-control","description":"\u003ch1 style=\"text-align: center;\" class=\"wpb_column vc_column_container vc_col-sm-6\"\u003e\u003ciframe src=\"https:\/\/www.youtube.com\/embed\/W4vwTHhjy1I\" allowfullscreen=\"\" allow=\"accelerometer; autoplay; clipboard-write; encrypted-media; gyroscope; picture-in-picture\" width=\"949\" height=\"534\" frameborder=\"0\"\u003e\u003c\/iframe\u003e\u003c\/h1\u003e\n\u003ch1 style=\"text-align: center;\" class=\"wpb_column vc_column_container vc_col-sm-6\"\u003eChanging the Game\u003c\/h1\u003e\n\u003cdiv class=\"wpb_column vc_column_container vc_col-sm-6\"\u003e\n\u003cdiv class=\"vc_column-inner\"\u003e\n\u003cp style=\"text-align: center;\"\u003e\u003cstrong\u003eTwo years ago, Aputure revolutionized the industry with the 300d, by creating a powerful and compact LED fixture that could be modified easily. Filmmakers from around the world loved the light's capabilities, but we knew we could enhance the light even more. So we listened and went back to the drawing board. Powered by user feedback, the new and improved 300d Mark II is 20% brighter, more durable, more portable, and more intelligent than the original 300d. Change the way you light.\u003c\/strong\u003e\u003c\/p\u003e\n\u003c\/div\u003e\n\u003c\/div\u003e\n\u003ch1 style=\"text-align: center;\"\u003e\n\u003cimg style=\"display: block; margin-left: auto; margin-right: auto;\" alt=\"\" src=\"https:\/\/cdn.shopify.com\/s\/files\/1\/2707\/3516\/files\/O1CN01srfU8q2JaCDWazKNt__829229437_480x480.jpg?v=1574932705\"\u003e\u003cbr\u003e \u003cbr\u003eEven More Output\u003cbr\u003e\n\u003c\/h1\u003e\n\u003cdiv\u003e\u003cimg style=\"display: block; margin-left: auto; margin-right: auto;\" alt=\"\" src=\"https:\/\/cdn.shopify.cn\/s\/files\/1\/2707\/3516\/files\/300d.jpg?v=1585362929\"\u003e\u003c\/div\u003e\n\u003cdiv style=\"text-align: start;\"\u003e\u003cimg style=\"display: block; margin-left: auto; margin-right: auto;\" alt=\"\" src=\"https:\/\/cdn.shopify.cn\/s\/files\/1\/2707\/3516\/files\/20-brighter-1_4b363f72-e064-45cb-90c2-72401ec22d7f_480x480.jpg?v=1585363401\"\u003e\u003c\/div\u003e\n\u003cp style=\"text-align: center;\"\u003e \u003c\/p\u003e\n\u003ch1 style=\"text-align: center;\"\u003eA More Robust Lamp Head\u003c\/h1\u003e\n\u003cp style=\"text-align: center;\"\u003e\u003cstrong\u003eThe 300d Mark II also introduces new design features, while maintaining the same form factor and lightweight aircraft aluminum body as the original 300d. The new yoke allows for 360° of rotation, and when combined with the handbrake locking mechanism from the 120d Mark II, you'll be able to mount the light in any position, with any modifier.\u003c\/strong\u003e\u003c\/p\u003e\n\u003cp style=\"text-align: center;\"\u003e\u003cimg alt=\"\" src=\"https:\/\/cdn.shopify.com\/s\/files\/1\/2707\/3516\/files\/LS-C300D-II-6-1-1920x820_480x480.jpg?v=1574934006\"\u003e\u003c\/p\u003e\n\u003cp style=\"text-align: center;\"\u003e \u003c\/p\u003e\n\u003ch1 style=\"text-align: center;\"\u003eMax Efficiency with Hyper Reflector\u003cbr\u003e\n\u003c\/h1\u003e\n\u003cp style=\"text-align: center;\"\u003e\u003cstrong\u003eThe 300d Mark II is also the first Aputure light to feature the all-new, hyper efficient 55° reflector. By slightly narrowing the beam from 60° to 55° and redesigning the inner shape and coating of the reflector, we were able to increase the output of the 300d II by more than 3 times, when compared to the original design.\u003c\/strong\u003e\u003c\/p\u003e\n\u003cp style=\"text-align: center;\"\u003e\u003cimg alt=\"\" src=\"https:\/\/cdn.shopify.com\/s\/files\/1\/2707\/3516\/files\/ls-c300d-ii_7-4-1_png_480x480.jpg?v=1574933301\"\u003e\u003c\/p\u003e\n\u003cp style=\"text-align: center;\"\u003e \u003c\/p\u003e\n\u003ch1 style=\"text-align: center;\"\u003eA Revolutionary Redesign\u003c\/h1\u003e\n\u003cp style=\"text-align: center;\"\u003e\u003cstrong\u003eBut the real advancement is in the complete redesign of the control box. By utilizing Aputure's fan‐less heatsink design, the 300d Mark II's All‐in‐One control box is now completely silent. Composed of a durable aluminum alloy, with a new concealed antenna and military‐grade paracord strap, the control box is ready to withstand the rigor of any film set. The 300d Mark II control box is also the first product to utilize Aputure's new quick release plate and clamp system, allowing you to firmly secure it on any stand, truss, or speed rail.\u003c\/strong\u003e\u003c\/p\u003e\n\u003cp style=\"text-align: center;\"\u003e \u003cimg alt=\"\" src=\"https:\/\/cdn.shopify.com\/s\/files\/1\/2707\/3516\/files\/24_480x480.jpg?v=1574936213\"\u003e\u003c\/p\u003e\n\u003cp style=\"text-align: center;\"\u003e \u003c\/p\u003e\n\u003ch1 style=\"text-align: center;\"\u003ePower Solutions for Indie Filmmakers\u003cbr\u003e\n\u003c\/h1\u003e\n\u003cp style=\"text-align: center;\"\u003e\u003cstrong\u003eThe 300d Mark II can produce its maximum output by using two high capacity V‐Mount or Gold Mount batteries, but it also features new technology that allows you to power the light with a single battery at up to half output.* You can use this light anywhere your filmmaking takes you.\u003c\/strong\u003e\u003cbr\u003e\u003cbr\u003e\u003cstrong\u003eThe included 6m NEUTRIK® cable provides the 300d II with a sturdy power connection and allows you the convenience of not having to grab a stinger to power your light. And now, by utilizing a standard 3m male‐to‐female 5‐pin XLR, you can easily replace the header cable in a pinch. An optional 7.5m 5‐pin XLR is also available, letting you keep your control box within arm's reach while giving you the ability to rig your light anywhere you want, from a menace arm to a tall goalpost rig.\u003c\/strong\u003e\u003cbr\u003e\u003cbr\u003e*Due to the high maximum 340‐350W power draw from the light, we recommend only using batteries that are capable of at least 15‐amp continuous power draw.\u003c\/p\u003e\n\u003cp style=\"text-align: center;\"\u003e\u003cimg alt=\"\" src=\"https:\/\/cdn.shopify.com\/s\/files\/1\/2707\/3516\/files\/v-batteries-2_480x480.png?v=1574934161\"\u003e\u003c\/p\u003e\n\u003cp style=\"text-align: center;\"\u003e \u003c\/p\u003e\n\u003ch1 style=\"text-align: center;\"\u003eNew Control Features\u003c\/h1\u003e\n\u003cp style=\"text-align: center;\"\u003e\u003cstrong\u003e: "Paparazzi", "Fireworks", "Lightning", "Fault Bulb", "TV", "Pulsing", "Strobe", and "Explosion", with more coming in future firmware updates via the control boxes USB interface. The control box also features a new "trigger" button to activate lighting FX instantly.\u003c\/strong\u003e\u003c\/p\u003e\n\u003cp style=\"text-align: center;\"\u003e\u003cstrong\u003e\u003ciframe src=\"https:\/\/www.youtube.com\/embed\/g7G0WEuikfM\" allowfullscreen=\"\" allow=\"accelerometer; autoplay; encrypted-media; gyroscope; picture-in-picture\" width=\"1280\" height=\"720\" frameborder=\"0\"\u003e\u003c\/iframe\u003e\u003c\/strong\u003e\u003c\/p\u003e\n\u003cp style=\"text-align: center;\"\u003e\u003cstrong\u003eThe long‐awaited 0%‐100% stepless dimming control allows you to use the 300d II in low‐light environments or to overpower the sun, and can utilize any of 4 different dimming curves: Linear, Logarithmic, Exponential, and S‐Curve.\u003cbr\u003e\u003cbr\u003eThe 300d Mark II also features a "studio mode" that allows the lights to turn on and be controlled immediately upon receiving power, making it perfect for DMX lighting grids.\u003c\/strong\u003e\u003c\/p\u003e\n\u003cp style=\"text-align: center;\"\u003e\u003cstrong\u003e\u003cimg alt=\"\" src=\"https:\/\/cdn.shopify.com\/s\/files\/1\/2707\/3516\/files\/LS-C300D-II-5-6_480x480.jpg?v=1574934498\"\u003e\u003c\/strong\u003e\u003c\/p\u003e\n\u003cp style=\"text-align: center;\"\u003e\u003cstrong\u003e \u003c\/strong\u003e\u003c\/p\u003e\n\u003ch1 style=\"text-align: center;\"\u003eMore Options for Control\u003c\/h1\u003e\n\u003cp style=\"text-align: center;\"\u003e\u003cstrong\u003eIn addition to the control wheel, the 300d Mark II also features DMX512‐compatibility, a new 2.4Ghz Aputure Wireless remote with an FX toggle button, and the ability to be controlled by the Sidus Link App using our Bluetooth mesh network protocol.\u003c\/strong\u003e\u003c\/p\u003e\n\u003cp style=\"text-align: center;\"\u003e\u003cstrong\u003e\u003cimg alt=\"\" src=\"https:\/\/cdn.shopify.com\/s\/files\/1\/2707\/3516\/files\/ls-c300d-ii-dmx_480x480.png?v=1574934561\"\u003e\u003c\/strong\u003e\u003c\/p\u003e\n\u003cp style=\"text-align: center;\"\u003e\u003cstrong\u003e \u003c\/strong\u003e\u003cstrong\u003e\u003c\/strong\u003e\u003cbr\u003e\u003cstrong\u003e\u003c\/strong\u003e\u003c\/p\u003e\n\u003ch1 style=\"text-align: center;\"\u003eSidus Link App Control\u003c\/h1\u003e\n\u003cp style=\"text-align: center;\"\u003e\u003cstrong\u003eFeaturing all‐new Bluetooth SIG mesh network technology, the 300d Mark II will also the first app‐controllable Aputure lighting fixture.* This technology will allow you to control a 300d Mark II from up to 400 meters away, by linking multiple lights up to 80 meters apart. Using the Sidus Link app, you'll be able to access all of the functions of the control box, in addition to being able to save presets, finely tune and trigger additional lighting FX, as well as install firmware updates, all from your smartphone or tablet.\u003c\/strong\u003e\u003cbr\u003e\u003cbr\u003e*Support for the Sidus Link app on iPhone, iPad, and Android will be released a varying times throughout 2019.\u003c\/p\u003e\n\u003cp style=\"text-align: center;\"\u003e\u003cimg alt=\"\" src=\"https:\/\/cdn.shopify.com\/s\/files\/1\/2707\/3516\/files\/sidus-link-5_png_480x480.jpg?v=1574934487\"\u003e\u003c\/p\u003e\n\u003cp style=\"text-align: center;\"\u003e \u003c\/p\u003e\n\u003ch1 style=\"text-align: center;\"\u003eRedesigned Carrying Case\u003c\/h1\u003e\n\u003cp style=\"text-align: center;\"\u003e\u003cstrong\u003eWe also made the case with grip trucks and run‐and‐gun filmmakers in mind. The new 300d Mark II carrying case is composed of durable walls with a soft exterior lining that can support up to 100kg, providing both ample protection and a seat for you on set. The bottom of the case is also covered with an easy‐to‐clean, slash‐proof material, letting you rest easy, knowing your 300d Mark II will survive any situation you throw at it.\u003c\/strong\u003e\u003c\/p\u003e\n\u003cp style=\"text-align: center;\"\u003e\u003cstrong\u003e \u003cimg alt=\"\" src=\"https:\/\/cdn.shopify.com\/s\/files\/1\/2707\/3516\/files\/carrier_480x480.jpg?v=1574934843\"\u003e\u003c\/strong\u003e\u003c\/p\u003e\n\u003cp style=\"text-align: center;\"\u003e\u003cstrong\u003e \u003c\/strong\u003e\u003c\/p\u003e\n\u003cp\u003e\u003cimg alt=\"\" src=\"https:\/\/cdn.shopify.cn\/s\/files\/1\/2707\/3516\/files\/LS-C300d-II-spc-13_480x480.png?v=1585364051\"\u003e\u003c\/p\u003e\n\u003ch4\u003e \u003c\/h4\u003e\n\u003ch4\u003e \u003c\/h4\u003e\n\u003ch3\u003ePackage Include:\u003c\/h3\u003e\n\u003cp\u003e\u003cimg alt=\"\" src=\"https:\/\/cdn.shopify.com\/s\/files\/1\/2707\/3516\/files\/ls-c300d-II-19-1_480x480.jpg?v=1574927315\"\u003e\u003c\/p\u003e","published_at":"2019-11-28T00:20:31-07:00","created_at":"2019-11-28T03:12:52-07:00","vendor":"Aputure","type":"Continuous Lighting","tags":["Studio LED","Video LED"],"price":109900,"price_min":109900,"price_max":109900,"available":true,"price_varies":false,"compare_at_price":null,"compare_at_price_min":0,"compare_at_price_max":0,"compare_at_price_varies":false,"variants":[{"id":31449902579815,"title":"Default Title","option1":"Default Title","option2":null,"option3":null,"sku":"FMT-300DII","requires_shipping":true,"taxable":false,"featured_image":null,"available":true,"name":"Aputure LS C300d II Light Storm Series COB LED Video Light Sidus Link App Control","public_title":null,"options":["Default Title"],"price":109900,"weight":0,"compare_at_price":null,"inventory_management":null,"barcode":"","requires_selling_plan":false,"selling_plan_allocations":[]}],"images":["\/\/www.fomito.com\/cdn\/shop\/products\/6_0c1b65c8-88d1-481e-87d1-dd68660da9d9.jpg?v=1574936000","\/\/www.fomito.com\/cdn\/shop\/products\/4_eb9e5e32-3b43-483a-b98f-f0a56e971a6a.jpg?v=1574936000","\/\/www.fomito.com\/cdn\/shop\/products\/12_339141aa-d71d-46c0-a87d-414e95f59082.jpg?v=1574936000","\/\/www.fomito.com\/cdn\/shop\/products\/13_8728d967-a3a0-4a13-9f53-9908cf4b7af9.jpg?v=1574936000","\/\/www.fomito.com\/cdn\/shop\/products\/7_22d6c02e-ffca-46f8-9696-8ec8dc0ee21f.jpg?v=1574936000","\/\/www.fomito.com\/cdn\/shop\/products\/15.jpg?v=1574936375","\/\/www.fomito.com\/cdn\/shop\/products\/9_28f6ef6d-88df-408d-bfd8-a70ee733567d.jpg?v=1574936375","\/\/www.fomito.com\/cdn\/shop\/products\/10_30c6db2d-93ae-4139-8809-92e9e6b57c05.jpg?v=1574936375","\/\/www.fomito.com\/cdn\/shop\/products\/11_ef5a7e9d-1c99-4b65-8bdf-c0cf6df6c462.jpg?v=1574936375","\/\/www.fomito.com\/cdn\/shop\/products\/32.jpg?v=1574936375","\/\/www.fomito.com\/cdn\/shop\/products\/22_fa907fca-2d91-4e0a-aecf-4a5dc78569ac.jpg?v=1574936375","\/\/www.fomito.com\/cdn\/shop\/products\/18.jpg?v=1574936375","\/\/www.fomito.com\/cdn\/shop\/products\/23.jpg?v=1574936375"],"featured_image":"\/\/www.fomito.com\/cdn\/shop\/products\/6_0c1b65c8-88d1-481e-87d1-dd68660da9d9.jpg?v=1574936000","options":["Title"],"media":[{"alt":null,"id":5916590800999,"position":1,"preview_image":{"aspect_ratio":1.0,"height":1000,"width":1000,"src":"\/\/www.fomito.com\/cdn\/shop\/products\/6_0c1b65c8-88d1-481e-87d1-dd68660da9d9.jpg?v=1574936000"},"aspect_ratio":1.0,"height":1000,"media_type":"image","src":"\/\/www.fomito.com\/cdn\/shop\/products\/6_0c1b65c8-88d1-481e-87d1-dd68660da9d9.jpg?v=1574936000","width":1000},{"alt":null,"id":5916590833767,"position":2,"preview_image":{"aspect_ratio":1.0,"height":1000,"width":1000,"src":"\/\/www.fomito.com\/cdn\/shop\/products\/4_eb9e5e32-3b43-483a-b98f-f0a56e971a6a.jpg?v=1574936000"},"aspect_ratio":1.0,"height":1000,"media_type":"image","src":"\/\/www.fomito.com\/cdn\/shop\/products\/4_eb9e5e32-3b43-483a-b98f-f0a56e971a6a.jpg?v=1574936000","width":1000},{"alt":null,"id":5916590866535,"position":3,"preview_image":{"aspect_ratio":1.0,"height":1000,"width":1000,"src":"\/\/www.fomito.com\/cdn\/shop\/products\/12_339141aa-d71d-46c0-a87d-414e95f59082.jpg?v=1574936000"},"aspect_ratio":1.0,"height":1000,"media_type":"image","src":"\/\/www.fomito.com\/cdn\/shop\/products\/12_339141aa-d71d-46c0-a87d-414e95f59082.jpg?v=1574936000","width":1000},{"alt":null,"id":5916590899303,"position":4,"preview_image":{"aspect_ratio":1.0,"height":1000,"width":1000,"src":"\/\/www.fomito.com\/cdn\/shop\/products\/13_8728d967-a3a0-4a13-9f53-9908cf4b7af9.jpg?v=1574936000"},"aspect_ratio":1.0,"height":1000,"media_type":"image","src":"\/\/www.fomito.com\/cdn\/shop\/products\/13_8728d967-a3a0-4a13-9f53-9908cf4b7af9.jpg?v=1574936000","width":1000},{"alt":null,"id":5916590964839,"position":5,"preview_image":{"aspect_ratio":1.0,"height":1000,"width":1000,"src":"\/\/www.fomito.com\/cdn\/shop\/products\/7_22d6c02e-ffca-46f8-9696-8ec8dc0ee21f.jpg?v=1574936000"},"aspect_ratio":1.0,"height":1000,"media_type":"image","src":"\/\/www.fomito.com\/cdn\/shop\/products\/7_22d6c02e-ffca-46f8-9696-8ec8dc0ee21f.jpg?v=1574936000","width":1000},{"alt":null,"id":5916600238183,"position":6,"preview_image":{"aspect_ratio":1.0,"height":1000,"width":1000,"src":"\/\/www.fomito.com\/cdn\/shop\/products\/15.jpg?v=1574936375"},"aspect_ratio":1.0,"height":1000,"media_type":"image","src":"\/\/www.fomito.com\/cdn\/shop\/products\/15.jpg?v=1574936375","width":1000},{"alt":null,"id":5916595748967,"position":7,"preview_image":{"aspect_ratio":1.0,"height":1000,"width":1000,"src":"\/\/www.fomito.com\/cdn\/shop\/products\/9_28f6ef6d-88df-408d-bfd8-a70ee733567d.jpg?v=1574936375"},"aspect_ratio":1.0,"height":1000,"media_type":"image","src":"\/\/www.fomito.com\/cdn\/shop\/products\/9_28f6ef6d-88df-408d-bfd8-a70ee733567d.jpg?v=1574936375","width":1000},{"alt":null,"id":5916596174951,"position":8,"preview_image":{"aspect_ratio":1.0,"height":1000,"width":1000,"src":"\/\/www.fomito.com\/cdn\/shop\/products\/10_30c6db2d-93ae-4139-8809-92e9e6b57c05.jpg?v=1574936375"},"aspect_ratio":1.0,"height":1000,"media_type":"image","src":"\/\/www.fomito.com\/cdn\/shop\/products\/10_30c6db2d-93ae-4139-8809-92e9e6b57c05.jpg?v=1574936375","width":1000},{"alt":null,"id":5916596600935,"position":9,"preview_image":{"aspect_ratio":1.0,"height":1000,"width":1000,"src":"\/\/www.fomito.com\/cdn\/shop\/products\/11_ef5a7e9d-1c99-4b65-8bdf-c0cf6df6c462.jpg?v=1574936375"},"aspect_ratio":1.0,"height":1000,"media_type":"image","src":"\/\/www.fomito.com\/cdn\/shop\/products\/11_ef5a7e9d-1c99-4b65-8bdf-c0cf6df6c462.jpg?v=1574936375","width":1000},{"alt":null,"id":5916648734823,"position":10,"preview_image":{"aspect_ratio":1.0,"height":1000,"width":1000,"src":"\/\/www.fomito.com\/cdn\/shop\/products\/32.jpg?v=1574936375"},"aspect_ratio":1.0,"height":1000,"media_type":"image","src":"\/\/www.fomito.com\/cdn\/shop\/products\/32.jpg?v=1574936375","width":1000},{"alt":null,"id":5916597715047,"position":11,"preview_image":{"aspect_ratio":1.0,"height":1000,"width":1000,"src":"\/\/www.fomito.com\/cdn\/shop\/products\/22_fa907fca-2d91-4e0a-aecf-4a5dc78569ac.jpg?v=1574936375"},"aspect_ratio":1.0,"height":1000,"media_type":"image","src":"\/\/www.fomito.com\/cdn\/shop\/products\/22_fa907fca-2d91-4e0a-aecf-4a5dc78569ac.jpg?v=1574936375","width":1000},{"alt":null,"id":5916601712743,"position":12,"preview_image":{"aspect_ratio":1.0,"height":1000,"width":1000,"src":"\/\/www.fomito.com\/cdn\/shop\/products\/18.jpg?v=1574936375"},"aspect_ratio":1.0,"height":1000,"media_type":"image","src":"\/\/www.fomito.com\/cdn\/shop\/products\/18.jpg?v=1574936375","width":1000},{"alt":null,"id":5916619538535,"position":13,"preview_image":{"aspect_ratio":1.0,"height":1000,"width":1000,"src":"\/\/www.fomito.com\/cdn\/shop\/products\/23.jpg?v=1574936375"},"aspect_ratio":1.0,"height":1000,"media_type":"image","src":"\/\/www.fomito.com\/cdn\/shop\/products\/23.jpg?v=1574936375","width":1000}],"requires_selling_plan":false,"selling_plan_groups":[],"content":"\u003ch1 style=\"text-align: center;\" class=\"wpb_column vc_column_container vc_col-sm-6\"\u003e\u003ciframe src=\"https:\/\/www.youtube.com\/embed\/W4vwTHhjy1I\" allowfullscreen=\"\" allow=\"accelerometer; autoplay; clipboard-write; encrypted-media; gyroscope; picture-in-picture\" width=\"949\" height=\"534\" frameborder=\"0\"\u003e\u003c\/iframe\u003e\u003c\/h1\u003e\n\u003ch1 style=\"text-align: center;\" class=\"wpb_column vc_column_container vc_col-sm-6\"\u003eChanging the Game\u003c\/h1\u003e\n\u003cdiv class=\"wpb_column vc_column_container vc_col-sm-6\"\u003e\n\u003cdiv class=\"vc_column-inner\"\u003e\n\u003cp style=\"text-align: center;\"\u003e\u003cstrong\u003eTwo years ago, Aputure revolutionized the industry with the 300d, by creating a powerful and compact LED fixture that could be modified easily. Filmmakers from around the world loved the light's capabilities, but we knew we could enhance the light even more. So we listened and went back to the drawing board. Powered by user feedback, the new and improved 300d Mark II is 20% brighter, more durable, more portable, and more intelligent than the original 300d. Change the way you light.\u003c\/strong\u003e\u003c\/p\u003e\n\u003c\/div\u003e\n\u003c\/div\u003e\n\u003ch1 style=\"text-align: center;\"\u003e\n\u003cimg style=\"display: block; margin-left: auto; margin-right: auto;\" alt=\"\" src=\"https:\/\/cdn.shopify.com\/s\/files\/1\/2707\/3516\/files\/O1CN01srfU8q2JaCDWazKNt__829229437_480x480.jpg?v=1574932705\"\u003e\u003cbr\u003e \u003cbr\u003eEven More Output\u003cbr\u003e\n\u003c\/h1\u003e\n\u003cdiv\u003e\u003cimg style=\"display: block; margin-left: auto; margin-right: auto;\" alt=\"\" src=\"https:\/\/cdn.shopify.cn\/s\/files\/1\/2707\/3516\/files\/300d.jpg?v=1585362929\"\u003e\u003c\/div\u003e\n\u003cdiv style=\"text-align: start;\"\u003e\u003cimg style=\"display: block; margin-left: auto; margin-right: auto;\" alt=\"\" src=\"https:\/\/cdn.shopify.cn\/s\/files\/1\/2707\/3516\/files\/20-brighter-1_4b363f72-e064-45cb-90c2-72401ec22d7f_480x480.jpg?v=1585363401\"\u003e\u003c\/div\u003e\n\u003cp style=\"text-align: center;\"\u003e \u003c\/p\u003e\n\u003ch1 style=\"text-align: center;\"\u003eA More Robust Lamp Head\u003c\/h1\u003e\n\u003cp style=\"text-align: center;\"\u003e\u003cstrong\u003eThe 300d Mark II also introduces new design features, while maintaining the same form factor and lightweight aircraft aluminum body as the original 300d. The new yoke allows for 360° of rotation, and when combined with the handbrake locking mechanism from the 120d Mark II, you'll be able to mount the light in any position, with any modifier.\u003c\/strong\u003e\u003c\/p\u003e\n\u003cp style=\"text-align: center;\"\u003e\u003cimg alt=\"\" src=\"https:\/\/cdn.shopify.com\/s\/files\/1\/2707\/3516\/files\/LS-C300D-II-6-1-1920x820_480x480.jpg?v=1574934006\"\u003e\u003c\/p\u003e\n\u003cp style=\"text-align: center;\"\u003e \u003c\/p\u003e\n\u003ch1 style=\"text-align: center;\"\u003eMax Efficiency with Hyper Reflector\u003cbr\u003e\n\u003c\/h1\u003e\n\u003cp style=\"text-align: center;\"\u003e\u003cstrong\u003eThe 300d Mark II is also the first Aputure light to feature the all-new, hyper efficient 55° reflector. By slightly narrowing the beam from 60° to 55° and redesigning the inner shape and coating of the reflector, we were able to increase the output of the 300d II by more than 3 times, when compared to the original design.\u003c\/strong\u003e\u003c\/p\u003e\n\u003cp style=\"text-align: center;\"\u003e\u003cimg alt=\"\" src=\"https:\/\/cdn.shopify.com\/s\/files\/1\/2707\/3516\/files\/ls-c300d-ii_7-4-1_png_480x480.jpg?v=1574933301\"\u003e\u003c\/p\u003e\n\u003cp style=\"text-align: center;\"\u003e \u003c\/p\u003e\n\u003ch1 style=\"text-align: center;\"\u003eA Revolutionary Redesign\u003c\/h1\u003e\n\u003cp style=\"text-align: center;\"\u003e\u003cstrong\u003eBut the real advancement is in the complete redesign of the control box. By utilizing Aputure's fan‐less heatsink design, the 300d Mark II's All‐in‐One control box is now completely silent. Composed of a durable aluminum alloy, with a new concealed antenna and military‐grade paracord strap, the control box is ready to withstand the rigor of any film set. The 300d Mark II control box is also the first product to utilize Aputure's new quick release plate and clamp system, allowing you to firmly secure it on any stand, truss, or speed rail.\u003c\/strong\u003e\u003c\/p\u003e\n\u003cp style=\"text-align: center;\"\u003e \u003cimg alt=\"\" src=\"https:\/\/cdn.shopify.com\/s\/files\/1\/2707\/3516\/files\/24_480x480.jpg?v=1574936213\"\u003e\u003c\/p\u003e\n\u003cp style=\"text-align: center;\"\u003e \u003c\/p\u003e\n\u003ch1 style=\"text-align: center;\"\u003ePower Solutions for Indie Filmmakers\u003cbr\u003e\n\u003c\/h1\u003e\n\u003cp style=\"text-align: center;\"\u003e\u003cstrong\u003eThe 300d Mark II can produce its maximum output by using two high capacity V‐Mount or Gold Mount batteries, but it also features new technology that allows you to power the light with a single battery at up to half output.* You can use this light anywhere your filmmaking takes you.\u003c\/strong\u003e\u003cbr\u003e\u003cbr\u003e\u003cstrong\u003eThe included 6m NEUTRIK® cable provides the 300d II with a sturdy power connection and allows you the convenience of not having to grab a stinger to power your light. And now, by utilizing a standard 3m male‐to‐female 5‐pin XLR, you can easily replace the header cable in a pinch. An optional 7.5m 5‐pin XLR is also available, letting you keep your control box within arm's reach while giving you the ability to rig your light anywhere you want, from a menace arm to a tall goalpost rig.\u003c\/strong\u003e\u003cbr\u003e\u003cbr\u003e*Due to the high maximum 340‐350W power draw from the light, we recommend only using batteries that are capable of at least 15‐amp continuous power draw.\u003c\/p\u003e\n\u003cp style=\"text-align: center;\"\u003e\u003cimg alt=\"\" src=\"https:\/\/cdn.shopify.com\/s\/files\/1\/2707\/3516\/files\/v-batteries-2_480x480.png?v=1574934161\"\u003e\u003c\/p\u003e\n\u003cp style=\"text-align: center;\"\u003e \u003c\/p\u003e\n\u003ch1 style=\"text-align: center;\"\u003eNew Control Features\u003c\/h1\u003e\n\u003cp style=\"text-align: center;\"\u003e\u003cstrong\u003e: "Paparazzi", "Fireworks", "Lightning", "Fault Bulb", "TV", "Pulsing", "Strobe", and "Explosion", with more coming in future firmware updates via the control boxes USB interface. The control box also features a new "trigger" button to activate lighting FX instantly.\u003c\/strong\u003e\u003c\/p\u003e\n\u003cp style=\"text-align: center;\"\u003e\u003cstrong\u003e\u003ciframe src=\"https:\/\/www.youtube.com\/embed\/g7G0WEuikfM\" allowfullscreen=\"\" allow=\"accelerometer; autoplay; encrypted-media; gyroscope; picture-in-picture\" width=\"1280\" height=\"720\" frameborder=\"0\"\u003e\u003c\/iframe\u003e\u003c\/strong\u003e\u003c\/p\u003e\n\u003cp style=\"text-align: center;\"\u003e\u003cstrong\u003eThe long‐awaited 0%‐100% stepless dimming control allows you to use the 300d II in low‐light environments or to overpower the sun, and can utilize any of 4 different dimming curves: Linear, Logarithmic, Exponential, and S‐Curve.\u003cbr\u003e\u003cbr\u003eThe 300d Mark II also features a "studio mode" that allows the lights to turn on and be controlled immediately upon receiving power, making it perfect for DMX lighting grids.\u003c\/strong\u003e\u003c\/p\u003e\n\u003cp style=\"text-align: center;\"\u003e\u003cstrong\u003e\u003cimg alt=\"\" src=\"https:\/\/cdn.shopify.com\/s\/files\/1\/2707\/3516\/files\/LS-C300D-II-5-6_480x480.jpg?v=1574934498\"\u003e\u003c\/strong\u003e\u003c\/p\u003e\n\u003cp style=\"text-align: center;\"\u003e\u003cstrong\u003e \u003c\/strong\u003e\u003c\/p\u003e\n\u003ch1 style=\"text-align: center;\"\u003eMore Options for Control\u003c\/h1\u003e\n\u003cp style=\"text-align: center;\"\u003e\u003cstrong\u003eIn addition to the control wheel, the 300d Mark II also features DMX512‐compatibility, a new 2.4Ghz Aputure Wireless remote with an FX toggle button, and the ability to be controlled by the Sidus Link App using our Bluetooth mesh network protocol.\u003c\/strong\u003e\u003c\/p\u003e\n\u003cp style=\"text-align: center;\"\u003e\u003cstrong\u003e\u003cimg alt=\"\" src=\"https:\/\/cdn.shopify.com\/s\/files\/1\/2707\/3516\/files\/ls-c300d-ii-dmx_480x480.png?v=1574934561\"\u003e\u003c\/strong\u003e\u003c\/p\u003e\n\u003cp style=\"text-align: center;\"\u003e\u003cstrong\u003e \u003c\/strong\u003e\u003cstrong\u003e\u003c\/strong\u003e\u003cbr\u003e\u003cstrong\u003e\u003c\/strong\u003e\u003c\/p\u003e\n\u003ch1 style=\"text-align: center;\"\u003eSidus Link App Control\u003c\/h1\u003e\n\u003cp style=\"text-align: center;\"\u003e\u003cstrong\u003eFeaturing all‐new Bluetooth SIG mesh network technology, the 300d Mark II will also the first app‐controllable Aputure lighting fixture.* This technology will allow you to control a 300d Mark II from up to 400 meters away, by linking multiple lights up to 80 meters apart. Using the Sidus Link app, you'll be able to access all of the functions of the control box, in addition to being able to save presets, finely tune and trigger additional lighting FX, as well as install firmware updates, all from your smartphone or tablet.\u003c\/strong\u003e\u003cbr\u003e\u003cbr\u003e*Support for the Sidus Link app on iPhone, iPad, and Android will be released a varying times throughout 2019.\u003c\/p\u003e\n\u003cp style=\"text-align: center;\"\u003e\u003cimg alt=\"\" src=\"https:\/\/cdn.shopify.com\/s\/files\/1\/2707\/3516\/files\/sidus-link-5_png_480x480.jpg?v=1574934487\"\u003e\u003c\/p\u003e\n\u003cp style=\"text-align: center;\"\u003e \u003c\/p\u003e\n\u003ch1 style=\"text-align: center;\"\u003eRedesigned Carrying Case\u003c\/h1\u003e\n\u003cp style=\"text-align: center;\"\u003e\u003cstrong\u003eWe also made the case with grip trucks and run‐and‐gun filmmakers in mind. The new 300d Mark II carrying case is composed of durable walls with a soft exterior lining that can support up to 100kg, providing both ample protection and a seat for you on set. The bottom of the case is also covered with an easy‐to‐clean, slash‐proof material, letting you rest easy, knowing your 300d Mark II will survive any situation you throw at it.\u003c\/strong\u003e\u003c\/p\u003e\n\u003cp style=\"text-align: center;\"\u003e\u003cstrong\u003e \u003cimg alt=\"\" src=\"https:\/\/cdn.shopify.com\/s\/files\/1\/2707\/3516\/files\/carrier_480x480.jpg?v=1574934843\"\u003e\u003c\/strong\u003e\u003c\/p\u003e\n\u003cp style=\"text-align: center;\"\u003e\u003cstrong\u003e \u003c\/strong\u003e\u003c\/p\u003e\n\u003cp\u003e\u003cimg alt=\"\" src=\"https:\/\/cdn.shopify.cn\/s\/files\/1\/2707\/3516\/files\/LS-C300d-II-spc-13_480x480.png?v=1585364051\"\u003e\u003c\/p\u003e\n\u003ch4\u003e \u003c\/h4\u003e\n\u003ch4\u003e \u003c\/h4\u003e\n\u003ch3\u003ePackage Include:\u003c\/h3\u003e\n\u003cp\u003e\u003cimg alt=\"\" src=\"https:\/\/cdn.shopify.com\/s\/files\/1\/2707\/3516\/files\/ls-c300d-II-19-1_480x480.jpg?v=1574927315\"\u003e\u003c\/p\u003e"}
Aputure LS C300d II Light Storm Series COB LED Video Light Sidus Link App Control
Changing the Game
Two years ago, Aputure revolutionized the industry with the 300d, by creating a powerful and compact LED fixture that could be modified easily. Filmmakers from around the world loved the light's capabilities, but we knew we could enhance the light even more. So we listened and went back to the drawing board. Powered by user feedback, the new and improved 300d Mark II is 20% brighter, more durable, more portable, and more intelligent than the original 300d. Change the way you light.

 
Even More Output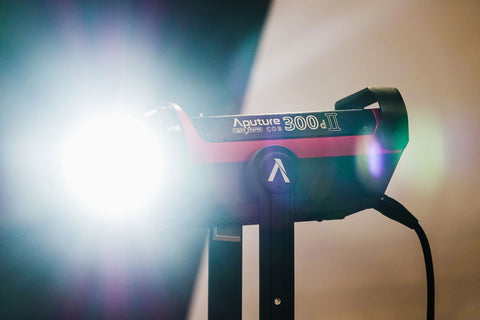 A More Robust Lamp Head
The 300d Mark II also introduces new design features, while maintaining the same form factor and lightweight aircraft aluminum body as the original 300d. The new yoke allows for 360° of rotation, and when combined with the handbrake locking mechanism from the 120d Mark II, you'll be able to mount the light in any position, with any modifier.
Max Efficiency with Hyper Reflector

The 300d Mark II is also the first Aputure light to feature the all-new, hyper efficient 55° reflector. By slightly narrowing the beam from 60° to 55° and redesigning the inner shape and coating of the reflector, we were able to increase the output of the 300d II by more than 3 times, when compared to the original design.
A Revolutionary Redesign
But the real advancement is in the complete redesign of the control box. By utilizing Aputure's fan‐less heatsink design, the 300d Mark II's All‐in‐One control box is now completely silent. Composed of a durable aluminum alloy, with a new concealed antenna and military‐grade paracord strap, the control box is ready to withstand the rigor of any film set. The 300d Mark II control box is also the first product to utilize Aputure's new quick release plate and clamp system, allowing you to firmly secure it on any stand, truss, or speed rail.
Power Solutions for Indie Filmmakers

The 300d Mark II can produce its maximum output by using two high capacity V‐Mount or Gold Mount batteries, but it also features new technology that allows you to power the light with a single battery at up to half output.* You can use this light anywhere your filmmaking takes you.

The included 6m NEUTRIK® cable provides the 300d II with a sturdy power connection and allows you the convenience of not having to grab a stinger to power your light. And now, by utilizing a standard 3m male‐to‐female 5‐pin XLR, you can easily replace the header cable in a pinch. An optional 7.5m 5‐pin XLR is also available, letting you keep your control box within arm's reach while giving you the ability to rig your light anywhere you want, from a menace arm to a tall goalpost rig.

*Due to the high maximum 340‐350W power draw from the light, we recommend only using batteries that are capable of at least 15‐amp continuous power draw.
New Control Features
: "Paparazzi", "Fireworks", "Lightning", "Fault Bulb", "TV", "Pulsing", "Strobe", and "Explosion", with more coming in future firmware updates via the control boxes USB interface. The control box also features a new "trigger" button to activate lighting FX instantly.
The long‐awaited 0%‐100% stepless dimming control allows you to use the 300d II in low‐light environments or to overpower the sun, and can utilize any of 4 different dimming curves: Linear, Logarithmic, Exponential, and S‐Curve.

The 300d Mark II also features a "studio mode" that allows the lights to turn on and be controlled immediately upon receiving power, making it perfect for DMX lighting grids.
More Options for Control
In addition to the control wheel, the 300d Mark II also features DMX512‐compatibility, a new 2.4Ghz Aputure Wireless remote with an FX toggle button, and the ability to be controlled by the Sidus Link App using our Bluetooth mesh network protocol.
Sidus Link App Control
Featuring all‐new Bluetooth SIG mesh network technology, the 300d Mark II will also the first app‐controllable Aputure lighting fixture.* This technology will allow you to control a 300d Mark II from up to 400 meters away, by linking multiple lights up to 80 meters apart. Using the Sidus Link app, you'll be able to access all of the functions of the control box, in addition to being able to save presets, finely tune and trigger additional lighting FX, as well as install firmware updates, all from your smartphone or tablet.

*Support for the Sidus Link app on iPhone, iPad, and Android will be released a varying times throughout 2019.
Redesigned Carrying Case
We also made the case with grip trucks and run‐and‐gun filmmakers in mind. The new 300d Mark II carrying case is composed of durable walls with a soft exterior lining that can support up to 100kg, providing both ample protection and a seat for you on set. The bottom of the case is also covered with an easy‐to‐clean, slash‐proof material, letting you rest easy, knowing your 300d Mark II will survive any situation you throw at it.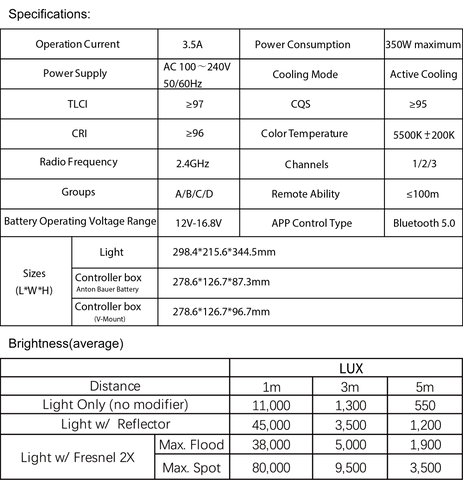 Package Include:
Payment

1. PayPal
If you have a PayPal account, you can pay directly by logging into your PayPal account. If you do not have a PayPal account, please pay with PayPal accepted credit cards. PayPal accepts credit cards are: Visa, Mastercard, American Express, Discover and Maestro,ect.

2. Credit cards : Visa, Mastercard, American Express, Discover and Maestro,ect.
How to use credit card payment ?
Paying at PayPal without a PayPal account
Payments for Buykud are made at PayPal, but you do not need to own a PayPal account to pay: you may enter your credit card's data directly at PayPal and complete your payment. You don't need to register a PayPal account neither.
Once you get redirected to PayPal, just do as follows:
1. Make sure the "Don't have a PayPal account?" option is selected
If your PayPal page looks as follows, just click on "Don't have a PayPal account?".
2. Enter your credit card's data
Address, email & phone number may also be requested depending on your country.
When you are done, click on "Review and Continue".
3. Click on "Pay Now"
4. Click on "No, Thanks"
5. Finally, click on "Pay now" you will complete your payment
Privacy Policy
At Fomito Shop, we do NOT share any customer information with any third party for any reason unless it is require by a legal authority or a government with an official request.
Fomito Shop takes your personal information and privacy very seriously and we will never share your information with any marketing firm for any marketing purposes except directly from Fomito Shop.
Fomito Shop will never contact you through any form to request you to update your password or personal information unless requested. Such action may be a phishing attempt and we suggest you ignore it or report to your local authority and inform us 
immediately.
| Shipping Company | Shipping Cost | Estimated Delivery Time | Tracking Information |
| --- | --- | --- | --- |
| Standard Shipping | | 10-25 days | Available |
| Expedited express(DHL/EMS) | | 5-7 days | Available |
1. Orders processed within 1~2 working days after the payment confirmed. We will inform you if we need more time to prepare the items.

2.As usual, if you choose the Standard Shipping,it takes almost 10-20 days to reach your designated address. If you choose Expedited express, it takes almost 5-7 days to reach your designated address.

PS: Please let us know if you still don't receive the items within 35 working days after you paid, then we could check it for you.


2. We only ship to confirmed PAYPAL addresses. Your PAYPAL address MUST MATCH your Shipping address.

3. SERVICE TRANSIT TIME is provided by the carrier and excludes weekends and holidays. Transit times may vary, particularly during the holiday season.

4. If you have not received your shipment within 30 days from payment, please contact us. We will track the shipment and get back to you as soon as possible with a reply. Our goal is customer satisfaction!

5. Due to stock status and time differences, we will choose to ship your item from our first available warehouse for fast delivery.
6.We support DDP(Delivery Duty Paid)shipment for almost all of european countries.all the packages will be delivered in Netherlands at first(about 5-10 days),after completing customs clearance by our express agent,all the packages will be sent to buyers via mainstream european courier companies or postal service.So the customs and VAT fee Included.
Please be noted: that the delivery time mentioned on our page is for reference only. Although the actual shipping time is punctual in most occasions, in some cases delivery time may vary due to traffic congestion, adverse weather, acts of custom inspection, etc. We will try our best to avoid such situations, however, please understand that some of these situations are beyond our control, and we are not reponsible for them.

One year Warranty. Buy with confidence! 30 days money back guaranteed.

We provide 30 day return policy for products sold. If, for any reason, you are not satisfied with your purchases, full refund of the purchase (excluding the shipping expenses) can be applicable under the following circumstances:

 
ALL accessories must be unused; ALL accessory packages must be unopened.


ALL items must be intact and undamaged (except for defects in manufacturing).


Items must be in good conditions with all original accessories, manuals, and packing materials. Any missing parts or damaged items will result in rejection on the return.


In case of any defectives found, only defects in manufacturing are accepted as the reason of return.

 
No refund is given if defects are caused by misuse of buyers. Our customer service officers will gladly contact you for further arrangement upon your request.


All shipping cost thus generated is paid by the buyer.


Item returned must be received within 7 days after the receipt of the items. No refund and replacement is issued after this period.


Payment will be refunded as original currency only. We will not take responsibility for any loss due to exchange rate difference in the refund process.


Refunds will NOT include ANY shipping and handling fees. Any additional expenses will also be deducted from the refund.


In the case of return, please be sure to include ALL the original contents (including gift, packages and manuals). Any missing contents may result in rejection of the refund. Please also make sure that the return package is securely packed, and apply waterproof packing instruments wherever necessary.