{"id":4563793182823,"title":"Aputure Light Storm LS 300x 2700k-6500K Bi-color LED Video light Compatible with Sidus Link App","handle":"aputure-ls-300x-2700k-6500k","description":"\u003cdiv style=\"text-align: left;\"\u003e\u003cstrong\u003eThe Light Storm 300x is Aputure's latest point-source LED and is the first bi-color Bowens mount light fixture to be compatible with optical lens modifiers. By combining the latest optical color blending technology with Aputure's dual-color LED chipset, the LS 300x can utilize the Fresnel 2X and Spotlight Mount to give you unprecedented flexibility from a single fixture. With a simple turn of a dial or press of a button, you can adjust the fixture's white light CCT output between 2700K-6500K in just seconds. And utilizing the same robust lamp head and control box design as the 300d II, this light is built to handle any filmmaking challenge.\u003c\/strong\u003e\u003c\/div\u003e\n\u003ch2 style=\"text-align: center;\"\u003e\u003cb\u003e \u003c\/b\u003e\u003c\/h2\u003e\n\u003ch1 style=\"text-align: center;\"\u003e\u003cb\u003eThe First of Its Kind \u003c\/b\u003e\u003c\/h1\u003e\n\u003cdiv style=\"text-align: center;\"\u003eThe 300x is Aputure's latest flagship Light Storm LED fixture, finally integrating properly mixed variable-white lighting into an easily modifiable point-source light engine. The 300x features a specially designed color-blending optical element in front of its LED light source, combining the bi color chipset into one cohesive point-source. The combination of this new technology, along with the Aputure ecosystem, allows you to achieve bi-color flexibility never before experienced with Aputure products.\u003c\/div\u003e\n\u003cdiv style=\"text-align: center;\"\u003e\u003cimg src=\"https:\/\/cdn.shopify.cn\/s\/files\/1\/2707\/3516\/files\/300X-Fresnel-2X-1_480x480.png?v=1587715139\" alt=\"\"\u003e\u003c\/div\u003e\n\u003ch2 style=\"text-align: center;\"\u003e\u003cb\u003e \u003c\/b\u003e\u003c\/h2\u003e\n\u003ch1 style=\"text-align: center;\"\u003e\u003cb\u003eEnhanced Output \u003c\/b\u003e\u003c\/h1\u003e\n\u003cdiv style=\"text-align: center;\"\u003eWith the Fresnel 2X, the LS 300x can produce over 65,000 lux at 1 meter, creating a stunningly bright\u003c\/div\u003e\n\u003cdiv style=\"text-align: center;\"\u003elight, with CCT control always at your fingertips. By having the ability to use lensed modifiers like the\u003c\/div\u003e\n\u003cdiv style=\"text-align: center;\"\u003eFresnel 2X or the Spotlight Mount, in addition to soft light modifiers like the Light Dome II, you can\u003c\/div\u003e\n\u003cdiv style=\"text-align: center;\"\u003eachieve extreme lighting precision to match any shooting environment. Spot, flood, cut, or diffuse your\u003c\/div\u003e\n\u003cdiv style=\"text-align: center;\"\u003elight without worrying about unwanted artifacts while controlling your white point.\u003c\/div\u003e\n\u003cdiv style=\"text-align: center;\"\u003e\u003cimg src=\"https:\/\/cdn.shopify.cn\/s\/files\/1\/2707\/3516\/files\/20200422161617_480x480.jpg?v=1587708474\" alt=\"\"\u003e\u003c\/div\u003e\n\u003ch2 style=\"text-align: center;\"\u003e\u003cb\u003e \u003c\/b\u003e\u003c\/h2\u003e\n\u003ch1 style=\"text-align: center;\"\u003e\u003cb\u003eFlexible Bi-Color Range \u003c\/b\u003e\u003c\/h1\u003e\n\u003cdiv style=\"text-align: center;\"\u003eThe 300x is the first of many Aputure lights to utilize the expanded vari-white CCT range of 2700K-6500K, going beyond traditional bi-color, allowing you to produce light that is warmer than typical tungsten fixtures, and cooler than conventional daylight (D55). Flexibility with your white light is key to moving quickly on set, so with the expanded bi-color range, that's fewer gels you have to carry. So whatever your ideal effect is, the 300x will help you create light that will perfectly match your atmosphere.\u003c\/div\u003e\n\u003cdiv style=\"text-align: center;\"\u003e\u003cimg src=\"https:\/\/cdn.shopify.cn\/s\/files\/1\/2707\/3516\/files\/300x-cct_480x480.gif?v=1587708517\" alt=\"\"\u003e\u003c\/div\u003e\n\u003ch2 style=\"text-align: center;\"\u003e\u003cb\u003e \u003c\/b\u003e\u003c\/h2\u003e\n\u003ch1 style=\"text-align: center;\"\u003e\u003cb\u003eReliable Color Rendering \u003c\/b\u003e\u003c\/h1\u003e\n\u003cdiv style=\"text-align: center;\"\u003eNo matter which light engine you use, color fidelity is always essential, so like all Aputure lights, the 300x sports reliable color rendering abilities. With CRI and TLCI scores of 96+, a tungsten SSI score of up to 85, and a D55 SSI score of up to 74, the 300x will always provide you with top of the line, accurate color reproduction.\u003c\/div\u003e\n\u003cdiv style=\"text-align: center;\"\u003e\u003cimg src=\"https:\/\/cdn.shopify.cn\/s\/files\/1\/2707\/3516\/files\/CRI-TLCI-1_480x480.gif?v=1587708560\" alt=\"\"\u003e\u003c\/div\u003e\n\u003ch2 style=\"text-align: center;\"\u003e\u003cb\u003e \u003c\/b\u003e\u003c\/h2\u003e\n\u003ch1 style=\"text-align: center;\"\u003e\u003cb\u003eRobust Design\u003c\/b\u003e\u003c\/h1\u003e\n\u003cdiv style=\"text-align: center;\"\u003eThe 300x also takes a note from the 300d II, by incorporating the same sleek lamp head design and control box design. The 300x utilizes a full 360-degree adjustable handbrake locking yoke. It also matches the 300d II with a completely silent, passively-cooled all-in-one control box, integrating the power supply and control system into a single unit.\u003c\/div\u003e\n\u003cdiv style=\"text-align: center;\"\u003e\u003cimg src=\"https:\/\/cdn.shopify.cn\/s\/files\/1\/2707\/3516\/files\/larger_export2_480x480.png?v=1587708603\" alt=\"\"\u003e\u003c\/div\u003e\n\u003ch2 style=\"text-align: center;\"\u003e\u003cb\u003e \u003c\/b\u003e\u003c\/h2\u003e\n\u003ch1 style=\"text-align: center;\"\u003e\u003cb\u003eQuick and Precise CCT Control \u003c\/b\u003e\u003c\/h1\u003e\n\u003cdiv style=\"text-align: center;\"\u003eThe main difference between the two control boxes is that the 300x now sports a new CCT control\u003c\/div\u003e\n\u003cdiv style=\"text-align: center;\"\u003ewheel, in addition to the intensity wheel. The 300x CCT dial allows you to fine-tune your CCT in +\/-\u003c\/div\u003e\n\u003cdiv style=\"text-align: center;\"\u003e50K increments. But with the PRESET button located in the middle of the wheel, you can also toggle\u003c\/div\u003e\n\u003cdiv style=\"text-align: center;\"\u003ebetween 5 common CCT presets (2700K, 3200K, 4300K, 5500K, 6500K) for quick accessibility.\u003c\/div\u003e\n\u003cdiv style=\"text-align: center;\"\u003e\u003cimg src=\"https:\/\/cdn.shopify.cn\/s\/files\/1\/2707\/3516\/files\/larger_export1_480x480.png?v=1587708637\" alt=\"\"\u003e\u003c\/div\u003e\n\u003ch2 style=\"text-align: center;\"\u003e\u003cb\u003e \u003c\/b\u003e\u003c\/h2\u003e\n\u003ch1 style=\"text-align: center;\"\u003e\u003cb\u003eDual Output Modes \u003c\/b\u003e\u003c\/h1\u003e\n\u003cdiv style=\"text-align: center;\"\u003eThe 300x even features two output modes: Max Output and Constant Output mode. In Constant Output mode, you can change your CCT precisely while maintaining a consistent luminance level. Combined with a new, smoother dimming system, you even gain the ability to seamlessly shift your color temperature in the middle of a scene. In Max Output mode, however, the 300x will\u003c\/div\u003e\n\u003cdiv style=\"text-align: center;\"\u003ealways maximize your output for your CCT and dimming level, with the highest output range being 4000K-5500K. With these two modes, you can do everything from overpowering existing light to tackling precise problems.\u003c\/div\u003e\n\u003cdiv style=\"text-align: center;\"\u003e\u003cimg src=\"https:\/\/cdn.shopify.cn\/s\/files\/1\/2707\/3516\/files\/300x-20_480x480.png?v=1587714361\" alt=\"\"\u003e\u003c\/div\u003e\n\u003ch2 style=\"text-align: center;\"\u003e\u003cb\u003e \u003c\/b\u003e\u003c\/h2\u003e\n\u003ch1 style=\"text-align: center;\"\u003e\u003cb\u003eCreative Power Solutions \u003c\/b\u003e\u003c\/h1\u003e\n\u003cdiv style=\"text-align: center;\"\u003eLike the 300d II, the 300x can also be operated with a single battery, up to half of its maximum output, or two batteries for full power* -- so no matter how many batteries you have, your scene will always shine. The 300x's control box also accurately displays realtime expected remaining battery life, allowing users to always understand and plan for any filmmaking scenario. By being battery-operable, the 300x gives you greater freedom in lighting, giving you the ability to craft creative images anywhere. *We recommend batteries that support 15A continuous discharge to power the light properly.\u003c\/div\u003e\n\u003cdiv style=\"text-align: center;\"\u003e\u003cimg src=\"https:\/\/cdn.shopify.cn\/s\/files\/1\/2707\/3516\/files\/300x-8_480x480.png?v=1587714290\" alt=\"\"\u003e\u003c\/div\u003e\n\u003ch2 style=\"text-align: center;\"\u003e\u003cb\u003e \u003c\/b\u003e\u003c\/h2\u003e\n\u003ch1 style=\"text-align: center;\"\u003e\u003cb\u003eMultiple Control Methods \u003c\/b\u003e\u003c\/h1\u003e\n\u003cdiv style=\"text-align: center;\"\u003eThe Light Storm product line is all about flexibility, and the 300x continues to support this by being compatible with multiple control methods. In addition to the control wheels, the 300x can be controlled using Aputure's tried and true 2.4G RF Remote, DMX512, as well as by the Bluetooth Mesh Sidus Link App. With the added range you get from having multiple Sidus Link lights active, you can control all of your lights' settings from nearly anywhere on set. And with professional DMX512 compatibility, the 300x allows for control through several channels so you can precisely fine-tune your lighting setup.\u003c\/div\u003e\n\u003cdiv style=\"text-align: center;\"\u003e\u003cimg src=\"https:\/\/cdn.shopify.cn\/s\/files\/1\/2707\/3516\/files\/kongzhi-1_480x480.gif?v=1587708734\" alt=\"\"\u003e\u003c\/div\u003e\n\u003ch2 style=\"text-align: center;\"\u003e\u003cb\u003e \u003c\/b\u003e\u003c\/h2\u003e\n\u003ch1 style=\"text-align: center;\"\u003e\u003cb\u003eBuilt-in Effects \u003c\/b\u003e\u003c\/h1\u003e\n\u003cdiv style=\"text-align: center;\"\u003eThe 300x also launches with 9 built-in lighting FX, such as, "Paparazzi," "Fireworks," "Lightning," "Faulty Bulb," "TV," "Pulsing," "Strobe," "Explosion," and "Fire," all with adjustable color temperature, opening up new possibilities for precise lighting control on your film sets. The 300x's capabilities will always continue to grow with firmware upgrades to both the fixture and the Sidus Link ecosystem in the future.\u003c\/div\u003e\n\u003cdiv style=\"text-align: center;\"\u003e\u003cimg src=\"https:\/\/cdn.shopify.cn\/s\/files\/1\/2707\/3516\/files\/300x-9_480x480.jpg?v=1587715272\" alt=\"\"\u003e\u003c\/div\u003e\n\u003ch2 style=\"text-align: center;\"\u003e\u003cb\u003e \u003c\/b\u003e\u003c\/h2\u003e\n\u003ch1 style=\"text-align: center;\"\u003e\u003cb\u003eBowens Mount Modularity \u003c\/b\u003e\u003c\/h1\u003e\n\u003cdiv style=\"text-align: center;\"\u003eNot to be taken lightly, the 300x continues Aputure's tradition of being compatible with the Bowens-S Mount, offering a wide variety of both soft light and optical modifiers to choose from, making it a unique bi-color fixture. With the Bowens Mount, you can flexibly change the quality of your light source in seconds. Whether you want a punchy hard light with crisp shadows or a pleasing soft light, never sacrifice output or color quality. The 300x's Bowens Mount can even be used with other industry-standard modifiers from brands like Chimera, as long as you have a Bowens mount speed ring.\u003c\/div\u003e\n\u003cdiv style=\"text-align: center;\"\u003e\u003cimg src=\"https:\/\/cdn.shopify.cn\/s\/files\/1\/2707\/3516\/files\/300X3_480x480.gif?v=1587708818\" alt=\"\"\u003e\u003c\/div\u003e\n\u003ch2 style=\"text-align: center;\"\u003e\u003cb\u003e \u003c\/b\u003e\u003c\/h2\u003e\n\u003ch1 style=\"text-align: center;\"\u003e\u003cb\u003eThe Sidus Link Ecosystem \u003c\/b\u003e\u003c\/h1\u003e\n\u003cdiv style=\"text-align: center;\"\u003eWith the integration of the Sidus Mesh chipset, the 300x gives you professional lighting control from a single app. This mesh technology extends across the entire future Aputure product line, creating an ecosystem you can trust. With the Sidus Link Mesh Network created by Aputure products, such as the 300x, 300d II, and MC, you can control up to 100 fixtures from your smartphone or tablet, with each additional light fixture increasing the range of the network. That means every light not only talks to your phone but also to each other, creating a smarter ecosystem. Sidus Link allows you to control every aspect of your light's output, including luminance, CCT, Effects, and even Light Source presets\u003c\/div\u003e\n\u003cdiv style=\"text-align: center;\"\u003efor fast-paced situations. With its immense flexibility, the 300x becomes an incredibly powerful light, whether you are working on a large film set, or you're a solo guerilla filmmaker. Meet the latest member of the Aputure Light Storm family.\u003c\/div\u003e\n\u003cdiv style=\"text-align: center;\"\u003e\u003cimg src=\"https:\/\/cdn.shopify.cn\/s\/files\/1\/2707\/3516\/files\/300x-10_480x480.png?v=1587715492\" alt=\"\"\u003e\u003c\/div\u003e\n\u003cp\u003e \u003c\/p\u003e\n\u003cp\u003e \u003c\/p\u003e\n\u003ch3\u003eSpecifications:\u003c\/h3\u003e\n\u003ctable\u003e\n\u003ctbody\u003e\n\u003ctr\u003e\n\u003ctd width=\"284\"\u003e\n\u003cp\u003eOperating Current\u003c\/p\u003e\n\u003c\/td\u003e\n\u003ctd width=\"284\"\u003e\n\u003cp\u003e3.5A\u003c\/p\u003e\n\u003c\/td\u003e\n\u003c\/tr\u003e\n\u003ctr\u003e\n\u003ctd width=\"284\"\u003e\n\u003cp\u003ePower Supply\u003c\/p\u003e\n\u003c\/td\u003e\n\u003ctd width=\"284\"\u003e\n\u003cp\u003eAC 100 ~ 240V 50\/60Hz\u003c\/p\u003e\n\u003c\/td\u003e\n\u003c\/tr\u003e\n\u003ctr\u003e\n\u003ctd width=\"284\"\u003e\n\u003cp\u003eCRI\u003c\/p\u003e\n\u003c\/td\u003e\n\u003ctd width=\"284\"\u003e\n\u003cp\u003e≥ 96\u003c\/p\u003e\n\u003c\/td\u003e\n\u003c\/tr\u003e\n\u003ctr\u003e\n\u003ctd width=\"284\"\u003e\n\u003cp\u003eTLCI\u003c\/p\u003e\n\u003c\/td\u003e\n\u003ctd width=\"284\"\u003e\n\u003cp\u003e≥ 96\u003c\/p\u003e\n\u003c\/td\u003e\n\u003c\/tr\u003e\n\u003ctr\u003e\n\u003ctd width=\"284\"\u003e\n\u003cp\u003eCQS\u003c\/p\u003e\n\u003c\/td\u003e\n\u003ctd width=\"284\"\u003e\n\u003cp\u003e≥ 95\u003c\/p\u003e\n\u003c\/td\u003e\n\u003c\/tr\u003e\n\u003ctr\u003e\n\u003ctd width=\"284\"\u003e\n\u003cp\u003eColor Temperature\u003c\/p\u003e\n\u003c\/td\u003e\n\u003ctd width=\"284\"\u003e\n\u003cp\u003e2700K~6500K\u003c\/p\u003e\n\u003c\/td\u003e\n\u003c\/tr\u003e\n\u003ctr\u003e\n\u003ctd width=\"284\"\u003e\n\u003cp\u003eRadio Frequency\u003c\/p\u003e\n\u003c\/td\u003e\n\u003ctd width=\"284\"\u003e\n\u003cp\u003e2.4GHz\u003c\/p\u003e\n\u003c\/td\u003e\n\u003c\/tr\u003e\n\u003ctr\u003e\n\u003ctd width=\"284\"\u003e\n\u003cp\u003ePower Consumption\u003c\/p\u003e\n\u003c\/td\u003e\n\u003ctd width=\"284\"\u003e\n\u003cp\u003e350W (Max)\u003c\/p\u003e\n\u003c\/td\u003e\n\u003c\/tr\u003e\n\u003ctr\u003e\n\u003ctd width=\"284\"\u003e\n\u003cp\u003eCooling Mode\u003c\/p\u003e\n\u003c\/td\u003e\n\u003ctd width=\"284\"\u003e\n\u003cp\u003eActive Cooling\u003c\/p\u003e\n\u003c\/td\u003e\n\u003c\/tr\u003e\n\u003ctr\u003e\n\u003ctd width=\"284\"\u003e\n\u003cp\u003eChannels\u003c\/p\u003e\n\u003c\/td\u003e\n\u003ctd width=\"284\"\u003e\n\u003cp\u003e1\/2\/3\u003c\/p\u003e\n\u003c\/td\u003e\n\u003c\/tr\u003e\n\u003ctr\u003e\n\u003ctd width=\"284\"\u003e\n\u003cp\u003eRemote Ability\u003c\/p\u003e\n\u003c\/td\u003e\n\u003ctd width=\"284\"\u003e\n\u003cp\u003e≤ 100m\u003c\/p\u003e\n\u003c\/td\u003e\n\u003c\/tr\u003e\n\u003ctr\u003e\n\u003ctd width=\"284\"\u003e\n\u003cp\u003eGroups\u003c\/p\u003e\n\u003c\/td\u003e\n\u003ctd width=\"284\"\u003e\n\u003cp\u003eA\/B\/C\/D\u003c\/p\u003e\n\u003c\/td\u003e\n\u003c\/tr\u003e\n\u003ctr\u003e\n\u003ctd width=\"284\"\u003e\n\u003cp\u003eBattery requirement\u003c\/p\u003e\n\u003c\/td\u003e\n\u003ctd width=\"284\"\u003e\n\u003cp\u003e≥ 15A 12V-16.8V\u003c\/p\u003e\n\u003c\/td\u003e\n\u003c\/tr\u003e\n\u003ctr\u003e\n\u003ctd width=\"284\"\u003e\n\u003cp\u003eAPP Control Type\u003c\/p\u003e\n\u003c\/td\u003e\n\u003ctd width=\"284\"\u003e\n\u003cp\u003eBluetooth\u003c\/p\u003e\n\u003c\/td\u003e\n\u003c\/tr\u003e\n\u003c\/tbody\u003e\n\u003c\/table\u003e\n\u003cp\u003e \u003c\/p\u003e\n\u003ch3\u003ePhotometrics:\u003c\/h3\u003e\n\u003ctable\u003e\n\u003ctbody\u003e\n\u003ctr\u003e\n\u003ctd colspan=\"3\" width=\"568\"\u003e\n\u003cp\u003eCCT - 3200K\u003c\/p\u003e\n\u003c\/td\u003e\n\u003c\/tr\u003e\n\u003ctr\u003e\n\u003ctd width=\"189\"\u003e\n\u003cp\u003eDistance\u003c\/p\u003e\n\u003c\/td\u003e\n\u003ctd width=\"189\"\u003e\n\u003cp\u003eBare Bulb\u003c\/p\u003e\n\u003c\/td\u003e\n\u003ctd width=\"189\"\u003e\n\u003cp\u003eHyber-Reflector\u003c\/p\u003e\n\u003c\/td\u003e\n\u003c\/tr\u003e\n\u003ctr\u003e\n\u003ctd width=\"189\"\u003e\n\u003cp\u003e1m\u003c\/p\u003e\n\u003c\/td\u003e\n\u003ctd width=\"189\"\u003e\n\u003cp\u003e474 (fc) \/ 5,100 (lux)\u003c\/p\u003e\n\u003c\/td\u003e\n\u003ctd width=\"189\"\u003e\n\u003cp\u003e1505 (fc) \/ 16,200 (lux)\u003c\/p\u003e\n\u003c\/td\u003e\n\u003c\/tr\u003e\n\u003ctr\u003e\n\u003ctd width=\"189\"\u003e\n\u003cp\u003e3m\u003c\/p\u003e\n\u003c\/td\u003e\n\u003ctd width=\"189\"\u003e\n\u003cp\u003e54 (fc) \/ 580 (lux)\u003c\/p\u003e\n\u003c\/td\u003e\n\u003ctd width=\"189\"\u003e\n\u003cp\u003e121 (fc) \/ 1,300 (lux)\u003c\/p\u003e\n\u003c\/td\u003e\n\u003c\/tr\u003e\n\u003ctr\u003e\n\u003ctd width=\"189\"\u003e\n\u003cp\u003e5m\u003c\/p\u003e\n\u003c\/td\u003e\n\u003ctd width=\"189\"\u003e\n\u003cp\u003e20 (fc) \/ 220 (lux)\u003c\/p\u003e\n\u003c\/td\u003e\n\u003ctd width=\"189\"\u003e\n\u003cp\u003e42 (fc) \/ 450 (lux)\u003c\/p\u003e\n\u003c\/td\u003e\n\u003c\/tr\u003e\n\u003ctr\u003e\n\u003ctd colspan=\"3\" width=\"568\"\u003e\n\u003cp\u003eCCT - 4300K\u003c\/p\u003e\n\u003c\/td\u003e\n\u003c\/tr\u003e\n\u003ctr\u003e\n\u003ctd width=\"189\"\u003e\n\u003cp\u003eDistance\u003c\/p\u003e\n\u003c\/td\u003e\n\u003ctd width=\"189\"\u003e\n\u003cp\u003eBare Bulb\u003c\/p\u003e\n\u003c\/td\u003e\n\u003ctd width=\"189\"\u003e\n\u003cp\u003eHyber-Reflector\u003c\/p\u003e\n\u003c\/td\u003e\n\u003c\/tr\u003e\n\u003ctr\u003e\n\u003ctd width=\"189\"\u003e\n\u003cp\u003e1m\u003c\/p\u003e\n\u003c\/td\u003e\n\u003ctd width=\"189\"\u003e\n\u003cp\u003e697 (fc) \/ 7,500 (lux)\u003c\/p\u003e\n\u003c\/td\u003e\n\u003ctd width=\"189\"\u003e\n\u003cp\u003e2,257 (fc) \/ 24,300 (lux)\u003c\/p\u003e\n\u003c\/td\u003e\n\u003c\/tr\u003e\n\u003ctr\u003e\n\u003ctd width=\"189\"\u003e\n\u003cp\u003e3m\u003c\/p\u003e\n\u003c\/td\u003e\n\u003ctd width=\"189\"\u003e\n\u003cp\u003e74 (fc) \/ 800 (lux)\u003c\/p\u003e\n\u003c\/td\u003e\n\u003ctd width=\"189\"\u003e\n\u003cp\u003e195 (fc) \/ 2,100 (lux)\u003c\/p\u003e\n\u003c\/td\u003e\n\u003c\/tr\u003e\n\u003ctr\u003e\n\u003ctd width=\"189\"\u003e\n\u003cp\u003e5m\u003c\/p\u003e\n\u003c\/td\u003e\n\u003ctd width=\"189\"\u003e\n\u003cp\u003e32 (fc) \/ 350 (lux)\u003c\/p\u003e\n\u003c\/td\u003e\n\u003ctd width=\"189\"\u003e\n\u003cp\u003e65 (fc) \/ 700 (lux)\u003c\/p\u003e\n\u003c\/td\u003e\n\u003c\/tr\u003e\n\u003ctr\u003e\n\u003ctd colspan=\"3\" width=\"568\"\u003e\n\u003cp\u003eCCT - 5500K\u003c\/p\u003e\n\u003c\/td\u003e\n\u003c\/tr\u003e\n\u003ctr\u003e\n\u003ctd width=\"189\"\u003e\n\u003cp\u003eDistance\u003c\/p\u003e\n\u003c\/td\u003e\n\u003ctd width=\"189\"\u003e\n\u003cp\u003eBare Bulb\u003c\/p\u003e\n\u003c\/td\u003e\n\u003ctd width=\"189\"\u003e\n\u003cp\u003eHyber-Reflector\u003c\/p\u003e\n\u003c\/td\u003e\n\u003c\/tr\u003e\n\u003ctr\u003e\n\u003ctd width=\"189\"\u003e\n\u003cp\u003e1m\u003c\/p\u003e\n\u003c\/td\u003e\n\u003ctd width=\"189\"\u003e\n\u003cp\u003e585 (fc) \/ 6,300 (lux)\u003c\/p\u003e\n\u003c\/td\u003e\n\u003ctd width=\"189\"\u003e\n\u003cp\u003e1,904 (fc) \/ 20,500 (lux)\u003c\/p\u003e\n\u003c\/td\u003e\n\u003c\/tr\u003e\n\u003ctr\u003e\n\u003ctd width=\"189\"\u003e\n\u003cp\u003e3m\u003c\/p\u003e\n\u003c\/td\u003e\n\u003ctd width=\"189\"\u003e\n\u003cp\u003e65 ((fc) \/ 700 (lux)\u003c\/p\u003e\n\u003c\/td\u003e\n\u003ctd width=\"189\"\u003e\n\u003cp\u003e158 (fc) \/ 1,700 (lux)\u003c\/p\u003e\n\u003c\/td\u003e\n\u003c\/tr\u003e\n\u003ctr\u003e\n\u003ctd width=\"189\"\u003e\n\u003cp\u003e5m\u003c\/p\u003e\n\u003c\/td\u003e\n\u003ctd width=\"189\"\u003e\n\u003cp\u003e23 (fc) \/ 250 (lux)\u003c\/p\u003e\n\u003c\/td\u003e\n\u003ctd width=\"189\"\u003e\n\u003cp\u003e51 (fc) \/ 550 (lux)\u003c\/p\u003e\n\u003c\/td\u003e\n\u003c\/tr\u003e\n\u003c\/tbody\u003e\n\u003c\/table\u003e\n\u003cp\u003e \u003c\/p\u003e\n\u003cp\u003e \u003c\/p\u003e\n\u003ch3\u003ePackage Includes:\u003c\/h3\u003e\n\u003cp\u003e1 × 300x Lamp Head \u0026amp; Protection Cover\u003cbr\u003e\u003c\/p\u003e\n\u003cp\u003e1 × Control Box\u003cbr\u003e\u003c\/p\u003e\n\u003cp\u003e1 × Carrying Case\u003cbr\u003e\u003c\/p\u003e\n\u003cp\u003e1 × Quick-Release \"Lightning Clamp\u003c\/p\u003e\n\u003cp\u003e1 × 55° Hyper-Reflector\u003c\/p\u003e\n\u003cp\u003e1 × VA-Remote RC1+\u003c\/p\u003e\n\u003cp\u003e1 × Neutrik® powerCON AC\u003c\/p\u003e\n\u003cp\u003e1 × Power Cable (6m)\u003c\/p\u003e\n\u003cp\u003e1 × 5-Pin Male-to-Female\u003c\/p\u003e\n\u003cp\u003e1 × XLR Head Cable (3m)\u003c\/p\u003e\n\u003cp\u003e1 × Cable Relief Hook\u003c\/p\u003e\n\u003cp\u003e1 × Paracord Strap\u003c\/p\u003e","published_at":"2020-04-23T23:58:07-06:00","created_at":"2020-04-24T01:13:17-06:00","vendor":"Aputure","type":"Continuous Lighting","tags":["Studio LED","Video LED"],"price":119900,"price_min":119900,"price_max":119900,"available":true,"price_varies":false,"compare_at_price":null,"compare_at_price_min":0,"compare_at_price_max":0,"compare_at_price_varies":false,"variants":[{"id":32239351988327,"title":"Default Title","option1":"Default Title","option2":null,"option3":null,"sku":"FMT-LS300X","requires_shipping":true,"taxable":false,"featured_image":null,"available":true,"name":"Aputure Light Storm LS 300x 2700k-6500K Bi-color LED Video light Compatible with Sidus Link App","public_title":null,"options":["Default Title"],"price":119900,"weight":0,"compare_at_price":null,"inventory_management":null,"barcode":"","requires_selling_plan":false,"selling_plan_allocations":[]}],"images":["\/\/www.fomito.com\/cdn\/shop\/products\/1_811decd8-a3dc-4c4a-8aa9-07e2b92b2eac.jpg?v=1587712401","\/\/www.fomito.com\/cdn\/shop\/products\/3_517b5f9f-146f-432d-9551-d10ee7326aae.jpg?v=1587712401","\/\/www.fomito.com\/cdn\/shop\/products\/LS300x-04.jpg?v=1587712401","\/\/www.fomito.com\/cdn\/shop\/products\/LS300x-03.jpg?v=1587712403","\/\/www.fomito.com\/cdn\/shop\/products\/LS300x-05.jpg?v=1587712403","\/\/www.fomito.com\/cdn\/shop\/products\/5_79fe8dab-b689-4251-ba19-29ddf466d800.jpg?v=1587712403","\/\/www.fomito.com\/cdn\/shop\/products\/LS300x-08.jpg?v=1587712403","\/\/www.fomito.com\/cdn\/shop\/products\/LS300x-16.jpg?v=1587712403","\/\/www.fomito.com\/cdn\/shop\/products\/LS300x-14.jpg?v=1587712403","\/\/www.fomito.com\/cdn\/shop\/products\/LS300x-15.jpg?v=1587712403"],"featured_image":"\/\/www.fomito.com\/cdn\/shop\/products\/1_811decd8-a3dc-4c4a-8aa9-07e2b92b2eac.jpg?v=1587712401","options":["Title"],"media":[{"alt":null,"id":7045375131751,"position":1,"preview_image":{"aspect_ratio":0.938,"height":2048,"width":1920,"src":"\/\/www.fomito.com\/cdn\/shop\/products\/1_811decd8-a3dc-4c4a-8aa9-07e2b92b2eac.jpg?v=1587712401"},"aspect_ratio":0.938,"height":2048,"media_type":"image","src":"\/\/www.fomito.com\/cdn\/shop\/products\/1_811decd8-a3dc-4c4a-8aa9-07e2b92b2eac.jpg?v=1587712401","width":1920},{"alt":null,"id":7045375164519,"position":2,"preview_image":{"aspect_ratio":0.938,"height":2048,"width":1920,"src":"\/\/www.fomito.com\/cdn\/shop\/products\/3_517b5f9f-146f-432d-9551-d10ee7326aae.jpg?v=1587712401"},"aspect_ratio":0.938,"height":2048,"media_type":"image","src":"\/\/www.fomito.com\/cdn\/shop\/products\/3_517b5f9f-146f-432d-9551-d10ee7326aae.jpg?v=1587712401","width":1920},{"alt":null,"id":7045375197287,"position":3,"preview_image":{"aspect_ratio":1.0,"height":1000,"width":1000,"src":"\/\/www.fomito.com\/cdn\/shop\/products\/LS300x-04.jpg?v=1587712401"},"aspect_ratio":1.0,"height":1000,"media_type":"image","src":"\/\/www.fomito.com\/cdn\/shop\/products\/LS300x-04.jpg?v=1587712401","width":1000},{"alt":null,"id":7045375230055,"position":4,"preview_image":{"aspect_ratio":1.0,"height":1000,"width":1000,"src":"\/\/www.fomito.com\/cdn\/shop\/products\/LS300x-03.jpg?v=1587712403"},"aspect_ratio":1.0,"height":1000,"media_type":"image","src":"\/\/www.fomito.com\/cdn\/shop\/products\/LS300x-03.jpg?v=1587712403","width":1000},{"alt":null,"id":7045375262823,"position":5,"preview_image":{"aspect_ratio":1.0,"height":1000,"width":1000,"src":"\/\/www.fomito.com\/cdn\/shop\/products\/LS300x-05.jpg?v=1587712403"},"aspect_ratio":1.0,"height":1000,"media_type":"image","src":"\/\/www.fomito.com\/cdn\/shop\/products\/LS300x-05.jpg?v=1587712403","width":1000},{"alt":null,"id":7045375295591,"position":6,"preview_image":{"aspect_ratio":1.072,"height":1791,"width":1920,"src":"\/\/www.fomito.com\/cdn\/shop\/products\/5_79fe8dab-b689-4251-ba19-29ddf466d800.jpg?v=1587712403"},"aspect_ratio":1.072,"height":1791,"media_type":"image","src":"\/\/www.fomito.com\/cdn\/shop\/products\/5_79fe8dab-b689-4251-ba19-29ddf466d800.jpg?v=1587712403","width":1920},{"alt":null,"id":7045375361127,"position":7,"preview_image":{"aspect_ratio":1.0,"height":1000,"width":1000,"src":"\/\/www.fomito.com\/cdn\/shop\/products\/LS300x-08.jpg?v=1587712403"},"aspect_ratio":1.0,"height":1000,"media_type":"image","src":"\/\/www.fomito.com\/cdn\/shop\/products\/LS300x-08.jpg?v=1587712403","width":1000},{"alt":null,"id":7045375393895,"position":8,"preview_image":{"aspect_ratio":1.0,"height":1000,"width":1000,"src":"\/\/www.fomito.com\/cdn\/shop\/products\/LS300x-16.jpg?v=1587712403"},"aspect_ratio":1.0,"height":1000,"media_type":"image","src":"\/\/www.fomito.com\/cdn\/shop\/products\/LS300x-16.jpg?v=1587712403","width":1000},{"alt":null,"id":7045375459431,"position":9,"preview_image":{"aspect_ratio":1.0,"height":1000,"width":1000,"src":"\/\/www.fomito.com\/cdn\/shop\/products\/LS300x-14.jpg?v=1587712403"},"aspect_ratio":1.0,"height":1000,"media_type":"image","src":"\/\/www.fomito.com\/cdn\/shop\/products\/LS300x-14.jpg?v=1587712403","width":1000},{"alt":null,"id":7045375492199,"position":10,"preview_image":{"aspect_ratio":1.0,"height":1000,"width":1000,"src":"\/\/www.fomito.com\/cdn\/shop\/products\/LS300x-15.jpg?v=1587712403"},"aspect_ratio":1.0,"height":1000,"media_type":"image","src":"\/\/www.fomito.com\/cdn\/shop\/products\/LS300x-15.jpg?v=1587712403","width":1000}],"requires_selling_plan":false,"selling_plan_groups":[],"content":"\u003cdiv style=\"text-align: left;\"\u003e\u003cstrong\u003eThe Light Storm 300x is Aputure's latest point-source LED and is the first bi-color Bowens mount light fixture to be compatible with optical lens modifiers. By combining the latest optical color blending technology with Aputure's dual-color LED chipset, the LS 300x can utilize the Fresnel 2X and Spotlight Mount to give you unprecedented flexibility from a single fixture. With a simple turn of a dial or press of a button, you can adjust the fixture's white light CCT output between 2700K-6500K in just seconds. And utilizing the same robust lamp head and control box design as the 300d II, this light is built to handle any filmmaking challenge.\u003c\/strong\u003e\u003c\/div\u003e\n\u003ch2 style=\"text-align: center;\"\u003e\u003cb\u003e \u003c\/b\u003e\u003c\/h2\u003e\n\u003ch1 style=\"text-align: center;\"\u003e\u003cb\u003eThe First of Its Kind \u003c\/b\u003e\u003c\/h1\u003e\n\u003cdiv style=\"text-align: center;\"\u003eThe 300x is Aputure's latest flagship Light Storm LED fixture, finally integrating properly mixed variable-white lighting into an easily modifiable point-source light engine. The 300x features a specially designed color-blending optical element in front of its LED light source, combining the bi color chipset into one cohesive point-source. The combination of this new technology, along with the Aputure ecosystem, allows you to achieve bi-color flexibility never before experienced with Aputure products.\u003c\/div\u003e\n\u003cdiv style=\"text-align: center;\"\u003e\u003cimg src=\"https:\/\/cdn.shopify.cn\/s\/files\/1\/2707\/3516\/files\/300X-Fresnel-2X-1_480x480.png?v=1587715139\" alt=\"\"\u003e\u003c\/div\u003e\n\u003ch2 style=\"text-align: center;\"\u003e\u003cb\u003e \u003c\/b\u003e\u003c\/h2\u003e\n\u003ch1 style=\"text-align: center;\"\u003e\u003cb\u003eEnhanced Output \u003c\/b\u003e\u003c\/h1\u003e\n\u003cdiv style=\"text-align: center;\"\u003eWith the Fresnel 2X, the LS 300x can produce over 65,000 lux at 1 meter, creating a stunningly bright\u003c\/div\u003e\n\u003cdiv style=\"text-align: center;\"\u003elight, with CCT control always at your fingertips. By having the ability to use lensed modifiers like the\u003c\/div\u003e\n\u003cdiv style=\"text-align: center;\"\u003eFresnel 2X or the Spotlight Mount, in addition to soft light modifiers like the Light Dome II, you can\u003c\/div\u003e\n\u003cdiv style=\"text-align: center;\"\u003eachieve extreme lighting precision to match any shooting environment. Spot, flood, cut, or diffuse your\u003c\/div\u003e\n\u003cdiv style=\"text-align: center;\"\u003elight without worrying about unwanted artifacts while controlling your white point.\u003c\/div\u003e\n\u003cdiv style=\"text-align: center;\"\u003e\u003cimg src=\"https:\/\/cdn.shopify.cn\/s\/files\/1\/2707\/3516\/files\/20200422161617_480x480.jpg?v=1587708474\" alt=\"\"\u003e\u003c\/div\u003e\n\u003ch2 style=\"text-align: center;\"\u003e\u003cb\u003e \u003c\/b\u003e\u003c\/h2\u003e\n\u003ch1 style=\"text-align: center;\"\u003e\u003cb\u003eFlexible Bi-Color Range \u003c\/b\u003e\u003c\/h1\u003e\n\u003cdiv style=\"text-align: center;\"\u003eThe 300x is the first of many Aputure lights to utilize the expanded vari-white CCT range of 2700K-6500K, going beyond traditional bi-color, allowing you to produce light that is warmer than typical tungsten fixtures, and cooler than conventional daylight (D55). Flexibility with your white light is key to moving quickly on set, so with the expanded bi-color range, that's fewer gels you have to carry. So whatever your ideal effect is, the 300x will help you create light that will perfectly match your atmosphere.\u003c\/div\u003e\n\u003cdiv style=\"text-align: center;\"\u003e\u003cimg src=\"https:\/\/cdn.shopify.cn\/s\/files\/1\/2707\/3516\/files\/300x-cct_480x480.gif?v=1587708517\" alt=\"\"\u003e\u003c\/div\u003e\n\u003ch2 style=\"text-align: center;\"\u003e\u003cb\u003e \u003c\/b\u003e\u003c\/h2\u003e\n\u003ch1 style=\"text-align: center;\"\u003e\u003cb\u003eReliable Color Rendering \u003c\/b\u003e\u003c\/h1\u003e\n\u003cdiv style=\"text-align: center;\"\u003eNo matter which light engine you use, color fidelity is always essential, so like all Aputure lights, the 300x sports reliable color rendering abilities. With CRI and TLCI scores of 96+, a tungsten SSI score of up to 85, and a D55 SSI score of up to 74, the 300x will always provide you with top of the line, accurate color reproduction.\u003c\/div\u003e\n\u003cdiv style=\"text-align: center;\"\u003e\u003cimg src=\"https:\/\/cdn.shopify.cn\/s\/files\/1\/2707\/3516\/files\/CRI-TLCI-1_480x480.gif?v=1587708560\" alt=\"\"\u003e\u003c\/div\u003e\n\u003ch2 style=\"text-align: center;\"\u003e\u003cb\u003e \u003c\/b\u003e\u003c\/h2\u003e\n\u003ch1 style=\"text-align: center;\"\u003e\u003cb\u003eRobust Design\u003c\/b\u003e\u003c\/h1\u003e\n\u003cdiv style=\"text-align: center;\"\u003eThe 300x also takes a note from the 300d II, by incorporating the same sleek lamp head design and control box design. The 300x utilizes a full 360-degree adjustable handbrake locking yoke. It also matches the 300d II with a completely silent, passively-cooled all-in-one control box, integrating the power supply and control system into a single unit.\u003c\/div\u003e\n\u003cdiv style=\"text-align: center;\"\u003e\u003cimg src=\"https:\/\/cdn.shopify.cn\/s\/files\/1\/2707\/3516\/files\/larger_export2_480x480.png?v=1587708603\" alt=\"\"\u003e\u003c\/div\u003e\n\u003ch2 style=\"text-align: center;\"\u003e\u003cb\u003e \u003c\/b\u003e\u003c\/h2\u003e\n\u003ch1 style=\"text-align: center;\"\u003e\u003cb\u003eQuick and Precise CCT Control \u003c\/b\u003e\u003c\/h1\u003e\n\u003cdiv style=\"text-align: center;\"\u003eThe main difference between the two control boxes is that the 300x now sports a new CCT control\u003c\/div\u003e\n\u003cdiv style=\"text-align: center;\"\u003ewheel, in addition to the intensity wheel. The 300x CCT dial allows you to fine-tune your CCT in +\/-\u003c\/div\u003e\n\u003cdiv style=\"text-align: center;\"\u003e50K increments. But with the PRESET button located in the middle of the wheel, you can also toggle\u003c\/div\u003e\n\u003cdiv style=\"text-align: center;\"\u003ebetween 5 common CCT presets (2700K, 3200K, 4300K, 5500K, 6500K) for quick accessibility.\u003c\/div\u003e\n\u003cdiv style=\"text-align: center;\"\u003e\u003cimg src=\"https:\/\/cdn.shopify.cn\/s\/files\/1\/2707\/3516\/files\/larger_export1_480x480.png?v=1587708637\" alt=\"\"\u003e\u003c\/div\u003e\n\u003ch2 style=\"text-align: center;\"\u003e\u003cb\u003e \u003c\/b\u003e\u003c\/h2\u003e\n\u003ch1 style=\"text-align: center;\"\u003e\u003cb\u003eDual Output Modes \u003c\/b\u003e\u003c\/h1\u003e\n\u003cdiv style=\"text-align: center;\"\u003eThe 300x even features two output modes: Max Output and Constant Output mode. In Constant Output mode, you can change your CCT precisely while maintaining a consistent luminance level. Combined with a new, smoother dimming system, you even gain the ability to seamlessly shift your color temperature in the middle of a scene. In Max Output mode, however, the 300x will\u003c\/div\u003e\n\u003cdiv style=\"text-align: center;\"\u003ealways maximize your output for your CCT and dimming level, with the highest output range being 4000K-5500K. With these two modes, you can do everything from overpowering existing light to tackling precise problems.\u003c\/div\u003e\n\u003cdiv style=\"text-align: center;\"\u003e\u003cimg src=\"https:\/\/cdn.shopify.cn\/s\/files\/1\/2707\/3516\/files\/300x-20_480x480.png?v=1587714361\" alt=\"\"\u003e\u003c\/div\u003e\n\u003ch2 style=\"text-align: center;\"\u003e\u003cb\u003e \u003c\/b\u003e\u003c\/h2\u003e\n\u003ch1 style=\"text-align: center;\"\u003e\u003cb\u003eCreative Power Solutions \u003c\/b\u003e\u003c\/h1\u003e\n\u003cdiv style=\"text-align: center;\"\u003eLike the 300d II, the 300x can also be operated with a single battery, up to half of its maximum output, or two batteries for full power* -- so no matter how many batteries you have, your scene will always shine. The 300x's control box also accurately displays realtime expected remaining battery life, allowing users to always understand and plan for any filmmaking scenario. By being battery-operable, the 300x gives you greater freedom in lighting, giving you the ability to craft creative images anywhere. *We recommend batteries that support 15A continuous discharge to power the light properly.\u003c\/div\u003e\n\u003cdiv style=\"text-align: center;\"\u003e\u003cimg src=\"https:\/\/cdn.shopify.cn\/s\/files\/1\/2707\/3516\/files\/300x-8_480x480.png?v=1587714290\" alt=\"\"\u003e\u003c\/div\u003e\n\u003ch2 style=\"text-align: center;\"\u003e\u003cb\u003e \u003c\/b\u003e\u003c\/h2\u003e\n\u003ch1 style=\"text-align: center;\"\u003e\u003cb\u003eMultiple Control Methods \u003c\/b\u003e\u003c\/h1\u003e\n\u003cdiv style=\"text-align: center;\"\u003eThe Light Storm product line is all about flexibility, and the 300x continues to support this by being compatible with multiple control methods. In addition to the control wheels, the 300x can be controlled using Aputure's tried and true 2.4G RF Remote, DMX512, as well as by the Bluetooth Mesh Sidus Link App. With the added range you get from having multiple Sidus Link lights active, you can control all of your lights' settings from nearly anywhere on set. And with professional DMX512 compatibility, the 300x allows for control through several channels so you can precisely fine-tune your lighting setup.\u003c\/div\u003e\n\u003cdiv style=\"text-align: center;\"\u003e\u003cimg src=\"https:\/\/cdn.shopify.cn\/s\/files\/1\/2707\/3516\/files\/kongzhi-1_480x480.gif?v=1587708734\" alt=\"\"\u003e\u003c\/div\u003e\n\u003ch2 style=\"text-align: center;\"\u003e\u003cb\u003e \u003c\/b\u003e\u003c\/h2\u003e\n\u003ch1 style=\"text-align: center;\"\u003e\u003cb\u003eBuilt-in Effects \u003c\/b\u003e\u003c\/h1\u003e\n\u003cdiv style=\"text-align: center;\"\u003eThe 300x also launches with 9 built-in lighting FX, such as, "Paparazzi," "Fireworks," "Lightning," "Faulty Bulb," "TV," "Pulsing," "Strobe," "Explosion," and "Fire," all with adjustable color temperature, opening up new possibilities for precise lighting control on your film sets. The 300x's capabilities will always continue to grow with firmware upgrades to both the fixture and the Sidus Link ecosystem in the future.\u003c\/div\u003e\n\u003cdiv style=\"text-align: center;\"\u003e\u003cimg src=\"https:\/\/cdn.shopify.cn\/s\/files\/1\/2707\/3516\/files\/300x-9_480x480.jpg?v=1587715272\" alt=\"\"\u003e\u003c\/div\u003e\n\u003ch2 style=\"text-align: center;\"\u003e\u003cb\u003e \u003c\/b\u003e\u003c\/h2\u003e\n\u003ch1 style=\"text-align: center;\"\u003e\u003cb\u003eBowens Mount Modularity \u003c\/b\u003e\u003c\/h1\u003e\n\u003cdiv style=\"text-align: center;\"\u003eNot to be taken lightly, the 300x continues Aputure's tradition of being compatible with the Bowens-S Mount, offering a wide variety of both soft light and optical modifiers to choose from, making it a unique bi-color fixture. With the Bowens Mount, you can flexibly change the quality of your light source in seconds. Whether you want a punchy hard light with crisp shadows or a pleasing soft light, never sacrifice output or color quality. The 300x's Bowens Mount can even be used with other industry-standard modifiers from brands like Chimera, as long as you have a Bowens mount speed ring.\u003c\/div\u003e\n\u003cdiv style=\"text-align: center;\"\u003e\u003cimg src=\"https:\/\/cdn.shopify.cn\/s\/files\/1\/2707\/3516\/files\/300X3_480x480.gif?v=1587708818\" alt=\"\"\u003e\u003c\/div\u003e\n\u003ch2 style=\"text-align: center;\"\u003e\u003cb\u003e \u003c\/b\u003e\u003c\/h2\u003e\n\u003ch1 style=\"text-align: center;\"\u003e\u003cb\u003eThe Sidus Link Ecosystem \u003c\/b\u003e\u003c\/h1\u003e\n\u003cdiv style=\"text-align: center;\"\u003eWith the integration of the Sidus Mesh chipset, the 300x gives you professional lighting control from a single app. This mesh technology extends across the entire future Aputure product line, creating an ecosystem you can trust. With the Sidus Link Mesh Network created by Aputure products, such as the 300x, 300d II, and MC, you can control up to 100 fixtures from your smartphone or tablet, with each additional light fixture increasing the range of the network. That means every light not only talks to your phone but also to each other, creating a smarter ecosystem. Sidus Link allows you to control every aspect of your light's output, including luminance, CCT, Effects, and even Light Source presets\u003c\/div\u003e\n\u003cdiv style=\"text-align: center;\"\u003efor fast-paced situations. With its immense flexibility, the 300x becomes an incredibly powerful light, whether you are working on a large film set, or you're a solo guerilla filmmaker. Meet the latest member of the Aputure Light Storm family.\u003c\/div\u003e\n\u003cdiv style=\"text-align: center;\"\u003e\u003cimg src=\"https:\/\/cdn.shopify.cn\/s\/files\/1\/2707\/3516\/files\/300x-10_480x480.png?v=1587715492\" alt=\"\"\u003e\u003c\/div\u003e\n\u003cp\u003e \u003c\/p\u003e\n\u003cp\u003e \u003c\/p\u003e\n\u003ch3\u003eSpecifications:\u003c\/h3\u003e\n\u003ctable\u003e\n\u003ctbody\u003e\n\u003ctr\u003e\n\u003ctd width=\"284\"\u003e\n\u003cp\u003eOperating Current\u003c\/p\u003e\n\u003c\/td\u003e\n\u003ctd width=\"284\"\u003e\n\u003cp\u003e3.5A\u003c\/p\u003e\n\u003c\/td\u003e\n\u003c\/tr\u003e\n\u003ctr\u003e\n\u003ctd width=\"284\"\u003e\n\u003cp\u003ePower Supply\u003c\/p\u003e\n\u003c\/td\u003e\n\u003ctd width=\"284\"\u003e\n\u003cp\u003eAC 100 ~ 240V 50\/60Hz\u003c\/p\u003e\n\u003c\/td\u003e\n\u003c\/tr\u003e\n\u003ctr\u003e\n\u003ctd width=\"284\"\u003e\n\u003cp\u003eCRI\u003c\/p\u003e\n\u003c\/td\u003e\n\u003ctd width=\"284\"\u003e\n\u003cp\u003e≥ 96\u003c\/p\u003e\n\u003c\/td\u003e\n\u003c\/tr\u003e\n\u003ctr\u003e\n\u003ctd width=\"284\"\u003e\n\u003cp\u003eTLCI\u003c\/p\u003e\n\u003c\/td\u003e\n\u003ctd width=\"284\"\u003e\n\u003cp\u003e≥ 96\u003c\/p\u003e\n\u003c\/td\u003e\n\u003c\/tr\u003e\n\u003ctr\u003e\n\u003ctd width=\"284\"\u003e\n\u003cp\u003eCQS\u003c\/p\u003e\n\u003c\/td\u003e\n\u003ctd width=\"284\"\u003e\n\u003cp\u003e≥ 95\u003c\/p\u003e\n\u003c\/td\u003e\n\u003c\/tr\u003e\n\u003ctr\u003e\n\u003ctd width=\"284\"\u003e\n\u003cp\u003eColor Temperature\u003c\/p\u003e\n\u003c\/td\u003e\n\u003ctd width=\"284\"\u003e\n\u003cp\u003e2700K~6500K\u003c\/p\u003e\n\u003c\/td\u003e\n\u003c\/tr\u003e\n\u003ctr\u003e\n\u003ctd width=\"284\"\u003e\n\u003cp\u003eRadio Frequency\u003c\/p\u003e\n\u003c\/td\u003e\n\u003ctd width=\"284\"\u003e\n\u003cp\u003e2.4GHz\u003c\/p\u003e\n\u003c\/td\u003e\n\u003c\/tr\u003e\n\u003ctr\u003e\n\u003ctd width=\"284\"\u003e\n\u003cp\u003ePower Consumption\u003c\/p\u003e\n\u003c\/td\u003e\n\u003ctd width=\"284\"\u003e\n\u003cp\u003e350W (Max)\u003c\/p\u003e\n\u003c\/td\u003e\n\u003c\/tr\u003e\n\u003ctr\u003e\n\u003ctd width=\"284\"\u003e\n\u003cp\u003eCooling Mode\u003c\/p\u003e\n\u003c\/td\u003e\n\u003ctd width=\"284\"\u003e\n\u003cp\u003eActive Cooling\u003c\/p\u003e\n\u003c\/td\u003e\n\u003c\/tr\u003e\n\u003ctr\u003e\n\u003ctd width=\"284\"\u003e\n\u003cp\u003eChannels\u003c\/p\u003e\n\u003c\/td\u003e\n\u003ctd width=\"284\"\u003e\n\u003cp\u003e1\/2\/3\u003c\/p\u003e\n\u003c\/td\u003e\n\u003c\/tr\u003e\n\u003ctr\u003e\n\u003ctd width=\"284\"\u003e\n\u003cp\u003eRemote Ability\u003c\/p\u003e\n\u003c\/td\u003e\n\u003ctd width=\"284\"\u003e\n\u003cp\u003e≤ 100m\u003c\/p\u003e\n\u003c\/td\u003e\n\u003c\/tr\u003e\n\u003ctr\u003e\n\u003ctd width=\"284\"\u003e\n\u003cp\u003eGroups\u003c\/p\u003e\n\u003c\/td\u003e\n\u003ctd width=\"284\"\u003e\n\u003cp\u003eA\/B\/C\/D\u003c\/p\u003e\n\u003c\/td\u003e\n\u003c\/tr\u003e\n\u003ctr\u003e\n\u003ctd width=\"284\"\u003e\n\u003cp\u003eBattery requirement\u003c\/p\u003e\n\u003c\/td\u003e\n\u003ctd width=\"284\"\u003e\n\u003cp\u003e≥ 15A 12V-16.8V\u003c\/p\u003e\n\u003c\/td\u003e\n\u003c\/tr\u003e\n\u003ctr\u003e\n\u003ctd width=\"284\"\u003e\n\u003cp\u003eAPP Control Type\u003c\/p\u003e\n\u003c\/td\u003e\n\u003ctd width=\"284\"\u003e\n\u003cp\u003eBluetooth\u003c\/p\u003e\n\u003c\/td\u003e\n\u003c\/tr\u003e\n\u003c\/tbody\u003e\n\u003c\/table\u003e\n\u003cp\u003e \u003c\/p\u003e\n\u003ch3\u003ePhotometrics:\u003c\/h3\u003e\n\u003ctable\u003e\n\u003ctbody\u003e\n\u003ctr\u003e\n\u003ctd colspan=\"3\" width=\"568\"\u003e\n\u003cp\u003eCCT - 3200K\u003c\/p\u003e\n\u003c\/td\u003e\n\u003c\/tr\u003e\n\u003ctr\u003e\n\u003ctd width=\"189\"\u003e\n\u003cp\u003eDistance\u003c\/p\u003e\n\u003c\/td\u003e\n\u003ctd width=\"189\"\u003e\n\u003cp\u003eBare Bulb\u003c\/p\u003e\n\u003c\/td\u003e\n\u003ctd width=\"189\"\u003e\n\u003cp\u003eHyber-Reflector\u003c\/p\u003e\n\u003c\/td\u003e\n\u003c\/tr\u003e\n\u003ctr\u003e\n\u003ctd width=\"189\"\u003e\n\u003cp\u003e1m\u003c\/p\u003e\n\u003c\/td\u003e\n\u003ctd width=\"189\"\u003e\n\u003cp\u003e474 (fc) \/ 5,100 (lux)\u003c\/p\u003e\n\u003c\/td\u003e\n\u003ctd width=\"189\"\u003e\n\u003cp\u003e1505 (fc) \/ 16,200 (lux)\u003c\/p\u003e\n\u003c\/td\u003e\n\u003c\/tr\u003e\n\u003ctr\u003e\n\u003ctd width=\"189\"\u003e\n\u003cp\u003e3m\u003c\/p\u003e\n\u003c\/td\u003e\n\u003ctd width=\"189\"\u003e\n\u003cp\u003e54 (fc) \/ 580 (lux)\u003c\/p\u003e\n\u003c\/td\u003e\n\u003ctd width=\"189\"\u003e\n\u003cp\u003e121 (fc) \/ 1,300 (lux)\u003c\/p\u003e\n\u003c\/td\u003e\n\u003c\/tr\u003e\n\u003ctr\u003e\n\u003ctd width=\"189\"\u003e\n\u003cp\u003e5m\u003c\/p\u003e\n\u003c\/td\u003e\n\u003ctd width=\"189\"\u003e\n\u003cp\u003e20 (fc) \/ 220 (lux)\u003c\/p\u003e\n\u003c\/td\u003e\n\u003ctd width=\"189\"\u003e\n\u003cp\u003e42 (fc) \/ 450 (lux)\u003c\/p\u003e\n\u003c\/td\u003e\n\u003c\/tr\u003e\n\u003ctr\u003e\n\u003ctd colspan=\"3\" width=\"568\"\u003e\n\u003cp\u003eCCT - 4300K\u003c\/p\u003e\n\u003c\/td\u003e\n\u003c\/tr\u003e\n\u003ctr\u003e\n\u003ctd width=\"189\"\u003e\n\u003cp\u003eDistance\u003c\/p\u003e\n\u003c\/td\u003e\n\u003ctd width=\"189\"\u003e\n\u003cp\u003eBare Bulb\u003c\/p\u003e\n\u003c\/td\u003e\n\u003ctd width=\"189\"\u003e\n\u003cp\u003eHyber-Reflector\u003c\/p\u003e\n\u003c\/td\u003e\n\u003c\/tr\u003e\n\u003ctr\u003e\n\u003ctd width=\"189\"\u003e\n\u003cp\u003e1m\u003c\/p\u003e\n\u003c\/td\u003e\n\u003ctd width=\"189\"\u003e\n\u003cp\u003e697 (fc) \/ 7,500 (lux)\u003c\/p\u003e\n\u003c\/td\u003e\n\u003ctd width=\"189\"\u003e\n\u003cp\u003e2,257 (fc) \/ 24,300 (lux)\u003c\/p\u003e\n\u003c\/td\u003e\n\u003c\/tr\u003e\n\u003ctr\u003e\n\u003ctd width=\"189\"\u003e\n\u003cp\u003e3m\u003c\/p\u003e\n\u003c\/td\u003e\n\u003ctd width=\"189\"\u003e\n\u003cp\u003e74 (fc) \/ 800 (lux)\u003c\/p\u003e\n\u003c\/td\u003e\n\u003ctd width=\"189\"\u003e\n\u003cp\u003e195 (fc) \/ 2,100 (lux)\u003c\/p\u003e\n\u003c\/td\u003e\n\u003c\/tr\u003e\n\u003ctr\u003e\n\u003ctd width=\"189\"\u003e\n\u003cp\u003e5m\u003c\/p\u003e\n\u003c\/td\u003e\n\u003ctd width=\"189\"\u003e\n\u003cp\u003e32 (fc) \/ 350 (lux)\u003c\/p\u003e\n\u003c\/td\u003e\n\u003ctd width=\"189\"\u003e\n\u003cp\u003e65 (fc) \/ 700 (lux)\u003c\/p\u003e\n\u003c\/td\u003e\n\u003c\/tr\u003e\n\u003ctr\u003e\n\u003ctd colspan=\"3\" width=\"568\"\u003e\n\u003cp\u003eCCT - 5500K\u003c\/p\u003e\n\u003c\/td\u003e\n\u003c\/tr\u003e\n\u003ctr\u003e\n\u003ctd width=\"189\"\u003e\n\u003cp\u003eDistance\u003c\/p\u003e\n\u003c\/td\u003e\n\u003ctd width=\"189\"\u003e\n\u003cp\u003eBare Bulb\u003c\/p\u003e\n\u003c\/td\u003e\n\u003ctd width=\"189\"\u003e\n\u003cp\u003eHyber-Reflector\u003c\/p\u003e\n\u003c\/td\u003e\n\u003c\/tr\u003e\n\u003ctr\u003e\n\u003ctd width=\"189\"\u003e\n\u003cp\u003e1m\u003c\/p\u003e\n\u003c\/td\u003e\n\u003ctd width=\"189\"\u003e\n\u003cp\u003e585 (fc) \/ 6,300 (lux)\u003c\/p\u003e\n\u003c\/td\u003e\n\u003ctd width=\"189\"\u003e\n\u003cp\u003e1,904 (fc) \/ 20,500 (lux)\u003c\/p\u003e\n\u003c\/td\u003e\n\u003c\/tr\u003e\n\u003ctr\u003e\n\u003ctd width=\"189\"\u003e\n\u003cp\u003e3m\u003c\/p\u003e\n\u003c\/td\u003e\n\u003ctd width=\"189\"\u003e\n\u003cp\u003e65 ((fc) \/ 700 (lux)\u003c\/p\u003e\n\u003c\/td\u003e\n\u003ctd width=\"189\"\u003e\n\u003cp\u003e158 (fc) \/ 1,700 (lux)\u003c\/p\u003e\n\u003c\/td\u003e\n\u003c\/tr\u003e\n\u003ctr\u003e\n\u003ctd width=\"189\"\u003e\n\u003cp\u003e5m\u003c\/p\u003e\n\u003c\/td\u003e\n\u003ctd width=\"189\"\u003e\n\u003cp\u003e23 (fc) \/ 250 (lux)\u003c\/p\u003e\n\u003c\/td\u003e\n\u003ctd width=\"189\"\u003e\n\u003cp\u003e51 (fc) \/ 550 (lux)\u003c\/p\u003e\n\u003c\/td\u003e\n\u003c\/tr\u003e\n\u003c\/tbody\u003e\n\u003c\/table\u003e\n\u003cp\u003e \u003c\/p\u003e\n\u003cp\u003e \u003c\/p\u003e\n\u003ch3\u003ePackage Includes:\u003c\/h3\u003e\n\u003cp\u003e1 × 300x Lamp Head \u0026amp; Protection Cover\u003cbr\u003e\u003c\/p\u003e\n\u003cp\u003e1 × Control Box\u003cbr\u003e\u003c\/p\u003e\n\u003cp\u003e1 × Carrying Case\u003cbr\u003e\u003c\/p\u003e\n\u003cp\u003e1 × Quick-Release \"Lightning Clamp\u003c\/p\u003e\n\u003cp\u003e1 × 55° Hyper-Reflector\u003c\/p\u003e\n\u003cp\u003e1 × VA-Remote RC1+\u003c\/p\u003e\n\u003cp\u003e1 × Neutrik® powerCON AC\u003c\/p\u003e\n\u003cp\u003e1 × Power Cable (6m)\u003c\/p\u003e\n\u003cp\u003e1 × 5-Pin Male-to-Female\u003c\/p\u003e\n\u003cp\u003e1 × XLR Head Cable (3m)\u003c\/p\u003e\n\u003cp\u003e1 × Cable Relief Hook\u003c\/p\u003e\n\u003cp\u003e1 × Paracord Strap\u003c\/p\u003e"}
Aputure Light Storm LS 300x 2700k-6500K Bi-color LED Video light Compatible with Sidus Link App
The Light Storm 300x is Aputure's latest point-source LED and is the first bi-color Bowens mount light fixture to be compatible with optical lens modifiers. By combining the latest optical color blending technology with Aputure's dual-color LED chipset, the LS 300x can utilize the Fresnel 2X and Spotlight Mount to give you unprecedented flexibility from a single fixture. With a simple turn of a dial or press of a button, you can adjust the fixture's white light CCT output between 2700K-6500K in just seconds. And utilizing the same robust lamp head and control box design as the 300d II, this light is built to handle any filmmaking challenge.
The First of Its Kind
The 300x is Aputure's latest flagship Light Storm LED fixture, finally integrating properly mixed variable-white lighting into an easily modifiable point-source light engine. The 300x features a specially designed color-blending optical element in front of its LED light source, combining the bi color chipset into one cohesive point-source. The combination of this new technology, along with the Aputure ecosystem, allows you to achieve bi-color flexibility never before experienced with Aputure products.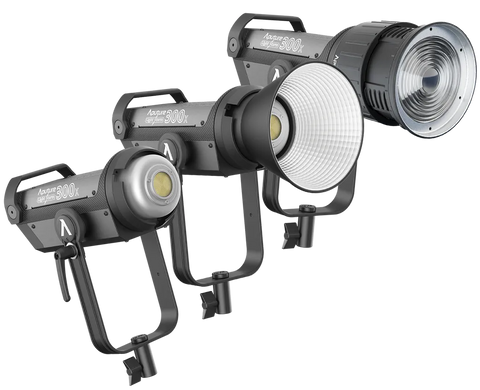 Enhanced Output
With the Fresnel 2X, the LS 300x can produce over 65,000 lux at 1 meter, creating a stunningly bright
light, with CCT control always at your fingertips. By having the ability to use lensed modifiers like the
Fresnel 2X or the Spotlight Mount, in addition to soft light modifiers like the Light Dome II, you can
achieve extreme lighting precision to match any shooting environment. Spot, flood, cut, or diffuse your
light without worrying about unwanted artifacts while controlling your white point.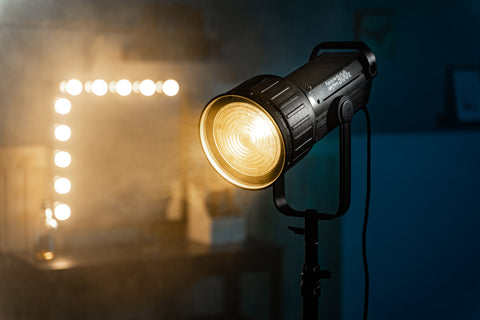 Flexible Bi-Color Range
The 300x is the first of many Aputure lights to utilize the expanded vari-white CCT range of 2700K-6500K, going beyond traditional bi-color, allowing you to produce light that is warmer than typical tungsten fixtures, and cooler than conventional daylight (D55). Flexibility with your white light is key to moving quickly on set, so with the expanded bi-color range, that's fewer gels you have to carry. So whatever your ideal effect is, the 300x will help you create light that will perfectly match your atmosphere.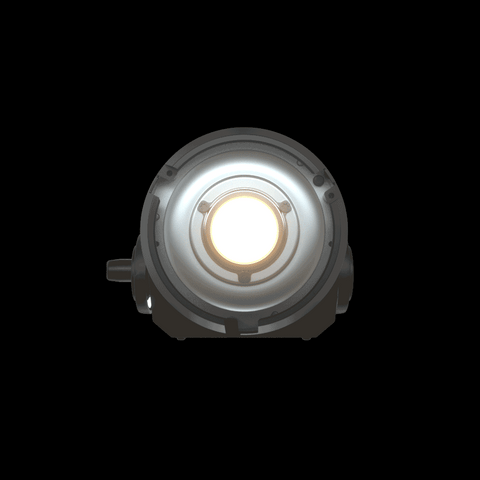 Reliable Color Rendering
No matter which light engine you use, color fidelity is always essential, so like all Aputure lights, the 300x sports reliable color rendering abilities. With CRI and TLCI scores of 96+, a tungsten SSI score of up to 85, and a D55 SSI score of up to 74, the 300x will always provide you with top of the line, accurate color reproduction.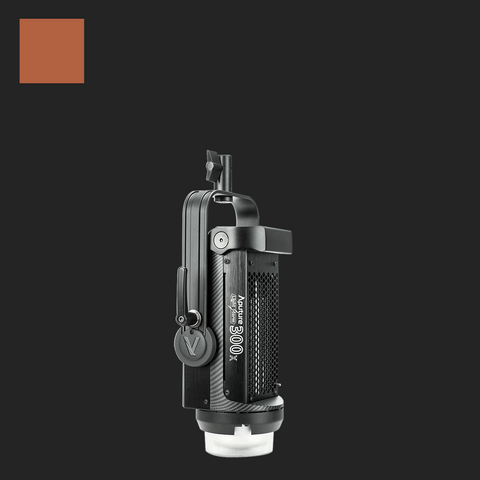 Robust Design
The 300x also takes a note from the 300d II, by incorporating the same sleek lamp head design and control box design. The 300x utilizes a full 360-degree adjustable handbrake locking yoke. It also matches the 300d II with a completely silent, passively-cooled all-in-one control box, integrating the power supply and control system into a single unit.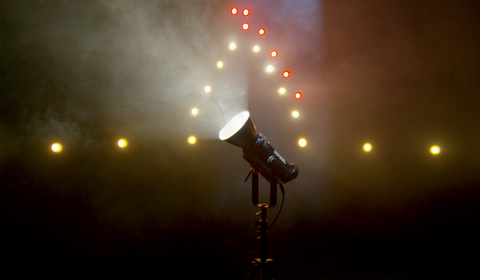 Quick and Precise CCT Control
The main difference between the two control boxes is that the 300x now sports a new CCT control
wheel, in addition to the intensity wheel. The 300x CCT dial allows you to fine-tune your CCT in +/-
50K increments. But with the PRESET button located in the middle of the wheel, you can also toggle
between 5 common CCT presets (2700K, 3200K, 4300K, 5500K, 6500K) for quick accessibility.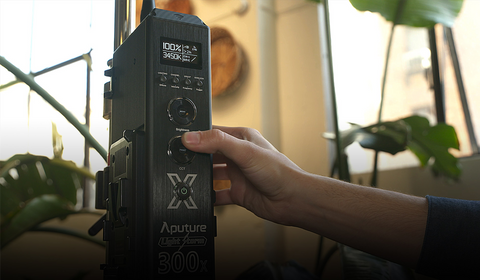 Dual Output Modes
The 300x even features two output modes: Max Output and Constant Output mode. In Constant Output mode, you can change your CCT precisely while maintaining a consistent luminance level. Combined with a new, smoother dimming system, you even gain the ability to seamlessly shift your color temperature in the middle of a scene. In Max Output mode, however, the 300x will
always maximize your output for your CCT and dimming level, with the highest output range being 4000K-5500K. With these two modes, you can do everything from overpowering existing light to tackling precise problems.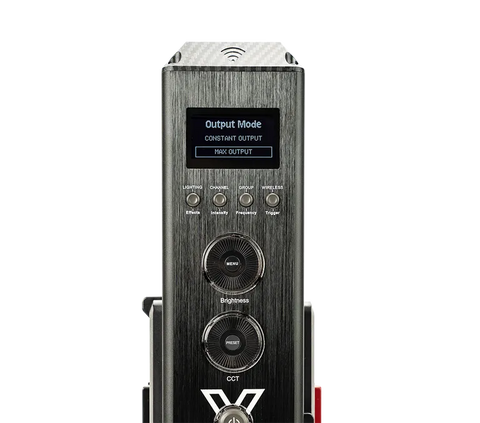 Creative Power Solutions
Like the 300d II, the 300x can also be operated with a single battery, up to half of its maximum output, or two batteries for full power* -- so no matter how many batteries you have, your scene will always shine. The 300x's control box also accurately displays realtime expected remaining battery life, allowing users to always understand and plan for any filmmaking scenario. By being battery-operable, the 300x gives you greater freedom in lighting, giving you the ability to craft creative images anywhere. *We recommend batteries that support 15A continuous discharge to power the light properly.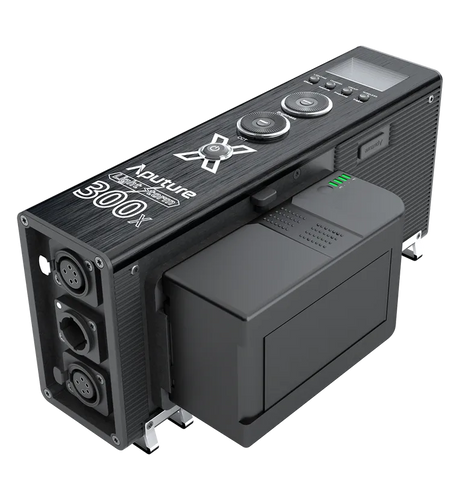 Multiple Control Methods
The Light Storm product line is all about flexibility, and the 300x continues to support this by being compatible with multiple control methods. In addition to the control wheels, the 300x can be controlled using Aputure's tried and true 2.4G RF Remote, DMX512, as well as by the Bluetooth Mesh Sidus Link App. With the added range you get from having multiple Sidus Link lights active, you can control all of your lights' settings from nearly anywhere on set. And with professional DMX512 compatibility, the 300x allows for control through several channels so you can precisely fine-tune your lighting setup.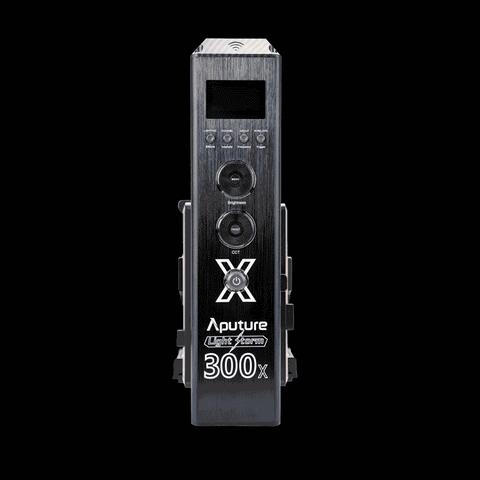 Built-in Effects
The 300x also launches with 9 built-in lighting FX, such as, "Paparazzi," "Fireworks," "Lightning," "Faulty Bulb," "TV," "Pulsing," "Strobe," "Explosion," and "Fire," all with adjustable color temperature, opening up new possibilities for precise lighting control on your film sets. The 300x's capabilities will always continue to grow with firmware upgrades to both the fixture and the Sidus Link ecosystem in the future.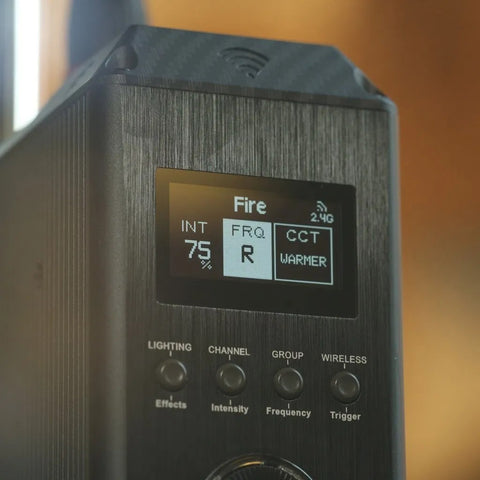 Bowens Mount Modularity
Not to be taken lightly, the 300x continues Aputure's tradition of being compatible with the Bowens-S Mount, offering a wide variety of both soft light and optical modifiers to choose from, making it a unique bi-color fixture. With the Bowens Mount, you can flexibly change the quality of your light source in seconds. Whether you want a punchy hard light with crisp shadows or a pleasing soft light, never sacrifice output or color quality. The 300x's Bowens Mount can even be used with other industry-standard modifiers from brands like Chimera, as long as you have a Bowens mount speed ring.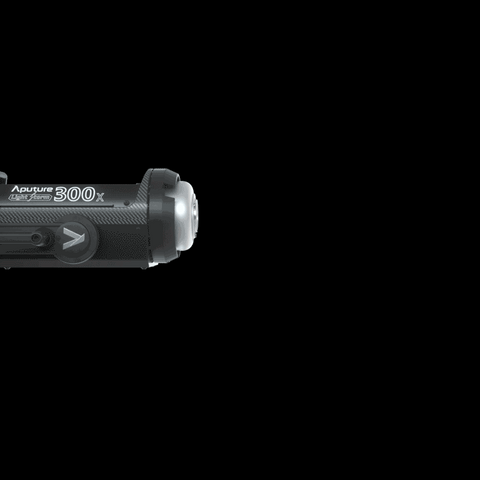 The Sidus Link Ecosystem
With the integration of the Sidus Mesh chipset, the 300x gives you professional lighting control from a single app. This mesh technology extends across the entire future Aputure product line, creating an ecosystem you can trust. With the Sidus Link Mesh Network created by Aputure products, such as the 300x, 300d II, and MC, you can control up to 100 fixtures from your smartphone or tablet, with each additional light fixture increasing the range of the network. That means every light not only talks to your phone but also to each other, creating a smarter ecosystem. Sidus Link allows you to control every aspect of your light's output, including luminance, CCT, Effects, and even Light Source presets
for fast-paced situations. With its immense flexibility, the 300x becomes an incredibly powerful light, whether you are working on a large film set, or you're a solo guerilla filmmaker. Meet the latest member of the Aputure Light Storm family.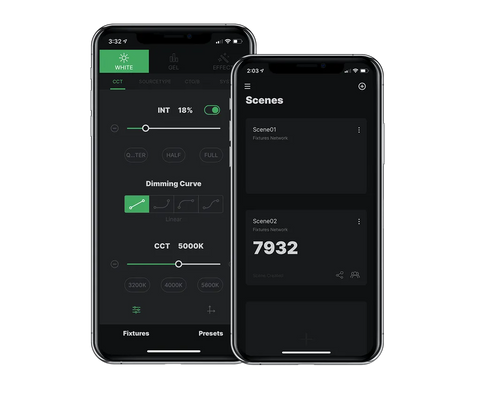 Specifications:
| | |
| --- | --- |
| Operating Current | 3.5A |
| Power Supply | AC 100 ~ 240V 50/60Hz |
| CRI | ≥ 96 |
| TLCI | ≥ 96 |
| CQS | ≥ 95 |
| Color Temperature | 2700K~6500K |
| Radio Frequency | 2.4GHz |
| Power Consumption | 350W (Max) |
| Cooling Mode | Active Cooling |
| Channels | 1/2/3 |
| Remote Ability | ≤ 100m |
| Groups | A/B/C/D |
| Battery requirement | ≥ 15A 12V-16.8V |
| APP Control Type | Bluetooth |
Photometrics:
CCT - 3200K

Distance

Bare Bulb

Hyber-Reflector

1m

474 (fc) / 5,100 (lux)

1505 (fc) / 16,200 (lux)

3m

54 (fc) / 580 (lux)

121 (fc) / 1,300 (lux)

5m

20 (fc) / 220 (lux)

42 (fc) / 450 (lux)

CCT - 4300K

Distance

Bare Bulb

Hyber-Reflector

1m

697 (fc) / 7,500 (lux)

2,257 (fc) / 24,300 (lux)

3m

74 (fc) / 800 (lux)

195 (fc) / 2,100 (lux)

5m

32 (fc) / 350 (lux)

65 (fc) / 700 (lux)

CCT - 5500K

Distance

Bare Bulb

Hyber-Reflector

1m

585 (fc) / 6,300 (lux)

1,904 (fc) / 20,500 (lux)

3m

65 ((fc) / 700 (lux)

158 (fc) / 1,700 (lux)

5m

23 (fc) / 250 (lux)

51 (fc) / 550 (lux)
Package Includes:
1 × 300x Lamp Head & Protection Cover

1 × Control Box

1 × Carrying Case

1 × Quick-Release "Lightning Clamp
1 × 55° Hyper-Reflector
1 × VA-Remote RC1+
1 × Neutrik® powerCON AC
1 × Power Cable (6m)
1 × 5-Pin Male-to-Female
1 × XLR Head Cable (3m)
1 × Cable Relief Hook
1 × Paracord Strap
Payment

1. PayPal
If you have a PayPal account, you can pay directly by logging into your PayPal account. If you do not have a PayPal account, please pay with PayPal accepted credit cards. PayPal accepts credit cards are: Visa, Mastercard, American Express, Discover and Maestro,ect.

2. Credit cards : Visa, Mastercard, American Express, Discover and Maestro,ect.
How to use credit card payment ?
Paying at PayPal without a PayPal account
Payments for Buykud are made at PayPal, but you do not need to own a PayPal account to pay: you may enter your credit card's data directly at PayPal and complete your payment. You don't need to register a PayPal account neither.
Once you get redirected to PayPal, just do as follows:
1. Make sure the "Don't have a PayPal account?" option is selected
If your PayPal page looks as follows, just click on "Don't have a PayPal account?".
2. Enter your credit card's data
Address, email & phone number may also be requested depending on your country.
When you are done, click on "Review and Continue".
3. Click on "Pay Now"
4. Click on "No, Thanks"
5. Finally, click on "Pay now" you will complete your payment
Privacy Policy
At Fomito Shop, we do NOT share any customer information with any third party for any reason unless it is require by a legal authority or a government with an official request.
Fomito Shop takes your personal information and privacy very seriously and we will never share your information with any marketing firm for any marketing purposes except directly from Fomito Shop.
Fomito Shop will never contact you through any form to request you to update your password or personal information unless requested. Such action may be a phishing attempt and we suggest you ignore it or report to your local authority and inform us 
immediately.
| Shipping Company | Shipping Cost | Estimated Delivery Time | Tracking Information |
| --- | --- | --- | --- |
| Standard Shipping | | 10-25 days | Available |
| Expedited express(DHL/EMS) | | 5-7 days | Available |
1. Orders processed within 1~2 working days after the payment confirmed. We will inform you if we need more time to prepare the items.

2.As usual, if you choose the Standard Shipping,it takes almost 10-20 days to reach your designated address. If you choose Expedited express, it takes almost 5-7 days to reach your designated address.

PS: Please let us know if you still don't receive the items within 35 working days after you paid, then we could check it for you.


2. We only ship to confirmed PAYPAL addresses. Your PAYPAL address MUST MATCH your Shipping address.

3. SERVICE TRANSIT TIME is provided by the carrier and excludes weekends and holidays. Transit times may vary, particularly during the holiday season.

4. If you have not received your shipment within 30 days from payment, please contact us. We will track the shipment and get back to you as soon as possible with a reply. Our goal is customer satisfaction!

5. Due to stock status and time differences, we will choose to ship your item from our first available warehouse for fast delivery.
6.We support DDP(Delivery Duty Paid)shipment for almost all of european countries.all the packages will be delivered in Netherlands at first(about 5-10 days),after completing customs clearance by our express agent,all the packages will be sent to buyers via mainstream european courier companies or postal service.So the customs and VAT fee Included.
Please be noted: that the delivery time mentioned on our page is for reference only. Although the actual shipping time is punctual in most occasions, in some cases delivery time may vary due to traffic congestion, adverse weather, acts of custom inspection, etc. We will try our best to avoid such situations, however, please understand that some of these situations are beyond our control, and we are not reponsible for them.

One year Warranty. Buy with confidence! 30 days money back guaranteed.

We provide 30 day return policy for products sold. If, for any reason, you are not satisfied with your purchases, full refund of the purchase (excluding the shipping expenses) can be applicable under the following circumstances:

 
ALL accessories must be unused; ALL accessory packages must be unopened.


ALL items must be intact and undamaged (except for defects in manufacturing).


Items must be in good conditions with all original accessories, manuals, and packing materials. Any missing parts or damaged items will result in rejection on the return.


In case of any defectives found, only defects in manufacturing are accepted as the reason of return.

 
No refund is given if defects are caused by misuse of buyers. Our customer service officers will gladly contact you for further arrangement upon your request.


All shipping cost thus generated is paid by the buyer.


Item returned must be received within 7 days after the receipt of the items. No refund and replacement is issued after this period.


Payment will be refunded as original currency only. We will not take responsibility for any loss due to exchange rate difference in the refund process.


Refunds will NOT include ANY shipping and handling fees. Any additional expenses will also be deducted from the refund.


In the case of return, please be sure to include ALL the original contents (including gift, packages and manuals). Any missing contents may result in rejection of the refund. Please also make sure that the return package is securely packed, and apply waterproof packing instruments wherever necessary.