{"id":4721209376871,"title":"Aputure Accent B7c Led Bulb Smart RGBWW Same Color mixing Light Built-in Battery Wireless Bluetooth","handle":"aputure-accent-b7c-led-bulb-rgbww-same-color-mixing-light-built-in-battery-wireless-bluetooth","description":"\u003cp\u003e\u003ciframe src=\"https:\/\/www.youtube.com\/embed\/AGDIjWXvJAg\" allowfullscreen=\"\" allow=\"accelerometer; autoplay; clipboard-write; encrypted-media; gyroscope; picture-in-picture\" width=\"949\" height=\"534\" frameborder=\"0\"\u003e\u003c\/iframe\u003e\u003c\/p\u003e\n\u003cp\u003eProduct Description\u003cbr data-mce-fragment=\"1\"\u003eThe Accent B7c is an RGBWW color mixing LED light bulb, and is the first product in Aputure's new Accent line of practical LED fixtures. Using the same color mixing technology as the Nova P300c, the B7c boasts the same 2,000K-10,000K color temperature, and professional level color reproduction, with the ability to achieve an SSI score as high as 85 in tungsten. The B7c utilizes a mere 7W LED output to create a 50W household tungsten light bulb equivalent. The Accent B7c is the first color mixing smart bulb to utilize a built-in battery, allowing it to run for over 70 minutes at maximum output, making it suitable for an immense number of use cases. To enhance the on-set workflow efficiency, the B7c is also the first smart bulb to include on-board control buttons, making toggling between CCT presets and adjusting brightness incredibly simple. AndwithSidus Link Bluetooth App compatibility, users can easily control multiple B7c bulbs from a smartphone or iPad, and unlock the B7c's fine-tunable color capabilities.\u003c\/p\u003e\n\u003cdiv class=\"slide-content\"\u003e\n\u003cdiv class=\"content-container\"\u003e\n\u003ch3 style=\"text-align: center;\"\u003eMore Practical\u003c\/h3\u003e\n\u003cp style=\"text-align: center;\"\u003eThe Accent B7c is a battery-operated 7W RGBWW color-mixing LED light bulb, and the first product in Aputure's Accent family of "practical" LED lights built for filmmakers, with a unique combination of features no other light has.\u003c\/p\u003e\n\u003c\/div\u003e\n\u003c\/div\u003e\n\u003cdiv style=\"text-align: center;\"\u003e\u003cimg style=\"margin: 0pxpx 0pxpx 0pxpx 0pxpx; float: none;\" alt=\"\" src=\"https:\/\/www.aputure.com\/wp-content\/uploads\/2020\/09\/BULB_ATTEMPT1-1000x781.png\"\u003e\u003c\/div\u003e\n\u003cp\u003e \u003c\/p\u003e\n\u003cdiv class=\"slide-content\"\u003e\n\u003cdiv class=\"content-container\" style=\"text-align: center;\"\u003e\n\u003ch3\u003eYour Favorite Lamp\u003c\/h3\u003e\n\u003cp\u003eThe B7c features a standard E26\/27 lamp socket screw connector making it compatible with a wide variety of lamps anywhere in the world. Its light bulb form factor allows users to more naturally integrate programmable, color-mixing, practical lighting into any scene.\u003c\/p\u003e\n\u003cp\u003e\u003cimg src=\"https:\/\/www.aputure.com\/wp-content\/uploads\/2020\/09\/BULB5-1000x563.png\" class=\"product-slide-image lazyloaded\" data-src=\"https:\/\/www.aputure.com\/wp-content\/uploads\/2020\/09\/BULB5-1000x563.png\" style=\"margin: 0pxpx 0pxpx 0pxpx 0pxpx; float: none;\"\u003e\u003c\/p\u003e\n\u003c\/div\u003e\n\u003c\/div\u003e\n\u003cdiv class=\"slide-content\"\u003e\n\u003cdiv class=\"content-container\" style=\"text-align: center;\"\u003e\n\u003ch3\u003eMatch Any Light\u003c\/h3\u003e\n\u003cp\u003eThe Accent B7c matches the color temperature range of the Nova P300c, Aputure's most advanced color mixing light, producing a wide color temperature range of 2,000K-10,000K. And when combined with Sidus Link's SourceMatch feature, it can match nearly any white light source.\u003c\/p\u003e\n\u003cp\u003e\u003cimg src=\"https:\/\/www.aputure.com\/wp-content\/uploads\/2020\/09\/BULB11-1000x563.png\" class=\"product-slide-image lazyloaded\" data-src=\"https:\/\/www.aputure.com\/wp-content\/uploads\/2020\/09\/BULB11-1000x563.png\" style=\"margin: 0pxpx 0pxpx 0pxpx 0pxpx; float: none;\"\u003e\u003c\/p\u003e\n\u003c\/div\u003e\n\u003c\/div\u003e\n\u003cdiv class=\"slide-content\"\u003e\n\u003cdiv class=\"content-container\" style=\"text-align: center;\"\u003e\n\u003ch3\u003ePristine Quality You Can Trust\u003c\/h3\u003e\n\u003cp\u003eUnlike typical household LED bulbs, the Accent B7c uses cinema-grade LEDs to reproduce immaculate skin tones -- with impeccable CRI and TLCI values of 95+, and a tungsten SSI score of 85, outpacing industry-standard lights.\u003c\/p\u003e\n\u003cp\u003e\u003cimg src=\"https:\/\/www.aputure.com\/wp-content\/uploads\/2020\/09\/BULB8-1000x563.png\" class=\"product-slide-image lazyloaded\" data-src=\"https:\/\/www.aputure.com\/wp-content\/uploads\/2020\/09\/BULB8-1000x563.png\" style=\"margin: 0pxpx 0pxpx 0pxpx 0pxpx; float: none;\"\u003e\u003c\/p\u003e\n\u003c\/div\u003e\n\u003c\/div\u003e\n\u003cdiv class=\"slide-content\"\u003e\n\u003cdiv class=\"content-container\" style=\"text-align: center;\"\u003e\n\u003ch3\u003eColor Tunability\u003c\/h3\u003e\n\u003cp\u003eUtilizing Aputure's unique RGBWW LED configuration, the B7c bulb is able to produce over 90% of the saturated colors in the Rec.2020 color space, putting it on par with industry-standard lighting instruments.\u003c\/p\u003e\n\u003cp\u003e\u003cimg data-imgloaded=\"true\" alt=\"ABUIABAEGAAgrvmw_wUo6JOL4wUw6Ac4hwg\" src=\"https:\/\/16720440.s21i.faiusr.com\/4\/ABUIABAEGAAgrvmw_wUo6JOL4wUw6Ac4hwg!500x500.png\" data-original=\"\/\/16720440.s21i.faiusr.com\/4\/ABUIABAEGAAgrvmw_wUo6JOL4wUw6Ac4hwg!500x500.png\" class=\"lazyload_transparent float_in_img J_defImage\" id=\"float_img_4983\" style=\"margin: 0pxpx 0pxpx 0pxpx 0pxpx; float: none;\"\u003e\u003c\/p\u003e\n\u003c\/div\u003e\n\u003c\/div\u003e\n\u003cdiv class=\"slide-content\"\u003e\n\u003cdiv class=\"content-container\" style=\"text-align: center;\"\u003e\n\u003ch3\u003eFlicker-Free Filmmaking\u003c\/h3\u003e\n\u003cp\u003eThe Accent B7c like all Aputure products is made with filmmakers in mind. Unlike consumer LED smart bulbs, the B7c features 20KHz stepless dimming that remains completely flicker-free up to at least 1,000fps with no color shift.\u003c\/p\u003e\n\u003cp\u003e\u003cimg data-imgloaded=\"true\" alt=\"ABUIABAEGAAg4o_1_wUo3oynqgMw2wQ4-wY\" src=\"https:\/\/16720440.s21i.faiusr.com\/4\/ABUIABAEGAAg4o_1_wUo3oynqgMw2wQ4-wY!700x700.png\" data-original=\"\/\/16720440.s21i.faiusr.com\/4\/ABUIABAEGAAg4o_1_wUo3oynqgMw2wQ4-wY!700x700.png\" class=\"lazyload_transparent float_in_img J_defImage\" id=\"float_img_4884\" style=\"margin: 0pxpx 0pxpx 0pxpx 0pxpx; float: none;\"\u003e\u003c\/p\u003e\n\u003c\/div\u003e\n\u003c\/div\u003e\n\u003cdiv class=\"slide-content\"\u003e\n\u003cdiv class=\"content-container\" style=\"text-align: center;\"\u003e\n\u003ch3\u003eBuilt-in Battery\u003c\/h3\u003e\n\u003cp\u003eThe B7c is also the first bulb designed for filmmakers to have a built-in battery, powering the B7c for over 70 minutes at full power, and over 20 hours as it approaches minimum brightness.\u003c\/p\u003e\n\u003cp\u003e\u003cimg data-imgloaded=\"true\" alt=\"ABUIABADGAAgqb_q_wUo_L3f7gUwwAc4nAQ\" src=\"https:\/\/16720440.s21i.faiusr.com\/3\/ABUIABADGAAgqb_q_wUo_L3f7gUwwAc4nAQ!900x900.gif\" data-original=\"\/\/16720440.s21i.faiusr.com\/3\/ABUIABADGAAgqb_q_wUo_L3f7gUwwAc4nAQ!900x900.gif\" class=\"lazyload_transparent float_in_img J_defImage\" id=\"float_img_4978\" style=\"margin: 0pxpx 0pxpx 0pxpx 0pxpx; float: none;\"\u003e\u003c\/p\u003e\n\u003c\/div\u003e\n\u003c\/div\u003e\n\u003cdiv class=\"slide-content\"\u003e\n\u003cdiv class=\"content-container\" style=\"text-align: center;\"\u003e\n\u003ch3\u003eAC\/DC Mode\u003c\/h3\u003e\n\u003cp\u003eThe B7c's unique internal battery allows the B7c to have multiple power supply modes: AC \u0026amp; Battery (DC). In AC power mode the B7c retains its last settings and turns on and off like a traditional light bulb, allowing for natural interactions with actors.\u003c\/p\u003e\n\u003cp\u003e\u003cimg data-imgloaded=\"true\" alt=\"ABUIABAEGAAgpv7F_wUo2MOfMjCUCjifCQ\" src=\"https:\/\/16720440.s21i.faiusr.com\/4\/ABUIABAEGAAgpv7F_wUo2MOfMjCUCjifCQ!600x600.png\" data-original=\"\/\/16720440.s21i.faiusr.com\/4\/ABUIABAEGAAgpv7F_wUo2MOfMjCUCjifCQ!600x600.png\" class=\"lazyload_transparent float_in_img J_defImage\" id=\"float_img_4892\" style=\"margin: 0pxpx 0pxpx 0pxpx 0pxpx; float: none;\"\u003e\u003c\/p\u003e\n\u003c\/div\u003e\n\u003c\/div\u003e\n\u003cdiv class=\"slide-content\"\u003e\n\u003cdiv class=\"content-container\"\u003e\n\u003ch3 style=\"text-align: center;\"\u003ePremium Construction\u003c\/h3\u003e\n\u003cp style=\"text-align: center;\"\u003eUsing an aluminum metal structure and a unique toroidal diffusion design, the B7c spreads lights evenly while also maintaining absolute stealth on-camera.\u003c\/p\u003e\n\u003c\/div\u003e\n\u003c\/div\u003e\n\u003cdiv style=\"text-align: center;\"\u003e\u003cimg data-imgloaded=\"true\" alt=\"ABUIABAEGAAglIvG_wUo2KWdogMwoAY4uAU\" src=\"https:\/\/16720440.s21i.faiusr.com\/4\/ABUIABAEGAAglIvG_wUo2KWdogMwoAY4uAU!600x600.png\" data-original=\"\/\/16720440.s21i.faiusr.com\/4\/ABUIABAEGAAglIvG_wUo2KWdogMwoAY4uAU!600x600.png\" class=\"lazyload_transparent float_in_img J_defImage\" id=\"float_img_4976\" style=\"margin: 0pxpx 0pxpx 0pxpx 0pxpx;float: none;\"\u003e\u003c\/div\u003e\n\u003cp\u003e \u003c\/p\u003e\n\u003cdiv style=\"text-align: center;\"\u003e\u003cstrong\u003eOn-board Controls\u003c\/strong\u003e\u003c\/div\u003e\n\u003cdiv class=\"slide-content\"\u003e\n\u003cdiv class=\"content-container\"\u003e\n\u003cp style=\"text-align: center;\"\u003eThe Accent B7c is the only LED smart bulb to feature on-board buttons for both brightness and CCT control, allowing users to adjust intensity and CCT presets in a few simple clicks, without even connecting it to the Sidus Link app.\u003c\/p\u003e\n\u003c\/div\u003e\n\u003c\/div\u003e\n\u003cdiv style=\"text-align: center;\"\u003e\u003cimg style=\"margin: 0pxpx 0pxpx 0pxpx 0pxpx; float: none;\" alt=\"ABUIABAEGAAgltC1_wUovdf0tQMw0AU4iAs\" src=\"https:\/\/16720440.s21i.faiusr.com\/4\/ABUIABAEGAAgltC1_wUovdf0tQMw0AU4iAs!700x700.png\"\u003e\u003c\/div\u003e\n\u003cdiv style=\"text-align: center;\"\u003e\n\u003cdiv class=\"slide-content\"\u003e\n\u003cdiv class=\"content-container\" style=\"text-align: center;\"\u003e\n\u003ch3\u003eSidus Link\u003c\/h3\u003e\n\u003cp\u003eUsing built-in Sidus Mesh technology, the B7c can also be controlled wirelessly via a smartphone or iPad using the Sidus Link app, allowing filmmakers to fine-tune CCT, brightness, color, and FX, as well as use SourceMatch and ColorPicker modes to match nearly any color.\u003c\/p\u003e\n\u003cp\u003e\u003cimg id=\"float_img_4991\" class=\"lazyload_transparent float_in_img J_defImage\" data-original=\"\/\/16720440.s21i.faiusr.com\/4\/ABUIABAEGAAg2NW1_wUowNbakgEw0AU4iAs!600x600.png\" src=\"https:\/\/16720440.s21i.faiusr.com\/4\/ABUIABAEGAAg2NW1_wUowNbakgEw0AU4iAs!600x600.png\" alt=\"ABUIABAEGAAg2NW1_wUowNbakgEw0AU4iAs\" data-imgloaded=\"true\" style=\"margin: 0pxpx 0pxpx 0pxpx 0pxpx; float: none;\" data-mce-fragment=\"1\" data-mce-src=\"https:\/\/16720440.s21i.faiusr.com\/4\/ABUIABAEGAAg2NW1_wUowNbakgEw0AU4iAs!600x600.png\"\u003e\u003cimg data-imgloaded=\"true\" alt=\"ABUIABAEGAAgnNO1_wUooZPpsAEw0AU4iAs\" src=\"https:\/\/16720440.s21i.faiusr.com\/4\/ABUIABAEGAAgnNO1_wUooZPpsAEw0AU4iAs!600x600.png\" data-original=\"\/\/16720440.s21i.faiusr.com\/4\/ABUIABAEGAAgnNO1_wUooZPpsAEw0AU4iAs!600x600.png\" class=\"lazyload_transparent float_in_img J_defImage\" id=\"float_img_5018\" style=\"margin: 0pxpx 0pxpx 0pxpx 0pxpx; float: none;\"\u003e\u003c\/p\u003e\n\u003c\/div\u003e\n\u003c\/div\u003e\n\u003c\/div\u003e\n\u003cdiv style=\"text-align: center;\"\u003e\u003c\/div\u003e\n\u003cdiv class=\"slide-content\"\u003e\n\u003cdiv class=\"content-container\"\u003e\n\u003ch3 style=\"text-align: center;\"\u003eSidusPro FX\u003c\/h3\u003e\n\u003cp style=\"text-align: center;\"\u003eThrough Sidus Link, the Accent B7c has access to built-in lighting FX, as well as SidusProTM FX such as PickerFX, Manual FX, and Magic Program, producing an ecosystem that allows creatives to design a myriad of unique programmable FX.\u003c\/p\u003e\n\u003c\/div\u003e\n\u003c\/div\u003e\n\u003cdiv style=\"text-align: center;\"\u003e\u003cimg style=\"margin: 0pxpx 0pxpx 0pxpx 0pxpx; float: none;\" alt=\"\" src=\"https:\/\/www.aputure.com\/wp-content\/uploads\/2020\/09\/BULB6-1000x781.png\"\u003e\u003c\/div\u003e\n\u003cp\u003e\u003cbr data-mce-fragment=\"1\"\u003e\u003cbr data-mce-fragment=\"1\"\u003eMain Features\u003cbr data-mce-fragment=\"1\"\u003e• 7W RGBWW LED Smart Bulb\u003cbr data-mce-fragment=\"1\"\u003e• Standard E26\/E27 Light Bulb Socket\u003cbr data-mce-fragment=\"1\"\u003e• Built-in Lithium-polymer Battery (70+ min. @ Max)\u003cbr data-mce-fragment=\"1\"\u003e• Fully Tunable CCT from 2,000K to 10,000K\u003cbr data-mce-fragment=\"1\"\u003e• Average CRI 95+, TLCI 96+\u003cbr data-mce-fragment=\"1\"\u003e• SSI (Tungsten): 85, SSI (D55): 74\u003cbr data-mce-fragment=\"1\"\u003e• RGB Color Tunability with Hue, Saturation \u0026amp; Intensity\u003cbr data-mce-fragment=\"1\"\u003e• Covers \u0026gt;90% of the Colors Within Rec.2020 Color Space\u003cbr data-mce-fragment=\"1\"\u003e• Stepless Dimming from 0-100% with No Color Shift\u003cbr data-mce-fragment=\"1\"\u003e• 9 Built-in Lighting FX: Paparazzi, Fireworks, Faulty Bulb, \u003cbr data-mce-fragment=\"1\"\u003eLightning, TV, Party, Pulsing, Cop Car, and Fire. Only \u003cbr data-mce-fragment=\"1\"\u003eSmart Bulb with On-board Button Controls\u003cbr data-mce-fragment=\"1\"\u003e• Sidus Link App Compatible, Firmware Upgradeable\u003cbr data-mce-fragment=\"1\"\u003e• Wireless Bluetooth Control up to 80m\u003cbr data-mce-fragment=\"1\"\u003e• Two Power Supply Modes: Standard\/AC Mode,\u003cbr data-mce-fragment=\"1\"\u003eBattery\/DC Mode\u003cbr data-mce-fragment=\"1\"\u003e• Passively-cooled Aluminum-alloy Heatsink\u003cbr data-mce-fragment=\"1\"\u003eSpecifications\u003cbr data-mce-fragment=\"1\"\u003eColor Temperature 2,000K-10,000K\u003cbr data-mce-fragment=\"1\"\u003eCRI 95+ (2,500-10,000K)\u003cbr data-mce-fragment=\"1\"\u003eTLCI 96+ (2,500-10,000K)\u003cbr data-mce-fragment=\"1\"\u003eCQS 95+\u003cbr data-mce-fragment=\"1\"\u003eSSI (Tungsten) 85\u003cbr data-mce-fragment=\"1\"\u003eSSI (D55) 74\u003cbr data-mce-fragment=\"1\"\u003eLumens 570\u003cbr data-mce-fragment=\"1\"\u003eLamp Socket Type E26\/E27\u003cbr data-mce-fragment=\"1\"\u003eControl Methods On-board Controls, Sidus Link App\u003cbr data-mce-fragment=\"1\"\u003eWireless Connectivity Bluetooth Mesh\u003cbr data-mce-fragment=\"1\"\u003eOperating Voltage 100V~240V\u003cbr data-mce-fragment=\"1\"\u003eOperating Current 0.12A\u003cbr data-mce-fragment=\"1\"\u003eMaximum LED Output 7W\u003cbr data-mce-fragment=\"1\"\u003eMaximum Power Draw 9W\u003cbr data-mce-fragment=\"1\"\u003eOperating Temperature -10-40℃\u003cbr data-mce-fragment=\"1\"\u003eLithium-polymer Battery 1300mAh 7.4V\u003cbr data-mce-fragment=\"1\"\u003eOperating Battery Life\u003cbr data-mce-fragment=\"1\"\u003eMax Brightness Min. Brightness\u003cbr data-mce-fragment=\"1\"\u003e70+ minutes 20+ hours\u003cbr data-mce-fragment=\"1\"\u003eCharging Time 2h (Standby mode or powered off)\u003cbr data-mce-fragment=\"1\"\u003eCooling Method Passive Cooling\u003cbr data-mce-fragment=\"1\"\u003eProduct Dimensions φ70mm*118mm\/φ2.75*4.64in\u003cbr data-mce-fragment=\"1\"\u003eWeight 240g\/0.529lb\u003c\/p\u003e","published_at":"2020-09-28T05:36:06-06:00","created_at":"2020-09-28T05:36:03-06:00","vendor":"Aputure","type":"Continuous Lighting","tags":["Continuous Lighting Accessories","Studio LED","Video LED"],"price":7900,"price_min":7900,"price_max":11000,"available":true,"price_varies":true,"compare_at_price":null,"compare_at_price_min":0,"compare_at_price_max":0,"compare_at_price_varies":false,"variants":[{"id":33188698718311,"title":"China warehouse","option1":"China warehouse","option2":null,"option3":null,"sku":"FMT-000952","requires_shipping":true,"taxable":true,"featured_image":null,"available":true,"name":"Aputure Accent B7c Led Bulb Smart RGBWW Same Color mixing Light Built-in Battery Wireless Bluetooth - China warehouse","public_title":"China warehouse","options":["China warehouse"],"price":7900,"weight":413,"compare_at_price":null,"inventory_management":null,"barcode":"","requires_selling_plan":false,"selling_plan_allocations":[]},{"id":33188698751079,"title":"EU warehouse","option1":"EU warehouse","option2":null,"option3":null,"sku":"FMT-000952","requires_shipping":true,"taxable":true,"featured_image":null,"available":true,"name":"Aputure Accent B7c Led Bulb Smart RGBWW Same Color mixing Light Built-in Battery Wireless Bluetooth - EU warehouse","public_title":"EU warehouse","options":["EU warehouse"],"price":11000,"weight":413,"compare_at_price":null,"inventory_management":null,"barcode":"","requires_selling_plan":false,"selling_plan_allocations":[]},{"id":33188698783847,"title":"US warehouse","option1":"US warehouse","option2":null,"option3":null,"sku":"FMT-000952","requires_shipping":true,"taxable":true,"featured_image":null,"available":true,"name":"Aputure Accent B7c Led Bulb Smart RGBWW Same Color mixing Light Built-in Battery Wireless Bluetooth - US warehouse","public_title":"US warehouse","options":["US warehouse"],"price":7900,"weight":413,"compare_at_price":null,"inventory_management":null,"barcode":"","requires_selling_plan":false,"selling_plan_allocations":[]}],"images":["\/\/www.fomito.com\/cdn\/shop\/products\/DSC06209.jpg?v=1601292967","\/\/www.fomito.com\/cdn\/shop\/products\/DSC06226.jpg?v=1601292967","\/\/www.fomito.com\/cdn\/shop\/products\/DSC06030.jpg?v=1601292967","\/\/www.fomito.com\/cdn\/shop\/products\/DSC06168.jpg?v=1601292968","\/\/www.fomito.com\/cdn\/shop\/products\/15912580132124.png?v=1601292968","\/\/www.fomito.com\/cdn\/shop\/products\/DSC00346.jpg?v=1601292969","\/\/www.fomito.com\/cdn\/shop\/products\/DSC00100.jpg?v=1601292969","\/\/www.fomito.com\/cdn\/shop\/products\/DSC00068.jpg?v=1601292969","\/\/www.fomito.com\/cdn\/shop\/products\/DSC00075.jpg?v=1601292969","\/\/www.fomito.com\/cdn\/shop\/products\/DSC00051.jpg?v=1601292969","\/\/www.fomito.com\/cdn\/shop\/products\/DSC00134.jpg?v=1601292969"],"featured_image":"\/\/www.fomito.com\/cdn\/shop\/products\/DSC06209.jpg?v=1601292967","options":["Ship from"],"media":[{"alt":null,"id":8052751269991,"position":1,"preview_image":{"aspect_ratio":1.779,"height":2024,"width":3600,"src":"\/\/www.fomito.com\/cdn\/shop\/products\/DSC06209.jpg?v=1601292967"},"aspect_ratio":1.779,"height":2024,"media_type":"image","src":"\/\/www.fomito.com\/cdn\/shop\/products\/DSC06209.jpg?v=1601292967","width":3600},{"alt":null,"id":8052751302759,"position":2,"preview_image":{"aspect_ratio":1.779,"height":2024,"width":3600,"src":"\/\/www.fomito.com\/cdn\/shop\/products\/DSC06226.jpg?v=1601292967"},"aspect_ratio":1.779,"height":2024,"media_type":"image","src":"\/\/www.fomito.com\/cdn\/shop\/products\/DSC06226.jpg?v=1601292967","width":3600},{"alt":null,"id":8052751335527,"position":3,"preview_image":{"aspect_ratio":1.779,"height":2024,"width":3600,"src":"\/\/www.fomito.com\/cdn\/shop\/products\/DSC06030.jpg?v=1601292967"},"aspect_ratio":1.779,"height":2024,"media_type":"image","src":"\/\/www.fomito.com\/cdn\/shop\/products\/DSC06030.jpg?v=1601292967","width":3600},{"alt":null,"id":8052751368295,"position":4,"preview_image":{"aspect_ratio":1.779,"height":2024,"width":3600,"src":"\/\/www.fomito.com\/cdn\/shop\/products\/DSC06168.jpg?v=1601292968"},"aspect_ratio":1.779,"height":2024,"media_type":"image","src":"\/\/www.fomito.com\/cdn\/shop\/products\/DSC06168.jpg?v=1601292968","width":3600},{"alt":null,"id":8052751401063,"position":5,"preview_image":{"aspect_ratio":0.797,"height":750,"width":598,"src":"\/\/www.fomito.com\/cdn\/shop\/products\/15912580132124.png?v=1601292968"},"aspect_ratio":0.797,"height":750,"media_type":"image","src":"\/\/www.fomito.com\/cdn\/shop\/products\/15912580132124.png?v=1601292968","width":598},{"alt":null,"id":8052751433831,"position":6,"preview_image":{"aspect_ratio":1.776,"height":2216,"width":3936,"src":"\/\/www.fomito.com\/cdn\/shop\/products\/DSC00346.jpg?v=1601292969"},"aspect_ratio":1.776,"height":2216,"media_type":"image","src":"\/\/www.fomito.com\/cdn\/shop\/products\/DSC00346.jpg?v=1601292969","width":3936},{"alt":null,"id":8052751466599,"position":7,"preview_image":{"aspect_ratio":0.563,"height":3936,"width":2216,"src":"\/\/www.fomito.com\/cdn\/shop\/products\/DSC00100.jpg?v=1601292969"},"aspect_ratio":0.563,"height":3936,"media_type":"image","src":"\/\/www.fomito.com\/cdn\/shop\/products\/DSC00100.jpg?v=1601292969","width":2216},{"alt":null,"id":8052751499367,"position":8,"preview_image":{"aspect_ratio":1.776,"height":2216,"width":3936,"src":"\/\/www.fomito.com\/cdn\/shop\/products\/DSC00068.jpg?v=1601292969"},"aspect_ratio":1.776,"height":2216,"media_type":"image","src":"\/\/www.fomito.com\/cdn\/shop\/products\/DSC00068.jpg?v=1601292969","width":3936},{"alt":null,"id":8052751532135,"position":9,"preview_image":{"aspect_ratio":1.776,"height":2216,"width":3936,"src":"\/\/www.fomito.com\/cdn\/shop\/products\/DSC00075.jpg?v=1601292969"},"aspect_ratio":1.776,"height":2216,"media_type":"image","src":"\/\/www.fomito.com\/cdn\/shop\/products\/DSC00075.jpg?v=1601292969","width":3936},{"alt":null,"id":8052751564903,"position":10,"preview_image":{"aspect_ratio":0.563,"height":3936,"width":2216,"src":"\/\/www.fomito.com\/cdn\/shop\/products\/DSC00051.jpg?v=1601292969"},"aspect_ratio":0.563,"height":3936,"media_type":"image","src":"\/\/www.fomito.com\/cdn\/shop\/products\/DSC00051.jpg?v=1601292969","width":2216},{"alt":null,"id":8052751597671,"position":11,"preview_image":{"aspect_ratio":1.776,"height":2216,"width":3936,"src":"\/\/www.fomito.com\/cdn\/shop\/products\/DSC00134.jpg?v=1601292969"},"aspect_ratio":1.776,"height":2216,"media_type":"image","src":"\/\/www.fomito.com\/cdn\/shop\/products\/DSC00134.jpg?v=1601292969","width":3936}],"requires_selling_plan":false,"selling_plan_groups":[],"content":"\u003cp\u003e\u003ciframe src=\"https:\/\/www.youtube.com\/embed\/AGDIjWXvJAg\" allowfullscreen=\"\" allow=\"accelerometer; autoplay; clipboard-write; encrypted-media; gyroscope; picture-in-picture\" width=\"949\" height=\"534\" frameborder=\"0\"\u003e\u003c\/iframe\u003e\u003c\/p\u003e\n\u003cp\u003eProduct Description\u003cbr data-mce-fragment=\"1\"\u003eThe Accent B7c is an RGBWW color mixing LED light bulb, and is the first product in Aputure's new Accent line of practical LED fixtures. Using the same color mixing technology as the Nova P300c, the B7c boasts the same 2,000K-10,000K color temperature, and professional level color reproduction, with the ability to achieve an SSI score as high as 85 in tungsten. The B7c utilizes a mere 7W LED output to create a 50W household tungsten light bulb equivalent. The Accent B7c is the first color mixing smart bulb to utilize a built-in battery, allowing it to run for over 70 minutes at maximum output, making it suitable for an immense number of use cases. To enhance the on-set workflow efficiency, the B7c is also the first smart bulb to include on-board control buttons, making toggling between CCT presets and adjusting brightness incredibly simple. AndwithSidus Link Bluetooth App compatibility, users can easily control multiple B7c bulbs from a smartphone or iPad, and unlock the B7c's fine-tunable color capabilities.\u003c\/p\u003e\n\u003cdiv class=\"slide-content\"\u003e\n\u003cdiv class=\"content-container\"\u003e\n\u003ch3 style=\"text-align: center;\"\u003eMore Practical\u003c\/h3\u003e\n\u003cp style=\"text-align: center;\"\u003eThe Accent B7c is a battery-operated 7W RGBWW color-mixing LED light bulb, and the first product in Aputure's Accent family of "practical" LED lights built for filmmakers, with a unique combination of features no other light has.\u003c\/p\u003e\n\u003c\/div\u003e\n\u003c\/div\u003e\n\u003cdiv style=\"text-align: center;\"\u003e\u003cimg style=\"margin: 0pxpx 0pxpx 0pxpx 0pxpx; float: none;\" alt=\"\" src=\"https:\/\/www.aputure.com\/wp-content\/uploads\/2020\/09\/BULB_ATTEMPT1-1000x781.png\"\u003e\u003c\/div\u003e\n\u003cp\u003e \u003c\/p\u003e\n\u003cdiv class=\"slide-content\"\u003e\n\u003cdiv class=\"content-container\" style=\"text-align: center;\"\u003e\n\u003ch3\u003eYour Favorite Lamp\u003c\/h3\u003e\n\u003cp\u003eThe B7c features a standard E26\/27 lamp socket screw connector making it compatible with a wide variety of lamps anywhere in the world. Its light bulb form factor allows users to more naturally integrate programmable, color-mixing, practical lighting into any scene.\u003c\/p\u003e\n\u003cp\u003e\u003cimg src=\"https:\/\/www.aputure.com\/wp-content\/uploads\/2020\/09\/BULB5-1000x563.png\" class=\"product-slide-image lazyloaded\" data-src=\"https:\/\/www.aputure.com\/wp-content\/uploads\/2020\/09\/BULB5-1000x563.png\" style=\"margin: 0pxpx 0pxpx 0pxpx 0pxpx; float: none;\"\u003e\u003c\/p\u003e\n\u003c\/div\u003e\n\u003c\/div\u003e\n\u003cdiv class=\"slide-content\"\u003e\n\u003cdiv class=\"content-container\" style=\"text-align: center;\"\u003e\n\u003ch3\u003eMatch Any Light\u003c\/h3\u003e\n\u003cp\u003eThe Accent B7c matches the color temperature range of the Nova P300c, Aputure's most advanced color mixing light, producing a wide color temperature range of 2,000K-10,000K. And when combined with Sidus Link's SourceMatch feature, it can match nearly any white light source.\u003c\/p\u003e\n\u003cp\u003e\u003cimg src=\"https:\/\/www.aputure.com\/wp-content\/uploads\/2020\/09\/BULB11-1000x563.png\" class=\"product-slide-image lazyloaded\" data-src=\"https:\/\/www.aputure.com\/wp-content\/uploads\/2020\/09\/BULB11-1000x563.png\" style=\"margin: 0pxpx 0pxpx 0pxpx 0pxpx; float: none;\"\u003e\u003c\/p\u003e\n\u003c\/div\u003e\n\u003c\/div\u003e\n\u003cdiv class=\"slide-content\"\u003e\n\u003cdiv class=\"content-container\" style=\"text-align: center;\"\u003e\n\u003ch3\u003ePristine Quality You Can Trust\u003c\/h3\u003e\n\u003cp\u003eUnlike typical household LED bulbs, the Accent B7c uses cinema-grade LEDs to reproduce immaculate skin tones -- with impeccable CRI and TLCI values of 95+, and a tungsten SSI score of 85, outpacing industry-standard lights.\u003c\/p\u003e\n\u003cp\u003e\u003cimg src=\"https:\/\/www.aputure.com\/wp-content\/uploads\/2020\/09\/BULB8-1000x563.png\" class=\"product-slide-image lazyloaded\" data-src=\"https:\/\/www.aputure.com\/wp-content\/uploads\/2020\/09\/BULB8-1000x563.png\" style=\"margin: 0pxpx 0pxpx 0pxpx 0pxpx; float: none;\"\u003e\u003c\/p\u003e\n\u003c\/div\u003e\n\u003c\/div\u003e\n\u003cdiv class=\"slide-content\"\u003e\n\u003cdiv class=\"content-container\" style=\"text-align: center;\"\u003e\n\u003ch3\u003eColor Tunability\u003c\/h3\u003e\n\u003cp\u003eUtilizing Aputure's unique RGBWW LED configuration, the B7c bulb is able to produce over 90% of the saturated colors in the Rec.2020 color space, putting it on par with industry-standard lighting instruments.\u003c\/p\u003e\n\u003cp\u003e\u003cimg data-imgloaded=\"true\" alt=\"ABUIABAEGAAgrvmw_wUo6JOL4wUw6Ac4hwg\" src=\"https:\/\/16720440.s21i.faiusr.com\/4\/ABUIABAEGAAgrvmw_wUo6JOL4wUw6Ac4hwg!500x500.png\" data-original=\"\/\/16720440.s21i.faiusr.com\/4\/ABUIABAEGAAgrvmw_wUo6JOL4wUw6Ac4hwg!500x500.png\" class=\"lazyload_transparent float_in_img J_defImage\" id=\"float_img_4983\" style=\"margin: 0pxpx 0pxpx 0pxpx 0pxpx; float: none;\"\u003e\u003c\/p\u003e\n\u003c\/div\u003e\n\u003c\/div\u003e\n\u003cdiv class=\"slide-content\"\u003e\n\u003cdiv class=\"content-container\" style=\"text-align: center;\"\u003e\n\u003ch3\u003eFlicker-Free Filmmaking\u003c\/h3\u003e\n\u003cp\u003eThe Accent B7c like all Aputure products is made with filmmakers in mind. Unlike consumer LED smart bulbs, the B7c features 20KHz stepless dimming that remains completely flicker-free up to at least 1,000fps with no color shift.\u003c\/p\u003e\n\u003cp\u003e\u003cimg data-imgloaded=\"true\" alt=\"ABUIABAEGAAg4o_1_wUo3oynqgMw2wQ4-wY\" src=\"https:\/\/16720440.s21i.faiusr.com\/4\/ABUIABAEGAAg4o_1_wUo3oynqgMw2wQ4-wY!700x700.png\" data-original=\"\/\/16720440.s21i.faiusr.com\/4\/ABUIABAEGAAg4o_1_wUo3oynqgMw2wQ4-wY!700x700.png\" class=\"lazyload_transparent float_in_img J_defImage\" id=\"float_img_4884\" style=\"margin: 0pxpx 0pxpx 0pxpx 0pxpx; float: none;\"\u003e\u003c\/p\u003e\n\u003c\/div\u003e\n\u003c\/div\u003e\n\u003cdiv class=\"slide-content\"\u003e\n\u003cdiv class=\"content-container\" style=\"text-align: center;\"\u003e\n\u003ch3\u003eBuilt-in Battery\u003c\/h3\u003e\n\u003cp\u003eThe B7c is also the first bulb designed for filmmakers to have a built-in battery, powering the B7c for over 70 minutes at full power, and over 20 hours as it approaches minimum brightness.\u003c\/p\u003e\n\u003cp\u003e\u003cimg data-imgloaded=\"true\" alt=\"ABUIABADGAAgqb_q_wUo_L3f7gUwwAc4nAQ\" src=\"https:\/\/16720440.s21i.faiusr.com\/3\/ABUIABADGAAgqb_q_wUo_L3f7gUwwAc4nAQ!900x900.gif\" data-original=\"\/\/16720440.s21i.faiusr.com\/3\/ABUIABADGAAgqb_q_wUo_L3f7gUwwAc4nAQ!900x900.gif\" class=\"lazyload_transparent float_in_img J_defImage\" id=\"float_img_4978\" style=\"margin: 0pxpx 0pxpx 0pxpx 0pxpx; float: none;\"\u003e\u003c\/p\u003e\n\u003c\/div\u003e\n\u003c\/div\u003e\n\u003cdiv class=\"slide-content\"\u003e\n\u003cdiv class=\"content-container\" style=\"text-align: center;\"\u003e\n\u003ch3\u003eAC\/DC Mode\u003c\/h3\u003e\n\u003cp\u003eThe B7c's unique internal battery allows the B7c to have multiple power supply modes: AC \u0026amp; Battery (DC). In AC power mode the B7c retains its last settings and turns on and off like a traditional light bulb, allowing for natural interactions with actors.\u003c\/p\u003e\n\u003cp\u003e\u003cimg data-imgloaded=\"true\" alt=\"ABUIABAEGAAgpv7F_wUo2MOfMjCUCjifCQ\" src=\"https:\/\/16720440.s21i.faiusr.com\/4\/ABUIABAEGAAgpv7F_wUo2MOfMjCUCjifCQ!600x600.png\" data-original=\"\/\/16720440.s21i.faiusr.com\/4\/ABUIABAEGAAgpv7F_wUo2MOfMjCUCjifCQ!600x600.png\" class=\"lazyload_transparent float_in_img J_defImage\" id=\"float_img_4892\" style=\"margin: 0pxpx 0pxpx 0pxpx 0pxpx; float: none;\"\u003e\u003c\/p\u003e\n\u003c\/div\u003e\n\u003c\/div\u003e\n\u003cdiv class=\"slide-content\"\u003e\n\u003cdiv class=\"content-container\"\u003e\n\u003ch3 style=\"text-align: center;\"\u003ePremium Construction\u003c\/h3\u003e\n\u003cp style=\"text-align: center;\"\u003eUsing an aluminum metal structure and a unique toroidal diffusion design, the B7c spreads lights evenly while also maintaining absolute stealth on-camera.\u003c\/p\u003e\n\u003c\/div\u003e\n\u003c\/div\u003e\n\u003cdiv style=\"text-align: center;\"\u003e\u003cimg data-imgloaded=\"true\" alt=\"ABUIABAEGAAglIvG_wUo2KWdogMwoAY4uAU\" src=\"https:\/\/16720440.s21i.faiusr.com\/4\/ABUIABAEGAAglIvG_wUo2KWdogMwoAY4uAU!600x600.png\" data-original=\"\/\/16720440.s21i.faiusr.com\/4\/ABUIABAEGAAglIvG_wUo2KWdogMwoAY4uAU!600x600.png\" class=\"lazyload_transparent float_in_img J_defImage\" id=\"float_img_4976\" style=\"margin: 0pxpx 0pxpx 0pxpx 0pxpx;float: none;\"\u003e\u003c\/div\u003e\n\u003cp\u003e \u003c\/p\u003e\n\u003cdiv style=\"text-align: center;\"\u003e\u003cstrong\u003eOn-board Controls\u003c\/strong\u003e\u003c\/div\u003e\n\u003cdiv class=\"slide-content\"\u003e\n\u003cdiv class=\"content-container\"\u003e\n\u003cp style=\"text-align: center;\"\u003eThe Accent B7c is the only LED smart bulb to feature on-board buttons for both brightness and CCT control, allowing users to adjust intensity and CCT presets in a few simple clicks, without even connecting it to the Sidus Link app.\u003c\/p\u003e\n\u003c\/div\u003e\n\u003c\/div\u003e\n\u003cdiv style=\"text-align: center;\"\u003e\u003cimg style=\"margin: 0pxpx 0pxpx 0pxpx 0pxpx; float: none;\" alt=\"ABUIABAEGAAgltC1_wUovdf0tQMw0AU4iAs\" src=\"https:\/\/16720440.s21i.faiusr.com\/4\/ABUIABAEGAAgltC1_wUovdf0tQMw0AU4iAs!700x700.png\"\u003e\u003c\/div\u003e\n\u003cdiv style=\"text-align: center;\"\u003e\n\u003cdiv class=\"slide-content\"\u003e\n\u003cdiv class=\"content-container\" style=\"text-align: center;\"\u003e\n\u003ch3\u003eSidus Link\u003c\/h3\u003e\n\u003cp\u003eUsing built-in Sidus Mesh technology, the B7c can also be controlled wirelessly via a smartphone or iPad using the Sidus Link app, allowing filmmakers to fine-tune CCT, brightness, color, and FX, as well as use SourceMatch and ColorPicker modes to match nearly any color.\u003c\/p\u003e\n\u003cp\u003e\u003cimg id=\"float_img_4991\" class=\"lazyload_transparent float_in_img J_defImage\" data-original=\"\/\/16720440.s21i.faiusr.com\/4\/ABUIABAEGAAg2NW1_wUowNbakgEw0AU4iAs!600x600.png\" src=\"https:\/\/16720440.s21i.faiusr.com\/4\/ABUIABAEGAAg2NW1_wUowNbakgEw0AU4iAs!600x600.png\" alt=\"ABUIABAEGAAg2NW1_wUowNbakgEw0AU4iAs\" data-imgloaded=\"true\" style=\"margin: 0pxpx 0pxpx 0pxpx 0pxpx; float: none;\" data-mce-fragment=\"1\" data-mce-src=\"https:\/\/16720440.s21i.faiusr.com\/4\/ABUIABAEGAAg2NW1_wUowNbakgEw0AU4iAs!600x600.png\"\u003e\u003cimg data-imgloaded=\"true\" alt=\"ABUIABAEGAAgnNO1_wUooZPpsAEw0AU4iAs\" src=\"https:\/\/16720440.s21i.faiusr.com\/4\/ABUIABAEGAAgnNO1_wUooZPpsAEw0AU4iAs!600x600.png\" data-original=\"\/\/16720440.s21i.faiusr.com\/4\/ABUIABAEGAAgnNO1_wUooZPpsAEw0AU4iAs!600x600.png\" class=\"lazyload_transparent float_in_img J_defImage\" id=\"float_img_5018\" style=\"margin: 0pxpx 0pxpx 0pxpx 0pxpx; float: none;\"\u003e\u003c\/p\u003e\n\u003c\/div\u003e\n\u003c\/div\u003e\n\u003c\/div\u003e\n\u003cdiv style=\"text-align: center;\"\u003e\u003c\/div\u003e\n\u003cdiv class=\"slide-content\"\u003e\n\u003cdiv class=\"content-container\"\u003e\n\u003ch3 style=\"text-align: center;\"\u003eSidusPro FX\u003c\/h3\u003e\n\u003cp style=\"text-align: center;\"\u003eThrough Sidus Link, the Accent B7c has access to built-in lighting FX, as well as SidusProTM FX such as PickerFX, Manual FX, and Magic Program, producing an ecosystem that allows creatives to design a myriad of unique programmable FX.\u003c\/p\u003e\n\u003c\/div\u003e\n\u003c\/div\u003e\n\u003cdiv style=\"text-align: center;\"\u003e\u003cimg style=\"margin: 0pxpx 0pxpx 0pxpx 0pxpx; float: none;\" alt=\"\" src=\"https:\/\/www.aputure.com\/wp-content\/uploads\/2020\/09\/BULB6-1000x781.png\"\u003e\u003c\/div\u003e\n\u003cp\u003e\u003cbr data-mce-fragment=\"1\"\u003e\u003cbr data-mce-fragment=\"1\"\u003eMain Features\u003cbr data-mce-fragment=\"1\"\u003e• 7W RGBWW LED Smart Bulb\u003cbr data-mce-fragment=\"1\"\u003e• Standard E26\/E27 Light Bulb Socket\u003cbr data-mce-fragment=\"1\"\u003e• Built-in Lithium-polymer Battery (70+ min. @ Max)\u003cbr data-mce-fragment=\"1\"\u003e• Fully Tunable CCT from 2,000K to 10,000K\u003cbr data-mce-fragment=\"1\"\u003e• Average CRI 95+, TLCI 96+\u003cbr data-mce-fragment=\"1\"\u003e• SSI (Tungsten): 85, SSI (D55): 74\u003cbr data-mce-fragment=\"1\"\u003e• RGB Color Tunability with Hue, Saturation \u0026amp; Intensity\u003cbr data-mce-fragment=\"1\"\u003e• Covers \u0026gt;90% of the Colors Within Rec.2020 Color Space\u003cbr data-mce-fragment=\"1\"\u003e• Stepless Dimming from 0-100% with No Color Shift\u003cbr data-mce-fragment=\"1\"\u003e• 9 Built-in Lighting FX: Paparazzi, Fireworks, Faulty Bulb, \u003cbr data-mce-fragment=\"1\"\u003eLightning, TV, Party, Pulsing, Cop Car, and Fire. Only \u003cbr data-mce-fragment=\"1\"\u003eSmart Bulb with On-board Button Controls\u003cbr data-mce-fragment=\"1\"\u003e• Sidus Link App Compatible, Firmware Upgradeable\u003cbr data-mce-fragment=\"1\"\u003e• Wireless Bluetooth Control up to 80m\u003cbr data-mce-fragment=\"1\"\u003e• Two Power Supply Modes: Standard\/AC Mode,\u003cbr data-mce-fragment=\"1\"\u003eBattery\/DC Mode\u003cbr data-mce-fragment=\"1\"\u003e• Passively-cooled Aluminum-alloy Heatsink\u003cbr data-mce-fragment=\"1\"\u003eSpecifications\u003cbr data-mce-fragment=\"1\"\u003eColor Temperature 2,000K-10,000K\u003cbr data-mce-fragment=\"1\"\u003eCRI 95+ (2,500-10,000K)\u003cbr data-mce-fragment=\"1\"\u003eTLCI 96+ (2,500-10,000K)\u003cbr data-mce-fragment=\"1\"\u003eCQS 95+\u003cbr data-mce-fragment=\"1\"\u003eSSI (Tungsten) 85\u003cbr data-mce-fragment=\"1\"\u003eSSI (D55) 74\u003cbr data-mce-fragment=\"1\"\u003eLumens 570\u003cbr data-mce-fragment=\"1\"\u003eLamp Socket Type E26\/E27\u003cbr data-mce-fragment=\"1\"\u003eControl Methods On-board Controls, Sidus Link App\u003cbr data-mce-fragment=\"1\"\u003eWireless Connectivity Bluetooth Mesh\u003cbr data-mce-fragment=\"1\"\u003eOperating Voltage 100V~240V\u003cbr data-mce-fragment=\"1\"\u003eOperating Current 0.12A\u003cbr data-mce-fragment=\"1\"\u003eMaximum LED Output 7W\u003cbr data-mce-fragment=\"1\"\u003eMaximum Power Draw 9W\u003cbr data-mce-fragment=\"1\"\u003eOperating Temperature -10-40℃\u003cbr data-mce-fragment=\"1\"\u003eLithium-polymer Battery 1300mAh 7.4V\u003cbr data-mce-fragment=\"1\"\u003eOperating Battery Life\u003cbr data-mce-fragment=\"1\"\u003eMax Brightness Min. Brightness\u003cbr data-mce-fragment=\"1\"\u003e70+ minutes 20+ hours\u003cbr data-mce-fragment=\"1\"\u003eCharging Time 2h (Standby mode or powered off)\u003cbr data-mce-fragment=\"1\"\u003eCooling Method Passive Cooling\u003cbr data-mce-fragment=\"1\"\u003eProduct Dimensions φ70mm*118mm\/φ2.75*4.64in\u003cbr data-mce-fragment=\"1\"\u003eWeight 240g\/0.529lb\u003c\/p\u003e"}
Aputure Accent B7c Led Bulb Smart RGBWW Same Color mixing Light Built-in Battery Wireless Bluetooth
Product Description
The Accent B7c is an RGBWW color mixing LED light bulb, and is the first product in Aputure's new Accent line of practical LED fixtures. Using the same color mixing technology as the Nova P300c, the B7c boasts the same 2,000K-10,000K color temperature, and professional level color reproduction, with the ability to achieve an SSI score as high as 85 in tungsten. The B7c utilizes a mere 7W LED output to create a 50W household tungsten light bulb equivalent. The Accent B7c is the first color mixing smart bulb to utilize a built-in battery, allowing it to run for over 70 minutes at maximum output, making it suitable for an immense number of use cases. To enhance the on-set workflow efficiency, the B7c is also the first smart bulb to include on-board control buttons, making toggling between CCT presets and adjusting brightness incredibly simple. AndwithSidus Link Bluetooth App compatibility, users can easily control multiple B7c bulbs from a smartphone or iPad, and unlock the B7c's fine-tunable color capabilities.
More Practical
The Accent B7c is a battery-operated 7W RGBWW color-mixing LED light bulb, and the first product in Aputure's Accent family of "practical" LED lights built for filmmakers, with a unique combination of features no other light has.
Your Favorite Lamp
The B7c features a standard E26/27 lamp socket screw connector making it compatible with a wide variety of lamps anywhere in the world. Its light bulb form factor allows users to more naturally integrate programmable, color-mixing, practical lighting into any scene.
Match Any Light
The Accent B7c matches the color temperature range of the Nova P300c, Aputure's most advanced color mixing light, producing a wide color temperature range of 2,000K-10,000K. And when combined with Sidus Link's SourceMatch feature, it can match nearly any white light source.
Pristine Quality You Can Trust
Unlike typical household LED bulbs, the Accent B7c uses cinema-grade LEDs to reproduce immaculate skin tones -- with impeccable CRI and TLCI values of 95+, and a tungsten SSI score of 85, outpacing industry-standard lights.
Color Tunability
Utilizing Aputure's unique RGBWW LED configuration, the B7c bulb is able to produce over 90% of the saturated colors in the Rec.2020 color space, putting it on par with industry-standard lighting instruments.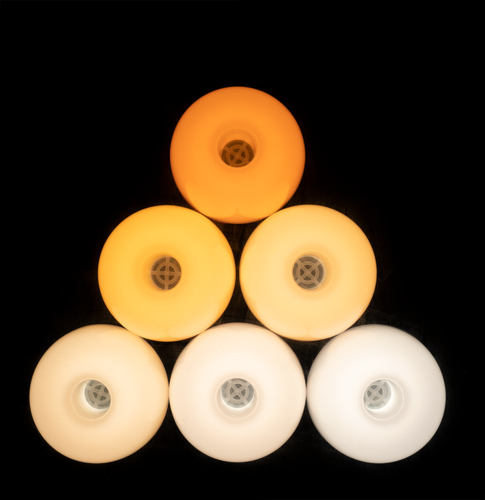 Flicker-Free Filmmaking
The Accent B7c like all Aputure products is made with filmmakers in mind. Unlike consumer LED smart bulbs, the B7c features 20KHz stepless dimming that remains completely flicker-free up to at least 1,000fps with no color shift.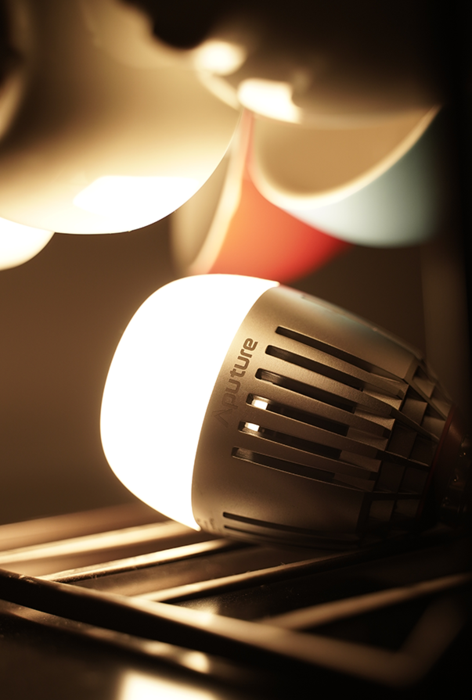 Built-in Battery
The B7c is also the first bulb designed for filmmakers to have a built-in battery, powering the B7c for over 70 minutes at full power, and over 20 hours as it approaches minimum brightness.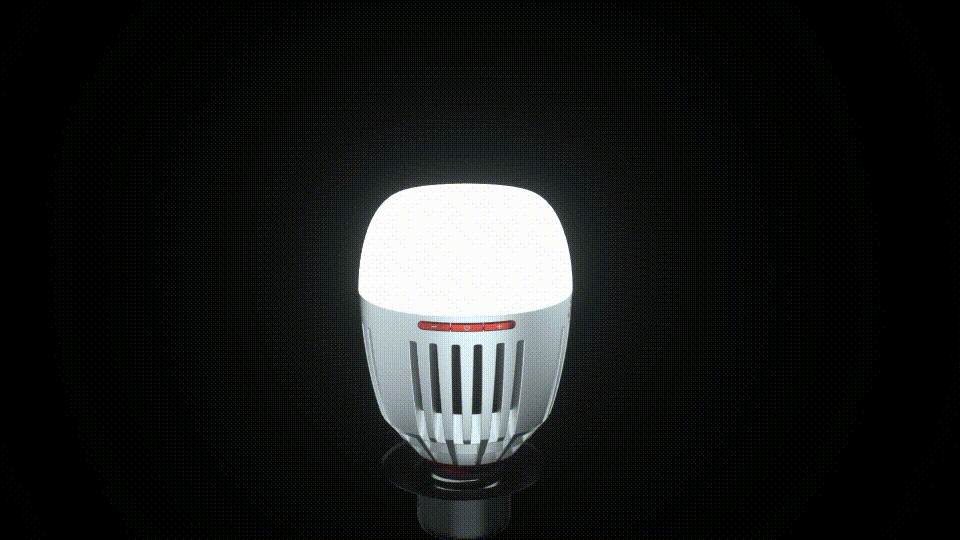 AC/DC Mode
The B7c's unique internal battery allows the B7c to have multiple power supply modes: AC & Battery (DC). In AC power mode the B7c retains its last settings and turns on and off like a traditional light bulb, allowing for natural interactions with actors.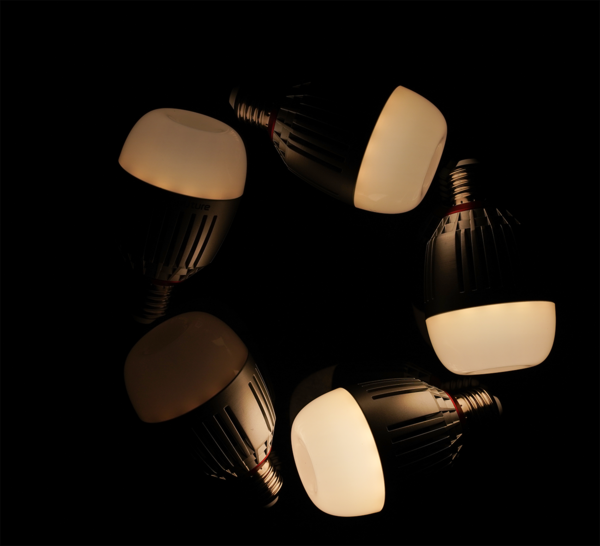 Premium Construction
Using an aluminum metal structure and a unique toroidal diffusion design, the B7c spreads lights evenly while also maintaining absolute stealth on-camera.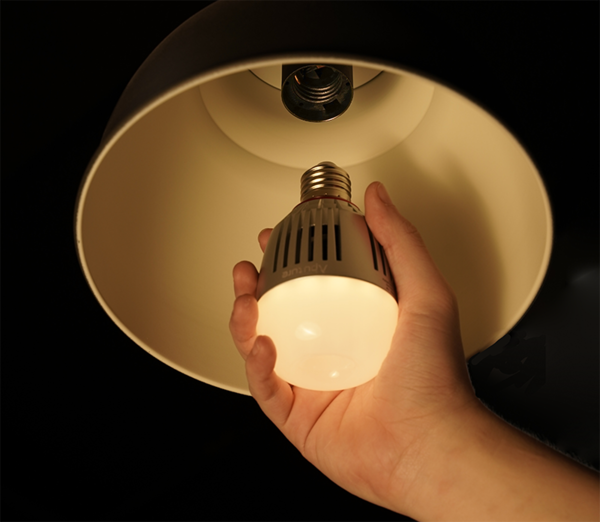 On-board Controls
The Accent B7c is the only LED smart bulb to feature on-board buttons for both brightness and CCT control, allowing users to adjust intensity and CCT presets in a few simple clicks, without even connecting it to the Sidus Link app.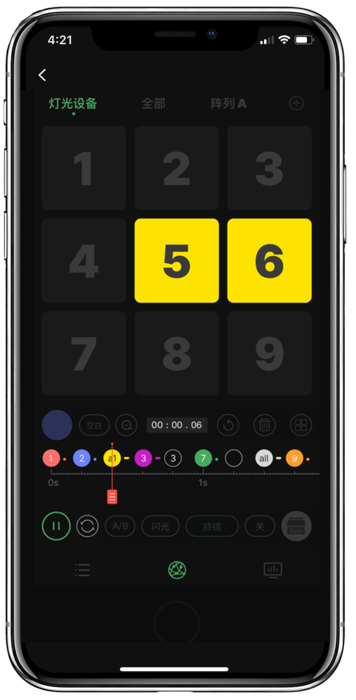 Sidus Link
Using built-in Sidus Mesh technology, the B7c can also be controlled wirelessly via a smartphone or iPad using the Sidus Link app, allowing filmmakers to fine-tune CCT, brightness, color, and FX, as well as use SourceMatch and ColorPicker modes to match nearly any color.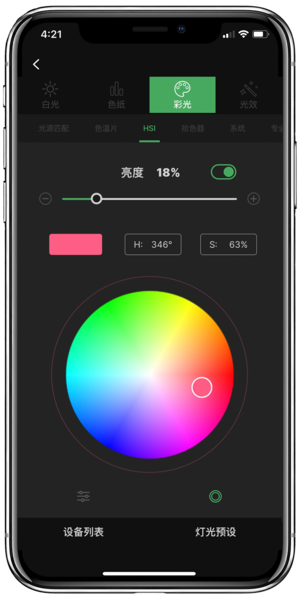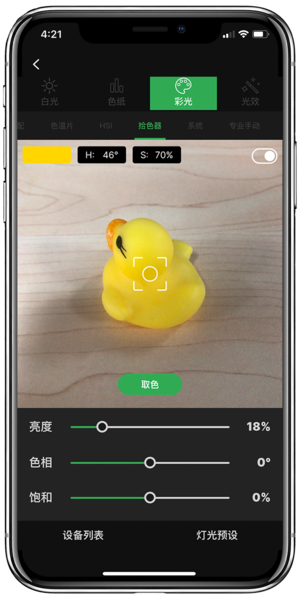 SidusPro FX
Through Sidus Link, the Accent B7c has access to built-in lighting FX, as well as SidusProTM FX such as PickerFX, Manual FX, and Magic Program, producing an ecosystem that allows creatives to design a myriad of unique programmable FX.


Main Features
• 7W RGBWW LED Smart Bulb
• Standard E26/E27 Light Bulb Socket
• Built-in Lithium-polymer Battery (70+ min. @ Max)
• Fully Tunable CCT from 2,000K to 10,000K
• Average CRI 95+, TLCI 96+
• SSI (Tungsten): 85, SSI (D55): 74
• RGB Color Tunability with Hue, Saturation & Intensity
• Covers >90% of the Colors Within Rec.2020 Color Space
• Stepless Dimming from 0-100% with No Color Shift
• 9 Built-in Lighting FX: Paparazzi, Fireworks, Faulty Bulb,
Lightning, TV, Party, Pulsing, Cop Car, and Fire. Only
Smart Bulb with On-board Button Controls
• Sidus Link App Compatible, Firmware Upgradeable
• Wireless Bluetooth Control up to 80m
• Two Power Supply Modes: Standard/AC Mode,
Battery/DC Mode
• Passively-cooled Aluminum-alloy Heatsink
Specifications
Color Temperature 2,000K-10,000K
CRI 95+ (2,500-10,000K)
TLCI 96+ (2,500-10,000K)
CQS 95+
SSI (Tungsten) 85
SSI (D55) 74
Lumens 570
Lamp Socket Type E26/E27
Control Methods On-board Controls, Sidus Link App
Wireless Connectivity Bluetooth Mesh
Operating Voltage 100V~240V
Operating Current 0.12A
Maximum LED Output 7W
Maximum Power Draw 9W
Operating Temperature -10-40℃
Lithium-polymer Battery 1300mAh 7.4V
Operating Battery Life
Max Brightness Min. Brightness
70+ minutes 20+ hours
Charging Time 2h (Standby mode or powered off)
Cooling Method Passive Cooling
Product Dimensions φ70mm*118mm/φ2.75*4.64in
Weight 240g/0.529lb
Payment

1. PayPal
If you have a PayPal account, you can pay directly by logging into your PayPal account. If you do not have a PayPal account, please pay with PayPal accepted credit cards. PayPal accepts credit cards are: Visa, Mastercard, American Express, Discover and Maestro,ect.

2. Credit cards : Visa, Mastercard, American Express, Discover and Maestro,ect.
How to use credit card payment ?
Paying at PayPal without a PayPal account
Payments for Buykud are made at PayPal, but you do not need to own a PayPal account to pay: you may enter your credit card's data directly at PayPal and complete your payment. You don't need to register a PayPal account neither.
Once you get redirected to PayPal, just do as follows:
1. Make sure the "Don't have a PayPal account?" option is selected
If your PayPal page looks as follows, just click on "Don't have a PayPal account?".
2. Enter your credit card's data
Address, email & phone number may also be requested depending on your country.
When you are done, click on "Review and Continue".
3. Click on "Pay Now"
4. Click on "No, Thanks"
5. Finally, click on "Pay now" you will complete your payment
Privacy Policy
At Fomito Shop, we do NOT share any customer information with any third party for any reason unless it is require by a legal authority or a government with an official request.
Fomito Shop takes your personal information and privacy very seriously and we will never share your information with any marketing firm for any marketing purposes except directly from Fomito Shop.
Fomito Shop will never contact you through any form to request you to update your password or personal information unless requested. Such action may be a phishing attempt and we suggest you ignore it or report to your local authority and inform us 
immediately.
| Shipping Company | Shipping Cost | Estimated Delivery Time | Tracking Information |
| --- | --- | --- | --- |
| Standard Shipping | | 10-25 days | Available |
| Expedited express(DHL/EMS) | | 5-7 days | Available |
1. Orders processed within 1~2 working days after the payment confirmed. We will inform you if we need more time to prepare the items.

2.As usual, if you choose the Standard Shipping,it takes almost 10-20 days to reach your designated address. If you choose Expedited express, it takes almost 5-7 days to reach your designated address.

PS: Please let us know if you still don't receive the items within 35 working days after you paid, then we could check it for you.


2. We only ship to confirmed PAYPAL addresses. Your PAYPAL address MUST MATCH your Shipping address.

3. SERVICE TRANSIT TIME is provided by the carrier and excludes weekends and holidays. Transit times may vary, particularly during the holiday season.

4. If you have not received your shipment within 30 days from payment, please contact us. We will track the shipment and get back to you as soon as possible with a reply. Our goal is customer satisfaction!

5. Due to stock status and time differences, we will choose to ship your item from our first available warehouse for fast delivery.
6.We support DDP(Delivery Duty Paid)shipment for almost all of european countries.all the packages will be delivered in Netherlands at first(about 5-10 days),after completing customs clearance by our express agent,all the packages will be sent to buyers via mainstream european courier companies or postal service.So the customs and VAT fee Included.
Please be noted: that the delivery time mentioned on our page is for reference only. Although the actual shipping time is punctual in most occasions, in some cases delivery time may vary due to traffic congestion, adverse weather, acts of custom inspection, etc. We will try our best to avoid such situations, however, please understand that some of these situations are beyond our control, and we are not reponsible for them.

One year Warranty. Buy with confidence! 30 days money back guaranteed.

We provide 30 day return policy for products sold. If, for any reason, you are not satisfied with your purchases, full refund of the purchase (excluding the shipping expenses) can be applicable under the following circumstances:

 
ALL accessories must be unused; ALL accessory packages must be unopened.


ALL items must be intact and undamaged (except for defects in manufacturing).


Items must be in good conditions with all original accessories, manuals, and packing materials. Any missing parts or damaged items will result in rejection on the return.


In case of any defectives found, only defects in manufacturing are accepted as the reason of return.

 
No refund is given if defects are caused by misuse of buyers. Our customer service officers will gladly contact you for further arrangement upon your request.


All shipping cost thus generated is paid by the buyer.


Item returned must be received within 7 days after the receipt of the items. No refund and replacement is issued after this period.


Payment will be refunded as original currency only. We will not take responsibility for any loss due to exchange rate difference in the refund process.


Refunds will NOT include ANY shipping and handling fees. Any additional expenses will also be deducted from the refund.


In the case of return, please be sure to include ALL the original contents (including gift, packages and manuals). Any missing contents may result in rejection of the refund. Please also make sure that the return package is securely packed, and apply waterproof packing instruments wherever necessary.